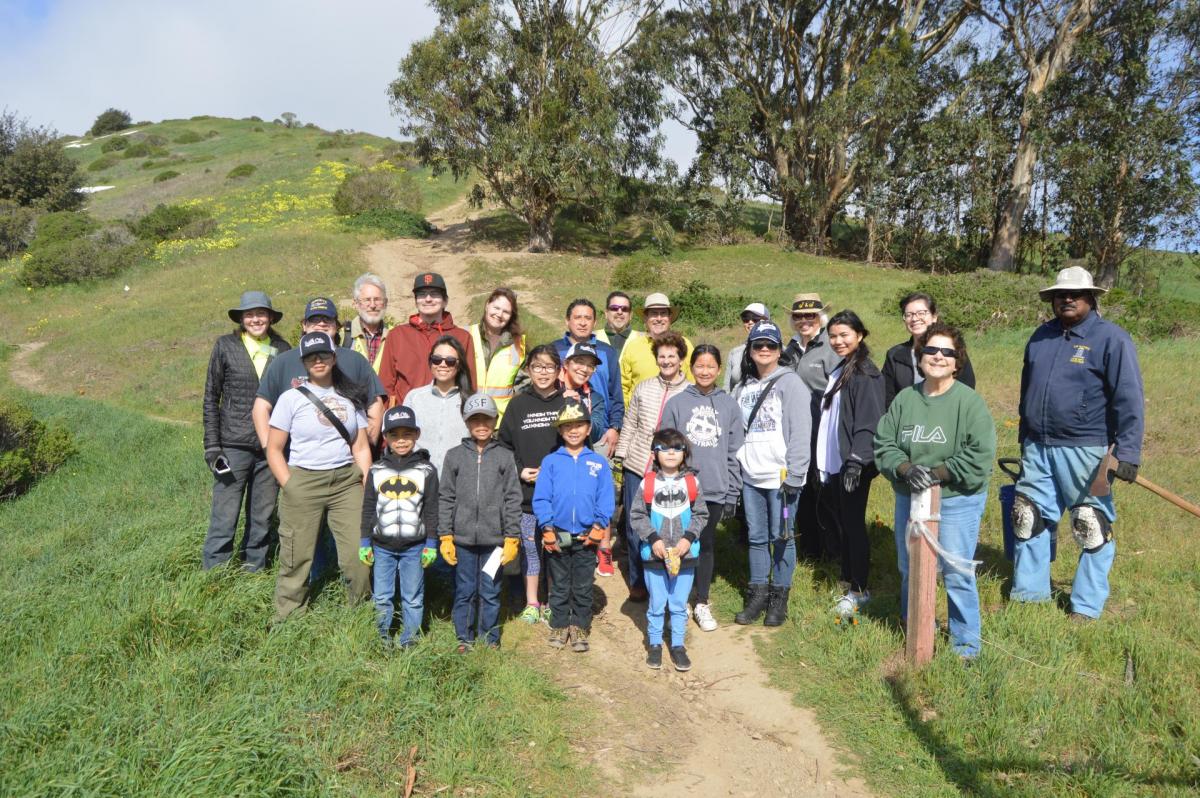 South San Francisco staff and residents team up to restore rare grassland and endangered butterfly habitat
The city of South San Francisco won the 2021 Helen Putnam Award for Excellence in the Planning and Environmental Quality category. For more information about the award program, visit www.helenputnam.org.
---
South San Francisco's historical ties to heavy industry are memorialized in an iconic, nationally recognized sign on Sign Hill Park: "South San Francisco the Industrial City." However, behind those letters is something quite different — some of the last stretches of Franciscan grasslands, a unique habitat that once covered the entire San Francisco Peninsula.
Defiantly rising above the city below, the park is South San Francisco's last undeveloped refuge. It is also home to two federally endangered butterflies, the mission blue butterfly and the callippe silverspot butterfly, as well as a variety of rare wildflowers. In fact, it is one of only six places in the world where the mission blue butterfly can survive. Much of their habitat has been lost to development or invasive species encroachment.
For years, many of the city's 66,105 residents were unaware of this rich ecosystem or the fact that Sign Hill is the city's largest public park. For those that used the park's nearly two miles of hiking trails, affection for the park inadvertently presented challenges to the native flora and fauna. For example, in previous decades, residents attempted to beautify the park by planting trees to give it a forested feel. These trees were invasive and contributed to habitat degradation.
Non-native trees were not the grassland's only historical problem. Invasive weeds — often introduced inadvertently — outcompeted the native pollinators that the butterflies depend on. Other species, such as wild rye and oat grass, were introduced when the land was primarily used for cattle.
In recent years, the park suffered from a lack of regular trail maintenance and wildfire prevention efforts. The city also had few trash cans and litter pickups, which further affected both the wildlife and the visitor experience. These problems were compounded by years of drought, impassable terrain, and limited staffing. This impacted both visitor experience and safety, as well as environmental pollution and fire risk.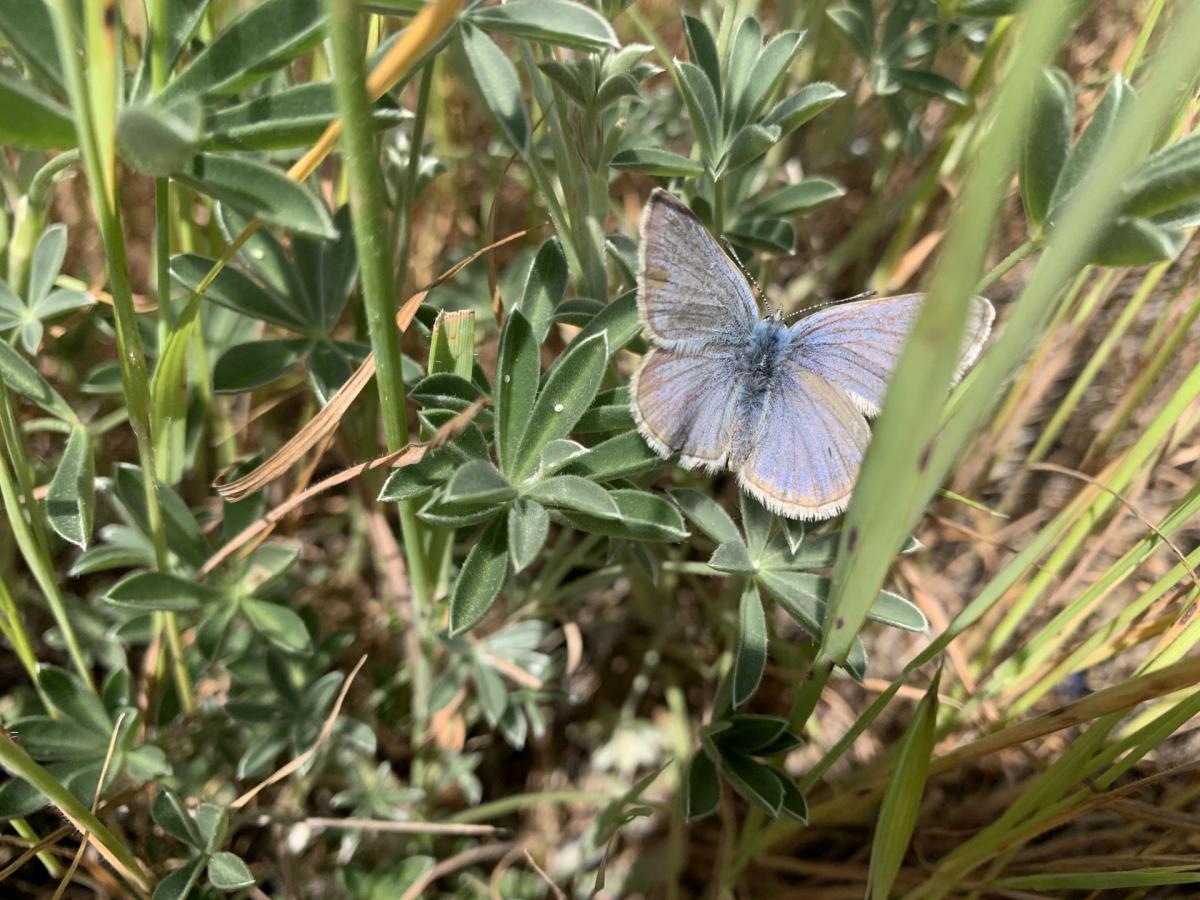 Restoration project leads to first rare butterfly spotting in decades
Efforts to reverse this decades-long trend took off in 2018 when the city's Parks and Recreation Department staff applied for and received a Measure K grant from San Mateo County, which awarded $75,600 to the city. This led to the creation of the Sign Hill Stewards in 2019, a restoration program designed to reverse invasive encroachment, preserve the grasslands and endangered species, and reengage citizens with Sign Hill.
Crucially, the funding allowed the city to hire specialized staff, Natural Resource Specialist Emma Lewis and Natural Resource Aide Daniel Simoni, to help create and coordinate the Sign Hill Habitat Restoration Project. Previous invasive management efforts were led by local volunteers, Chuck and Loretta Heimstadt, who dedicated countless hours to preserving native species on Sign Hill.
City staff began by surveying the park for sensitive species and developing an internal map to plan and monitor restoration efforts, as well as a comprehensive set of species management protocols. With these protocols in place, the restoration of Sign Hill began in 2020 with the installation of native plants and the removal of invasive plants.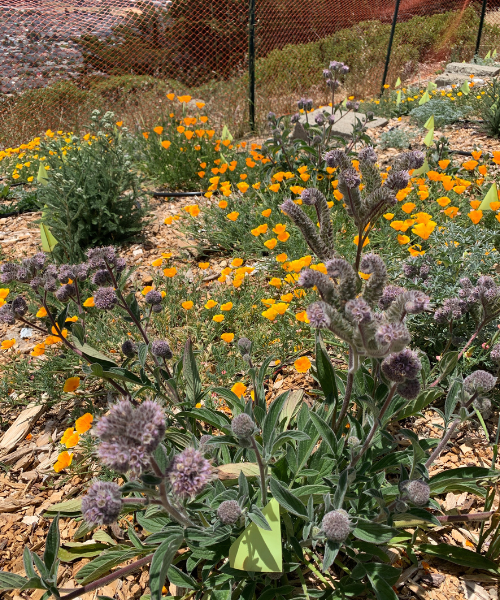 "Habitat islands" were installed in select locations in the park to help supplement the mission blue butterfly habitat. These islands consist of dense plantings of nectar-rich, pollinator-friendly wildflowers — including plants required by the mission blue butterfly, such as its host plant, the silver lupine. Native plants were sourced from the nonprofit Mission Blue Nursery, and 1,000 native plants were installed over two years. Staff also spread hundreds of pounds of native grass and flower seeds across the hill, including hand planting 2,000 silver lupine seeds.
The restoration team also managed the various invasive plant populations that were encroaching on the sensitive habitat. Often, the removal of invasive plants also reduced the risk of fire and improved trail conditions.
After more than a year of restoration work, staff began monitoring Sign Hill's mission blue butterfly population through egg surveys with the help of a local college student. The results were positive: Egg counts were trending upward. This data established a baseline that the city uses to track the mission blue population from year to year. Today, egg counts continue to show that populations are trending upwards.
While hosting a volunteer event in June 2021, staff also recorded a callippe silverspot butterfly sighting on Sign Hill for the first time in 40 years — likely a result of the restoration efforts. Two more callippe silverspot were spotted in 2022, which may indicate an endemic population is establishing in the park.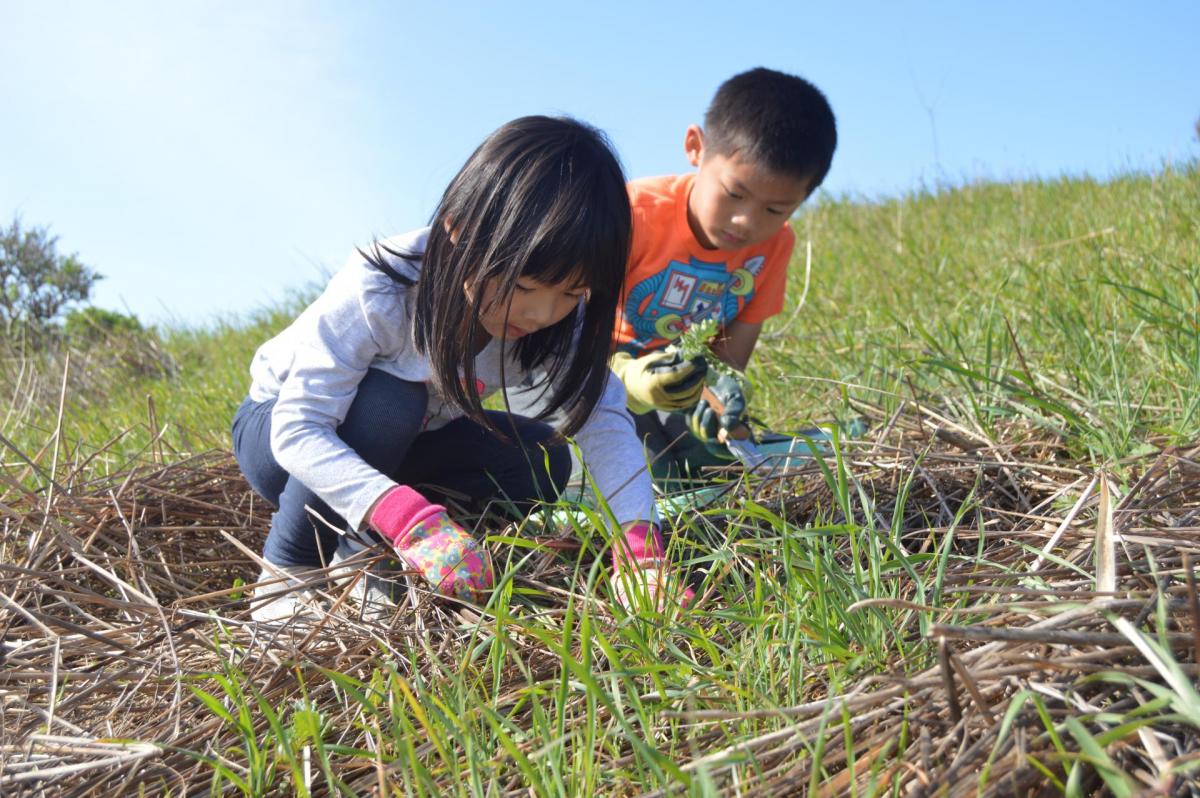 Volunteer events educate, mobilize, and engage residents
Part of what has made the program successful is the recruitment and engagement of volunteers. Beginning in 2020, Sign Hill Stewards hosted volunteer events on the second Wednesday and the following Saturday of each month. However, these efforts were nearly stymied by the COVID-19 pandemic.
Not to be deterred, staff shifted volunteer events to individual volunteer appointments with staff. This provided a socially distanced outdoor opportunity for those who had been isolated in their homes. The events were wildly popular.
The city expected 50 volunteers for these events. Instead, over 200 people signed up, including an unprecedented number of younger residents. The program hosted interns from Design Tech High School in Redwood City, partnered with restoration volunteers from San Bruno Mountain Watch, and hosted scores of families interested in learning about Sign Hill.
These collaborations continue to play an important role in accomplishing restoration goals. To date, staff have recruited 270 volunteers who have contributed over 1,500 hours of restoration work. The project also has a strong emphasis on environmental education — including educational hikes and events — and the development of an environmental curriculum for city-led summer youth camps.
These volunteer events and internships are not just about habitat restoration. They provide outdoor educational opportunities for people that often lack access to nature.
"This internship was especially important to me because I plan on studying agriculture, botany, and conservation in college," said Anneliese Phillips, one of the Design Tech interns. "This was an amazing introduction to the field."
To help further engage residents, the city utilizes an app called "Agents of Discovery." Much like Pokémon GO, the app combines technology and education with outdoor exploration in a way that encourages people to engage with the outdoors and city park spaces. This app is an innovative way to get residents engaged with Sign Hill Park and educate them about the importance of the hill and its native wildlife. Staff hope the multifaceted approach to educating the public will raise awareness and promote advocacy for protecting the hill in the future.
Stewards for the future
Sign Hill Stewards has put Sign Hill at the forefront of residents' minds both locally and regionally.
"Two years ago, when girls were first allowed to join scouting, I knew that I wanted my Eagle project to contribute to the health and safety of the local environment," Eagle Scout Peyton Dulay said. "And this project along Sign Hill was just that!"
Sentiments like Dulay's are common and community engagement remains strong. Additionally, native planting survival rates are averaging 75%, mission blue butterfly counts are increasing, and larger native blooms are appearing in managed areas. It is clear that Sign Hill Stewards has positively impacted the community and this critical ecosystem and will continue to do so into the future.
The project and its members have also received regional recognition. Lewis was awarded the "Young Leader" award by Bay Nature magazine for her work leading this project and was selected as a board member for San Bruno Mountain Watch for her efforts on the hill. Lewis has since left the city to pursue a law degree. However, her passion and enthusiasm are carried on by a new generation of conservationists, inspired by the restoration of Sign Hill Park.
Joshua Richardson is the Parks Division manager for the city of South San Francisco; he can be reached at Joshua.Richardson@ssf.net or 650-829-3837. Watch this video for a brief overview of the project or email Parks.Volunteers@ssf.net to learn about volunteering opportunities.