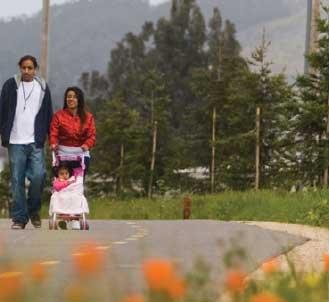 South San Francisco's Centennial Way Links Neighborhoods and Transit
The City of South San Francisco won the 2010 Helen Putnam Award for Excellence in the Planning and Environmental Quality category. For more about the awards program, visit www.cacities.org/helenputnam.
---
Visitors to South San Francisco might assume it is a suburb of the famous neighboring city to the north. However, 50-foot-tall concrete letters on a hill unabashedly declare that "South San Francisco the Industrial City" is a separate municipality with a unique identity.
The city (pop. 65,872) comprises diverse neighborhoods and businesses, yet for many years fell short in terms of park space. City Manager Barry Nagel says, "The built environment had dense suburban character, but lacked amenities for safe routes to school, walking, biking and community gatherings. Park acreage per capita was lower than neighboring cities and the national standard, and the city had limited resources for park land acquisition. But then events occurred that made the option of creating a linear park through the center of town an exciting possibility."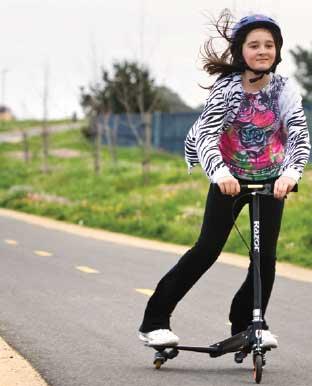 Transit Line Creates an Opportunity
When Bay Area Rapid Transit (BART) planned an expansion to the San Francisco Airport in the early 1990s, the decision to locate the train underground through South San Francisco resulted in an open corridor 50 feet wide that ran from one end of the city to the other. Because the method used to construct the tunnel underground does not permit other structures to be built within the corridor, BART agreed to build a bike route through the cities located along the line.
According to Council Member Mark Addiego, "The concept of creating transit villages with higher densities around BART stations and using strategies to reduce automobile congestion and promote bicycle and pedestrian transportation were relatively new. We envisioned an enhanced linear park that would increase access to destinations such as parks, schools and businesses — not just in one location, but along the three miles within our city limits, through a variety of underserved neighborhoods."
After BART acquired the property and constructed the extension, the swath of land above the tunnel remained unsightly, with overgrown weeds cutting a ribbon of neglect through the center of town. Although everyone agreed in concept to an enhanced bike trail, it was far from a reality. Limited funding, interests in development, and liability and maintenance concerns threatened to end the project before it began.
The city hired a landscape architecture firm to facilitate community input and develop appropriate design options that would reflect best practices and unique local circumstances. An intensive outreach effort involved numerous stakeholders, including BART, San Mateo County Transit, San Mateo County Flood Control District, Pacific Gas and Electric Company, the school district, city departments, businesses and residents.
The outreach process resulted in a Master Plan that provided the basis for grant applications. The city received 12 of the 13 grants it applied for, totaling $5.1 million. Approximately $1 million was allocated from developer fees. The city committed roughly $100,000 per year for ongoing maintenance, and an ongoing donation program also helps with the cost of upkeep. Funding from the local redevelopment agency and the acquisition of a surplus property made it possible to include a dog park in the project.
Trail Offers Many Amenities
Named Centennial Way, the 2.85-mile trail has made a positive impact since it was dedicated in 2009. Walkers, joggers, bicyclists and skaters enjoy the trail, along with commuters, young people biking and walking to school, and workers taking breaks. The ADA-accessible pathway is frequented by seniors with walkers and wheelchair users. Families use the trail for access to nearby recreational activities, and the 1.5-acre dog park has become a popular meeting place.
Flanked by two BART stations, Centennial Way offers an alternative and healthy mode of transportation that promotes the use of public transit.
Project amenities include benches, trash receptacles, lighting, plazas, interpretive and directional signage, dog waste dispensers, kiosks with trail maps and space for community information, and trail and mileage markers. Centennial Way incorporates sustainable practices with drought-tolerant plantings, swales and limited use of turf at entry points.
Local schools use the trail for cross-country running, and it is a key feature of Parks and Recreation Department programs that include a walking group, summer camp and after-school child care.
Realizing the Vision
Finding the solution to the challenge required years of steady effort among a host of agencies, with South San Francisco taking the lead. Without the determination of its supporters, this project would not have been built.
The trail added approximately 15 acres of park land to the city's open space, which brings the ratio of park land per capita closer to a desirable standard. From a fiscal perspective, Centennial Way provides an attractive public amenity and draws more visitors to the area. The trail has stabilized land values for owners of adjacent properties. Perhaps most important of all, it has created a new sense of place and provides numerous options for healthy activities for the entire community.
---
Contact: Sharon Ranals, director of parks and recreation, City of South San Francisco; phone: (650) 829-3807; Sharon.Ranals@ssf.net.
---
This article appears in the April 2011 issue of Western City
Did you like what you read here? Subscribe to Western City
---