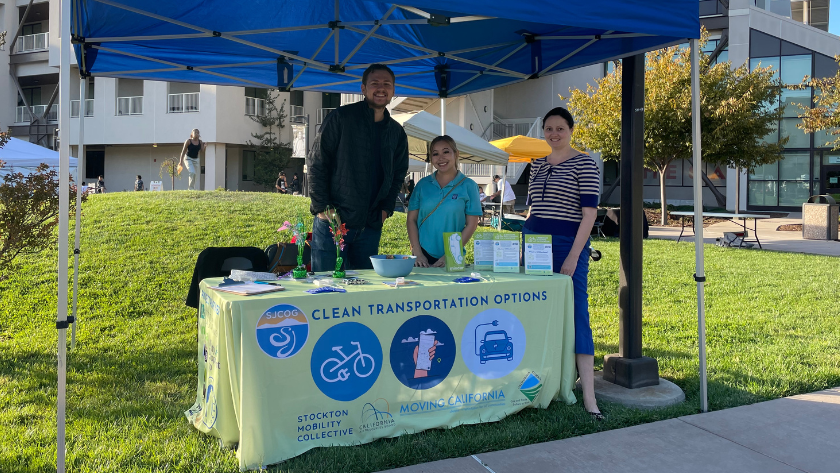 State and federal funding are advancing environmental justice. Here's what that means for cities
Roberto Carlos Torres is a senior program manager for the Institute for Local Government; he can be reached at rtorres@ca-ilg.org.
---
Both federal and state governments have started recognizing the importance of environmental justice and are funding it at record levels. If local agencies want to be competitive for future support, they will need to establish what environmental justice looks like for their communities and how it impacts community resilience.
For some cities, this raises a new question: What is environmental justice?
According to the U.S. Environmental Protection Agency, "Environmental justice is the fair treatment and meaningful involvement of all people regardless of race, color, national origin, or income with respect to the development, implementation and enforcement of environmental laws, regulations and policies."
Understanding the definition of environmental justice is important for grant writing purposes. However, addressing environmental justice concerns will look different from community to community, particularly those that are under-resourced or face historical disenfranchisement. Many communities are facing a range of environmental injustices, such as poor air quality, unreliable public transit, or unsafe pedestrian infrastructure.
To bring these large investment dollars into California, cities should both establish what environmental justice means within their communities and build meaningful partnerships with their under-resourced communities to advance their collective vision. Local governments and the Institute for Local Government (ILG) have worked together to develop best practices to help cities bring these much-needed dollars into their community. These strategies can also be applied to other programs that require extensive public engagement.
Build meaningful partnerships with community members — and compensate them
Cities like Maywood, San Diego, and Stockton are prime examples of how local officials can work with residents to advance environmental justice goals, particularly in communities that are historically disengaged or disenfranchised from the decision-making process.
In Stockton, the San Joaquin Council of Governments (SJCOG) successfully built a coalition that includes community organizations, ILG, two higher education institutions, and numerous local government agencies to obtain $7.48 million in Sustainable Transportation Equity Project grant dollars.
The coalition helped fund six projects in the Stockton area that advance transportation equity and environmental justice while also increasing mobility and clean transportation options, such as electric car-share and electric bike-share programs. The coalition's success in attaining these grant dollars was in large part due to community-led processes already in place, and the extensive community engagement planned for the implementation of the projects.
"The San Joaquin Council of Governments was committed to meeting the needs of Stockton residents and ensured throughout the process that they had a strong say in the program's design," SJCOG Executive Director Diane Nguyen said. "The robust engagement we did prior to applying to the California Air Resources Board's Sustainable Transportation Equity Project grant and the continued engagement we built into our proposal made it that much more successful."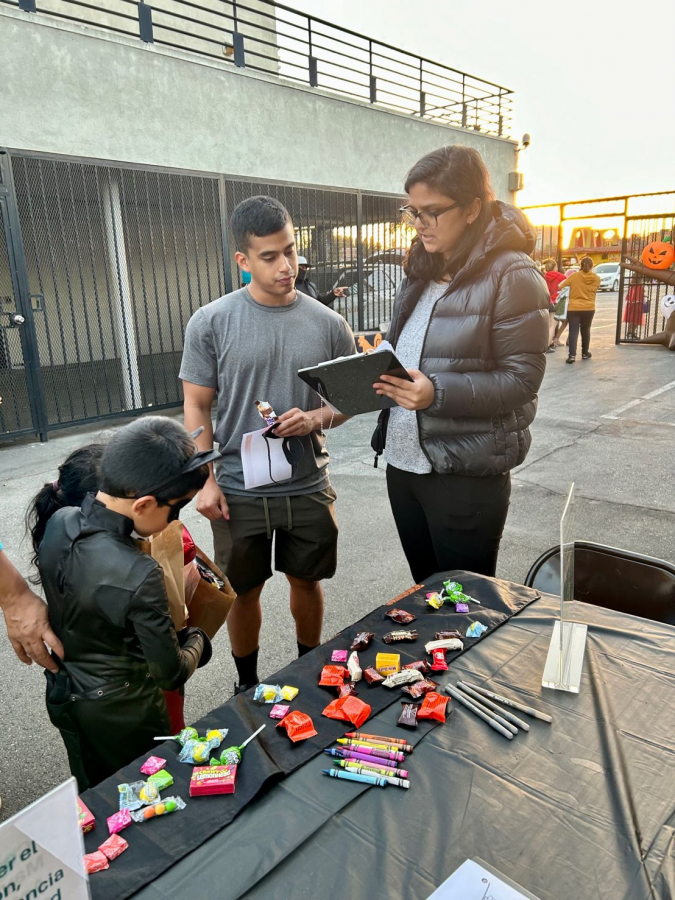 Partnerships can also be formed on a hyperlocal basis, usually with community-based organizations. In smaller communities, this may require a bit of creativity and coordination to stretch scarce resources. Hosting family-oriented events — like Maywood's Trunk or Treat Halloween event — are great ways to survey residents or simply talk to them about getting involved in environmental justice. This type of community engagement can improve public trust, showcase the human side of government, and provide an informal space for idea-sharing.
"The Trunk or Treat event was a huge success this year with Halloween spirits coming in high! Our residents have been eager to participate in events and feel part of their community as we've been coming out of a pandemic," Maywood Mayor Heber Marquez said. "This event reaffirmed the power of community and how families and residents of all ages can come out to enjoy a spooky experience and receive treats from various community groups, organizations, and partners."
Aside from pop-up events, local governments can establish steering committees or working groups that include community leaders from under-resourced or under-engaged communities throughout their jurisdictions. This effective inclusivity strategy allows city officials to tap into community leaders' expertise and build trust within the community.
However, partnering with community organizations is more than just identifying key relationships. For the process to produce long-lasting results, it is important that city leaders communicate honestly and openly. This will build trust, demonstrate transparency, and help hold leaders accountable to the community.
Most importantly, community partners should be properly compensated for their time, expertise, and lived experience — be they consultants or engaged community members. Doing so shows them that they are valued for their time and energy. Proper compensation may also sustain or deepen the partnership, making future projects much easier.
Compensation may be financial or take other forms as determined by the community. Stipends are a great way to compensate community members for their participation in workshops and community steering committees.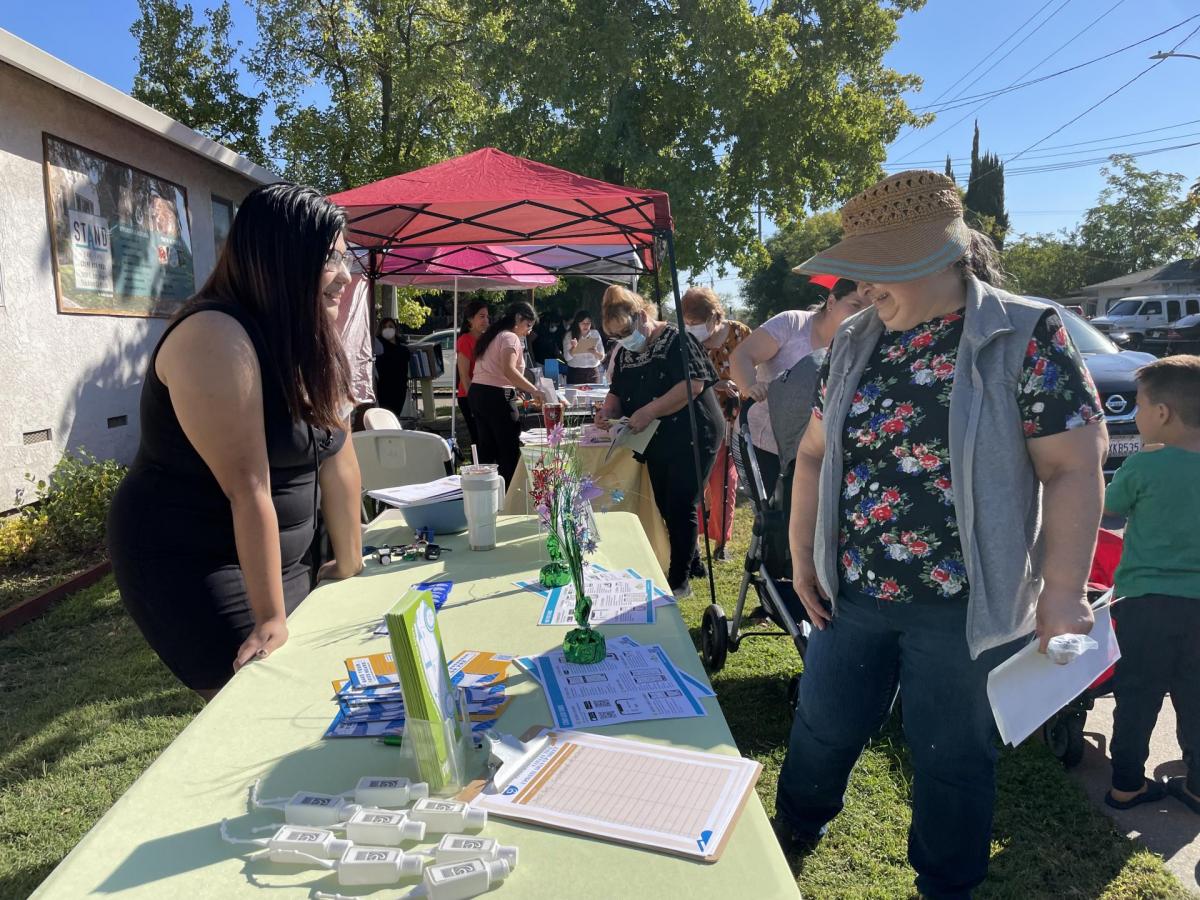 Allocate enough time for collaboration
The effects of environmental injustice are immediate and harmful but addressing them properly often requires adequate and extensive outreach programs. As Dr. Bayo Akomolafe, a philosopher, psychologist, and professor once wrote: "The times are urgent, let us slow down."
Building on that sentiment, Tema Okun writes that "a constant sense of urgency makes it difficult to take time to be inclusive, encourage democratic, and/or thoughtful decision-making." This is particularly true after years of consistent crisis responses. However, cities should make time to plan for solutions that meaningfully address inequity and environmental injustice. Continuing to expedite processes without community buy-in will inevitably erode trust in government and perhaps even create poor project outcomes.
How long public engagement lasts will vary from community to community. The solutions to achieve environmental justice should be as unique and plentiful as California's diverse communities. What is certain is that there must be enough time to collect feedback on a community's needs and priorities, craft a proposal that meets their needs, and check in with the community to ensure their feedback has been accurately incorporated at every step.
Time should also be allocated for adequate reflection and to go backward in the implementation timeline to ensure that no stakeholders are left behind. The goal is to bring as many people along as possible so they can become champions for the cause and ambassadors for the project.
The city of San Diego invested over $200,000 to partner with community-based organizations and a local nonprofit. Working with ILG to help oversee and coordinate the organizations, the city was able to engage communities of concern for their Climate Action Plan update, which lays out the city's plan for reducing greenhouse gas emissions and becoming a net-zero city.
San Diego's Climate Action Plan update spanned two years. Most of that time was spent empowering their partners and ensuring ample time was allotted to engage community residents and consistently report back to the community about the city's progress.
"Our city prioritized centering climate equity into our Climate Action Plan update, which meant dedicating enough time to community engagement," San Diego Climate Action Manager Moriah Saldaña said. "This produced a Climate Action Plan that indeed centered equity but was also co-developed by our communities of concern."
An inclusive engagement process includes numerous other components. When crafting a campaign, consider your communication channels and communication frequency. Will community members have enough time to learn about the process and provide input? If your community is diverse, are you providing information in multiple languages?
Additionally, track the demographics of who is participating. This will help you determine if any voices are missing from your engagement efforts. Finally, allow for some flexibility. A program or project will only be as successful as the engagement done to develop it; otherwise, how will the project meet the needs of the community?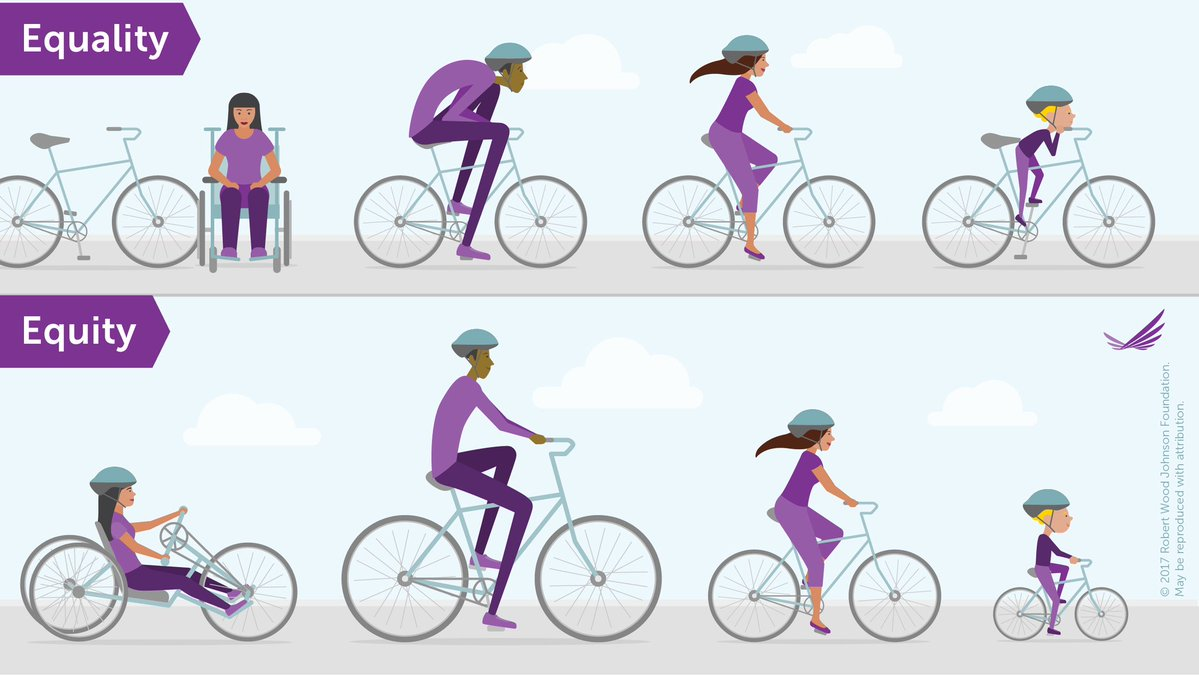 Build a shared understanding of, and commitment to, environmental justice
What environmental justice looks like differs depending on the community. A notable example of this is illustrated in an image published by the Robert Wood Johnson Foundation in 2017 that compares equity and equality to providing a bicycle for four people.
Applying environmental solutions equally would mean providing the exact same bike to all four people, even though one person is tall, one is a child, and one uses a wheelchair. Addressing environmental justice requires an equitable approach, meaning the city should provide a bike that meets the needs of each person. The tall person gets a taller bike; the child gets a small bike; and the person who uses a wheelchair gets a hand-peddled bike.
Defining what those bikes should look like for your city means working with the community to identify their needs and what changes would be meaningful to them.
This puts many agencies in an uncomfortable place: Conversations about environmental justice require some vulnerability and risk. However, if institutional change were easy to attain, it would have already been done. Broaching the subject will require hard conversations and a willingness to discuss shifts to the power and decision-making dynamics in ways that will make even the most willing participant uncomfortable.
Therefore, it is crucial that cities begin this process by defining their exact commitment to environmental justice. This commitment can be a north star for when potentially uncomfortable questions arise and a way to facilitate the discussions needed to promote institutional change and achieve equity.
California's cities are primed to become national leaders in progressing equity and improving the quality of life for our residents. How each city advances environmental justice will be different — as outlined above — but it must be done in partnership with their communities in a way that continually centers and empowers them.
ILG has several resources that can help cities forge new partnerships with community organizations, including information on how to expand their community connections, partner with community-based organizations, improve their public engagement processes, and more. Be on the lookout in 2023 for webinars on environmental justice, public engagement, and more resources for achieving equity. Stay up to date by signing up for the ILG newsletter.