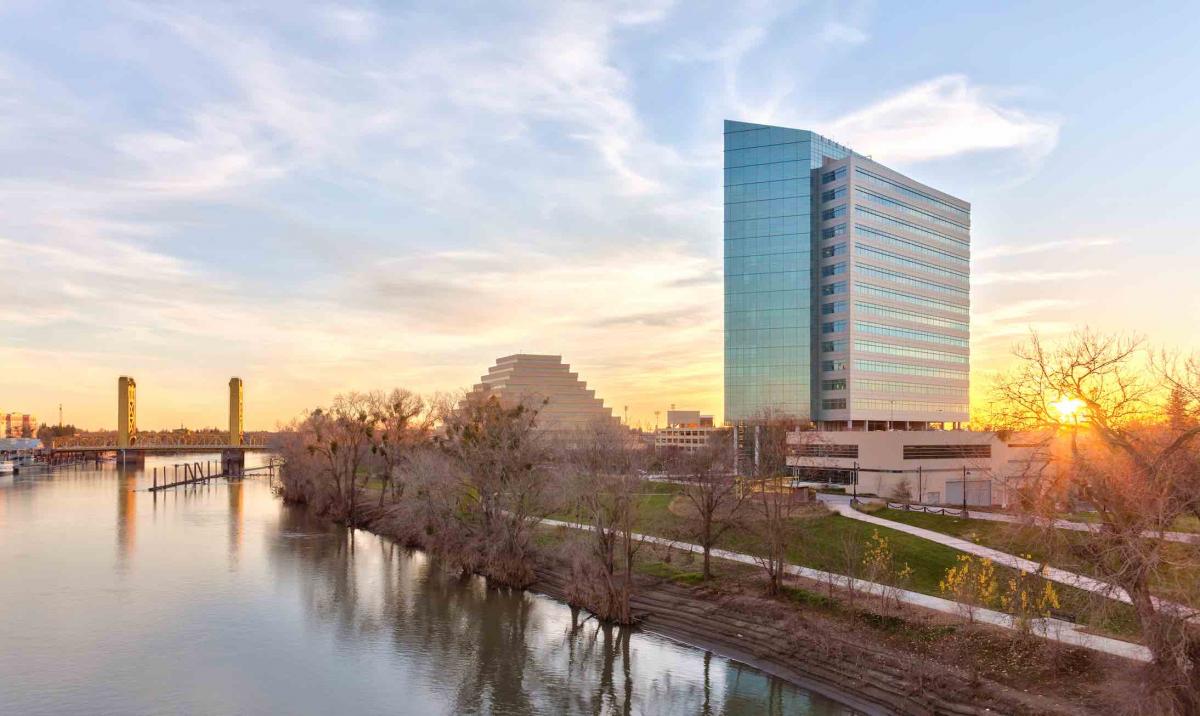 State Climate Investments Boost Local Communities
Steve Sanders is sustainable communities program director for the Institute for Local Government and can be reached at ssanders@ca-ilg.org.
---
City leaders throughout California are finding that state programs aimed at solving climate change can also help them tackle many other community priorities.
The City of West Sacramento has ambitious plans to spur development along the Sacramento River, directly across from the City of Sacramento's flourishing downtown. The Tower Bridge links the two cities, providing a "grand gateway" along Capitol Mall to the state Capitol building. West Sacramento is realizing its vision for a thriving River District in part through the California Climate Investments Program, funded through the state's unique cap-and-trade greenhouse gas emissions auction. The program has invested more than $6.7 million to support affordable housing and transit-oriented infrastructure in the area. People living in the new district can easily walk, bike or take transit to access over 100,000 jobs in downtown Sacramento.
The City of Patterson, founded in 1909 as the hub of a thriving agricultural region in the San Joaquin Valley, relies on its street trees to help moderate the temperature (and energy bills) on hot summer days. But a healthy tree canopy requires planning and long-term maintenance. A $150,000 grant from the Urban and Community Forestry Program, also funded by cap and trade, will enable the city to create a long-term urban forest management plan and to plant and maintain trees in disadvantaged neighborhoods that lack them.
In the City of Long Beach, more than $2.4 million in cap-and-trade funds are supporting the development of Anchor Place, a 120-unit affordable housing project serving veterans and the homeless population. The project will help alleviate the severe shortage of permanent housing and support services for homeless individuals and veterans while also increasing transportation options and helping drive the city's revitalization and economic development.
Cap and Trade Generates Funding
In 2017, the Legislature and Gov. Jerry Brown approved an extension of the cap-and-trade program, providing a stable funding base through 2030. The market-based system sets a limit (or "cap") on greenhouse gas emissions, and utilities and other businesses subject to the cap can buy (or "trade") greenhouse gas emissions permits within the cap at quarterly auctions.
The sale of cap-and-trade allowances generates substantial revenue — estimated at between $2 and $3 billion per year — that the state invests to further reduce greenhouse gas emissions and achieve other community co-benefits such as reducing pollution, improving public health and accelerating economic growth. The Legislature allocates revenues to more than a dozen state agencies that administer clean transportation, energy efficiency, waste management and natural resources programs, many of which can be an important source of funding for local governments to achieve their sustainability and other community goals.
Resource Center Offers Helpful Information on Cap and Trade
To help cities navigate this maze of state programs, the Institute for Local Government (ILG) offers a one-stop online Cap and Trade Resource Center (www.ca-ilg.org/capandtrade). The resource center describes each program, provides examples of projects that have qualified for funding and offers links to the state agencies that administer each program. The Cap and Trade Resource Center is one service offered through ILG's Beacon Program, which supports a growing network of more than 130 cities and counties that are taking voluntary steps to help meet the state's climate, energy and sustainability goals. For more information, visit www.ca-ilg.org/BeaconProgram or contact Karalee Browne, ILG sustainable communities program manager, at kbrowne@ca-ilg.org.