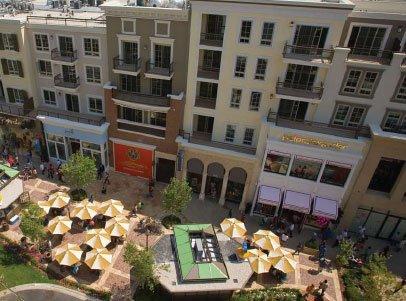 Is the State Eating Its Seed Corn? How Cutting Redevelopment Kills Jobs
John F. Shirey is executive director of the California Redevelopment Association.
---
Growing up in a Midwest farming community, I often heard the expression, "Don't eat your seed corn." Farmers knew they had to carefully protect their seed corn at the end of a season so they would have enough to plant in the spring. If they consumed all their seed corn, there would be no harvest the following fall.
Those are good words to live by, but in this fiscal year the State of California did the equivalent of eating its seed corn. Taking $350 million in funds from local redevelopment agencies may seem like an easier choice than cutting expenses and/or raising revenues, but it means there won't be economic harvests in the future.
Investments by redevelopment agencies represent one of the state's most meaningful economic development programs. Despite the fact that California is the world's eighth largest economy, the state government lacks a focused program to spur economic development. Local redevelopment investments in communities have become the state's de facto economic development program.
One dollar spent in a redevelopment transaction typically leverages another $6 in private funds. Economists tell us those $7 — spent mostly on construction materials and labor — will circulate at least one more time in the overall economy producing additional jobs and goods. One redevelopment dollar then essentially becomes $14.
When materials and goods are purchased and people are put to work, something else is produced: dollars from sales tax, income tax and property tax, many of which flow to the state treasury.
Another way to look at the state taking $350 million from local redevelopment agencies is to apply the leverage formula of 1-to-14: $350 million translates into a $4.9 billion hit to overall economic activity. Economic modeling of redevelopment investments also indicates that number includes $1.28 billion in reduced income for construction-related businesses. The $350 million taken also means that the state will lose tax revenues estimated at $208 million — and more than 31,000 jobs. Taking redevelopment funds is not sound economic policy, particularly during a recession.
Compounding Job Losses in the Hard-Hit Construction Sector
Taking away redevelopment funds hurts one of the job sectors already hardest hit during this economic downturn: construction. From January 2008 to January 2009 a total of 121,600 jobs disappeared in the construction industry (an average of more than 9,400 jobs a month). Construction and financial services are losing significantly more jobs per month than the rest of the economy.
Figure 1 illustrates how the portion of the cuts in redevelopment funds received by selected cities in eight of California's 28 Metropolitan Statistical Areas (MSAs) could result in increased construction job losses. In six MSAs, redevelopment construction job losses are predicted to increase existing job losses by 8 to 36 percent (Los Angeles-Long Beach; San Francisco-San Mateo-Redwood City-Oakland-Fremont-Hayward; Sacramento-Roseville; San Diego-Carlsbad-San Marcos; San Jose-Sunnyvale-Santa Clara; and Stockton). The other two MSAs, Fresno and Riverside-San Bernardino-Ontario, are not as heavily impacted by the loss of redevelopment funds because they have already experienced significant construction job losses.
Building commercial and residential structures and infrastructure involves many more workers than just those on a building site. Workers who manufacture windows, beams, pipes and other essential building materials and those who transport these items to the site and provide other services also lose their jobs when redevelopment funding is cut.
Redevelopment Builds Better Communities
Before taking local government revenues again, lawmakers should recall another old expression: "penny wise and pound foolish." Clearly, taking redevelopment funds is pound foolish, whether it's losing construction sector jobs or reducing bonding capacity.
Communities use their redevelopment "seed corn" dollars to build infrastructure such as streets, water lines, sewers and sidewalks. They build affordable housing. They revitalize run-down areas and restore vitality to tired downtowns. Increasingly, they are using dollars for infill development, transit-oriented development and "green" buildings, which reduce vehicle miles traveled and conserve natural resources. They use redevelopment funds to clean up brownfields and invest in sustainable, walkable communities. Again, all these investments support jobs and economic growth, which in turn produce tax revenues.
Redevelopment activities represent the investments that will help California prosper and build better communities at the same time. That's certainly a harvest worth keeping.
---
Redevelopment Agencies Are Key to California's Economic Recovery
The $350 million take of redevelopment funds in the current state budget will have the following adverse economic effects:
Construction, after inclusion of private industry investment, will be cut by $2.5 billion;
A total of 31,089 jobs will be eliminated in the state - 17,533 of which are construction jobs;
Overall, state business sales and revenues will be reduced by $4.35 billion;
State income to business owners and workers will be reduced by $2.43 billion; and
State and local governments will lose $208 million in revenues.
Redevelopment activities make hefty contributions to local economic development statewide.
In 2006-07, 397 active redevelopment agencies implemented economic development-related projects in 745 project areas in local jurisdictions; and
During that year, $8 billion was expended for project-related costs (paying bonds, building construction, property acquisition and other activities).
By reducing blight and building commercial, industrial and residential buildings and infrastructure, redevelopment construction activity significantly improved local economic activity.
Redevelopment construction:
Built 272.7 million square feet of new commercial, industrial, public and other buildings from 1997-2007;
Completed an additional 72.6 million square feet of rehabilitated construction from 1997-2007; and
Built or rehabilitated 71,127 units of affordable housing from 1994-2006.
---
Lawsuit Pending: Redevelopment Funds Are Constitutionally Protected
In late 2008, the California Redevelopment Association (CRA) and the cities of Moreno Valley and Madera filed a lawsuit in Sacramento Superior Court to block sections of budget trailer bill AB 1389, which was approved as a part of the FY 2008-09 state budget and authorizes a one-time raid of $350 million in redevelopment funds.
The lawsuit contends that state "takes" of redevelopment funds to balance its budget violate Article XVI, section 16 of the state Constitution by diverting redevelopment funds to Educational Revenue Augmentation Funds (ERAF). California's Constitution states in Article XVI, section 16, that redevelopment funds can be used only for specified redevelopment activities, and the use of redevelopment funds to balance the state's budget does not qualify as a constitutionally permitted use of such funds.
Judge Lloyd Connelly presided over a hearing on the merits of the lawsuit March 13, 2009. No decision was rendered at the conclusion of the hearing, and it will likely be late April before a ruling is made. Judge Connelly was aware of the May 10, 2009, payment due date for transfer of redevelopment agency funds to ERAF; he agreed to hear a motion to stay on April 30, 2009, if necessary. Regardless of which side prevails in Superior Court, the decision is expected to be appealed. These issues were pending as Western City went to press. For updated information, visit www.cacities.org or www.calredevelop.org.
---
This article appears in the May 2009 issue of Western City
Did you like what you read here? Subscribe to Western City
---