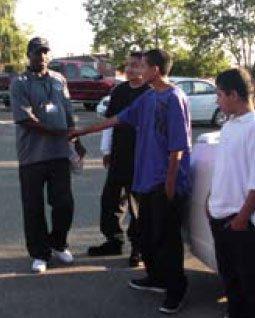 Stockton's Operation Peacekeeper Focuses on Reducing Gang Violence
The City of Stockton won the Award for Excellence for this project in the Public Safety category of the 2010 Helen Putnam Award for Excellence program. For more about the program, visit www.cacities.org/helenputnam.
---
Located 45 miles south of Sacramento, the City of Stockton is home to approximately 290,000 people.
Coping with youth gang violence has been an issue for Stockton, as it has for many cities. To stem the tide of youth joining gangs and committing violent crimes, the city developed and implemented Operation Peacekeeper, an innovative prevention and intervention program.
Created in 1997, Operation Peacekeeper originally focused on reducing youth gang homicides in Stockton. As a result, gang-related homicide numbers dropped from a high of 22 in 1997 to an all-time low of two in 1998. However, budget cuts and expiring grants reduced the program's resources, and by 2004 only one outreach worker remained.
Reinvigorating the Program
Youth gang violence in Stockton resurged during 2005 and 2006. In response, the city reinvigorated Operation Peacekeeper in 2007. To spotlight its high level of support and distance it from perceptions that it was somehow an arm of law enforcement, the city reorganized the program and delegated oversight of it to the city manager's office. The program hired five more youth outreach workers, some of whom were former gang members. The youth outreach workers contacted more than 10,000 youths during 2008 and another 12,000 during 2009.
Operation Peacekeeper's revised strategies combine gang-specific youth forums, individual evaluations, long-term mentoring and involvement of each youth's entire family. The program also expanded its focus from ages 13–18 to include participants ages 10–18. Working with a younger age group better prepares them to resist gang recruitment. The program also aims to help lower the city's high drop-out rates.
Young people enter the program through three separate yet connected levels of prevention and intervention activities. As each youth moves through the levels, his or her progress is recognized and rewarded with access to additional resources, such as classes, stipends and field trips. Evaluation criteria include willingness to participate, the youth's home situation, school grades and attendance records. The program's nonprofit community partners provide training in anger management, substance abuse awareness and more.
New partners in Operation Peacekeeper include San Joaquin County Mental Health Services and the county Office of Education. A re-entry component was launched in partnership with the San Joaquin County Probation Department and the California Department of Corrections and Rehabilitation to help prevent youth from reoffending. According to feedback from the Probation Department and Juvenile Hall staff, these interventions have proven effective.
Mentoring and Community Involvement Play Central Roles
The long-term mentoring provided to youth by the team of outreach workers is Operation Peacekeeper's greatest strength. Young participants in the program, parents, teachers and community members report positive changes in attitude and effort as a result of this mentoring. Specific outcomes also reflect its success — by January 2010, 17 young gang members had fully left their gang and were making strides toward completing school or learning job skills. Furthermore, youth gang violence dropped 17 percent between March 2007 and January 2010. "Helping save a life is my most important intervention," says Youth Outreach Worker Stanley Thomas.
Addressing the causes of gang violence requires the entire community's involvement. An Operation Peacekeeper advisory group comprising public agencies, nonprofit and faith-based organizations meets monthly to review trends, capabilities and needs as part of the effort to jointly prevent high-risk youth from entering the criminal justice system. Mayor Ann Johnston says, "Operation Peacekeeper, in collaboration with our community partners, has saved many of our youth from gang affiliation and violence in the City of Stockton."
"It takes a commitment from every segment of the community to impact at-risk youth," says Ralph Womack, program manager for Operation Peacekeeper. "Citizens can no longer believe that the issue of youth joining gangs is someone else's problem. Every young person counts, and all young people need at least one responsible adult in their life."
Operation Peacekeeper has been recognized as a best practice model for youth gang street outreach by many jurisdictions seeking to establish similar programs. For every youth diverted from involvement in gang violence, the rewards include reduced crime, fewer victims, less heartache for families and a safer community.
Contact: Ralph M. Womack, manager, Operation Peacekeeper, City of Stockton; phone: (209) 937-8880; e-mail: ralph.womack@ci.stockton.ca.us.
---
This article appears in the October 2010 issue of Western City
Did you like what you read here? Subscribe to Western City
---