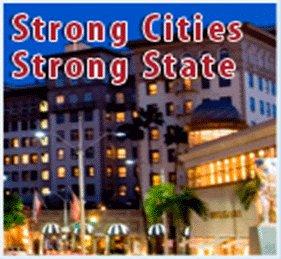 Strong Cities
Strong State Brings Home the Value of Cities and City Services
Eva Spiegel is communications director for the League and can be reached at espiegel@cacities.org.
---
If your city hasn't been profiled yet on www.StrongCitiesStrongState.com, don't miss this great opportunity to get the word out about your city's innovative initiatives and dedicated leadership.
Participating in Strong Cities | Strong State helps your city connect its residents with valuable information. In addition, you'll reach opinion leaders and your colleagues throughout California with insights on how your community has successfully tackled challenges.
Strong Cities | Strong State is now in its second year, with close to 150 city profiles featuring 750 individual local government success stories. The goal is to raise public awareness about local government's role in creating a high quality of life for California residents. Strong Cities | Strong State strives to illuminate how California's cities are essential, willing and equal partners in the effort to fix California's problems.
Launched by the California City Management Foundation and the League in August 2011, Strong Cities | Strong State was created in the aftermath of the City of Bell scandal. The program was designed to inform the public, opinion leaders and lawmakers about the positive work of California cities through a multi-platform campaign based on the website, robust earned media coverage and social media outreach. In the past ​13 months, dozens of major California papers and blogs have featured stories about cities joining the campaign.
Visit www.facebook.com/StrongCitiesStrongState and click on "like" to receive notification of new rollouts.
Each profile features information about the city and its mayor, city council and city manager, as well as success stories and testimonials. The components of these profiles effectively communicate how the city and its leaders work to provide essential services and create a vibrant community for residents. These success stories include a wide range of programs that address transparency, economic development, educational partnerships, infrastructure improvements, community engagement, public safety and much more.
Not only does Strong Cities | Strong State provide opinion leaders and the public with a greater understanding of the work of cities, it also serves as a substantive resource for all California municipalities. City officials who visit the website can learn about the innovative programs implemented by their colleagues throughout the Golden State. Now the largest online repository of California city innovation, Strong Cities | Strong State provides another way for cities to share their knowledge and experience with others.
How to Join Strong Cities | Strong State
The League's regional public affairs managers are working with city managers to compile the profiles for www.StrongCitiesStrongState.com. The League is committed to including every city in this valuable effort to share our successes and demonstrate how cities accomplish the delivery of essential services.
Contact your regional public affairs manager to create your city's Strong Cities | Strong State profile. Visit www.cacities.org/regionalmanagers to identify your region and find contact information for your regional public affairs manager.
---
This article appears in the September 2012 issue of Western City
Did you like what you read here? Subscribe to Western City
---