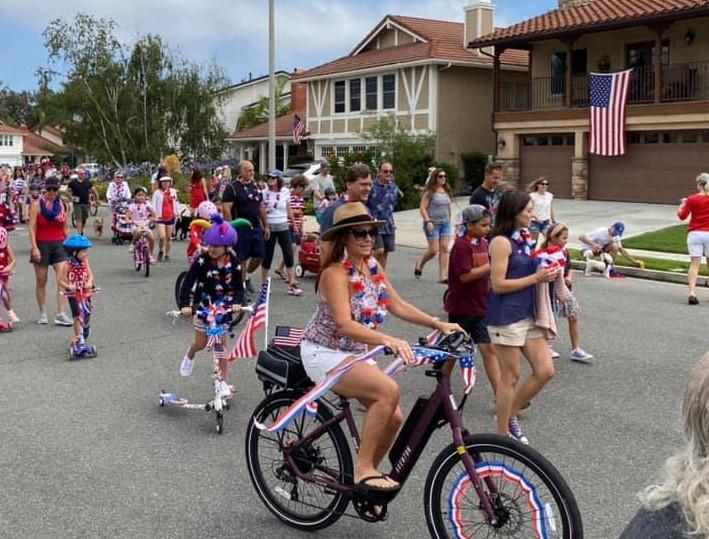 Struggling with e-bike safety? Laguna Niguel has a plan that may be a solution
The city of Laguna Niguel won the 2022 Helen Putnam Award for Excellence in the Public Safety category. For more information about the award program, visit www.helenputnam.org.
---
Electric bikes are becoming more popular in California, prompting growing concerns about rider safety. Like in many coastal cities, e-bikes became extremely popular in Laguna Niguel (pop. 63,355) during the COVID-19 pandemic. With the closure of fitness centers and gyms — and months of being cooped up indoors — residents were eager to take up outdoor activities.
The e-bike boom was also driven in part by the city's mild climate, abundant parks, scenic trails, and general appreciation for an active lifestyle. Since the city's hilly topography can be challenging with a conventional bike, e-bikes became an ideal alternative transportation method. They also gave many of the city's younger residents — specifically teens and pre-teens — a newfound sense of independence.
"Residents have voiced their concern for the safety of adolescent riders who are not wearing a helmet and traveling at high speeds over 20 miles per hour, causing near-miss collisions with pedestrians," said Isaac Flores, the captain of the Laguna Niguel Police Services, the city's Public Safety Division led by the Orange County Sheriff's Department.
Although e-bikes have many benefits, e-bike riders are more likely to get in a crash due to the bikes' high speeds, relatively small frames, and a general lack of safety awareness. In Laguna Niguel, this led to heightened concerns about unsafe e-bike behavior, such as not knowing the rules of the road, riding without helmets, and disregarding speed limits.
In early 2021, the Laguna Niguel City Council directed staff to develop a plan to address the issue. Despite a comprehensive search, city staff identified only limited amounts of information and strategies used by other California cities. So, the city partnered with the Laguna Niguel Police Services to develop an electric bicycle action plan.
The result is safer ridership, established requirements for student rider education, and increased accountability for e-bike riders who violate safety rules.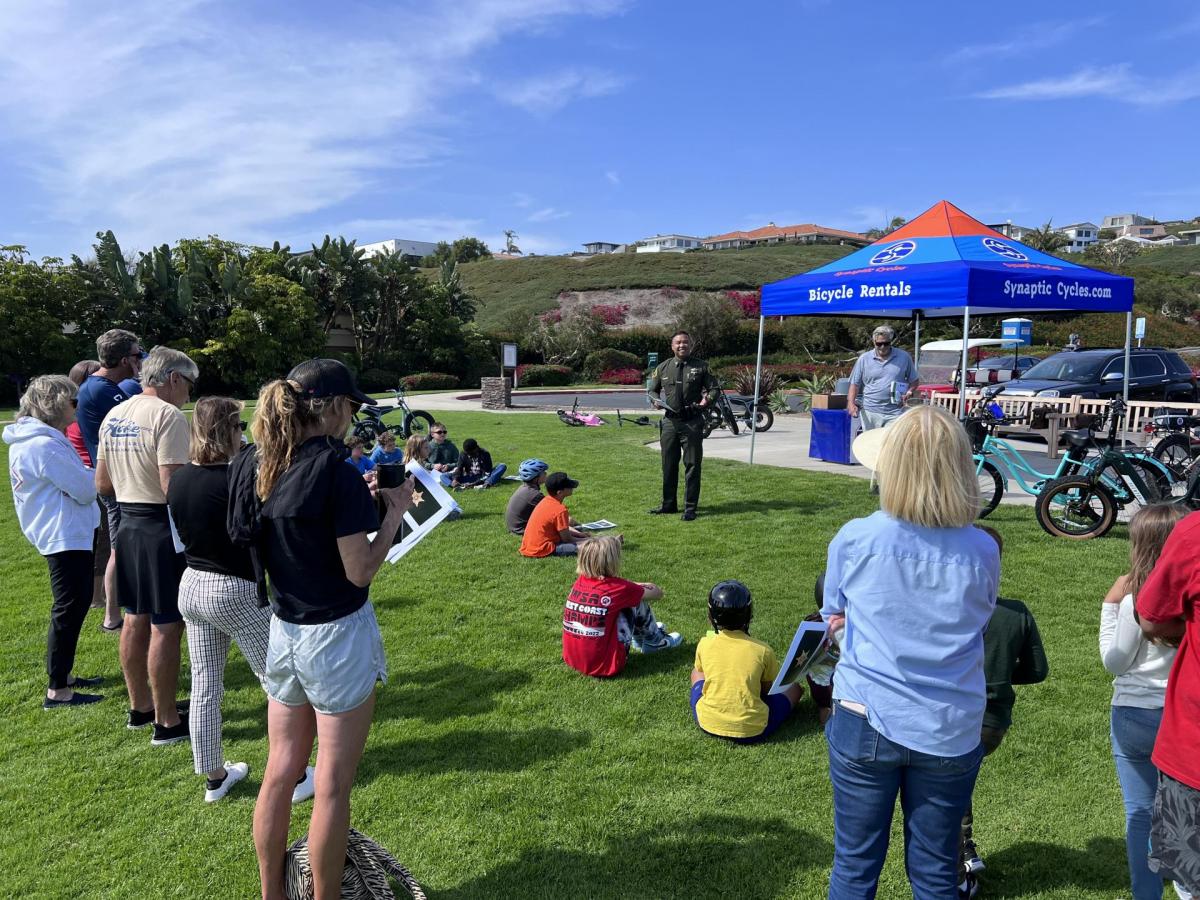 Taking the message to teens
The city and the Laguna Niguel Police Services strategically partnered with the Capistrano Unified School District to both maximize outreach to younger riders and utilize existing public safety personnel and volunteers. The police services team gave presentations at local schools, including at several back-to-school nights. At these events, deputies and volunteers distributed educational brochures highlighting the rules of the road when riding an e-bike. The police services team also teamed up with several PTA groups for an educational town hall on the safe operation of e-bikes. The town hall was recorded and has been viewed over 3,000 times.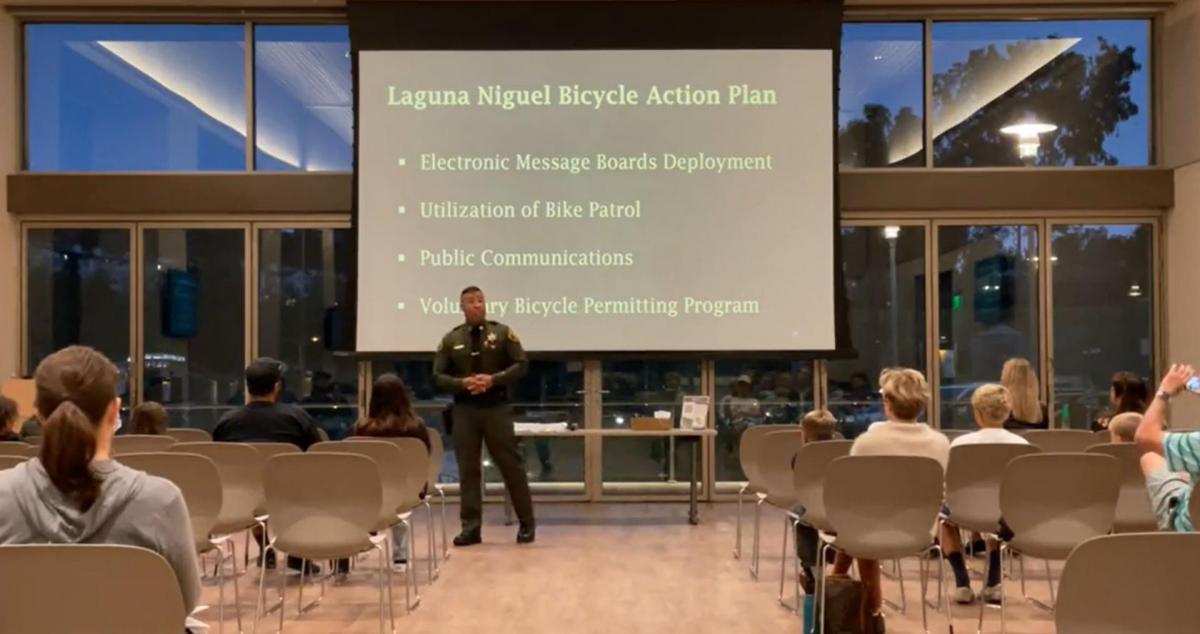 "The public education outreach component with the school district and associated groups provides the opportunity for the Laguna Niguel deputies and volunteers to engage not only with students, but with the parents who are purchasing these bicycles unaware of the potential safety issues," said Laguna Niguel Mayor Kelly Jennings.
City staff also implemented a comprehensive public communications campaign geared towards teenagers and a voluntary bicycle permitting program. Electronic message boards and colorful signage that educate residents on e-bike safety can be found near trailheads and other areas with frequent ridership. Registering an e-bike both increases the probability a stolen bike will be recovered and provides an additional opportunity for education.
The city relies on the Police Auxiliary Citizens Team (PACT) — a group of volunteers that help the Sheriff's Department with operational and administrative duties — and reserve deputies to educate residents about the appropriate and legal use of city trails when using an e-bike. PACT members are frequently found on city trails and sidewalks, engaging e-bikers and informing them about the rules of ridership, as well as the repercussions of breaking the rules. This can include warnings, loss of privilege to ride to and from school, and even citations.
"Without the assistance of our PACT volunteers and Reserve Deputies, the electric bicycle action plan would not be as successful as it is today," said Jennings. "Our goal is to educate first, and while our plan has been very effective at this, we have had to issue citations to repeat offenders, including to some youth. We have also found that when parents get involved, compliance increases, especially when there is a safety issue or a citation attached."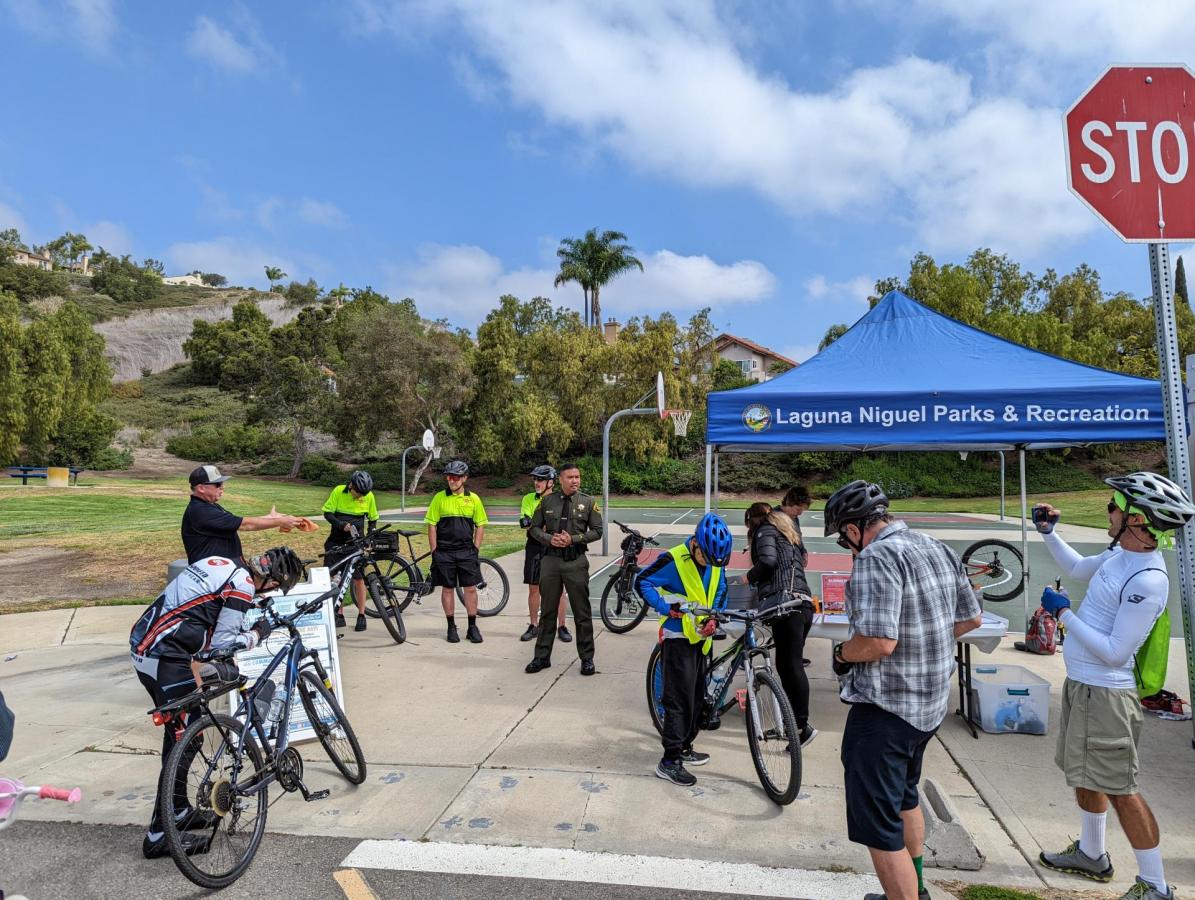 A model for other cities
Implementing the action plan cost nothing as the program operates through volunteers. The program's cost and time savings allow Laguna Niguel deputies to provide other public safety services.
The tremendous success of the action plan has led to similar programs in other cities throughout Orange County. The community need for this program, coupled with low costs and savings of public safety resources, can serve as a model for other cities trying to reduce the number of serious e-bike injuries, particularly among younger riders.
The city, sheriff's department, and school district will continue to work collaboratively to educate students and their parents on the importance of electric bicycle safety and the consequences of unsafe ridership practices.
"I am incredibly proud of the collaborative effort that has and continues to go into addressing the issue of electric bicycle safety in Laguna Niguel," Jennings said. "As the sixth safest city in the state of California, public safety is our number one priority, and this action plan has made tremendous strides at furthering that priority."
Justin Martin is the assistant city manager for Laguna Niguel. He can be reached at jjmartin@cityoflagunaniguel.org or (949) 362-4300. Watch this video for an overview of the project.