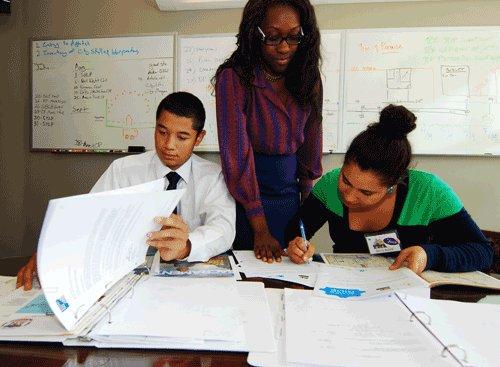 Summer at City Hall: Partnership Focuses on Youth
Bina Lefkovitz is a youth advocate and can be reached at blefkovitz@gmail.com. Jonathan Raymond is superintendent of the Sacramento City Unified School District and can be reached at jraymond@scusd.edu. Jay Schenirer is a council member for the City of Sacramento and can be reached at jschenirer@cityofsacramento.org.
---
Traditional summer school for teens has all but vanished in cities such as Sacramento over the past several years as a result of funding cuts during the recession. The lack of summer learning opportunities can be especially damaging to low-income teens, who often return to school in the fall having lost academic gains made the previous year.
The Summer at City Hall program was launched in 2010 by Sacramento City Council Member Jay Schenirer in partnership with the Sacramento City Unified School District (SCUSD) and youth advocate Bina Lefkovitz. Since then, the Sacramento County Office of Education has joined the partnership. Summer at City Hall focuses on teen learning and leadership and provides a model for other communities seeking to create an engaging and enriching summer program for youth.
The program offers four key benefits for participants. Summer at City Hall:
Provides approximately 85 high-school students with a six-week, five-credit summer course that combines civics, leadership and work-readiness skills development;
Offers those students a five-week internship of 27 hours (with a stipend of $270) in a city department where they gain work experience and explore careers in local government;
Gives these students, most of whom come from the city's most at-risk neighborhoods, a safe, constructive place to be during a portion of their summer break; and
Reminds local elected officials and city staff how important young people are to the city's future and helps dispel negative stereotypes about teens.
The Program Grows Rapidly
Summer at City Hall has grown from 30 students and one SCUSD teacher in its first year to 85 students and three SCUSD teachers in 2013. Each year, four "returning youth" are also recruited to participate in the program's planning and delivery.
Youth participants are recruited by SCUSD's Youth Development staff, which operates the year-round after-school programs for the district and summer programming for almost 5,000 students. Summer at City Hall is one of the few programs in the school district currently that serves the 16- to 18-year-old age group. The program recruits students from all five of the district's comprehensive high schools, one continuation school and several of the smaller high schools.
Students file online applications, including a cover letter stating their reasons for wanting to participate and what they hope to learn, a résumé and application form. Workshops are offered to help students with applications, which are reviewed by a committee of city staff, district representatives and the returning youth. This year 160 students applied for 85 slots. The screening process focuses on finding students who could benefit most from this experience and not those who already have exemplary résumés and a wealth of summer opportunities. A set number of students are selected from each school so that all the district's high schools are represented, ensuring broad diversity.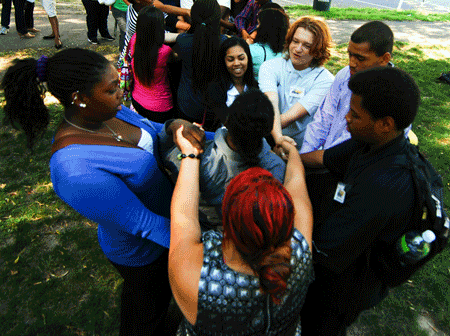 Program Structure
During the six-week program, SCUSD Nutrition Services provides breakfast at Sacramento City Hall from 8:00 to 8:30 a.m. Classes are held at city hall in the council chambers and in city conference rooms from 8:30 a.m. to noon each day, followed by lunch, which is also provided.
Starting in the second week, students participate in internships twice a week in the afternoons, totaling six hours a week. Students are placed in various city departments including the offices of the mayor and city council, city manager, city attorney, city clerk, transportation, Regional Transit, police, fire, animal control, parks and recreation, finance, neighborhood services and the Crocker Art Museum. Several students take a bus to their internship; the program provides free bus passes.
Summer at City Hall also provides field trips to various city facilities where speakers from city departments and community partners conduct tours and answer questions.
During the six-month pre-planning period, city staff and the SCUSD teachers develop a detailed set of learning objectives for each day of the program.
Week 1 entails developing "soft" skills to prepare for internships. In Week 2, skill development continues, and students learn about local government functions and services. This continues into Week 3, which also focuses on the elements of active citizenship: voting, volunteering, philanthropy, leadership and advocacy. In addition, the third week covers the limitations of government and the role of partners like nonprofits and associations in supporting neighborhood stability. Week 4 helps students understand what it means to advocate for changes that make a neighborhood a better place and the role of cultural facilities in a city's quality of life. Week 5 focuses on developing a deeper understanding of how to advocate for a neighborhood solution by learning about the role of stakeholders and how to influence decision-makers on an issue of concern to the students. During Week 6, students present their advocacy issue at a mock council meeting, participate in a service project developed by the returning youth, and celebrate what they have learned.
Summer at City Hall teaches students about a range of job-related topics and covers employer expectations, punctuality, dressing professionally, customer service, interview and presentation skills, teamwork, conflict resolution and consensus building.
Returning Youth
The four returning youth are actively engaged in the six months of program planning meetings and the development of the year's curriculum. They assist with participant recruitment and selection. During the six-week program they mentor students, help with the many administrative tasks associated with Summer at City Hall, assist in the classroom with team-building activities and provide support to teachers.
The Partnership
SCUSD has approximately 47,000 students in 80 schools. The majority of students come from low-income neighborhoods, with 72 percent qualifying for a free or reduced-price lunch. Recognizing how summer learning loss affects students, SCUSD has developed extensive summer programming for students from kindergarten through 9th grade via its Youth Development office. Summer programming is primarily paid for through grants and Title I funding. In addition, for the past 10 years SCUSD has been developing Linked Learning programs in its high schools to make learning more relevant and better prepare students for college and career. Summer at City Hall is funded in part by the Linked Learning Alliance and the Youth Development office.
The program's partners hope that over time Summer at City Hall will become more closely tied to the career academies, providing an extension of the school-year learning through class work at city hall and summer internships. In 2013 the Sacramento County Office of Education collaborated with Summer at City Hall and SCUSD to support one of the teachers in the program, with a commitment that the Sacramento County Office of Education's court-school students would have spots reserved in the program.
The city's interest in creating the Summer at City Hall program stems from its desire to foster active citizens who care about and want to engage in making their neighborhoods better places to live. Sacramento has a City Management Academy to teach adults about how local government operates. In some ways, Summer at City Hall is the youth version of this academy. Furthermore, because Sacramento is one of the top three most violent cities in the state, the city has launched concerted efforts to reduce gang violence and increase prevention programs for youth. The mayor's Gang Prevention Task Force has identified the need for more prevention programs and seeks to strengthen educational outcomes for students in Sacramento. Summer at City Hall satisfies both of these objectives.
The Partnership Expands
The nonprofit Reading Partners and the Boys and Girls Clubs provided volunteer training and opportunities to Summer at City Hall students in 2012 and 2013. City Year, a leadership program, joined the partnership in 2013 and will host a team-building and career-awareness day. Other partners include the Crocker Art Museum, the Downtown Partnership, Senate President Pro Tem Darrell Steinberg's office, the Partnership for Children and Youth, and more.
The Bottom Line
In total, the program costs about $1,000 per student, including cash and in-kind donations. This cost includes:
Teachers (planning and summer class time);
Snacks, materials and supplies;
Bus passes and transportation for field trips;
Student stipends; and
City and school district staff time.
SCUSD and the Sacramento County Office of Education cover the costs of Summer at City Hall teachers, buses for field trips, supplies, breakfast and lunch. The school district and the county run student recruitment and provide staff to coordinate district support during the summer. The City of Sacramento provides student stipends, bus passes for all students, parking for teachers and facilities. The city also coordinates all daily logistics; arranges internships, field trips and speakers; and coordinates the overall program planning and implementation on behalf of the partnership.
The Results
To date, 150 students have participated in Summer at City Hall. According to student evaluations from 2012, the program is very popular:
35 percent rated the program excellent;
50 percent rated the program very good;
88 percent felt the program prepared them for their internships; and
58 percent felt their knowledge of local government improved as a result of the program.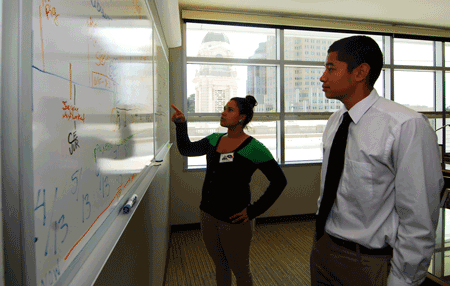 In addition to favorably rating the instructors, students liked working as a team and finding solutions to the issues they identified as problems in their communities. Students reported that their most improved skills included team building, networking, communication, developing professional relationships, presenting ideas and accepting criticism. Even after having completed an intern-ship in a city department, students expressed a desire for more information about how government operates. That finding led to the creation of a more formal curriculum with a heavier focus on local government's functions and impact on neighborhoods where students live.
The program evaluations revealed that 98 percent of the city departments participating in the internship program asked to host interns again the following year. Typical evaluation comments from supervisors included:
"Students seemed prepared with basic knowledge of dress, work behavior and attitude."
"We enjoyed teaching our students about local government."
"Students helped us catch up on projects that we had put on the back burner due to staffing shortages."
"We were able to keep a student on as a volunteer after the program to help with other projects."
In some cases staff indicated that they did not have sufficient time to find projects for interns or to mentor students who had no prior work experience. Some staff asked for more details about what the students were learning during class time so they could align their internship with those learning objectives. Most wanted student internships to last more than 27 hours. Regional Transit offered to pay students beyond the 27 hours to extend the internship experience. The partnership is seeking funding and exploring options for expanding the program.
---
Share Your City's Story
Is your city involved in a successful partnership with a county, school or nonprofit? Share your city's outstanding experiences and lessons learned with the Cities Counties Schools Partnership. Contact: Randi Kay Stephens, program coordinator, Institute for Local Government; phone: (916) 658-8207; email rstephens@ca-ilg.org.
---
This article appears in the September 2013 issue of Western City
Did you like what you read here? Subscribe to Western City
---