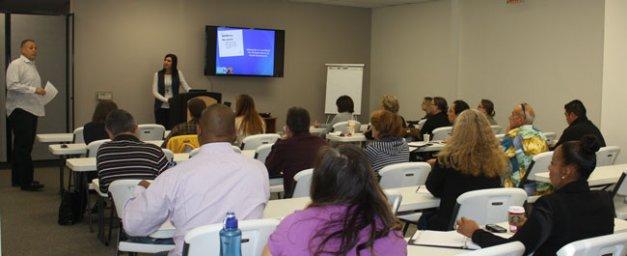 Temecula's Business Incubator Helps Startups and More
Cheryl Kitzerow is an economic development analyst for the City of Temecula. She can be reached at cheryl.kitzerow@cityoftemecula.org
---
When many communities were looking for ways to recover from the Great Recession and the loss of redevelopment, the City of Temecula launched a plan to repurpose its former city hall building with a program to support economic vitality. City council members wanted to provide opportunities and resources to foster the entrepreneurial spirit, stimulate job creation and promote economic growth for years to come. So Temecula set out to build a city-sponsored business incubator focused on creating an atmosphere that would nurture innovative businesses in the high-tech field and provide these new businesses with resources to help them grow and mature. The repurposed facility serves as a regional business resource center and provides educational workshops and consultations for the business community.
Temecula Launches Business Incubator
Business incubators help entrepreneurs turn their ideas into sustainable businesses and reduce the risk of failure. According to the National Business Incubation Association (NBIA), in 2011 alone North American incubators assisted more than 49,000 start-up companies that provided full-time employment for nearly 200,000 workers and generated annual revenue of more than $15 billion. And NBIA members report that 87 percent of the firms that have graduated from their incubators are still in business after five years.
Temecula launched its incubator, the Temecula Valley Entrepreneur's Exchange (TVE2), in November 2012. The incubator aims to give young startups the tools necessary to succeed and become employers. City Manager Aaron Adams says, "The hope is that they reach the point where they move out of the incubator and hire some new employees." Improving the success rate of newly created businesses should in turn help the city create jobs and generate sales tax revenue.
TVE2 also performs double duty as a regional business resource center. It provides educational seminars and confidential one-on-one consultations for the general business community. Recent studies show that 50 percent of small businesses fail within the first year and 95 percent will close their doors before their fifth year. The city saw a need to provide resources to its local small businesses to help them succeed.
Partnerships Are Essential To the Effort
Temecula developed strategic partnerships with local universities, local businesses and entrepreneurs and nonprofit organizations to provide educational opportunities, hold networking events and foster collaboration. Specialized training, free professional consultation and mentoring are offered to help startups and other local businesses develop a strong foundation. Temecula's partners include Mt. San Jacinto College; California State University, San Marcos; the Inland Empire Small Business Development Center; Tri-Tech Small Business Development Center; Temecula Valley Chamber of Commerce; Inland Empire SCORE; Economic Development Corporation of Southwest California; and other local businesses.
Because TVE2 is part of the NBIA, it enjoys a strong support system that offers the tools and information the incubator needs to improve its effectiveness and efficiency.
Winning Results
Much of TVE2's success can be attributed to the best practices that were adopted early in its development. Incorporating the regional resource center with the incubator program provides a comprehensive approach to services to the business community — from tech startup to home businesses to corporations — a win for all. According to the NBIA, one essential component for success is integrating the incubator program and activities into the fabric of the community and its broader economic development goals and strategies. By focusing on creating local jobs and supporting local business growth, Temecula's leaders strive to improve the overall quality of life for its residents.
Although the incubator is still in its early stages, it has achieved positive results. In its first year, the TVE2 resource center helped local businesses create 34 jobs, provided more than 275 consultations and held hundreds of workshops with 1,300-plus attendees at these events. The incubator includes seven tech companies, which have raised more than $600,000 of investment capital. Of these companies' 11 founders, two have relocated from outside the area to make Temecula their home.
For more information visit www.tve2.org.
---
This article appears in the May 2014 issue of Western City
Did you like what you read here? Subscribe to Western City
---