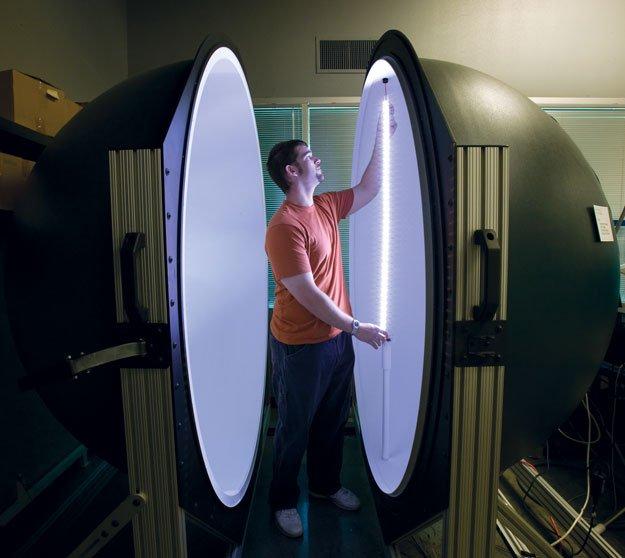 Tips for Your Community: How to Save Lighting Energy
Michael Siminovitch is a professor at the University of California, Davis, and director of the California Lighting Technology Center (CLTC), an innovation center dedicated to the development and application of energy-efficient lighting. He can be reached at mjsiminovitch@ ucdavis.edu . For more about CLTC, visit http://cltc.ucdavis.edu.
---
A significant amount of energy can be saved in our homes today with the use of energy-efficient lighting technologies; any of these approaches also improve lighting quality and comfort. The following is a list, provided by the California Lighting Technology Center, of some of the best technologies that residents in your community can use today. Some of these retrofits involve electrical work and may require a qualified electrician. However, many involve simple replacements and can be done by the homeowner. When sharing these tips, remind people to always follow proper safety procedures and turn off the power to circuits when working with exposed wiring.
Use compact fluorescent lamps (CFLs) to replace incandescent lamps. Today's CFLs have good light color, no flicker and long life. One of the best things you can do is to replace many of your incandescent lamps throughout the home with compact fluorescent lamps. Some of the newer reflector-style CFLs are designed specifically for dimming lights. If you use a CFL on a dimming circuit make sure it is labeled for that purpose. Also, try to start with an Energy Star-labeled lamp.
Install occupancy sensors for the bathroom, laundry room and bedrooms. Occupancy sensors can save a significant amount of energy by turning off the lights when no one is there. This is perhaps one of the biggest energy-saving opportunities for homeowners because energy is a function of power (wattage) and time. Replace the existing light switch with a sensor switch in the same junction box. Make sure that these sensors are manual on-automatic off. Timeout functions can be adjusted, and some systems have an integrated nightlight, which provides an added amenity.
Replace halogen torchieres with CFLs. Many homeowners still have the dangerous and inefficient 300-watt halogen torchieres. Replace these with 50- to 70-watt CFL torchieres that produce the same amount of light for a fraction of the energy. They typically run at much cooler temperatures and are therefore much safer to have in the home, with the added benefit of lasting a very long time. Consider using an Energy Star or higher quality CFL torchiere.
Install dedicated CFL downlights (lights that dim). Typically most kitchen remod eling involves a change in the lighting system. When remodeling your kitchen, consider using a layout of dedicated CFL downlights instead of incandescents. A typical CFL downlight uses a third of the energy consumed by incandescents and will last three or four times longer. This approach also reduces heat in the kitchen, resulting in lower air-conditioning costs and increased comfort.
Optimize daylight with tubular skylights. Install tubular skylights to save energy by displacing electric lights with daylighting (light that comes in your home naturally from the sun). A single
12-inch diameter tubular skylight will provide adequate illumination for approximately a 100- to 150-square-foot space.
Use LED holiday lights for interior and exterior. Next holiday season, consider replacing all of your Christmas tree lighting with newer style light-emitting diode (LED) systems. These come in a variety of colors and use less than 25 percent of the energy consumed by older style incandescent lamps. If you use exterior lighting systems for your holiday lighting, consider plugging them into a simple plug-based timer that will limit the hours of operation.
Change porch lights to CFLs. Porch lights offer an excellent opportunity to save lighting energy, because they are typically left on for long hours and use incandescent lamps. The simplest choice here is to retrofit using CFLs. Another option is to replace the fixture with a new one that has a built-in occupancy sensor. This maintains the aesthetic look of the incandescent while saving energy by energizing the lamp only when needed.
Replace T12 with T8 fluorescent lamps. Many homes have the old-style T12, four-foot fluorescent lamps in the kitchen (T refers to tubular lamp and 12 refers to the diameter in eighths of an inch). These lamps are inefficient and have relatively poor color rendering. Replacing these lamps with T8 (1-inch diameter) four-foot lamps will increase efficiency as well as color quality within the space. This retrofit requires a new electronic ballast and involves some wiring work, but is a straightforward retrofit for the ambitious do-it-yourselfer.
Install dimmers. For dedicated incandescent fixture applications where CFLs do not work well, such as chandeliers, wall sconces and hanging pendants, consider replacing light switches with high quality electronic dimmers. Typically when people have access to dimming they use it, and when a circuit is dimmed less energy is used.
Use occupancy sensor plug strips. A variety of plug strips that are controlled by a simple occupancy sensor are available in the marketplace. These plug strips automatically turn off any electrical appliance that is plugged into them after a preset period of time.
---
California Lighting Technology Center: A Resource for Local Government
Sustainability and the need to conserve resources are driving the development of green lighting. Energy consumption can be dramatically reduced while still providing comparable or improved lighting quality by taking full advantage of today's current and emerging energy-efficient technologies. Green lighting's goal is to lower operational and maintenance costs, reduce carbon footprint and preserve natural resources. The California Lighting Technology Center (CLTC) at the University of California, Davis, puts the goals of green design and energy-efficient lighting into practice and offers local governments a number of useful resources.
CLTC was established in 2003 through a collaborative effort of the California Energy Commission's (CEC) Public Interest Energy Research (PIER) Program and the University of California, Davis, with support from the U.S. Department of Energy and the National Electrical Manufacturers Association. It is a research and education facility that focuses on the application of energy-efficient lighting and daylighting technologies through research, development, demonstration, outreach and education in partnership with utilities, manufacturers, consumers, builders, designers and governmental agencies.
The CLTC facility includes full-scale lighting and daylighting application laboratories for developing and demonstrating next-generation emerging technologies. Comprehensive in-house and outreach training programs are conducted in cooperation with industry and utility groups to complement demonstration and application labs. As a demonstration and education facility, CLTC also helps establish key market connections by providing practitioners a hands-on opportunity to learn about lighting-efficiency technologies and lighting design approaches.
The PIER Energy Efficient Campuses Program provides an ongoing demon stration of emerging technologies. So far, these efforts have been carried out at more than 15 campuses in the University of California (UC), California State University (CSU) and California Community College systems. Funded by the CEC's PIER program and led by the University of California Office of the President and the California Institute for Energy and the Environment, CLTC's demonstration team continually identifies new energy-saving opportunities throughout the state, initiates pilot projects with host sites, installs and monitors new technologies and develops case studies that capture demonstration results. These case studies, along with product specifications and economic analysis tools, help decision-makers understand the technologies' features, benefits and implementation strategies.
Simple, low-cost, energy-efficiency opportunities — frequently called "low-hanging fruit" — are rapidly being exhausted in many applications and are often unable to deliver the operational and maintenance savings of newer products and solutions. Once this low-hanging fruit is picked, to achieve the next level of savings and sustainability one must turn to new light sources, such as light-emitting diodes (LEDs), and advanced controls, such as daylight harvesting.
Lighting technologies involved thus far in CLTC's demonstration program include a wide range of innovative products. Some particularly successful technologies deliver savings of more than 70 percent and include bilevel "smart" fixtures for stairwells, corridors, storage areas and parking facilities at universities such as UCLA and CSU Sacramento. Classrooms at San Francisco State and CSU San Marcos were retrofitted with systems that combine highly efficient fixtures and simplified controls that achieved savings of 30 to 50 percent. Campus housing at UC Davis and Sonoma State saved close to 50 percent by implementing fixtures with fully integrated occupancy sensors and standby LEDs in dormitory suites. Butte College, UC Santa Barbara and the state Department of Motor Vehicles implemented LED task lighting that saved up to 50 percent. Lessons learned during the first round of demonstration projects resulted in product improvements and development of derivative technologies featured in the current round of demonstration efforts.
Opportunities for Local Governments
Local government facilities can easily leverage the results of the demonstrations in their own retrofit, renovation and new construction projects. Educational facilities, enclosed and open office areas, conference rooms, exterior areas (pathways, parking lots) and restroom facilities can similarly benefit from the same energy-saving solutions. City offices can take advantage of new office lighting designs that integrate high quality task lighting with other components, such as demand response and zonal occupancy controls. Parking lots and transportation service areas can realize light quality and maintenance benefits by using LED or induction technologies. Even further savings are achieved by combining these products with integrated occupancy controls. Parks and sidewalks don't have to rely on high wattage light sources to illuminate pathways. LED bollards and area luminaires can do the same job for a fraction of the annual energy cost and extend maintenance cycles from three or four years to 10 years or more.
Energy efficiency and climate change continue to be key motivators of innovation and technology development. New products are emerging from the research world every day, utilities are always looking for new efficiency rebate opportunities and consumers consistently strive to save money. The CLTC and PIER demonstration program provide the resources and tools necessary to take advantage of all these opportunities.
---
For more information, visit:
www.pge.com/mybusiness/energysavingsrebates
---
This article appears in the June 2009 issue of Western City
Did you like what you read here? Subscribe to Western City
---