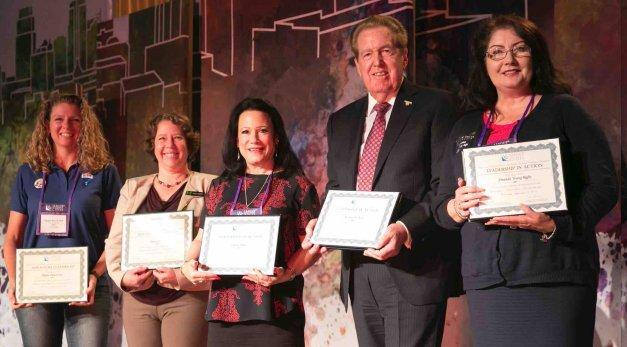 Torch Program Recognizes Leadership in Action and Continued Education
Eva Spiegel is communications director for the League and can be reached at espiegel@cacities.org.
---
The League's Mayors and Council Members' Department honors the hard work and commitment of its peers through the Mayors and Council Members' Leadership Academy Torch Program.
This voluntary program recognizes elected officials for continuing their education to enhance their knowledge and skills as well as undertaking leadership roles to better serve the public. The recognition reflects leadership in action and is a personal assessment tool to evaluate your development as a public official.
Since the program launched in 2003, hundreds of city officials have participated. The program comprises:
Level I — Leadership;
Level II — Advanced Leadership; and
Level III — Leadership in Action.
Vacaville Council Member Curtis Hunt completed Level III in 2014. Hunt, who also serves on the League board of directors, sees great value in the program and encourages his colleagues on city councils throughout the state to become active in the League. "Leadership is a subjective concept," says Hunt. "The Torch Program provides realistic milestones to measure and define your leadership."
At the 2017 League of California Cities Annual Conference & Expo, the Mayors and Council Members' Department recognized the achievements of the elected city officials who reached Level II or III in 2017. Each graduate received a lapel pin and a certificate. Participants can also work with their regional public affairs managers if they prefer to receive their Level II or Level III recognition in their own city or during a division meeting. Participants may also request a press release be sent to local newspapers and broadcast news outlets.
Torch Program participants have numerous opportunities every year to complete the requirements associated with the three levels of achievement. The program encourages leadership within the League through service on League policy committees, task forces, regional divisions, diversity caucuses and the board of directors. In addition, participants can meet some of the requirements by being a member of the California Council of Governments (CalCOG), their local council of governments, Local Agency Formation Commission (LAFCO) and associated committees as well as county, regional and state commissions, agencies or boards.
Building Expertise Beyond the Council
Corona Council Member Karen Spiegel finished Level III in 2014 with Council Member Hunt. She believes that participating in the Torch Program helps mayors and council members develop the skills and experiences necessary to serve their residents better.
"The most rewarding aspect is that the Torch Program encourages elected officials to be well-rounded," says Spiegel. "The requirements include more than just participation in the League. You need to know your community and you need to work with other mayors and council members throughout your region and the state, because sharing ideas is critical to anyone who will be an effective elected official. Being connected is key because cities don't work in silos."
League Second Vice President and Grass Valley Council Member Jan Arbuckle echoes Hunt and Spiegel in stressing the Torch Program's emphasis on the importance of mayors and council members' involvement beyond the city council when serving their community. "By connecting with the mayors and council members in your division and other city officials throughout California, you get to know a broad cross section of California's leaders," says Arbuckle. "That networking really helps you become a better leader, because your city operates in local, regional and statewide spheres. The Torch Program requirements offer a forum to talk with colleagues statewide about their challenges, which we all share, and then learn about the solutions they implemented. If you stay only in your own city, you would never have that opportunity."
For More Information
A list of mayors and council members who have received recognition since 2003 is available on the League website at www.cacities.org/TorchProgram. This web page also includes details on the Torch Program requirements and the application. Mayors and council members can submit applications at any time during the year.
---
Photo credit: Courtesy of the League of California Cities and Jeremy Sykes.
---
This article appears in the December 2017 issue of Western City
Did you like what you read here? Subscribe to Western City
---