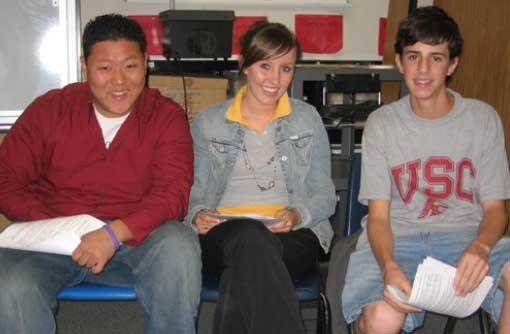 Tri-Valley Cities Collaborate to Improve Adolescent Health
The cities of Dublin, Livermore and Pleasanton won the Ruth Vreeland Award for Engaging Youth in City Government in the 2008 Helen Putnam Award for Excellence program. For more about the program, visit www.cacities.org/helenputnam.
---
The cities of Dublin, Livermore and Pleasanton, located in eastern Alameda County, are collectively known as the Tri-Valley region. The area's fastest growing population is youth between the ages of 5 and 14. In 2004, four Tri-Valley teens committed suicide in one month, which focused community attention on the problems facing young people in the region. Compared to their peers elsewhere in the county, Tri-Valley adolescents had the highest hospitalization rate and more than twice the rate of depression, according to the county's Public Health Department. Even more alarming, the number of attempted suicides — measured by hospital visits for self-inflicted injury — was 87 percent higher for Tri-Valley adolescents.
A lack of access to youth-appropriate physical and mental health services exacerbated these problems. The California Healthy Kids Survey reported that nearly a third of Tri-Valley 11th graders had experienced substantial depression in the previous year. The Tri-Valley Student Health Survey reported that four in 10 teens did not receive counseling to help with stress, depression or family problems, and one in three teens did not receive necessary medical care when sick or hurt.
While Dublin, Livermore and Pleasanton had successfully collaborated on common issues, they had never undertaken a regional initiative to improve the health system. Previous efforts in this area had been complicated by a lack of trust in Alameda County's ability to provide genuine commitment and resources, along with an honest acknowledgment that health care and mental health challenges affect many young people.
In 2005, the Tri-Valley cities, Alameda County Health Care Services Agency and County Supervisor Scott Haggerty created the Tri-Valley Adolescent Health Initiative (TVAHI) in response to the tragic deaths of the four teens in 2004. Based on the belief that youth and adults can work together to support the healthy development of all adolescents, the TVAHI established a regional coalition of repr Adolescent Health Initiativeesentatives from the Tri-Valley city councils and staff, school districts, recreation districts, county agencies, local nonprofits and faith communities, as well as youth and parents. By bringing together diverse institutions and individuals, the TVAHI leveraged its limited resources, eliminating duplicative efforts and sharing best practices to develop and provide youth-centered medical, mental health and education programs.
Young People Help Drive the Effort
First, the TVAHI formed a Youth Planning Board (YPB) composed of 12 ethnically and income-diverse representatives from grades 8 through 12 in the Tri-Valley cities. Each YPB member was responsible for obtaining information from fellow students regardless of their social group, sexual orientation, income level or ethnicity. Abbas Sheikh, a YPB member, explains, "The TVAHI shows how teens from all different backgrounds can come together, see eye to eye with one another and work toward a common goal."
To better assess adolescent health concerns, the YPB reviewed existing state and county Tri-Valley data and engaged their peers in extensive conversations. Throughout this process, YPB members were encouraged to think in broad terms about the health issues that affect all youth.
As part of its work to develop a set of recommendations, the YPB sought training from the University of California, San Francisco, on youth-led research. University staff helped the YPB create, implement and analyze the findings of a four-page survey that addressed numerous health-related issues, including stress, alcohol and drug use, self-esteem, peer pressure, discrimination, medical services, nutrition, exercise, sexual activity, birth control and sexually transmitted diseases. The YPB members secured the approval of their school principals to distribute the survey in classes. More than 4,250 students from six high schools and the Tri-Valley continuation school responded to the survey. The YPB surveyed an additional 67 students in focus groups.
The YPB presented the survey findings and worked with adults to develop recommendations at a Regional Stakeholders Meeting in January 2007, attended by more than 125 Tri-Valley youth advocates and community members. During the following months, stakeholders defined strategies in a series of meetings. When the planning process concluded, those involved agreed that the TVAHI would initially focus on improving the mental health support system for adolescents and families.
Telling the Story
Among its many activities, the YPB filmed and produced two videos describing the Tri-Valley's health and wellness gaps. The videos served as an advocacy tool, telling real-life stories about students struggling with depression, substance abuse and teen parenthood, and also explored the epidemic of young people cutting themselves to cope with stress. The YPB presented the videos at the Regional Stakeholders Meeting and city council and school board meetings.
To educate young people about existing resources, the YPB developed a resource guide for youth titled That One Place. Alameda County Supervisor Scott Haggerty provided funding to ensure that all middle- and high-school students obtained this information in a variety of multimedia formats.
This investment of time and energy paid off. The TVAHI created an unprecedented infrastructure, co-led by the three cities, their youth, school districts and Alameda County. More than 75 public agency staff and residents continue to participate and hear the adolescents' ideas for youth-centered programming.
Making a Difference
The TVAHI served as a catalyst for the Tri-Valley cities to address adolescent health needs. Pleasanton's Youth Master Plan Implementation Committee is aligning its priorities with the initiative. The Livermore City Council identified youth programs as a priority, and staff launched an award-winning graffiti diversion program and implemented new programs to help parents of at-risk adolescents. Dublin updated its health education curriculum with comprehensive and relevant health education information.
As a result of these successes, the TVAHI secured an annual appropriation from the Alameda County Board of Supervisors and a planning grant from Kaiser Permanente. With additional funding from the California Endowment, school-based mental health services will expand in all Tri-Valley high schools in the coming year.
The TVAHI demonstrates that adult-supported, youth-led civic engagement and planning can have a significant impact. By collaborating to improve access to health care for adolescents, the Tri-Valley cities also made a critical investment in their community.
"Winning this Helen Putnam Award makes me feel like all the hard work we have done over the past few years has come to something," says YPB member Justin Minor. "It shows other cities and the state that a group of kids working their butts off can make a difference in the lives of other kids."
---
Contacts: Jean Prasher, human services program manager, City of Livermore; phone: (925) 960-4586; e-mail: japrasher@ci.livermore.ca.us. Joni Pattillo, city manager, City of Dublin; phone: (925) 833-6650; e-mail: Joni.Pattillo@ci.dublin.ca.us. Maria Lara, assistant to the city manager, City of Pleasanton; phone: (925) 931-5009; e-mail: mlara@ci.pleasanton.ca.us.
---
This article appears in the September 2009 issue of Western City
Did you like what you read here? Subscribe to Western City
---