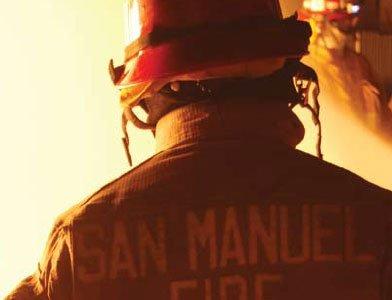 Tribal and City Governments Collaborate to Help Strengthen Public Safety in California Communities
Samantha Caygill is public affairs program manager for the League and can be reached at scaygill@cacities.org.
---
California comprises 480 cities and 109 tribal governments. Many of them share common local issues and challenges. Relationship-building between these neighboring entities plays a key role in developing effective, efficient working governments and thriving communities. Like all intergovernmental affairs, building these relationships requires effort. For some tribal and city government representatives, it took years to establish effective working relationships.
Coming Together Around Public Safety Issues
The League and the Tribal Alliance of Sovereign Indian Nations (TASIN) established the Tribal and City Governments Collaborative in April 2007. The group, co-chaired by TASIN Chair Lynn Valbuena and Los Angeles Council Member Tony Cárdenas, meets quarterly to build and maintain working relationships with one another and discuss policy issues that affect both governments. Members of the collaborative participated in a round-table discussion about best practices in intergovernmental affairs for public safety programs and issues at a meeting held May 13, 2010, hosted by the Morongo Band of Mission Indians at the Morongo Casino Resort and Spa in Cabazon.
The group included these individuals, who shared their perspectives and best practices: Sue Steding, chief assistant district attorney with the office of Riverside County District Attorney Rod Pacheco; Jerry Paresa, chief administrative officer, San Manuel Band of Mission Indians; Mike Smith, fire chief, San Manuel Band of Mission Indians; Leonard Purvis, police chief, City of Banning; and the following guests from the Morongo Band of Mission Indians — Tim Beadle, interim fire chief; Liz Bogdanski, environmental administrator; Mike Levine, reservation patrol chief; G. Michael Milhiser, chief administrative officer; and David Munro, emergency services director.
"Respect, trust and mutual understanding are the foundation for meaningful government-to-government relationships," says TASIN Chair Lynn Valbuena. "These traits are most critical when it comes to protecting lives through strong public safety for our shared communities." She adds, "A lot of good practices and ideas were exchanged that we hope will continue to be shared with local and tribal governments across the state."
The Challenge of Understanding Differences
Each community's story is different, as the meeting participants noted. Every community encompasses geographic, demographic and economic differences that present unique challenges.
One of the greatest challenges for both local and tribal governments is understanding that they are, indeed, two separate governments that at times share issues and jurisdictions but have different laws, processes and cultures to take into consideration. In addition, some tribes have been faced with local governments that were at times influenced by a vocal minority who opposed the tribe's endeavors.
Jerry Paresa, chief administrative officer with San Manuel Band of Mission Indians, describes the situation prior to their relationship-building efforts with neighboring San Bernardino County cities. He says, "The lack of relationships meant that solutions were crafted in a vacuum and collaboration toward the best ideas was not possible. And because relationships are sustained with trust and integrity, the lack of relationships bred mutual ignorance and mistrust."
When Banning Police Chief Leonard Purvis joined the Banning Police Department five years ago after transferring from the Riverside County Sheriff's Department, he had already heard about the strained relationship between the department and the nearby Morongo Band of Mission Indians. There was a general distrust of law enforcement. Tribal members had reported that they were not being treated respectfully and had experienced excessive force and unlawful stops and that law enforcement officers did not understand the tribe's culture.
Changing Perceptions And Attitudes
Purvis immediately established an open-door policy and attended as many tribal events as possible to start building the trust that was lacking for generations. Today he's still working hard to maintain this relationship, but he thinks that his community's general appreciation and respect for the tribal members' past has increased and that some tribal members and their families have a more positive view of the Police Department and law enforcement in general.
The Morongo Band of Mission Indians has generously funded about 75 percent of the Banning Police Department's vehicles. In addition, Morongo provided funds to bring officers into schools to participate in a gang prevention program and cover overtime costs for officers to work in Banning's business district. The Banning Police Department and Morongo Law Enforcement Division also participate in combined public safety exercises designed to better meet the needs of the surrounding communities.
The San Manuel Band of Mission Indians faced similar obstacles in their surrounding communities. Other neighboring local governments had relationships with each other that the tribe simply did not have. Some local officials did not understand that tribes are sovereign governments. In some cases, long-held perceptions and general opposition to gaming made it hard for opinion leaders to accept tribes; if they did, the tribes were viewed merely as funding sources with the advent of Indian gaming.
Collaboration Produces Results
After some relationship-building efforts both governments found a way to work together and support each other. San Manuel saw an acceptance of the tribe's economic impacts in the community, including job creation, purchasing power and increased tax revenues for local government. The tribe and surrounding San Bernardino County cities have succeeded in forming automatic aid agreements between their respective fire departments and have negotiated contracts for law enforcement services.
When tribal and city government public safety departments collaborate they can train together to better meet the needs of their communities. As San Manuel Fire Chief Mike Smith points out, "Jurisdictional authority doesn't matter when there's an emergency."
Working together on public safety projects positively impacts both communities in a number of ways. "We depend on each other because we're neighbors and we both want the same things: a safe community, mutual respect, trust and open communication," adds Police Chief Purvis.
---
This article appears in the August 2010 issue of Western City
Did you like what you read here? Subscribe to Western City
---