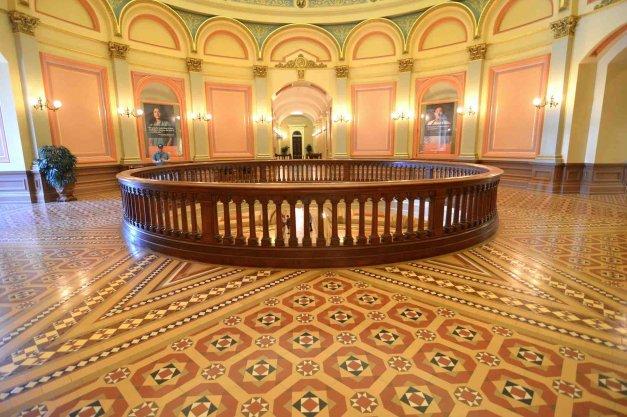 The United Cities of California
In a recent address to the California Contract Cities Association, I described how well cities have fared legislatively and on statewide ballot measures when they work together. This story is as old as our state, which was admitted to the Union 166 years ago.
During the first 30 years of statehood, cities endured state government micromanagement and incredible abuses of power. Perhaps unsure of their roles as state officials, the new Legislature and governor sought to control and restrict city governments' powers through legislation that directed how cities could spend their public funds, ordered cities to make outright gifts to private companies, and in some cases controlled city budgets through special commissions.
These actions caused deep unrest throughout the rapidly growing state, leading cities and their voters to press the Legislature for a constitutional convention to curb such abuses. Although the first few attempts failed, the Legislature ultimately agreed in 1877 to call the convention in 1878–79. The many constitutional restrictions on legislative power that California's voters adopted in May 1879 included a prohibition on gifts of public funds, which remains part of our state Constitution today. To further prevent legislative meddling in local affairs, the convention also adopted additional limits on special and local legislation.
The new Constitution's crown jewel, from a city perspective, was the first grant of broad home rule power to city governments. The California Supreme Court declared in 1880 that the intent of the 1879 home rule amendment was to "emancipate municipal governments from the authority and control formerly exercised over them by the Legislature."
This freed cities from seeking specific state legislation to authorize their legislative acts on traditional municipal matters. Because the state Constitution empowered cities to act without the Legislature's prior permission, city government instead simply inquired if a proposed ordinance "conflicted" with a general state law. This 1879 grant to cities remains the basis for much of city governments' powers today.
In 1896 and 1914 additional grants of constitutional home rule authority provided further powers to "charter cities." Charter cities exercise significant powers in certain areas such as supervising the police force, conducting city elections and compensating city officials, employees and contractors as well as areas of municipal authority and "municipal affairs" that were recognized (or not) by the California Supreme Court over time.
As a result, cities were better prepared to manage their own destiny than at any time in the state's history. And each step was under the guidance and leadership of the League of California Cities, which was founded in 1898 as the umbrella advocacy and education organization of the state's municipalities.
Era of the Local Property-Tax Shift
In the early 1990s the state-city relationship deteriorated when the Legislature and governor agreed to use (or abuse) the power that Proposition 13 gave to the state to reallocate property taxes among local agencies and transfer part of the state's burden of funding schools to local governments. "Shifting" city, county and special district property taxes to schools met part of the state's school funding obligations under Prop. 98. This low tide in state-city relations persisted for about 12 years, decimating local services and allowing the state to spend its General Fund windfall — which was created when the state used local property taxes to help meet its school funding obligations — on other state priorities. Since 1992 the property-tax shift has cost local agencies over $100 billion in property-tax losses and contributed to local officials' deep resentment toward the state.
Cities Unite to Protect Revenues
A short while later the electricity crisis buffeted California, and California voters selected Arnold Schwarzenegger to replace Governor Davis. At about the same time the League joined the California State Association of Counties (CSAC) and the California Special Districts Association (CSDA) to form the Leave Our Community Assets Local (LOCAL) Coalition and began planning a statewide initiative ballot measure to restrict the Legislature's power to take local revenues in the future. The LOCAL Coalition sponsored an initiative in 2003, for the 2004 statewide ballot, designed to stop the state from raiding property-tax revenues without voter approval. We gathered about 1 million signatures (about 10 percent of them gathered voluntarily at no cost) and we filed them in early 2004.
Right before the signatures were filed, newly elected Gov. Schwarzenegger called the League, CSAC and CSDA to propose a compromise. He asked us not to file the signatures and instead work with the Legislature and him to fashion a constitutional amendment that would limit the state's ability to take local funds in the future. We politely declined his request to not file the signatures, but we helped draft and lobby for a possible compromise. We agreed to abandon our ballot initiative (which soon qualified for the ballot as Prop. 65) if we could get the Legislature to approve the compromise measure.
The 2004 legislative negotiations took about two months and involved many twists and turns. With the help of every city statewide and our county and special district colleagues, the deal was struck in late July and put on the November 2004 ballot as Prop. 1A. Voters approved Prop. 1A overwhelmingly with 83 percent of the vote. Not only did the measure prevent future raids of property taxes and protect the sales tax from similar adjustments, but the League and CSAC also negotiated a swap of the city and county vehicle license fees (VLF) for additional local property tax, which has since brought hundreds of millions more dollars in revenue to cities and counties than the VLF would have provided.
Defeating Land-Use Initiatives Masquerading as Eminent Domain Reform
Following the Prop. 1A victory, we fought to defeat ballot measures in 2006 and 2008 that would have dramatically reduced local land-use authority under the guise of eminent domain reform. In 2006 we defeated Prop. 90 — albeit narrowly with 52.4 percent voting "no." In 2008 we defeated a similar measure, Prop. 98, with 61.6 percent voting "no" and 62 percent voting "yes" on Prop. 99, a common-sense eminent domain initiative reform we sponsored with CSAC and the California League of Conservation Voters that protected single-family homeowners.
Legislative Advocacy Prevails
The League and its members work to pass and defeat hundreds of bills each session that would affect cities and local control. Facing a serious deficit in May 2009, Gov. Schwarzenegger proposed in his May Revise to divert $900 million in gas taxes directly from cities and counties and suspend Prop. 42's transportation sales-tax funding protections. The move would have crippled local street maintenance operations and put thousands of public and private sector construction workers out of jobs and into state social services.
Employing some of the advocacy techniques we learned in ballot measure campaigns, cities rose up in concert with counties throughout the state. We bought political ads and deluged the Capitol with arguments against the gas-tax proposal, calling it a fiscally reckless job killer that would cripple local infrastructure maintenance and construction. Our collective efforts shut down some legislative caucuses because members refused to follow their leaders' urging to support the "gas-tax raid."
Legislative Battle Leads to Proposition 22
The failed gas-tax raid showed us the vulnerability of the gas tax to legislative diversion. Within months we developed a new ballot initiative to protect transportation revenues and other local tax revenues we had not been able to protect in Prop. 1A in 2004. At the urging of the California Redevelopment Association, we also added some protections for redevelopment funding from legislative diversion, but because of some groups' anticipated opposition due to a few local agencies' alleged abuses of redevelopment, the ballot measure allowed the Legislature to retain ultimate authority over redevelopment agencies.
The ballot measure we filed became Prop. 22, the Local Taxpayer, Public Safety and Transportation Protection Act. We explained the motivation for the measure in this way: "The current system is unsustainable, and we want to make sure that local services are not sacrificed because of the inability of state leaders to manage the state budget."
The voters approved Prop. 22 with 61 percent of the vote in November 2010. While the California Supreme Court held that the redevelopment protections contained in Prop. 22 prevented the legislative diversion of tax-increment funds, the court said redevelopment agencies could still be eliminated.
Earlier this year the Third Appellate District Court in Sacramento recognized Prop. 22's broad revenue protections in a lawsuit brought by the League. The appellate court concluded that Prop. 22 prevented the Legislature from using property taxes, sales taxes and other local taxes to settle disputes with cities over the disastrous redevelopment dissolution process. This very broad ruling recognized the voters' intent to indisputably protect local revenues from state diversion — the key purpose of Prop. 22.
Protecting Local Control
The importance of protecting local control is not only in the League's mission statement, it is also part of our heritage as Californians and is needed as much today as ever. It is often said that the price of liberty is eternal vigilance. It also appears to be the price of local control. When cities are united in their vigilance and their efforts — as they usually are on major issues — they are well equipped to meet the challenge.
The state and city governments are vital partners in many ways, but our history suggests a continuing need for checks on the state's powers to negate local control.
---
This article appears in the July 2016 issue of Western City
Did you like what you read here? Subscribe to Western City
---