U.S. Communities Provides Savings, Efficiency and Value
Norman Coppinger is director of administrative services for the League and can be reached at ncoppinger@cacities.org.
---
The League and the California State Association of Counties launched the California Communities purchasing alliance more than 26 years ago. Now operating under the name U.S. Communities, the alliance provides world-class products, resources and solutions. California cities made purchases through U.S. Communities suppliers in 2014 totaling more than $45.2 million — and saved approximately $4.5 million.
Operating as a national program since 1996, U.S. Communities aggregates the potential purchasing power of more than 90,000 public agencies. Using a lead agency model, procurement contracts with national suppliers are publicly solicited by a large public agency on behalf of all local and state governments, school districts, higher education and nonprofits. Each lead public agency takes responsibility for structuring the bid documents, assembling a national team of experts to review responses, documenting the bid tallies and awarding the contract to one or more qualified firms. The process results in a Master Intergovernmental Cooperative Purchasing Agreement that provides the lowest available government pricing to all U.S. Communities participants regardless of the public agency's size or volume of purchases.
To validate its pricing, U.S. Communities benchmarks the supplier's best pricing commitment against another large contract held by the supplier, a competitor's contract, results of a bid process, and retail pricing in the marketplace. A third-party independent auditing firm audits contract pricing, terms and conditions of compliance. U.S. Communities monitors program oversight and compliance with professional public procurement standards through its 29-member advisory board comprising government purchasing officials from throughout the nation (including four from California). As a result, public agencies will not get better pricing from the supplier through an independent contract or another cooperative.
U.S. Communities' mission is to provide participating public agencies easy access to competitively solicited contracts with national suppliers offering a broad line of top-quality products and services. More than 55,000 public agencies use U.S. Communities contracts. In 2014, these participants procured more than $1.8 billion in products, services and solutions. Over 90 state associations, including the League, support U.S. Communities. National sponsors include the National League of Cities, U.S. Conference of Mayors, National Association of Counties and Association of School Business Officials International.
During 2015, U.S. Communities expanded its extensive list of offerings to include utility vehicles, pharmaceuticals, medical equipment and supplies, and hotel and travel services. The purchasing alliance gives public agencies access to more than 40 national suppliers.
Participation in the program requires no cost or minimum order. To complete the easy registration process or learn more about the program, visit www.uscommunities.org/lcc.
Purchases made through the U.S. Communities program help keep League membership dues low for California cities. For additional information on how California cities benefit from participating in U.S. Communities, contact Norman Coppinger at ncoppinger@cacities.org or (916) 658-8277.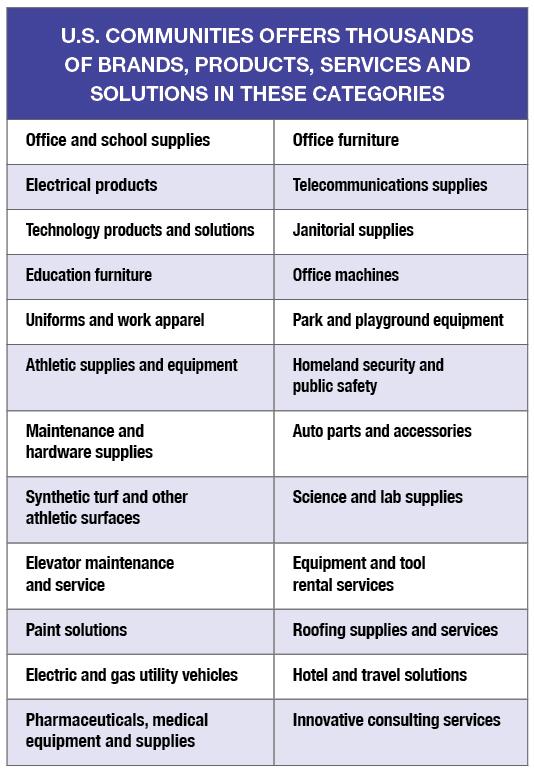 ---
This article appears in the November 2015 issue of Western City
Did you like what you read here? Subscribe to Western City
---