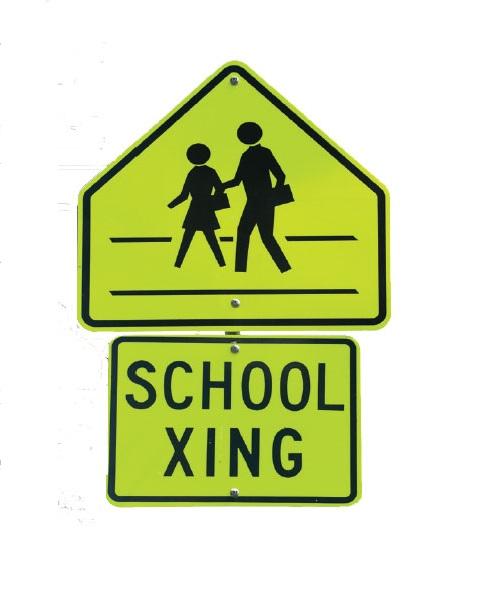 Using Safe Routes to School
Francesca Wright is a special projects consultant for the Cities Counties Schools Partnership and can be reached at cescaw@comcast.net. Connie Busse is executive director of the Cities Counties Schools Partnership and can be reached at cbusse@counties.org.
---
Imagine the street scene in front of any school in your city 10 minutes before the morning bell rings. As a driver, have you been annoyed by double-parked cars and traffic congestion? Or have you been the anxious parent trying to find a place to park so your child can safely exit the car? You may be a neighbor whose driveway is blocked by a parent who will "be back in just a minute." Perhaps you've watched as the school day ends and have witnessed potential calamities of drivers making reckless U-turns, school buses blocking crosswalks and parents and children darting through traffic.
Creating Order From Chaos
Now picture a different scenario, in which some parents who live outside the immediate school neighborhood have left home a bit earlier. They drive to a church parking lot near the school where they meet up with others. Children don backpacks and several parents, chatting and sipping coffee, walk with the kids the last half-mile to school. This group or "walking school bus" picks up children from neighboring houses along the way. They meet up with another walking school bus from apartments to the east. Other children are pedaling bicycles in bike lanes. Crosswalks along the route are well marked and have sidewalk bulb-outs where children can see approaching traffic and be seen by drivers.
In some California cities, both of these scenarios occur every school day. But as described in the second example, the walking school bus travels in a community that has benefited from a state or federal Safe Routes to School grant.
The state Safe Routes to School (SR2S) program was authorized in 1999 through AB 1475 (Chapter 663, Statutes of 1999) and extended indefinitely in 2007 with the passage of AB 57 (Chapter 673, Stat-utes of 2007). Incorporated cities and counties are eligible to apply for funding through Caltrans. Funds can be spent on:
Pedestrian facilities, such as sidewalks, over- and under-crossings and trails;
Traffic-calming features, including roundabouts, bulb-outs and median refuges;
Traffic-control devices, such as traffic signals, pedestrian countdown signals and vehicle speed feedback signs;
Bicycle facilities; and
Public outreach efforts.
The federal Safe Routes to School (SRTS) program has provided two rounds of funding with a third anticipated in early 2011. SRTS grants address the "five Es": education, encouragement, engineering, enforcement and evaluation. While the state and federal funding sources' requirements vary somewhat, Caltrans administers both types of grants at the regional level. The state and federal programs share the common goals of increasing the number of children who safely walk and bicycle to school and reducing the number of accidents and fatalities involving children on their way to and from school.
Local Examples Illustrate Program's Benefits
The Cities Counties Schools (CCS) Partnership recently interviewed local leaders from Sacramento and San Diego regarding implementation of SRTS and SR2S grants. Terry Preston, complete streets coordinator for Walk Sacramento, advises other California cities to use the SRTS non-infrastructure grants to conduct walkability and readiness audits, which lay the foundation for future year applications. He notes that while school principals' involvement and parent leadership play an important role in success at each site, committed mid-level management in school facilities and city or county public works departments are key to building an effective, longer-term walk promotion strategy. Preston adds, "There is a powerful cluster effect created by working with several neighboring schools at the same time. This helps the parent leaders support one another in changing the community's norms."
The City of La Mesa and the La Mesa Spring Valley Elementary School District received funding to improve the infrastructure near schools, encourage walking and biking to school and educate people about the benefits. Like Sacramento, the effort in La Mesa benefits from effective local community leadership — parents and the Parent-Teacher Association are very involved. Board President Andy Hamilton of Walk San Diego says, "Parents have homegrown passion and are powerful advocates."
Using parents and other advocates from school sites, La Mesa is in the early stages of creating a comprehensive program to encourage safe walking and biking to schools. Program Manager Leah Ostenberg from Walk San Diego says, "The city is so energetic and committed to the project, and that makes it exciting." Children have participated in creating a logo for the program, and the school district is enthusiastically planning to participate for the first time in National Walk to School Day on Oct. 6, 2010.
Safe Routes to Schools offers a win-win program. Melissa Minas, coordinator for Chula Vista's program, says, "Safe Routes to School programs have lots of additional unintended benefits." Participating communities report fewer incidents of children being injured, less traffic congestion and reduced environmental pollution when students walk and bike to school. Studies show that students who walk and bike to school have better attendance and better academic outcomes. Beyond these tangible benefits, parents and children who participate in walking and biking on a regular basis also develop a greater social connection to the community.
---
For More Information
Visit these sites for additional information about Safe Routes to School.
Caltrans
National Center for Safe Routes to School
California Safe Routes to School Initiative
---
This article appears in the September 2010 issue of Western City
Did you like what you read here? Subscribe to Western City
---