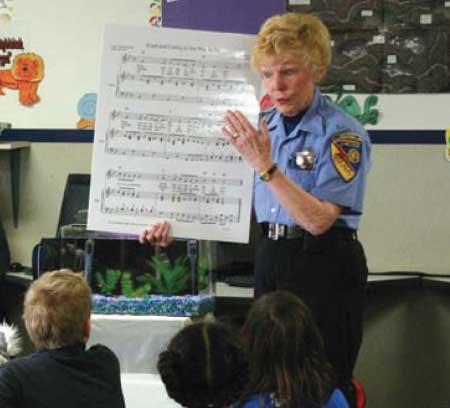 Volunteers Help Police Teach Safety to Lincoln Youngsters
In just nine years, the City of Lincoln's population quadrupled. By 2009, the once quiet community, located 21 miles northeast of Sacramento, was home to more than 40,000 people. The school district struggled to keep up with the town's rapid growth and requested additional involvement from the Police Department to counsel youth and establish a more visible presence on school campuses. However, the growth had also created challenges for the Police Department, which was compelled to focus its limited resources at the high school and middle schools after assessing critical needs and budgetary constraints.
Elementary school-aged children were not getting enough training in basic safety concepts, including personal safety when traveling to and from school; coping with "home alone" situations; asking for help; avoiding dangerous situations, drugs, gangs, and computer and Internet perils; and dealing with bullying and peer pressure. City officials, the Police Department, the school district, youth service organizations and parent groups realized that more resources were needed to teach children about safety.
Meeting the Need
After careful analysis and significant public input, the City of Lincoln initiated a citizen volunteer program to assist the Police Department in 2003. Two years later, the Police Department developed the Grandma Cop Child Safety Program. Approximately 60 highly skilled citizen volunteers — many of them retired teachers — now teach safety concepts to elementary school children, their parents and teachers. Program topics include child personal safety, what to do in emergency situations, home alone safety, buddy system, observation skills, family code words, strangers asking for help, bullying, dares and peer pressure, gun safety, fire safety, conflict resolution, drug dangers, self-esteem, tolerance, bicycle and scooter safety, traffic safety, what to do if someone gets lost, avoiding gangs and computer and cyberspace safety.
The program prepares children at a young age to become aware of personal safety issues and to be better informed about their responsibilities for themselves and others. "It's so gratifying to see the kids learn to be more aware of their own surroundings and how to respond in everyday situations to make themselves more safe. I often hear from parents how the kids bring home the lessons learned and share them with the family," said Grandma Cop and program volunteer Marilyn Thomas.
With children in mind, program volunteers developed teaching aids and materials such as hand puppets, music, songs, drawings and coloring books. The teaching aids and materials are tailored to each grade level, taking into consideration the maturity of the children, the teaching environment and the home situation. The program also provides materials to parents and encourages them to follow up at home with the safety lessons.
Gratifying Results, Community Engagement and Positive Feedback
Lincoln elementary schools and the community at large have widely embraced the Grandma Cop Child Safety Program, which has now trained more than 12,000 children. Classes are also taught, on request, to the Head Start program, private schools and other youth service organizations, including Girl and Boy Scouts, Police Activities League and the city's Youth Center.
"This program has made a great impact; the lessons really stick with the kids. It has been one of the most successful youth programs I've ever seen," said Lincoln Community Services Officer Paul Tyler.
What's more, the City of Lincoln incurs virtually no cost for the program. Teaching materials and student supplies, about $2 per student, are paid for by private donations, the school district and parent-teacher organizations.
A Model Project
The program's success is reflected in the children's increased level of safety and their ability to respond proactively in potentially dangerous situations. Over the years, several attempted abductions have been foiled by children who applied the skills they learned from the program.
The Grandma Cop Child Safety Program has proven to be a highly effective partnership with the city, Police Department, school district, youth service organizations, parent groups, children and citizens working together to benefit the well-being of Lincoln's youth. "Every city needs a Grandma Cop program to help keep its kids safe," said Lincoln Police Chief Brian Vizzusi.
The program is easily adapted for any community, and more information is available on request.
---
Contact: Paul Shelgren, lieutenant, Lincoln Police Department; phone: (916) 645-4080; e-mail: pshelgren@ci.lincoln.ca.us.
---
This article appears in the October 2009 issue of Western City
Did you like what you read here? Subscribe to Western City
---