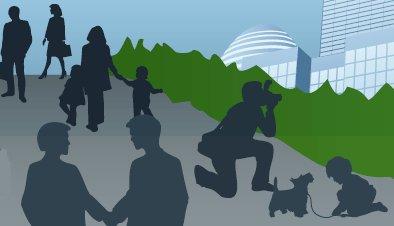 Why We May Mean "Local Diversity" When We Talk About "Local Control"
Many Californians would be hard pressed to name a place where people believe in "diversity" more than we do in the Golden State. We embrace it in our writing, we celebrate it locally with parades and festivals, and we expand it through our interracial and intercultural marriages and other relationships. The Merriam Webster Dictionary defines "diversity" as "the condition of having or being composed of differing elements: VARIETY; especially the inclusion of different types of people (… of different races or cultures)."
Our belief in the value of diversity seems almost boundless. A brief online search of organizations' diversity policies shows that many contain references to educational level, gender, race, age, language, ethnicity, sexual orientation, physical attributes, personality, thinking style (I am not making this up), nationality, income level, work experience, marital status, political ideology, religious beliefs, military status, geographic location and much more.
Why Uniformity Misses the Mark
People often say they believe in "diverse communities," but I suspect that is not the same as believing in communities that are diverse places because their people make choices about community priorities, programs, services and results based on their unique circumstances, which naturally may differ from those of other communities. So incorporating flexibility for local communities would seem like a practical approach. But instead our state Legislature is busy trying to impose uniform rules and expectations that would erase the very diversity among communities that we should value. State law, in the form of the Annotated California Code, is voluminous largely because our state leaders often try to make California and its communities look, function and perform the same way — and that is the issue.
Cities' usual response to such proposed legislation is to ask state leaders to remember their roots and respect "local control" or "home rule." Perhaps instead we should look at what we are really asking our state and federal colleagues. We aren't simply imploring them to surrender power to local elected officials. We want them to remember that, just as natural systems depend on biodiversity, our system of government grows stronger when its roots are deep and well developed.
Our cities and towns are unique. Each has its own history, cultures, architecture, land use patterns, economy, ambience and style. Thus, the differing priorities of our cities and towns actually enrich California much more than they threaten it. As a result, we believe the Legislature should err on the side of restraint when adopting new mandates.
We know from studies and experience that California's diversity of people and places makes it a magnet for tourists and businesses that want to visit, invest and stay here. Our state is unique for many reasons: It combines dynamic business and entertainment districts with safe, quiet neighborhoods. Its natural beauty encompasses mountains, beaches, deserts and rolling hills, with topography as varied as its people. Many of California's public and private institutions exemplify excellence.
In light of the fairly widespread belief that California is stronger for its diversity, a reasonable person could ask what causes state officials to pre-empt local control and impose one-size-fits-all laws? Why should every city have to operate the same way as every other in the state, given the tremendous diversity among cities and the value such diversity brings to the state?
The answer may lie somewhere between the fact there are almost always a few bad anecdotes behind every unnecessary law and the fact that all politics is local, as former U.S. Speaker of the House Tip O'Neill so famously said. And state legislators legitimately believe that they too were elected to be "deciders," as former President George W. Bush described his role.
Maybe that's why state leaders (many of whom previously often served in local government) sometimes decide to restrict the flexibility of the very level of government people believe in most. Even more ironic is that, at times, the same state legislators who author bills to restrict local governments once railed against the practice when they were local officials.
Governor Brown Raises The Issue of Local Diversity
Discussing his commitment to local diversity (or "subsidiarity," as he calls it) in a visit with the League board of directors in April, Governor Jerry Brown wondered aloud just why the residents of Modoc County always have to follow the same mandates and rules as those in San Francisco County or those in Tulare County. In a state that values diversity as much as California, he said, you would think there would be more support for honoring the differences among communities. The reality, he added, is that whichever party is in power seems to want to impose its values and views of what California should be like on the entire state, undermining local diversity.
One of the ironies of this dynamic is that voters historically have had a much higher level of confidence in their nonpartisan local governments than in state or federal governments. The National League of Cities (NLC) recently released the results of a poll that confirmed that 37 percent of voters trust local government to address the issues that matter most in their lives. But only 22 percent feel that way about the state, and just 12 percent trust the federal government to do so.
The NLC survey revealed that women put more faith in local government than men, and voters with the most trust in local government and the least in the federal government are men and women between the ages of 35 and 49. Perhaps this is because people in this age group are more likely to be parents of small children and are understandably focused on education and public safety — the things local governments consistently deliver. In contrast, these people may not feel as good about the job the federal government is doing on the economic front.
A League survey about state and city leaders produced somewhat similar results in 2011. In response to a question about their favorable or unfavorable opinions of elected leaders, Californians responded as shown in the table, below.
California Voters' Opinions Of Electeds

Favorable

Unfavorable

Unknown/Can't Rate

Your city council/mayor

56%

23%

21%

Governor Jerry Brown

52%

38%

10%

The California Legislature

21%

62%

17%
Our Job Is to Remind State Officials
Many years ago one of my mentors at another municipal league told me that he thought one of the great blessings of our work is that we get to participate in the ongoing debate about what the various levels of government are best suited to do. That important debate is clearly not going to end anytime soon, but it may be wise in the future for us to talk more about "local diversity" and less about "local control" or "home rule." Having diverse cities is clearly an asset that California state officials do not want to undermine, and it is our collective job to remind them of that fact every time they forget.
---
This article appears in the July 2013 issue of Western City
Did you like what you read here? Subscribe to Western City
---