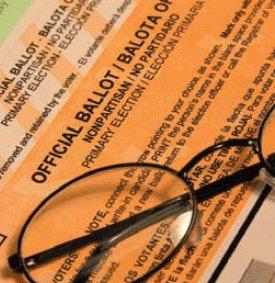 Will California's Future Bring All-Mail Ballot Elections?
Eva Spiegel is communications director for the League and can be reached at espiegel@cacities.org.
---
In the ongoing struggle to make the most efficient use of limited resources, cities are examining the costs associated with holding elections. While elections are an integral part of city government, running them isn't cheap. That's why the City Clerks Association of California and the League's City Clerks Department strongly support an all-mail ballot.
The number of Californians registered as permanent absentee voters who vote by mail is on the rise. People are leading increasingly busy lives, and for many it's more convenient to read the ballot and cast their vote at their own kitchen table instead of at a polling place after work.
California began allowing voters to register as permanent absentee voters in 2001. The secretary of state's office reports that 16.9 million of California's 23 million eligible voters were registered to vote as of Jan. 5, 2010. In the May 2009 statewide election, more than 5.8 million Californians voted by mail.
Election Costs Spur Support for Voting by Mail
It's expensive to run an election. When the cost of training poll workers and operating polling sites is compared to historically low turnout, the cost per voter is astronomical. Fred Smoller, Ph.D., directs the master's of public administration program at Brandman University in Orange County and has been studying vote-by-mail elections. He advocates for widespread implementation.
For Smoller, the key issues are the integrity of the democratic process and the expense of running elections. He says that concerns about potential voter fraud are unfounded: Unlike voting at a polling place, when you vote by mail your signature is compared and verified against your signature on file with the county registrar.
Smoller points out that the economics of elections have great implications for a state struggling with massive deficits year after year. "With a $20 billion budget deficit, every stamp is a savings," he says. "Think about what elections cost." Neal Kelly, Orange County's registrar of voters, prepared a report in April 2009 on voting by mail. According to Kelly, all-mail ballot elections would save the county upward of $200,000 per election.
This has California's city clerks clamoring for an all-mail ballot system. Currently only charter cities have the power to conduct city elections by mail; general-law cities are governed by the state's election laws.
Four California cities — Burbank, Modesto, Santa Barbara and Seal Beach — conduct elections using all-mail ballots. Burbank was the first to implement the system in a 2005 city election. Burbank City Clerk Margarita Campos became interested in all-mail ballots after the city tried it in 2001 for a special election that garnered one of the highest turnouts ever. "What interested me is that it provided a real safeguard against voter fraud," she observes.
Campos sees huge benefits to her city's decision to implement an all-mail ballot system of elections. "I'm happy that our city council had the foresight to do this," she says. "It was a wise decision — one that will continue to pay off. Other cities will realize this is the way of the future."
Santa Barbara conducted its first all-mail ballot election in 2009 after studying Burbank's success. The city decided to pursue this type of election as a means of cutting costs. After Santa Barbara County estimated that it would have to charge the City of Santa Barbara between $550,000 and $600,000 to run a stand-alone city election in 2007, the city opted to run its own election for the first time. At a cost of $280,000, the election proved much cheaper for the city than if it had contracted with the county.
The city was able to save another $40,000 by switching to an all-mail election two years later. Each registered voter received the election materials by mail, along with a stamped envelope to return the ballot. The city offered seven drop-off locations for voters who wanted to go to the polls and plans to continue this hybrid system. In the end, approximately 23,000 voters participated in the election — two-thirds of them voted by mail. With voter turnout at nearly 50 percent, the highest in 30 years of Santa Barbara stand-alone city elections, Assistant City Manager Marcelo Lopez considers the 2009 effort a great success.
Along with concerns about fraud, some people who oppose an all-mail ballot system in California cite the loss of the shared community experience of casting your ballot at a polling site in your neighborhood. Smoller compares this belief to other cultural changes. "I like my vinyl albums but I get everything through my iPod now," he says. "Nostalgia is nice but this is where we are."
Shalice Tilton, Buena Park city clerk, serves as the legislative director for the City Clerks Association of California and doesn't think all-mail ballot elections threaten democracy. "Some of the arguments are that it will disenfranchise people, it's a community experience, an American tradition," she remarks. "But communal experiences still happen, because during the drop-off period there are all types of election activities, including promotion and public education."
Oregon and Washington Are Vote-by-Mail Trendsetters
Vote-by-mail elections are nothing new in two Western states. Thirty-eight of Washington's 39 counties conduct their elections using all-mail ballots. Pierce County, where Tacoma is located, is the only county that still maintains polling sites in the state.
Oregon first tested voting by mail in 1981. An overwhelming majority of voters — 70 percent — approved a November 1998 measure requiring all-mail ballots for primary and general elections. As a result, Oregon reduced election costs from $3.4 million to $2.8 million between 1998 and 2000.
Former Oregon Secretary of State Bill Bradbury wrote in The Washington Post on Jan. 1, 2005, about the benefits of all-mail ballot elections, including protecting against voter fraud. Bradbury cited the fact that not only does the process cost 30 percent less than a traditional election that uses polling sites, but it also increases voter participation. Smoller agrees, asserting that all-mail ballots increase voter participation on average by 4 percent with each election.
Only one case of voter fraud has been reported in Oregon, according to Orange County Registrar Neal Kelly's study. None have been reported in Washington.
Assembly Member Yamada Pushes Vote-by-Mail Pilot in Yolo County
Assembly Member Mariko Yamada (D-Davis) wants her county, Yolo, to become the testing site for all-mail ballot elections. She has introduced AB 1681, a bill that would allow Yolo County to conduct up to three all-mail local elections and conduct a study to gather information on voter participation, voter demographics and election costs. Upon completion of the study, the Yolo County registrar of voters would send a data report to the Legislature and California secretary of state to help determine if all-mail ballot voting is a successful format for local elections and whether it is worth expanding to future elections. "The fact that it has worked in other states for decades and has increased participation over time means to me that it's valid as a point of study in California," says Yamada.
Gov. Arnold Schwarzenegger vetoed AB 1228 in 2009, another bill authored by Yamada that would have implemented a similar pilot study in Yolo and Santa Clara counties. However, Yamada is encouraged about AB 1681's future and says her office is working with the governor's office to mitigate any concerns. The League supports AB 1681; so do the City Clerks Association of California, Disability Rights California, Orange County Taxpayers Association and Regional Council of Rural Counties.
Yamada predicts that the legislation will help increase voter participation because it can be difficult for the elderly and people with disabilities or other challenges to get to the polls. She's also curious to discover whether there are partisan implications to vote-by-mail elections. Permanent absentee voters tend to be more conservative. However, a 1998 University of Michigan study found that mail ballots did not directly impact mobilization or retention of Democrats or Republicans.
Yamada thinks that Yolo County, with its mix of urban and rural communities, is an ideal area for studying all-mail ballots. Half of the county's 200,000 residents are registered to vote. "Exercising the right to vote is the basic building block of our democracy," she says. "Many people fought for and died for the right to vote. We should support any effort to protect and strengthen the privilege."
All-Mail Ballots Are Inevitable
The issue of whether California will join Oregon as a state with all-mail ballot elections may not be settled in the immediate future, but it's not going away. As communities continue looking for ways to cut costs and maintain vital services, this election format offers an easy option for significant savings. It also accommodates the preferences of voters who are increasingly opting to vote by mail.
"It's working in Oregon, it's working in Washington," says Smoller. "We know it works. This is coming. It's just a question of how high the number of people who permanently vote by mail has to go before it's switched."
---
This article appears in the June 2010 issue of Western City
Did you like what you read here? Subscribe to Western City
---