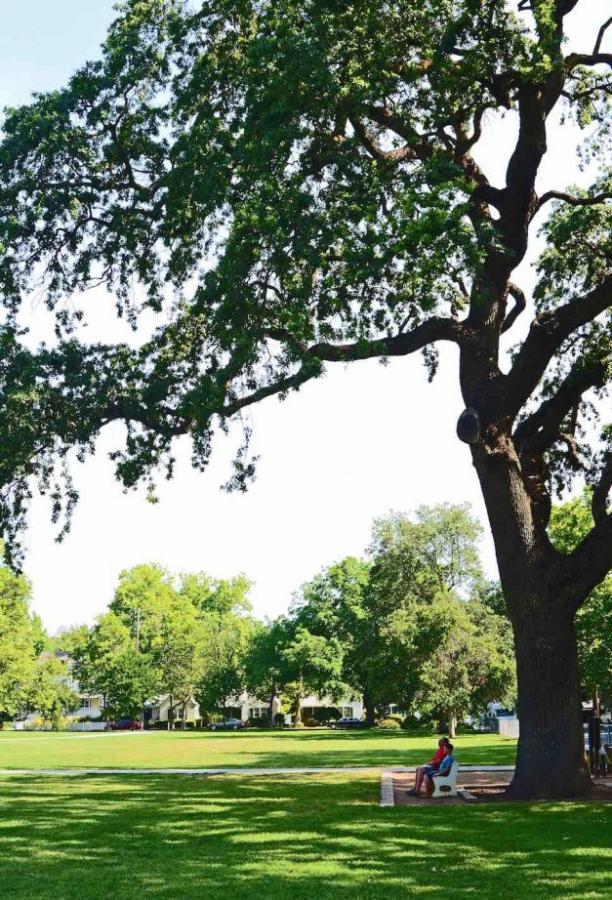 Woodland Builds a Healthy Urban Forest, One Tree at a Time
Roberta Childers is environmental resources analyst for the City of Woodland and can be reached at roberta.childers@cityofwoodland.org. Woodland City Manager Paul Navazio also contributed to this article.
---
The City of Woodland (pop. 57,526; area of 15 square miles) is named for the valley oaks that dotted its footprint when it was founded in 1871. This "City of Trees" strives to promote the importance of expanding its tree canopy to provide environmental, economic, health and aesthetic benefits.
Long-standing programs include a city tree maintenance program headed by a staff certified arborist, annual Arbor Day community events celebrating Woodland's tree heritage and future, planting requirements for new development, and a residential street-tree rebate program that encourages residents to take advantage of the numerous benefits of shade trees. Policies and goals in Woodland's General Plan and Climate Action Plan also reinforce the city's commitment to enhancing its tree canopy.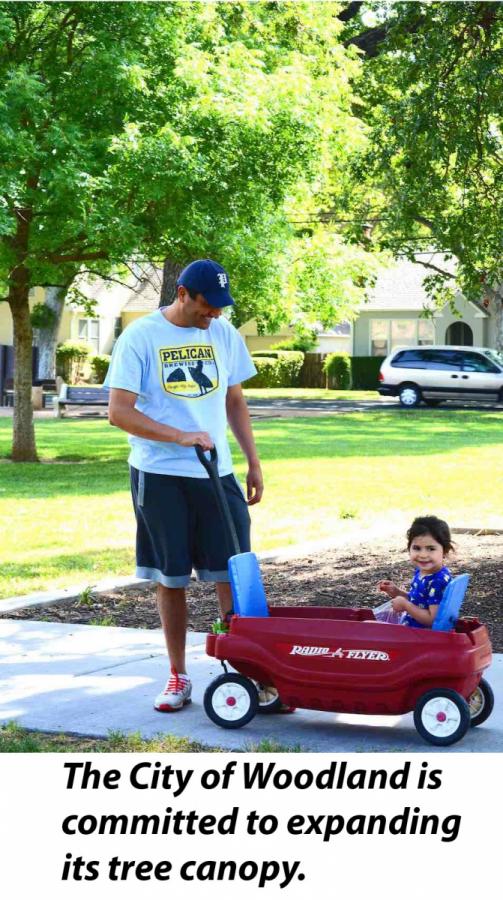 Climate Action Plan Takes Root
Because trees play a key role in reducing greenhouse gases, the city's Climate Action Plan includes a goal of increasing Woodland's tree canopy 50 percent more than the 2010 canopy coverage by planting 6,000 trees between 2014 and 2020. As part of this challenge, Woodland Mayor Tom Stallard initiated a communitywide 2,400 Trees Campaign with the goal of planting 2,400 trees between July 2014 and June 2016.
But several years of deep budget cuts had severely impacted the city's urban forestry program. Meeting the 2,400-tree challenge required pooling resources by enhancing collaboration with community organizations and forging new public-private partnerships. The Woodland Tree Foundation stepped up to coordinate and organize the effort, and Pacific Gas and Electric (PG&E) signed on as a sponsor. The John & Eunice Davidson Fund, a private foundation, made a generous contribution and supports the Woodland Tree Foundation with annual grants of approximately $10,000. The city's tree-planting initiatives gave PG&E an opportunity to educate the public on the importance of planting the "right tree in the right place" and marking underground utilities before digging.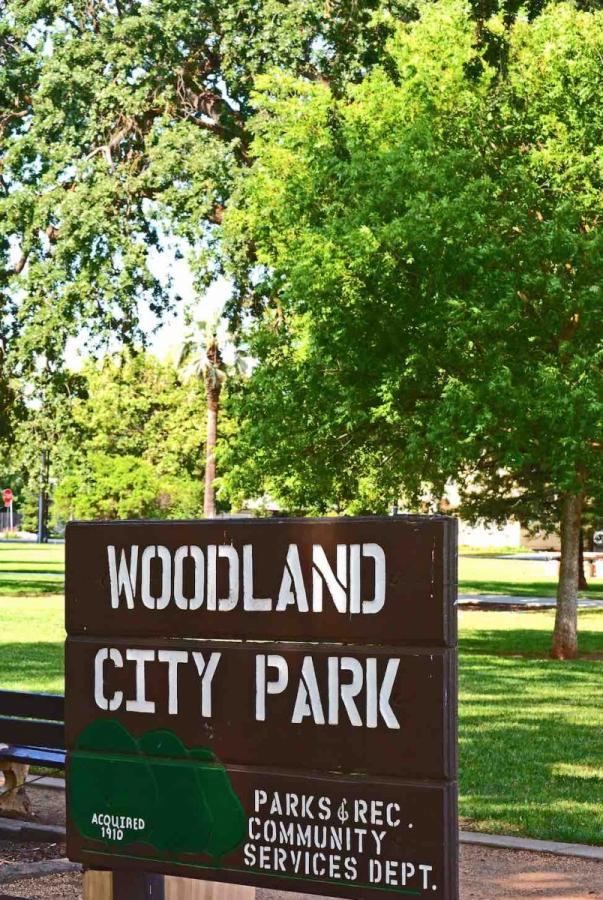 Woodland reached its 2,400-tree goal in March 2016 through a combination of community Arbor Day plantings, city facility improvements, trees planted by residents and business owners and as part of new construction — and the dedicated work of Woodland Tree Foundation volunteers. As a result, the city increased its goal by 600 trees for a total of 3,000 new trees planted by July 2016. As Western City went to press, the city was approaching its goal.
"Woodland has blown past its earlier 2,400-tree goal," says Mayor Stallard. "Not only has the community benefited from the expanding tree canopy and the shade that the trees will bring, but the city is also achieving its climate action goals, and those who participate are having a wonderful time planting trees — a true win-win-win."
Woodland Tree Foundation Plays a central role
The Woodland Tree Foundation (www.woodlandtree.org), whose motto is "Building Community Through Canopy," embodies the community's dedication to its urban forest. Created in 2000 by local residents, the Woodland Tree Foundation in collaboration with Caltrans began planting native oaks along the recently completed Highway 113 between the cities of Woodland and Davis. Volunteers watered the oaks for several years until the trees were thriving.
Woodland Tree Foundation volunteers and city staff established a strong relationship from the start. Their first collaborative effort was organizing a well-attended Arbor Day planting in downtown Woodland in 2000.
The partnership grew as the foundation secured grants from the California Department of Forestry to plant trees on public lands, which required the city's cooperation and support. City staff approved locations for concrete cutting along sidewalks and trained foundation volunteers on proper tree-planting methods; the foundation agreed to water the trees until they were established.
The foundation's board of directors comprises 15 people. In addition to guiding the organization's activities and policies, the board members participate in most of the tree-planting events and summer watering crews.
Word of mouth and announcements published in the local newspaper helped generate an initial list of volunteers, which has grown to more than 400 people.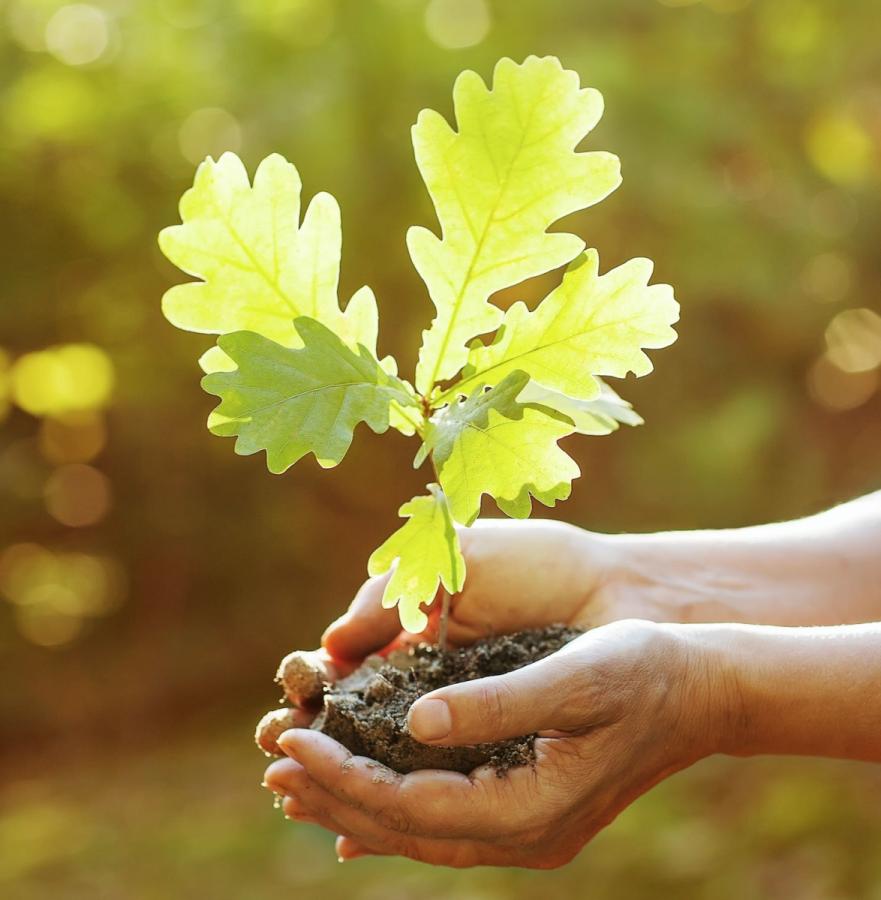 Annual tree-planting activities began expanding to include events at local parks and schools. Since 2000 the foundation has organized 34 planting events and planted over 1,000 trees in parks, along streets and at public facilities. Woodland Tree Foundation volunteers have planted more than 4,150 trees provided by the city and the foundation through numerous grants, private donations and funds raised at an annual "Tunes for Trees" benefit concert.
"At Woodland Tree Foundation planting events, there is a palpable shared joy that all participants experience when collectively improving the community for the next generation," says David Wilkinson, president of the foundation. "The renewal gained by freely contributing one's labor and time to public tree plantings is one measurement of a community's cohesion and health. These community values are weakened when responsibility for neighborhood beautification and civic greening is abdicated solely to the public sector, especially when tree planting and maintenance budgets are customarily chopped during economic downturns or due to voter negativity regarding local taxes, which help fund these programs."
In 2016 the foundation took the lead on partnering with PG&E, the Woodland Joint Unified School District and the city to conduct education and planting events at two local elementary schools. The school district contributed $600 to match a $2,550 grant from PG&E, and the city donated $1,000 in-kind by loaning 40 metal tree stakes and providing mulch. The foundation's coordinator met with the representatives from the district and individual schools to select, locate and purchase trees, conduct the instruction, organize the planting events and equip and train school volunteers to water the trees during the summer for three years. A week before the planting events, Woodland City Manager Paul Navazio taught classes at the Freeman Elementary School and Rhoda Maxwell Elementary School about the science and benefits of trees, including greenhouse gas sequestration and climate change, to approximately 200 students who subsequently planted the trees.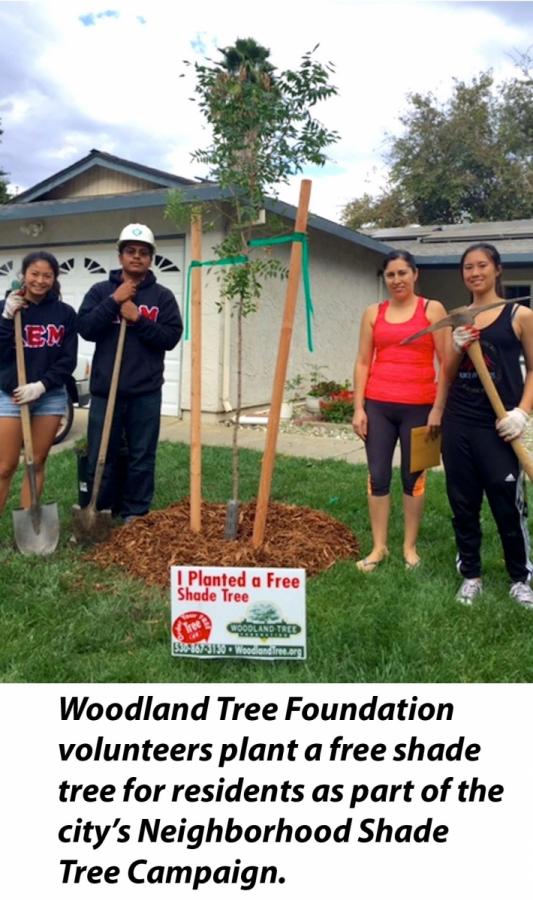 Neighborhood Shade Tree Campaign Has Multiple Benefits
The community's success in achieving the 2,400 Trees Campaign goal can be largely attributed to the city's partnership with the Woodland Tree Foundation — and more specifically, the foundation's innovative Neighborhood Shade Tree Campaign, which offers free shade trees to residents in an effort to conserve energy and beautify lower-income neighborhoods where the existing tree canopy is sparse.
"The Woodland Tree Foundation's Neighborhood Shade Tree Campaign provides a wonderful community service," says Navazio. "It enhances neighborhood beautification and property values and gives individuals and organizations opportunities for civic engagement."
The foundation coordinates Saturday morning tree-planting events. Up to 15 teams of three to six people go to designated residential locations, where trees, stakes and mulch were delivered in advance. The volunteer teams typically plant three to five trees per location, which usually takes less than three hours.
"We had such a positive experience with the Woodland Tree Foundation, from our first consultation to the actual planting of our tree by a local Boy Scout troop," says homeowner Heidi Hazlehurst.
"Our shade trees are a perfect way to reduce our energy costs while beautifying our home and reducing noise pollution," says homeowner Tyler Jacobsen.
The program, which receives city funding and staff support, includes tree-maintenance training for homeowners. Activities include informational workshops and providing educational handouts at nurseries and community events. In addition, the program website (www.woodlandtree.org) offers tips on recommended trees for local soil and climate and maintaining trees during a drought.
The Woodland Tree Foundation coordinator conducts outreach to potential tree recipients and volunteers for the Neighborhood Shade Tree Campaign using informational tools in both English and Spanish that include:
Flyers distributed door to door by volunteers;
Numerous newspaper articles and paid ads;
The City of Woodland and foundation websites and a Facebook page;
Volunteer websites, including UC Davis, VolunteerMatch, Volunteer Connection, JustServe, Volunteer Davis and Sacramento Tree Foundation;
Community service electronic and physical bulletin boards at Woodland's two high schools and Woodland Community College;
City and county roadside electronic message boards;
Speaking engagements at meetings of the Lions Clubs, Boy Scouts, Rotary, Kiwanis and Rose Club and city Water-Wise Workshops;
Email distribution through NextDoor.com;
Lawn signs;
Informational tables at community events, such as farmers' markets; and
Communications targeting the Woodland Chamber of Commerce and local property management companies.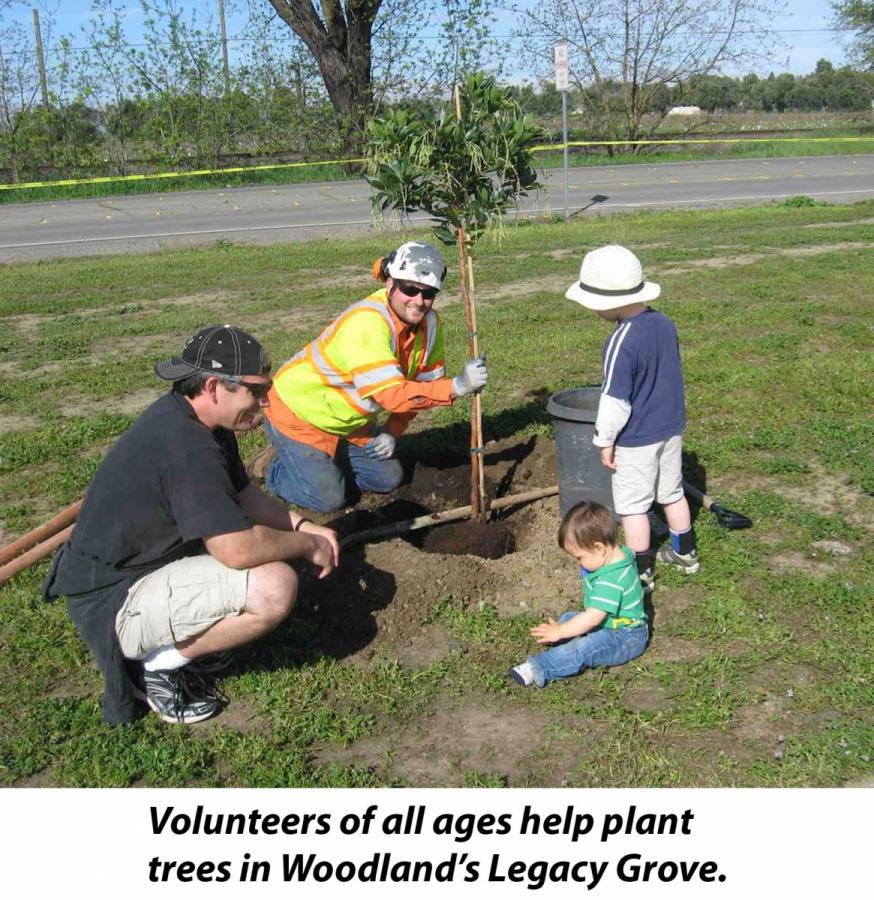 Legacy Tree Grove Is Another Community Asset
Another highlight of building community appreciation of trees is the recently christened Legacy Grove. Set in motion in 2013 by interested community members, the project came to fruition in 2016 with the city's designation of land at the Woodland Community and Senior Center. Approximately 100 native shade trees were planted in the Legacy Grove in early 2016 along future pathways. The Legacy Grove provides an opportunity for the community to dedicate trees, benches or pavers in honor of individuals or groups. This attractive and accessible location also serves as another place where community members can learn about the many benefits that trees provide.
Sustaining Heritage, Community and the Environment
Woodland demonstrates its commitment to enhancing and maintaining a healthy urban forest for current and future generations through its close collaboration with the Woodland Tree Foundation and partnerships with PG&E, the school district and the community.
"Every tree we plant helps Woodland's legacy grow," says Navazio. "We are sustaining our city's heritage, community and environment, one tree at a time."
---
How Woodland Funds Its Urban Forest
Three full-time employees staff the city's Urban Forestry Program, which has an annual budget of $500,000. The General Fund supports 75 percent of that budget. Funds from various Landscape and Lighting Assessments provide the balance. The program supports tree maintenance in municipal parks as well as on city streets. In 2014 the city set aside $100,000 in additional funds for available General Fund reserves specifically to support initiatives related to Woodland's Climate Action Plan: energy efficiency, water conservation and converting fleet vehicles to alternative fuels. The city's support of the community tree-planting activities, including the Neighborhood Shade Tree Program, comes from this sustainability set-aside. Between April 2015 and May 2016 the city allocated $39,500 in support of community tree planting activities.
The Woodland Tree Foundation contributes both money and hundreds of volunteer hours to the Neighborhood Shade Tree Program and other planting events held throughout the year. Through its fundraising efforts, the foundation contributes approximately $17,000 per year to the Neighborhood Shade Tree Program. Pacific Gas and Electric also provides support for trees purchased for the program.
---
Tips for Implementing a Successful Urban Forestry Program
The City of Woodland offers these suggestions for city officials who want to create or enhance a tree-planting program in their community:
Articulate the environmental benefits of an urban forest in your city's Climate Action Plan goals and policies;
Identify and partner with a "community champion," such as a local foundation or nonprofit community-based organization;
Work with your local utility to identify common goals that can be achieved through tree plantings;
Allocate funds, however small the amount may be initially, to leverage or match outside funding;
Engage community volunteers through service organizations and/or social media;
Start with small-scale plantings in city parks or at other public facilities;
Involve arborists in selecting appropriate species and placement and developing instructions for planting and care of trees;
Provide appropriate tools and safety equipment;
After collaborative efforts with community partners are in place, expand tree-planting program outreach and opportunities to property owners; and
Recognize and foster the multiple benefits that a tree-planting initiative can provide in disadvantaged neighborhoods.
---
Photo credits: Yvonne Hunter (girl in wagon & Woodland park sign); Rock and Wasp/Shutterstock.com (tree sapling); Courtesy of the City of Woodland and Woodland Tree Foundation (volunteers)
---
This article appears in the July 2016 issue of Western City
Did you like what you read here? Subscribe to Western City
---