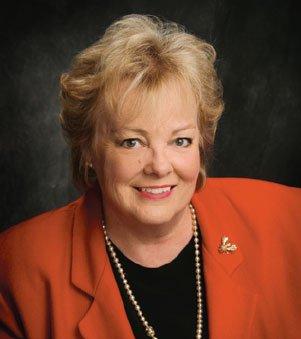 A Word From Outgoing League President Robin Lowe
The past year has been filled with challenges, promise and success for the League. As I prepare to turn over the office of League president to my successor, Modesto Mayor Jim Ridenour, I would like to take this opportunity to reflect on what we've accomplished in the past 12 months.
When the 2009–2010 board of directors began its work last September, we had two major challenges facing us: updating the League's bylaws and qualifying a measure for the November 2010 statewide ballot.
Fine-Tuning the Bylaws
Our goals with respect to updating the bylaws included:
Ensuring that the board of directors reflects the diversity of our state and the people we serve; and
Making adequate provisions to ensure our nominations process for board offices and at-large positions works smoothly.
After much discussion, we produced a set of recommendations that will be put before the League members at the Annual Business Meeting during the 2010 annual conference. You can find these recommendations online at www.cacities.org/resolutions.
Qualifying Proposition 22
Ongoing state raids on local revenues and redevelopment funds have made it clear that further efforts to protect local government are essential. The League worked with a coalition to craft a ballot measure intended to close the loopholes that make such raids possible, and then we set to work gathering signatures to qualify it for the November 2010 ballot. The arduous task of signature gathering required a great deal of exceedingly hard work, but we prevailed. Prop. 22, the Local Taxpayer, Public Safety and Transportation Protection Act of 2010, will go before California voters on Nov. 2.
I cannot overstate my appreciation and gratitude to the League staff at all levels for their tireless efforts to coordinate the gathering of signatures and support for Prop. 22 — and especially the regional public affairs managers, who worked long hours and many weekends to make it happen. The League staff members are the backbone of our organization, and their dedication makes it possible for us to attain our goals and, ultimately, serve our constituents and our communities more effectively.
Meeting the Year's Challenges
The economic conditions of the past year resulted in rough times for all of our cities, and I want to acknowledge my fellow board members and colleagues for their tenacity and hard work during these difficult times.
I also want to thank my staff and colleagues at the City of Hemet, who stepped up to meet the demands of a hard year despite limited resources. In particular, Hemet Mayor Eric McBride encouraged and supported my work as League president and helped make it possible for me to stay focused on the tasks at hand.
Keeping the Goal in Sight
As the League moves forward, staying focused is perhaps the greatest challenge facing us as elected officials. I urge you to get out, on your own personal time and without using public resources, and spread the word in your community about the urgent need to pass Prop. 22 and why it is so important to our quality of life. Keep in mind what we all share as League members: an unswerving belief in the importance of local control and a commitment to protecting it. Thank you for the opportunity to serve you as League president this past year.
---
This article appears in the September 2010 issue of Western City
Did you like what you read here? Subscribe to Western City
---