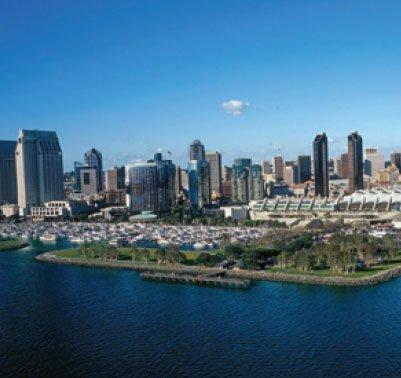 Annual Conference Preview: Conference Offers a Multitude of Opportunities
More than 1,500 city officials will gather at the 2010 League of California Cities Annual Conference and Exposition in San Diego from Sept. 15—17 for three days of educational sessions, social media training, policy discussion and more.
Featuring the theme "Rebuilding California: From the Ground Up," the conference offers sessions geared to the needs of elected officials and program tracks for city attorneys, city clerks, fire chiefs and employee relations/human resources professionals.
Conference Highlights
Activities commence on Wednesday, Sept. 15 with League policy committee meetings and a City Clerks Department pre-conference workshop titled "Maneuvering in the Maze of the Fair Political Practices Commission, the Secretary of State and the State Attorney General." Wednesday's educational programming includes sessions for first-time attendees and a discussion of the November ballot initiatives. The Fire Chiefs and Employee Relations tracks converge in the break-out session "Labor Relations: Maintaining Relationships With Shrinking Revenues," which includes legal perspectives and practical examples. After the Opening General Session from 4:00–6:00 p.m., conference participants can attend a variety of professional networking events.
Thursday's sessions cover a broad range of timely issues, including public pensions, sustainability, energy infrastructure, gang violence prevention and limitations for cities on ballot measure communication. In addition, the Institute for Local Government's Sixth Annual Luncheon Symposium presents Professor Peter M. Shane on "Informing Democracy: Local Leadership and the Changing Information Needs of Communities" (for more information, see "Nurturing Informed Communities In the Digital Age").
The City Attorneys Department offers minimum continuing legal education (MCLE) credit for ethics training and two days of outstanding litigation updates on topics including land use and the California Environmental Quality Act, Web 2.0 and emerging public records issues and the impacts of water legislation.
On Thursday, the Expo opens at 11:00 a.m., showcasing more than 250 exhibitors whose products and services are specifically geared to save cities money, improve efficiency and enhance customer service.
Friday's events kick off with regional division breakfasts, which provide an excellent venue for sharing insights with colleagues on the latest issues. The day's sessions cover comparing health care plans and costs, stormwater issues, redevelopment, marketing, the top 10 things you should know about city finance — and much more.
The conference's Closing General Session concludes with the Annual Business Meeting, where each city's voting delegates participate in the League's policy-making process. This meeting offers a unique opportunity to make your city's voice heard and play a part in charting a future course for the organization.
Handouts for all sessions and topics will be provided free online at www.cacities.org/handouts, and attendees and non-attendees alike can join in the social media conversations by tweeting using the hashtag #cacitiesannual.
---
Don't Miss the Helen Putnam Award Winners' Exhibits
Each year the League honors outstanding work by cities throughout the state with the League Partner-sponsored Helen Putnam Award for Excellence program. Named in honor of Helen Putnam, who was a mayor, county supervisor and the League's first female president, the award program recognizes innovative efforts and solutions by city governments to improve the quality of life in local communities, implement efficiencies in service delivery and operations and provide services that respond to local needs.
One award is presented in each of 10 categories:
Community Services and Economic Development;
Enhancing Public Trust, Ethics and Community Involvement;
Health and Wellness Programs;
Housing Programs and Innovations;
Internal Administration;
League Partners Award for Excellence in City-Business Relations;
Planning and Environmental Quality;
Public Safety;
Public Works, Infrastructure and Transportation; and
Ruth Vreeland Award for Engaging Youth in City Government.
The award-winning cities showcase their projects at the annual conference in the League Partner Village area on the Expo floor. Be sure to visit these exhibits and glean innovative ideas that you can adapt for your city's needs.
---
This article appears in the September 2010 issue of Western City
Did you like what you read here? Subscribe to Western City
---