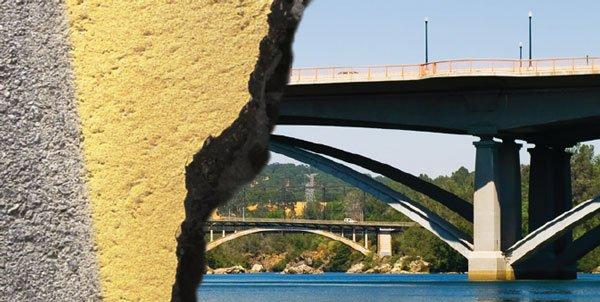 California's Crumbling Infrastructure: An Urgent Priority
The League adopted three strategic goals for 2014, which Executive Director Chris McKenzie presented in his January 2014 Western City column, "League Leadership Reviews Progress on New Advocacy Strategy and Sets 2014 Goals". My column this month focuses in more detail on one of the goals: Provide New Options for Infrastructure Investment and Economic Development.
For the ninth time in the past 10 years, the League has identified infrastructure investment as one of its top priorities. You don't have to look far to understand why.
Demographers project that California's population will continue to grow by 300,000 to 400,000 annually. These new residents will need roads to drive on, public transit to commute, clean water to drink, schools to attend and parks to play in. As California adopts new land-use policies, infrastructure is needed to support infill housing and the increased demand on our roadways. Numerous studies suggest that not only is our infrastructure unprepared for this growth, it isn't in condition to adequately support even the current population. As California grows, its infrastructure is rapidly deteriorating. Quite simply, California is crumbling.
A Sobering List of Challenges
The infrastructure situation at the local level is bleak. Approximately 83 percent of Californians live, work and play in cities. As the state has struggled to balance its budget, it has cut infrastructure funding programs and taken local revenues. Cities face monumental challenges as they endeavor to address local needs.
Local Streets and Roads. Residents bear the brunt of the state's funding cuts as they travel local streets and roads, which comprise 81 percent of California's roadways. The 2012 California Statewide Local Streets and Roads Needs Assessment found that local streets are rapidly deteriorating. The average ranking is "at risk." Nearly twice the current funding level is needed just to maintain the status quo. In the next decade, $82 billion is needed to bring streets up to "best management practices."
Bridges. Failures in local bridges can have catastrophic economic and public safety consequences. Bridges are typically built to last 50 years. The 2012 National Bridge Inventory database tallied a total of 11,863 local agency bridges in California; 5,544 are more than 50 years old, and another 2,384 are between 40 and 49 years old.
Public Safety Facilities. With the implementation of public safety realignment in 2011, local governments took on more responsibility for housing inmates. As a result, city and county jails are becoming overcrowded and will need construction upgrades to house these prisoners.
Affordable Housing. California's population has grown but affordable housing production has lagged. Even as people have lost jobs and wages, the price of housing remains among the highest in the nation. This most significantly affects low-income Californians, two-thirds of whom spend more than half of their income for housing. Without the tax-increment financing tool, cities are hard pressed to find ways to help build the low- and moderate-income housing needed for teachers, firefighters and retail workers.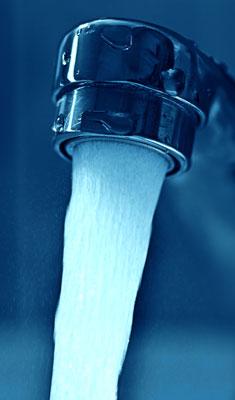 Water Supply. California is ranked highest among all states in terms of water infrastructure needs. The U.S. Environmental Protection Agency's 2013 Drinking Water Infrastructure Needs Survey and Assessment determined that since 2007, California's water infrastructure needs increased from $44.2 billion to $44.5 billion. California's needs include an estimated $26.7 billion to improve drinking water transmission, $8.4 billion for water treatment and $6.4 billion for water storage.
Wastewater Management. Significant investments are needed to address renewal and replacement, maintenance, security and reliability funding for California's wastewater infrastructure. The American Society of Civil Engineers (ASCE) 2013 California Infrastructure Report Card estimates that $4.5 billion will need to be spent annually for the next 10 years to modestly improve wastewater infrastructure.
Flood Control. The ASCE 2013 California Infrastructure Report Card also found that the backbone flood control and drainage systems serving California cities, including channels, levees, retarding basins, dams and pump stations, vary widely in condition and capacity to prevent flooding from major storms. Levees protect thousands of homes, businesses and critical community infrastructure. It's estimated that funding shortfalls for regional flood control facilities exceed $2.8 billion annually over the next 10 years.
Stormwater. As regional water quality boards adopt more stringent requirements, local agencies are being called on to adopt expansive and expensive stormwater management programs, requiring funding that simply does not yet exist. The League is currently conducting a survey of its members to assess the magnitude of this need, but anecdotal reports suggest it is immense, and funding options are extremely limited without changes in state law.
Zero-Emission Vehicles Infrastructure. California cities are already home to tens of thousands of plug-in electric vehicles, and the state currently represents 30 to 40 percent of the national market. To support this growing technology and to meet the governor's target of having 1.5 million zero-emission vehicles on the road by 2025, the related infrastructure requires significant investment. This includes everything from installing the actual chargers to ensuring that electricity is available and reliable.
Technology. The Federal Communications Commission expects that by 2016 the number of mobile broadband users worldwide will reach 5 billion. Nevertheless, more than 9 million Californians are unable to access broadband in their homes. Significant investments must continue to be made if California is to remain a national and world leader in communications technology.
Schools. Schools are also deteriorating. According to a 2012 UC Berkeley report, California's K-12 Educational Infrastructure Investments, 73 percent of the schools in California are more than 25 years old, and they are starting to fall apart.
The High Cost of Waiting
California will need to invest a staggering $500 billion in infrastructure over the next two decades. While these costs are high, the price of waiting is much more expensive. The conclusions are inescapable — we must pay now to update our infrastructure or pay much more later to replace it.
We have already delayed too long. We are calling for the state to join local governments in finding new tools to address these undeniable and nearly immeasurable needs. Many proposals to do so are already being floated. It will likely take a combination of several of these proposals to make a difference. It is time to decide which proposals are the best and move forward.
But state and local officials cannot do this alone. It will take the support of our constituents to succeed. The League is continuing to protect funding and promote tools for local economic development, infrastructure investment and job creation. As city leaders, we must also work with the state and federal governments, opinion leaders, the media and our residents to develop answers — and funding — to repair and replace our collapsing infrastructure. We are ready to work together to prevent California from deteriorating even further. Join us in finding solutions for our future.
---
Connect With Your Community on These Issues
The Institute for Local Government (ILG) offers impartial, reliable and easy-to-understand resources for local officials interested in engaging their community on budget-related issues — such as the dire condition of California's infrastructure described in the accompanying article. ILG is the nonprofit research institute sponsored by the League of California Cities and the California State Association of Counties.
Useful Resources Available Free
Creating Safe Walking and Bicycling Communities: Safe Routes to School Decision-Maker's Toolkit
Greening Agency Fleets Resource Center
Resources for Sustainable Economic Development
Public Engagement in Budgeting
This short four-page publication provides an overview and a basic understanding of public engagement and budgeting plus links to more detailed information. Topics covered include:
Why Involve the Public in Budgeting?;
Choosing the Right Approach Means Asking the Right Questions;
Tools to Consider;
Communication and Engagement;
One Strategy — Start with Goals; and
A Strategy for Sustaining Public Engagement.
A Local Official's Guide to Public Engagement in Budgeting
This publication describes five general approaches that local agencies use, often in strategic combination, to involve residents in the budget process. A downloadable pdf version of the entire publication is available.
Chapters include:
Involving the Public in Local Budgeting;
Approaches to Public Engagement in Local Budgeting;
Thinking Strategically About the Purposes of Public Engagement;
A Dozen Lessons to Guide Public Engagement in Budgeting; and
Resources for Engaging the Public in Local Budgeting.
Explore a variety of resources, including information on budget education and outreach, budget surveys, budget workshops, budget advisory committees, working with existing neighborhood councils and committees, and much more.
Difficult Situations in Public Engagement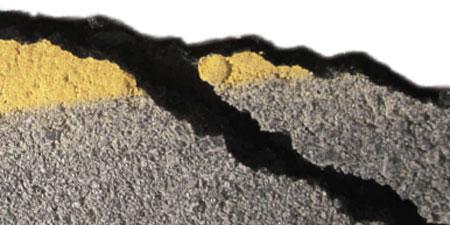 ---
This article appears in the February 2014 issue of Western City
Did you like what you read here? Subscribe to Western City
---