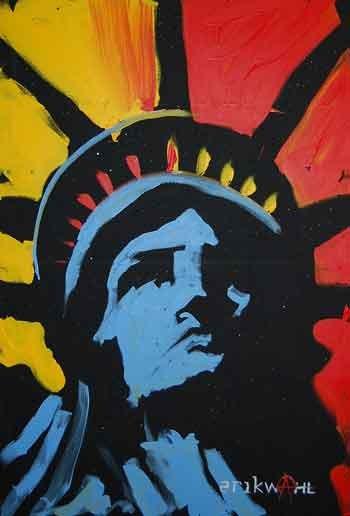 Can Art and Emotion Inspire Effective Leadership?
As I write this column, the League's 2013 Annual Conference & Expo has just concluded. It provided a great experience for me and, it seems, for everyone who attended. Over and over again, city officials reported that the General Sessions, concurrent workshops and City Talks really hit the mark! Even the special sessions offered by our League Partners in the Exposition Hall were wildly popular. In short, I heard that the program and the fellowship were spot-on. These are sweet words to the League staff, including me.
After the conference I asked how many of our own staff were able to enjoy Erik Wahl's deeply moving opening keynote address on the role of creativity and emotion in being an effective leader. Very few of them got to see it because they were busy with the work of running the conference. It was a good reminder to me that when we have eye-opening experiences, we need to share them with our own staff as well.
The Makings of an Uncomfortable Audience
I intentionally went to the back of the auditorium at the beginning of Wahl's presentation to pay close attention to the audience's reaction. If you weren't there, imagine a man with blond shoulder-length hair, dressed in black, talking rapidly about his childhood love of drawing, how he unfortunately began thinking as he grew older that he had no talent and really could not draw, and his own personal journey back to it 30 years later. When he described himself as a "graffiti artist," you had the makings of an uncomfortable audience of city officials.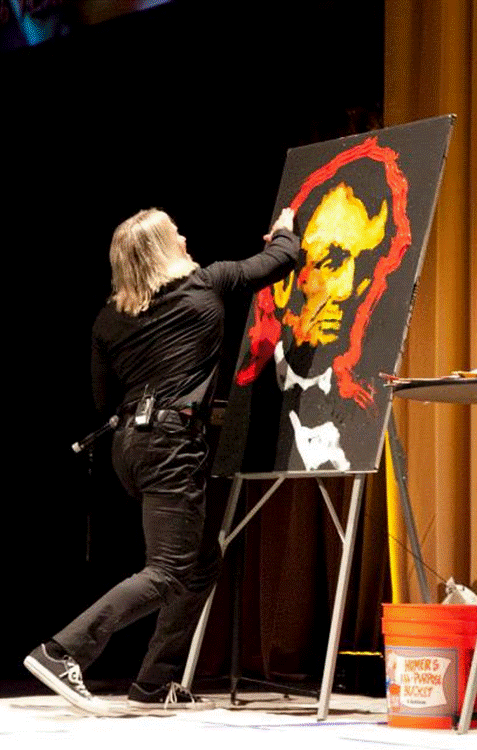 I noticed a small group of individuals leave the auditorium. (My staff later told me that one of them came to the registration desk to complain about the speaker and his use of "graffiti" when it is the plague of many cities.) Then the music, video images and the graffiti art began. What emerged in just a few minutes of furious brush strokes was an incredible painting of President Abraham Lincoln.
The faster Wahl talked and painted, the more he engaged the audience. After he completed the first painting, he threw a stuffed animal into the audience, and then ran down to interview the official who caught it: a city manager. Wahl told the city manager he wanted him to come onstage and help him with his next painting, but that the city manager could designate one of his friends to do it in his place.
When Wahl asked if he would do it himself or designate someone, the manager said, "I wouldn't do that to anyone, so I'll do it myself." Wahl took him onstage and gave him an envelope that contained a note he asked the manager to read to the audience. The note said, "The painting of President Lincoln is yours to keep."
Confronting Fear and Taking Risks
The crowd roared its approval, and the city manager thanked Wahl, who commented that in 95 percent of his corporate audiences the fear of drawing makes his "volunteers" designate someone else. He was pleasantly surprised by the city manager's fearlessness. He didn't know (as we do) that city officials are by nature among the most fearless people in the world — they confront difficult crowds and situations all the time.
Wahl proceeded to do two more paintings, accompanied by music and videos of emotion-producing scenes, like military veterans returning home and surprising their spouses and children, as well as other touching scenes. At times he had the audience in tears. His final portrait was executed upside down. He turned it right side up when he finished so the crowd could see it was Albert Einstein.
Wahl's story is really not all that different from many of ours, except he looked deep inside himself to rediscover his love of drawing and painting and turn it into more than a pastime. In the process he discovered the importance of confronting one's fears, taking what may seem like extreme risks and ending up with a career that is both fulfilling and challenging.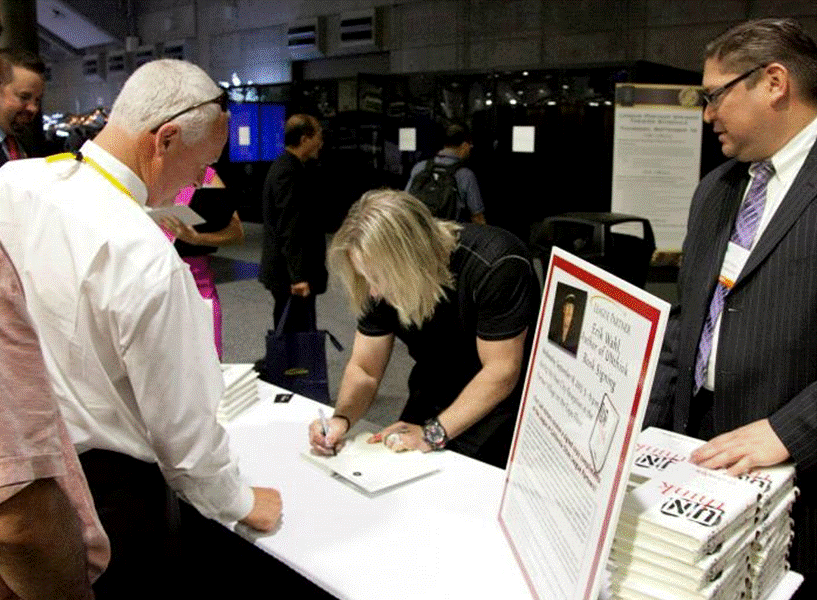 The audience gave Wahl a standing ovation at the conclusion of his performance. He later signed nearly 150 copies of his book in the Expo Hall. Not surprisingly, his book is titled UN-Think: Rediscover Your Creative Genius.
Catalysts for Change
As I spoke to city officials over the next few days, many of them spoke with enthusiasm about Wahl's performance and how it inspired them to think about the skills they may have that can be put to work in serving the public, and how it caused them to adopt a broader vision of what it meant to be a "graffiti artist."
Wahl also spoke effectively about the fact that change at all levels of government, even needed change, can sometimes happen only if members of the public are asked respectfully to confront their own fear of change and they are shown possibilities that evoke their own aspirations and vision for their communities.
Listening to Wahl, I recalled how my father — an artist who had become an advertising executive — would talk about how he had learned to use effective artistic presentation to evoke positive emotions in potential customers for his clients' products. A good ad, he often said, connected its viewer with memories that carried positive emotions. The best, he added, were elegantly simple.
Ultimately, if Erik Wahl did nothing more than awaken in his audience an appreciation for their own latent artistic and leadership skills, it was an outstanding experience. For others, he may even have helped clarify the solution to a perplexing problem at home that had been eluding resolution. Either way, it was a presentation worth experiencing — intellectually and emotionally.
---
This article appears in the Novemebr 2013 issue of Western City
Did you like what you read here? Subscribe to Western City
---