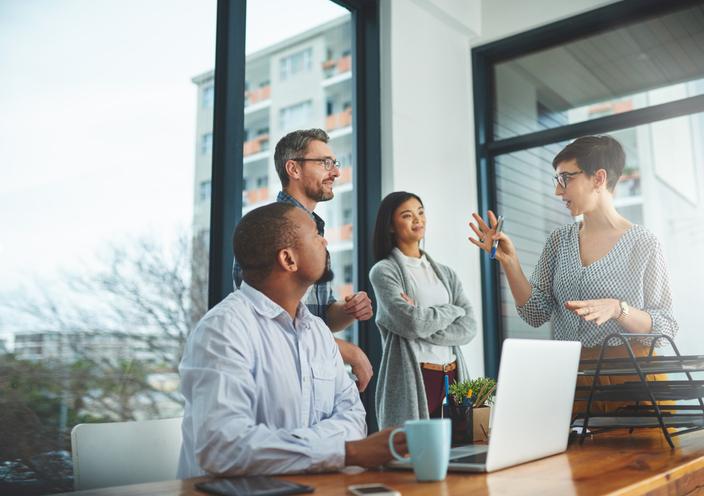 A City Council Member's Role With Respect to Individual City Employees
Melanie M. Poturica is managing partner at the law firm of Liebert Cassidy Whitmore in Los Angeles, and can be reached at mpoturica@lcwlegal.com. David A. Urban is an attorney with the firm, and can be reached at durban@lcwlegal.com.
---
In the public eye, city council members are at the top of the city's government structure, presiding over large and small bureaucracies that may include police officers, firefighters and many other types of employees charged with serving the public interest. Accordingly, when residents are aggrieved by or interested in the conduct of a particular employee, they may view their council member as that employee's ultimate "boss" or de facto CEO of the city, who can cause the employee to be disciplined or even terminated, and who could certainly take such lesser actions as communicating with the employee's direct supervisor or reviewing the employee's personnel file for information relevant to the issue.
City councils often have appointing authority over the city's highest officials, such as the city manager and city attorney. But otherwise, individual council members and the council as a body have virtually no role with regard to individual city employees. In fact, a council member's role with respect to such employees probably has more in common with that of a city resident (who is an interested "outsider" looking at the city employment structure) than with that of a private company's CEO.
This article describes several legal reasons why city council members' roles with regard to individual employees have such substantial limitations and includes some practical approaches for dealing with individual employees.
Why a City Council Member's Role Is So Limited
City council members are meant to act as part of the council, not individually. A primary reason why council members have virtually no role with regard to individual city employees is that applicable law provides that council members will act as a body, not as individuals. Indeed, the law requires that, with limited exceptions, the council conduct city business only through duly convened meetings "in full view of the public."1 Thus, when an individual city council member takes unilateral action, his or her conduct may well lose the sanction of the law. The council member may then lose certain protections and immunities from liability, and his or her actions may more easily be rescinded or disputed.2
Legislative immunity is limited. Second, city council members may well not have legislative immunity with regard to actions toward individual employees. This is particularly true if the council member acts unilaterally. Typically, when a city council member acts as a legislator, he or she has absolute immunity. But that immunity can be lost when the legislator takes actions outside the "sphere of legitimate legislative activity."3 Accordingly, if a council member takes any unilateral actions concerning an individual employee, he or she could risk loss of legislative immunity. Even actions taken collectively with the full council might conceivably lack immunity if they relate to specific individuals instead of furthering general city policy.
Under California law, city council members can be liable for invasion of privacy, among other things. Third, the threat of liability presents another factor that limits council member roles toward individual employees. One potential type of liability is for invasion of privacy. In one case, Braun v. City of Taft, a city council member was subject to censure by the council for removing documents from a city employee's personnel file and revealing them to the press. Although the court ultimately determined that the particular documents were public records that could legally be disclosed, the court remanded the case to the council to allow it to decide whether the member should suffer censure for other reasons. These possible reasons included his "unilateral decision regarding [the documents'] suitability for disclosure."4 Other courts have articulated that public employees can have limited privacy rights in their personnel files.5 Employees can thus argue that improper review and/or disclosure should result in personal liability for invasion of privacy.6
Other officials, such as city managers, are charged with overseeing city employees. Fourth, council member actions with regard to individual employees may be considered suspect because other high level city officials are officially charged with supervising and/or overseeing individual employees. Most cities appoint city managers to provide overall supervision to a city's human resources function. Because a designated official already has this responsibility, there should be little need for city council members to become involved with individual employees.7
Practical Advice for Dealing With Individual Employees
Refrain from doing so, unless it is a part of one's obligations to the city. The most prudent course for a city council member is to refrain from taking action or otherwise becoming involved in any supervisory role, with respect to individual city employees.
Proceed as part of properly convened city council meetings and not individually. If a council member must become involved in decisions with respect to an individual employee, the member should not act unilaterally but should instead act as part of the council. The member should also act pursuant to the requisite formalities that will ensure legislative immunity applies.
The city manager or other appropriate city employee should interface with employees. Tasks such as reviewing employee personnel files, gathering information from supervisors and providing instruction as to particular employees should be done by the city manager or other official charged with overseeing the city's employment structure. This is true even for matters of public interest. If city residents object to the conduct of particular employees, the council can respond by asking the city manager to investigate and take appropriate action regarding the objections. For example, in a small city experiencing resident complaints about rude police officers, the council should itself refrain from taking direct action as to those officers. Instead, it can ask the city manager to investigate and respond to the issue globally. The city manager can then, as part of his or her comprehensive response, take appropriate employment action as to the officers in question.
Comply with the Brown Act. The Ralph M. Brown Act provides that certain official bodies, including city councils, may only act through duly called and regularly held meetings that are open to the public. A city council can conduct closed meetings to discuss certain personnel matters. These include meetings in which the council discusses the "appointment, employment, evaluation of performance, discipline, or dismissal of a public employee …"8 This closed meeting exception, however, may apply only to the council's consideration of employees over whom the council has appointing authority (for example, city managers, city attorneys and others). A California attorney general opinion describes that the closed meeting exception does not apply to a body's consideration of an employee over whom it does not have appointing authority.9 Lack of compliance with the Brown Act may lead to adverse legal consequences, which include voiding the actions that the council takes.
Consult with legal counsel. These issues can be complex. Also, situations where council members must take a role with regard to city employees will be rare. Council members should obtain legal advice when such circumstances arise to ensure they undertake their role appropriately.
---
Footnotes:
[1] Wolfe v. City of Fremont, 144 Cal. App. 4th 533, 541, 543 (2006); see also Moreno v. King, 127 Cal. App. 4th 17, 20 (2005) (city council's termination of finance director was ineffective because of failure strictly to comply with notice provisions of Brown Act).
[2] See Braun v. City of Taft, 154 Cal. App. 3d 332, 338-40, 347-48 (1984) (considering council member's censure for unilaterally disclosing personnel records to the public).
[3] Bogan v. Scott-Harris, 523 U.S. 44, 54, 118 S. Ct. 966, 140 L.Ed.2d 79 (1998) (council members have immunity from civil rights liability for all actions taken "in the sphere of legitimate legislative activity"). For legislative immunity under federal law, courts apply a four-part test: "(1) whether the act involves ad hoc decision-making, or the formulation of policy; (2) whether the act applies to a few individuals, or to the public at large; (3) whether the act is formally legislative in character; and (4) whether it bears all the hallmarks of traditional legislation." Kaahumanu v. County of Maui, 315 F.3d 1215, 1220 (9th Cir. 2003). "Whether an act is legislative turns on the nature of the act, rather than on the motive or intent of the official performing it."Bogan, 523 U.S. at 54.
[4] Braun, 154 Cal. App. 3d at 338-40, 347-48.
[5] Id. at 346-48.
[6] See Hill v. National Collegiate Athletic Assn., 7 Cal. 4th 1, 35-38 (1994).
[7] Indeed, at least one Attorney General Opinion describes that the Brown Act closed meeting exception does not apply to a body's discussion of employees over whom the body does not have appointing authority.See 85 Ops. Cal. Atty. Gen. 77 (2002). This supports the position that a council should delegate decision-making over such employees, since it would otherwise have to consider their performance in open session.
[8] Cal. Gov. Code § 54957(b)(1).
[9] 85 Ops. Cal. Atty. Gen. 77 (2002).
---
About Legal Notes
This column is provided as general information and not as legal advice. The law is constantly evolving, and attorneys can and do disagree about what the law requires. Local agencies interested in determining how the law applies in a particular situation should consult their local agency attorneys.
---
This article appears in the March 2007 issue of Western City
Did you like what you read here? Subscribe to Western City
---