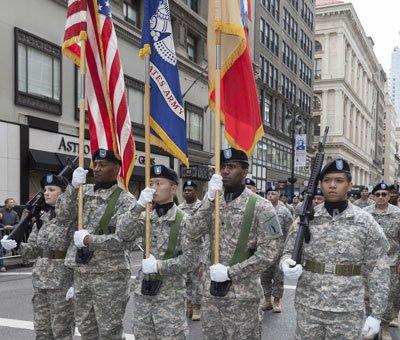 Connecting Veterans With Services Benefits the Entire Community
Carolyn Ballou is communications director of the Veterans Services Division of the California Department of Veterans Affairs. She can be reached at Carolyn.Ballou@calvet.ca.gov.
---
Learning about state and federal veterans' benefits is a good idea for city officials. In addition to improving the lives of veterans and their families, veterans' benefits boost local economies and help improve neighborhoods and communities.
California is currently home to 1.8 million veterans. With the drawdown of troops and restructuring of the U.S. military, an additional 40,000 veterans are expected to return to the state every year for the next several years. Regardless of age, branch of service, post or assignment, veterans who served honorably are entitled to a host of state and federal benefits. The California Department of Veterans Affairs (CalVet) works to connect veterans of every era with the benefits to which they are entitled for their service to our country.
Veterans' benefits bring hundreds of millions of dollars into California every year. Disability compensation and pension benefits improve household incomes and put spending money into veterans' pockets. Other benefits enable veterans to begin or resume their college education, get job training and find employment, access health care, start a business and buy or improve a home. Veterans may also qualify for free or reduced-fee licenses, passes to state parks, property tax exemptions, specialty license plates and other considerations. What's more, qualified dependents of veterans with a service-connected disability can attend any California community college, state college or university tuition-free — making a college education a reality for many whose families could not have afforded it otherwise.
Job training, vocational rehabilitation and other employment-related benefits reduce veteran unemployment. Housing, employment, mental health services (including treatment for post-traumatic stress disorder, traumatic brain injury and military sexual trauma) and other benefits help reduce veteran homelessness. Veterans' courts offer veterans accused of certain crimes more agreeable alternatives to incarceration. Educational benefits increase enrollment in California's colleges and universities and prepare veteran students to become vital, productive, contributing members of their communities.
These veteran's benefits are something cities can easily tap into. CalVet offers simple, no-cost ways that you can help local veterans connect with the benefits and services to which they are entitled. To learn more, visit www.calvet.ca.gov/Resources/Help.aspx.
---
This article appears in the January 2014 issue of Western City
Did you like what you read here? Subscribe to Western City
---