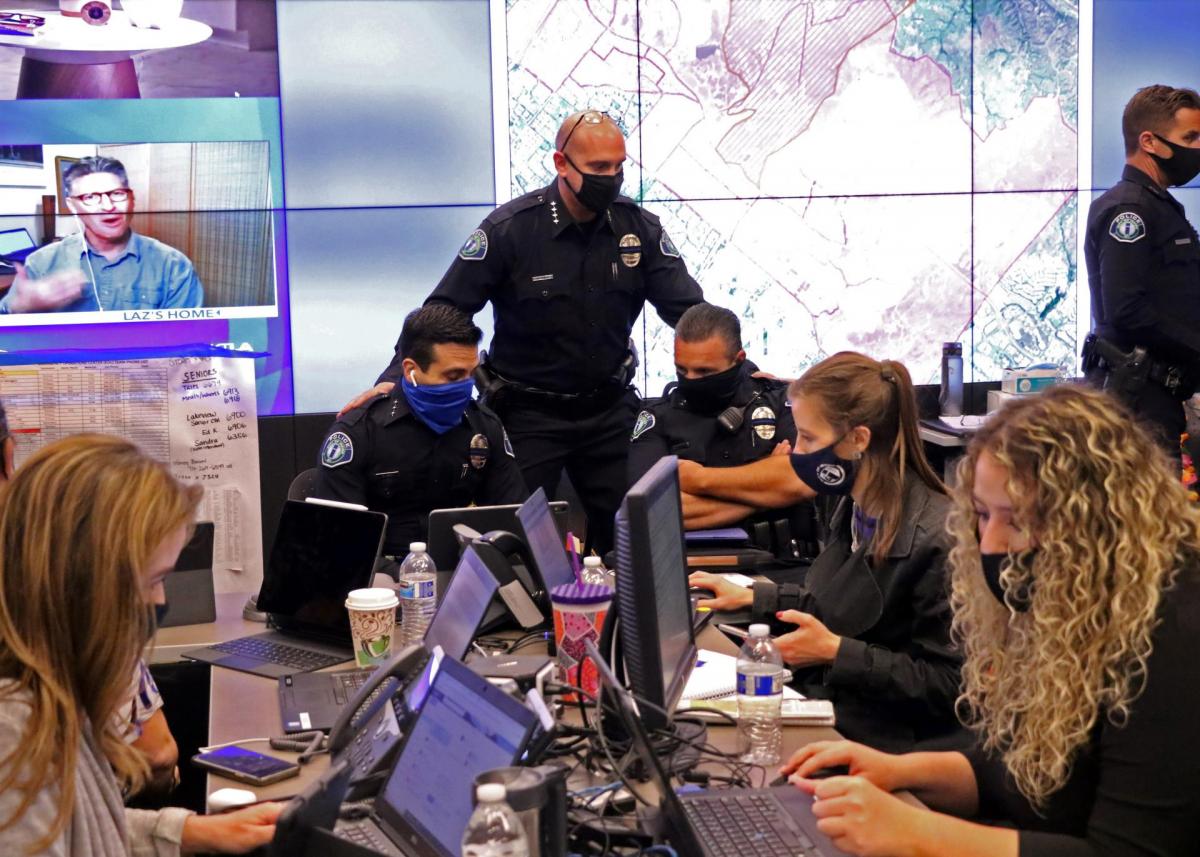 How Irvine evacuated more than 100,000 residents during a major wildfire
The city of Irvine won the Award for Excellence in the Public Safety category of the 2021 Helen Putnam Award for Excellence Program. For more information about the award program, visit www.helenputnam.org.
---
Irvine, a culturally diverse community of more than 270,000 residents, is the third-most populous city in Orange County. Home to numerous neighborhood villages, primary and secondary schools, institutions of higher learning, corporate headquarters, commercial districts, and 16,000 acres of preserved open space Irvine is, at 66 square miles, the largest area in the county.
Much of the developed land on the city's north and south borders is along Irvine's wildland-urban interface. Driven by unparalleled wind conditions, the 2017-19 wildfires — Tubbs, Thomas, Woolsey, Camp, Kincade, Tick, and in Orange County, Canyon II and Holy Fire — underscored the significant challenges facing police and fire agencies in these at-risk areas and the urgent need for enhanced planning measures.
For Irvine, that urgent need soon became an urgent reality.
In January 2019, the Irvine Office of Emergency Management created the Evacuation Planning Working Group to help address the complex process of evacuation planning. It drew subject matter experts from various disciplines — multiple public safety departments, public information, public works, transportation, geographic information system mapping, disability services, community services, and animal services — as well as external partners, such as the Orange County Operational Area, California Highway Patrol, Caltrans, California Office of Emergency Services, California Office of Access and Function Needs, and schools from throughout Irvine.
Over the course of a year, the working group met as a whole and in smaller, subject-specific groups. Its initial objective was to identify, understand, and develop solutions for recurring challenges during wildfire evacuations. One common finding quickly became a key focal point: the need to pre-identify evacuation zones across the wildland-urban interface, as well as at-risk communities in other parts of the city.
The first step was to examine wildfire modeling from the Orange County Fire Authority, which includes historic wind patterns and wildfire behavior driven by Santa Ana winds. Next, several community factors were examined, such as transportation routes and road capacity, the location of critical infrastructure, gated communities, homeowner associations, schools, hospitals, assisted-living facilities, and any densely populated areas that would require evacuation.
Because past wildfires underscored the need for text-based and visual evacuation instructions, the city's mapping team built a real-time, interactive, web-based map to notify the public about wildfire evacuations, accessible routes, and care and reception facility locations. The map was embedded in Irvine's emergency webpage and uses scalable bandwidth to avoid delays, downtime, or website crashes.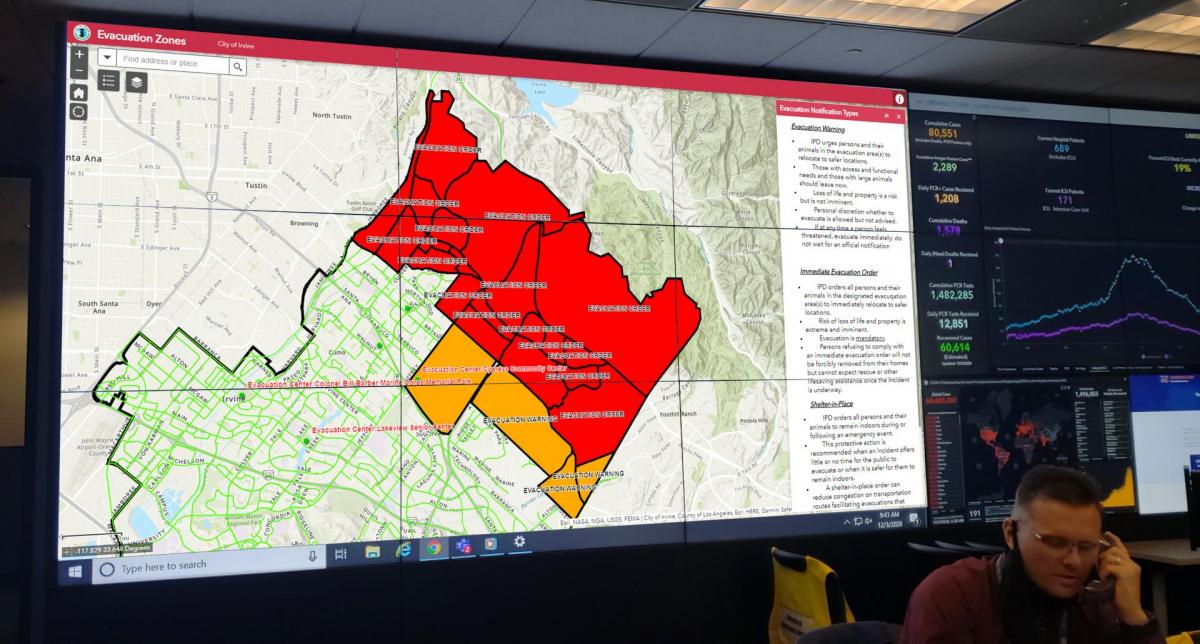 City officials tested the system to ensure that residents could access these life-saving tools through Irvine's mass notification system and wireless emergency alerts. Mapping Supervisor Michael Sheeran noted that the map allows his team to share "real-time emergency data updates and critical evacuation coordination with all responding agencies and the public."
This approach resulted in a plan appropriate for both operational response and public education. Additionally, the entire project was completed virtually cost-free due to the use of existing applications, in-kind staff time, and the nominal cost associated with printing the area maps. Specific benefits include:
Enhanced communication between field responders and the emergency operations center
Expedited, accurate public alerting
Pre-identified traffic congestion points
Improved public outreach about zones and evacuation routes
Planned tiered evacuation and repopulation processes
Presented to the city council in December 2019, the plan and map were subsequently made available to the public on the city's website and incorporated in Irvine's wildfire readiness outreach efforts as part of its Ready, Set, Go campaign and Teenage Community Emergency Response Team programs in both English and Mandarin Chinese. The Office of Emergency Management also met with police and fire agencies across Orange County to discuss the working group's results, share data and map files, and engage in multijurisdictional evacuation planning.
Within months, the city's efforts were tested in a real-life wildfire.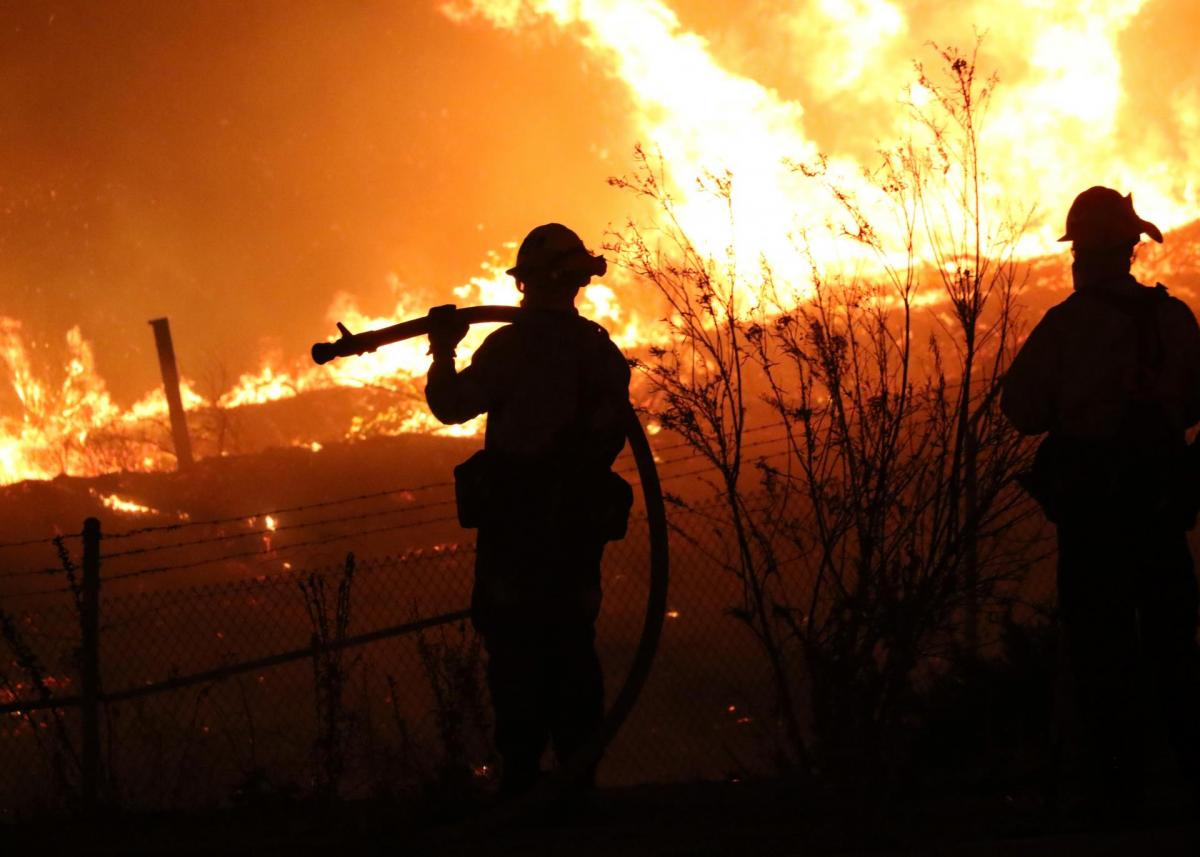 On the morning of Oct. 26, 2020, the National Weather Service issued a red flag warning. At 6:52 a.m., vegetation in the wildland adjacent to Irvine's northern boundary ignited and the subsequently named Silverado Fire rapidly spread south into the city, necessitating a mandatory evacuation order for much of the area's population. The fire's continued, rapid spread required additional evacuations. Before day's end, Irvine had evacuated more than 100,000 residents — the largest evacuation and mass care and shelter operation in its history.
The Silverado Fire raged for three days and required the combined efforts of staff and outside agency personnel to ensure the evacuations were swift and safe. When the fire was contained and evacuation orders were lifted, no lives had been lost and no injuries sustained.
Residents expressed their gratitude for the city's response through an outpouring of phone calls, emails, and social media posts. Mayor Farrah N. Khan commended city staff stating, "Their comprehensive approach to evacuation was critical in our city's life-saving efforts."
Emergency Management Administrator Robert Simmons agreed: "It was gratifying to see each response aspect work together according to our pre-planning and exercises."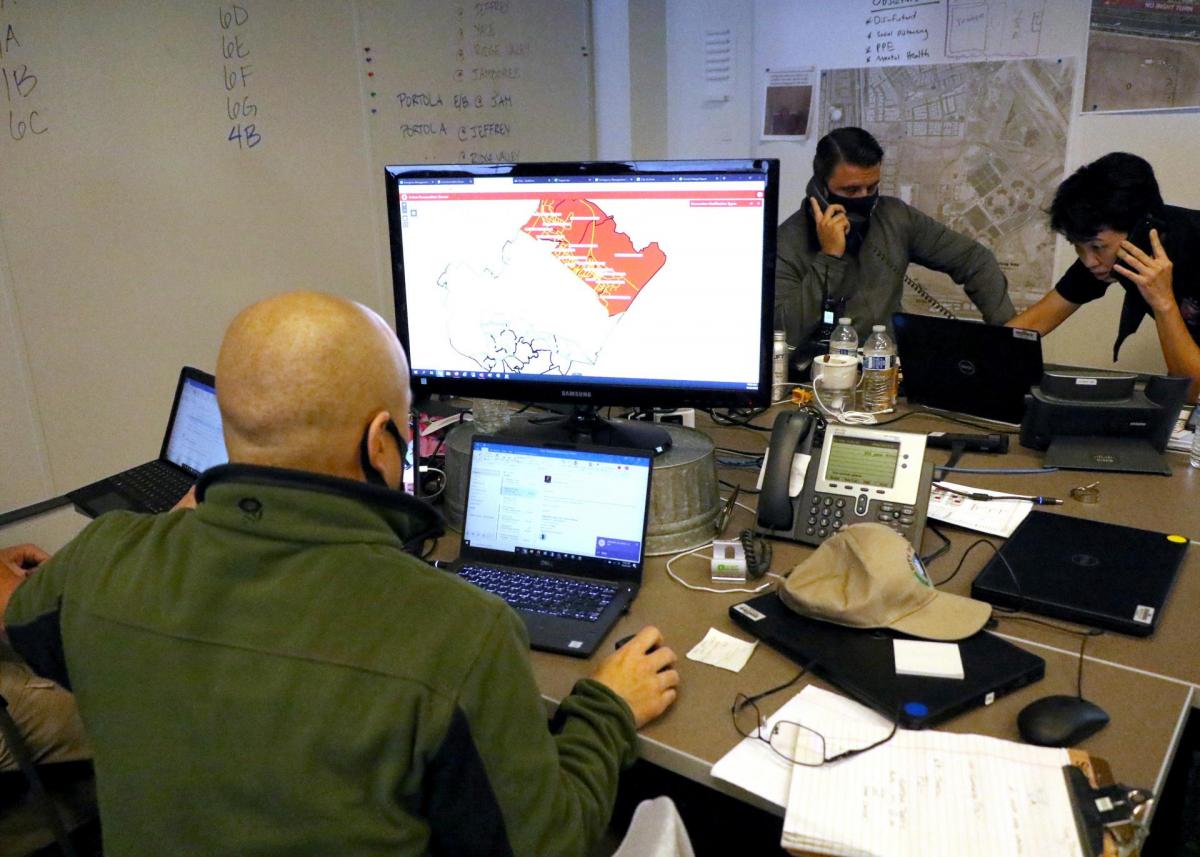 The benefits of the working group's efforts extended beyond Irvine's borders, which shared the map files with other affected jurisdictions. This led to the creation of similar responses and evacuation maps, which received more than 3.2 million combined views throughout the incident and were retweeted by some of southern California's most popular news channels. Their work aided numerous other stakeholders, including:
Field officers assigning mutual aid evacuation teams
Unified command personnel
Emergency management personnel sending public alerts to threatened areas
Care and reception staff establishing evacuation centers
Public information personnel updating social media and the city website
Hotline and dispatch staff responding to an overwhelming number of calls from the public and media for updated evacuation, repopulation, and road closure information
The expertise, time, and resources Irvine invested to develop a comprehensive emergency response toolkit for first responders and the public created tremendous, measurable benefits. Going forward, the city remains committed to applying all resources necessary to ensure its toolkit remains current, relevant, and ready for the next emergency.
Robert Simmons is an emergency management administrator for the city of Irvine's police department. He can be reached at rsimmons@cityofirvine.org or (949) 724-7235. Watch this video for a brief overview of the project.