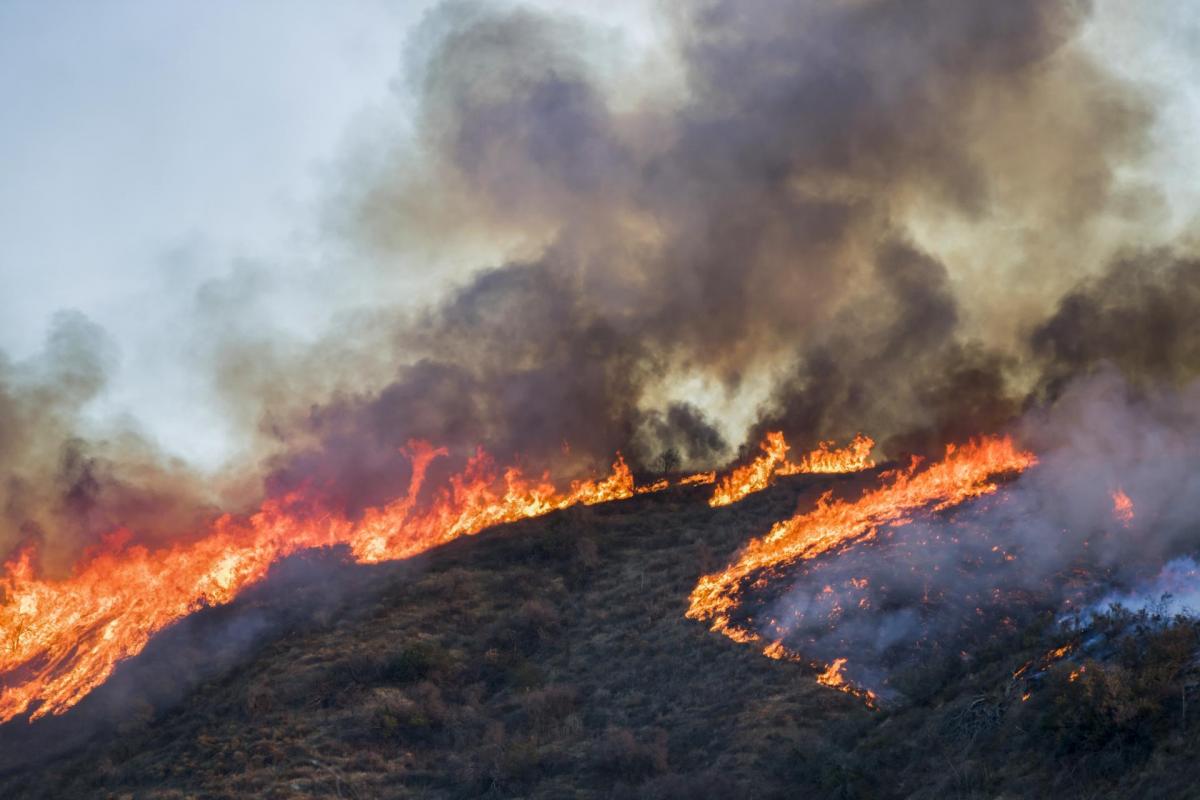 How Marin County is changing the wildfire prevention paradigm
Mark Brown is the executive officer of the Marin Wildfire Prevention Authority and can be reached at mbrown@marinwildfire.org. Sashi McEntee is a board member for the Marin Wildfire Prevention Authority and can be reached at smcentee@cityofmillvalley.org. Dan Schwartz is the Larkspur City Manager and can be reached at dschwarz@cityoflarkspur.org. Bill Tyler is the fire chief for the Novato Fire Protection District and can be reached at btyler@novatofire.org.
---
Marin County, like many of California's cities, towns, special districts, and counties, provides fire prevention services. In Marin, nineteen different agencies have this responsibility — plus several regional, state, and federal land managers as well. With nearly 70,000 housing units in Marin's wildland-urban interface, fire danger is a very real and immediate concern for many residents.
In October 2017, the conditions that produced the North Bay Fires existed in Marin. We simply got lucky and avoided that one spark that led to disaster. The question quickly became, "Could so many fire prevention agencies work together to prevent a devastating loss of life and property, not to mention a catastrophic release of CO2 and loss of habitat?" The answer was yes; our community banded together and used this wake-up call to start shifting the wildfire prevention paradigm from siloed agency plans to a countywide fire prevention effort.
The scope of prevention work is very much a function of community tolerance. We cannot mitigate fire risk to zero, but we can strategically reduce fuel sources, harden homes, organize neighborhoods, improve alert systems, and clear evacuation routes. After the North Bay Fires, community interest and tolerance for prevention work increased, making a different sort of conversation possible.
Together we have a shared vision: coordinated, countywide fire prevention. Fire knows no jurisdictional boundaries, and our cooperation must transcend individual agencies.
Identifying resource needs and lessons learned
In the wake of the North Bay Fires, the Marin County Board of Supervisors created a "Lessons Learned Committee" to study what happened to our neighbors to the north. Representatives from the county government, city/town managers, fire, law enforcement, and land management agencies participated.
In addition to interviewing Sonoma County officials, the committee hosted a public forum to gather community input and preferences. It also inventoried Marin's existing programs and identified gaps within and across agencies.
The committee's recommendations included the creation of a countywide joint powers authority (JPA) to work on cross-jurisdictional fire prevention projects out of reach of most individual agencies — a recommendation repeated in a subsequent grand jury report.
Residents overwhelmingly support dedicated fire prevention funding
In 2019, a committee of agency executives and staff convened and worked quickly to draft a joint powers agreement and a measure for the 2020 primary ballot. By the end of the year, seventeen agencies agreed to form the Marin Wildfire Prevention Authority (MWPA) and Measure C was placed before the voters, passing with 70.8% of the vote. Measure C will sunset in ten years unless it is renewed by the voters.
Measure C generates approximately $19 million per year, with money spent in three categories. Sixty percent goes to core programs, key countywide efforts overseen by MWPA; 20% is allocated for defensible space evaluations — property-by-property assessments of fire risk, with a corresponding analysis and report for the property owner to use. The remaining 20% is spent on local prevention work by the member agencies that fit the mission of the MWPA.
Building the organization
The joint powers agreement was drafted along with the following tenets: fair representation, informed decision-making, thoughtful distribution of resources, and accountability. The agency's board of directors is composed of elected officials from the member agencies. Fair representation is promoted through a weighted voting system that promotes consensus-building by preventing blocs of agencies from dominating decisions. To inform board votes, items are reviewed by two staff-level committees, an operations committee, and an advisory/technical committee. These committees consider the cost-benefit aspects of the activities funded by MWPA. Key stakeholders, such as regional land managers, participate on committees as non-voting members.
To ensure thoughtful distribution of resources, the Marin Wildfire Prevention Authority's territory is divided into five geographic zones, into which resources are invested as equally as possible. Each zone contains agencies in proximity to one another that share common fire prevention challenges. An early challenge —and success — was establishing the infrastructure to support member agencies with differing needs and capacities, while developing a shared knowledge base of best practices.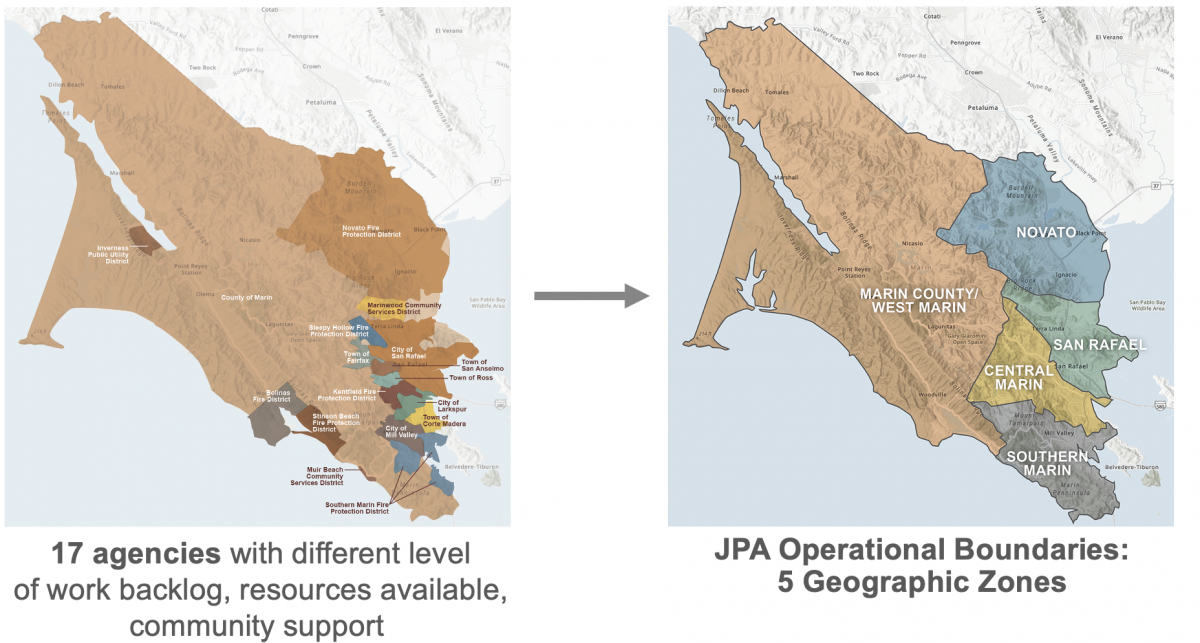 Accountability in fire prevention is a tricky thing. Success means something does not happen. Therefore, the joint powers agreement provides for a strong citizens' oversight committee. This group does more than review the agency's books: It also helps us explain our work and its value to the public.
Fiscal year 2020-21 was MWPA's first year of operation. To build momentum, funding was directed to projects that member agencies could easily launch. At the same time, the board and its committees focused on housekeeping issues, hiring staff, and a work plan that includes the first core programs. Much focus of the early core work of MWPA is on environmental compliance for vegetation management. The ability of member agencies to navigate the California Environmental Quality Act (CEQA) varies greatly. By centralizing this work and placing it in the hands of a team of experts, MWPA is preparing compliance documents, best practices guidelines, and training opportunities that will level the playing field and help every member tackle the shared goal of fuel reduction.
Forging partnerships with the environmental community
Our commitment to the environment extends beyond CEQA compliance. One of Marin Wildfire Prevention Authority's unique features is its strong partnerships with the environmental community. Firefighters joined with local environmental groups to create the Ecologically Sound Practices Partnership, a unique synergy that creates an open forum for discussion about sensitive habitats, best practices, and trade-offs as approaches to vegetation management are considered.
The state responsibility areas of MWPA's territory are covered by the California Vegetative Treatment Program. MWPA is leveraging this work, augmented by local biological surveys, to approach its work plan and ensure an appropriate balance is struck.
Fire science and vegetation management
Marin has adopted an updated science-based Community Wildfire Prevention Plan that serves as a road map for identifying areas of concerns down to parcel-level hazard assessments and contains general project scoping. By building our vegetation management programs from the ground up, MWPA can make use of the latest in fire science and ecology.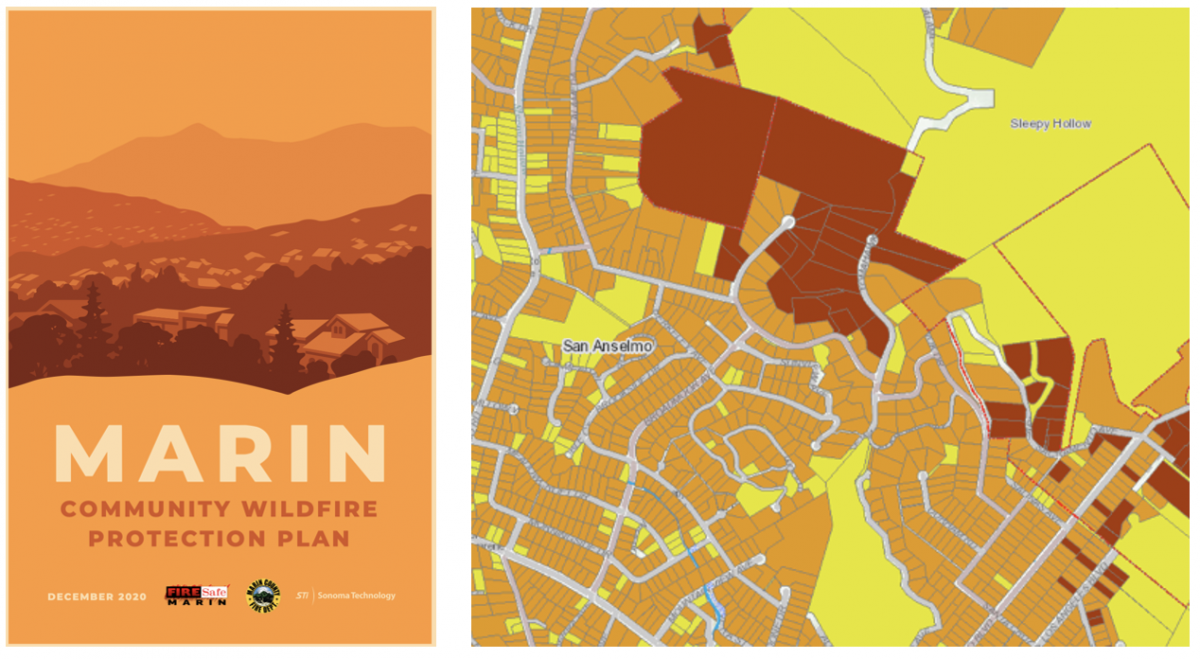 We are creating shaded fuel breaks along the wildland-urban interface boundary, which are designed to slow, or even stop, the spread of an average intensity wildfire. They will decrease the intensity of extreme wildfires so our residents can evacuate safely, and our firefighters can suppress the fire. We are also working with the land management agencies to perform and coordinate vegetation management projects in our open spaces. Our vegetation management practices are conducted in an ecologically sound manner, which not only lessens the risk of wildfire but increases the health of our forests and environment.
Using a collaborative approach to improve fire safety
The Marin Wildfire Prevention Authority was created to extend the county's collaborative efforts so we can learn from each other, making our member communities safer and raising the overall level of service. By establishing partnerships with stakeholders, we can have a robust discussion and pivot our work-plan approach each year to fit new learning and new conditions.
We cannot mitigate our fire risk to zero, but we can remove hazards, reduce vulnerabilities and shift the paradigm to one of cooperation and coordination, by working together to create a fire-adapted and more resilient Marin.
Interested in learning more? This topic will be the subject of a session titled "Changing the Wildfire Prevention Paradigm" at the League of California Cities Annual Conference and Expo on September 23, from 1:15 p.m.-2:30 p.m. in Meeting Room 9-11.