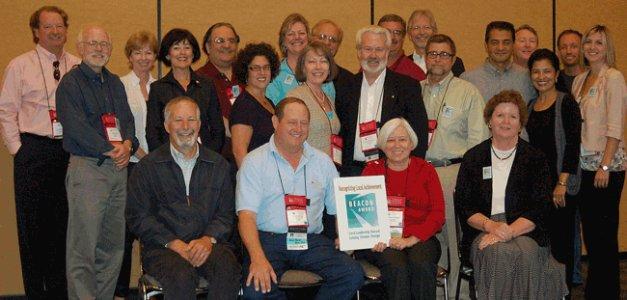 Institute Offers Programs and Resources at the League Annual Conference
The Institute for Local Government (ILG) has organized several sessions at the League of California Cities 2013 Annual Conference & Expo in Sacramento, Sept. 18–20, to provide educational opportunities for city officials. ILG is the nonprofit research affiliate of the League and the California State Association of Counties, and it provides practical, impartial and easy-to-use resources for elected officials, staff and community members.
Learn More About the Beacon Award Program
The Beacon Award: Local Leadership Toward Solving Climate Change (www.ca-ilg.org/BeaconAward) is a statewide program recognizing cities and counties that are working to reduce greenhouse gas emissions, save energy and adopt policies and programs that promote sustainability. The Beacon Award program is part of the Statewide Energy Efficiency Collaborative (SEEC), an alliance to help cities and counties reduce greenhouse gas emissions and save energy. SEEC (www.californiaseec.org) is a collaboration of three statewide nonprofit organizations, including the Institute for Local Government, and California's four investor-owned utilities.
Beacon Award Presentation. On Thursday, Sept. 19, the achievements of a Beacon Award winner will be recognized during the General Session from 8:00 to 9:30 a.m.
Advancing Sustainability Through Local Leadership, Recognition and Networking. On Friday, Sept. 20, from 10:30 to 11:45 a.m., this interactive workshop will highlight the accomplishments of Beacon Award and Spotlight Award winners. Join your colleagues to share ideas, hear about the accomplishments of cities participating in the Beacon Award program and learn about resources to support your city's sustainability efforts.
Serving Children and Families
A session titled "Community Schools Partnerships: Helping Local Children and Families" will be offered Friday, Sept. 20, from 9:00 to 10:15 a.m.
Community school partnerships bring together cities, schools, counties and community-based and private organizations to provide services and enrichment to children and families. Learn about innovative programs in California and how your city can engage in partnerships to improve the quality of life for children and families in your community. This session is presented in collaboration with the Cities Counties Schools (CCS) Partnership, a collaboration of the League, California State Association of Counties and California School Boards Association. The CCS Partnership is dedicated to improving the conditions of children, families and communities at the local level by promoting collaboration and encouraging coordination among cities, counties and schools.
Speakers include Bill Bogaard, mayor, Pasadena; Ed Honowitz, board member, Pasadena Unified School District; and Lisa Villarreal, chair, Coalition for Community Schools and program officer for education, San Francisco Foundation.
Inclusive Community Engagement
ILG will host a discussion at 10 a.m. on Wednesday, Sept. 18, on how interested local agency officials can help legal permanent residents become citizens and actively engage in their communities. The conversation is part of ILG's work on inclusive community engagement, supported by the Zellerbach Family Foundation, the California Endowment and the Werner-Kohnstamm Family Fund.
Share Your Ideas on the Ethics Program
As part of its commitment to evaluation and impact assessment, ILG is convening a group of conference attendees to offer their advice on ILG's current and future efforts around public service ethics. The meeting will start at 10 a.m. on Wednesday, Sept. 18.
Explore ILG Programs and Resources
Be sure to stop by the ILG tabletop display in the Expo Hall to learn about ILG's program areas and how to access the wealth of free materials and resources available to local officials and staff.
---
This article appears in the September 2013 issue of Western City
Did you like what you read here? Subscribe to Western City
---