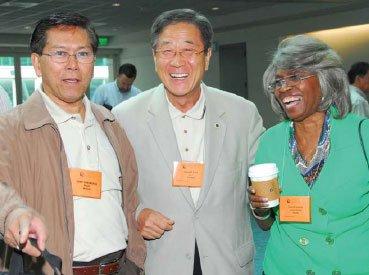 League of California Cities 2011 Annual Conference & Expo Highlights
Rebecca Inman is senior expo and marketing manager for the League and can be reached at rinman@cacities.org.
---
Sept. 21–23, Moscone West Convention Center, San Francisco
The League of California Cities 2011 Annual Conference & Expo will be held Sept. 21-23 at the Moscone West Convention Center in San Francisco, with the theme of "Cities Standing Strong for Cities." Today's economic environment makes it imperative for California's cities to reduce inefficiencies, streamline operations, cut services and "build it better" with smaller budgets.
At the Expo, more than 215 exhibiting companies and 45 first-time exhibitors will showcase products and services to help cities accomplish more for less. Visit the Expo show floor and meet vendors face to face, learn about new product applications, discover free services, and develop new sources or compare and qualify suppliers.
Attending the League's 2011 Annual Conference & Expo will give you fresh ideas on how to better meet the needs of your city and residents with cost-saving services, products and practical tools for making tough decisions — ideas that you can put to work immediately upon returning to your city.
Expo Highlights Grand Prize Giveaway
Three Grand Prizes will be given away during the League's Annual Conference & Expo. Two lucky cities will each win an automated external defibrillator (approximate value $1,500 each) offered by Cardiac Science Corporation, and one fortunate city will win an electric vehicle charging station (approximate value $5,000) plus $1,000 toward its installation, compliments of Coulomb Technologies, Inc. You must be present to win, and awards will be presented at the Annual Business Meeting on Friday afternoon. This promotion is not intended as an endorsement of any product or service.
View Award-Winning City Projects And More in the Partners' Village
Stroll the Partners' Village area of the Expo and visit the Helen Putnam Award winners' exhibits. The California Cities Helen Putnam Award for Excellence program, sponsored by the League Partners, recognizes and promotes outstanding efforts and innovative solutions by city governments to:
Improve the quality of life in local communities;
Implement efficiencies in service delivery and operations; and
Provide services responsive to the local community.
The Helen Putnam Award program features 10 categories:
Community Services and Economic Development;
Enhancing Public Trust, Ethics and Community Involvement;
Health and Wellness Programs;
Housing Programs and Innovations;
Internal Administration;
League Partners Award for Excellence in City-Business Relations;
Planning and Environmental Quality;
Public Safety;
Public Works, Infrastructure and Transportation; and
Ruth Vreeland Award for Engaging Youth in City Government.
In addition, one city may receive the President's Advocacy Award. This prestigious award honors a distinguished program, chosen from the 10 Helen Putnam Award winners, that best advocates for the League's annual strategic priorities. As in past years, a Cities Counties Schools (CCS) Partnership Award will be given to the city whose project demonstrates a culture of collaboration among local jurisdictions. The CCS Partnership is a joint effort of the League, California State Association of Counties and California School Boards Association.
Don't Miss the League Partner Speaker Theatre
The League Partner Speaker Theatre, also located in the Partners' Village, offers sessions that highlight successful examples of public-private partnerships. Hear case studies of innovative projects and programs that have worked in California cities. Learn from elected officials, city staff and industry experts who have found creative solutions to some of the most challenging problems facing cities. Sessions include:
Smarter Cities — Driving Sustainable Growth and Prosperity Through the Strategic Use of Technology (presented by IBM);
The Effects of Health Care Reform on Section 125 Plans (presented by American Fidelity Assurance Company);
Helping Communities Thrive Through the Healthy Eating Active Living Campaign (presented by Kaiser Permanente); and
Leveraging Smart Metering to Improve Operational Efficiencies, Manage Energy, Conserve Water and Reduce Costs (presented by Itron Water).
Come Prepared
Visit the annual conference page on the League website at www.cacities.org/ac to help plan your schedule. Walk the Expo show floor and bring home solutions that you can put to work in your city right away.
Networking Opportunities
The annual conference offers a variety of ways to connect with your colleagues from throughout the state to discuss common concerns, share solutions and exchange ideas. Networking events at the conference include gatherings hosted by the League's diversity groups, professional departments and regional divisions.
Diversity Groups
The League is committed to promoting involvement for all that reflects the diversity of California's cities. The board of directors has recognized the following diversity groups: African-American Caucus; Asian Pacific Islander Caucus; the Gay Lesbian Bisexual & Transgender Local Officials Caucus; Latino Caucus; and Women's Caucus (new in 2011). Be sure to sign up to join one or more of the League's caucuses and attend their networking events at the conference, which are open to all attendees.
Municipal Departments
The League's professional departments are an integral and important part of the organization, serving as a catalyst for educational events and networking. The 11 departments are:
City Attorneys;
City Managers;
City Clerks;
Community Services;
Fire Chiefs;
Fiscal Officers;
Mayors and Council Members;
Personnel and Employee Relations;
Planning and Community Development;
Police Chiefs; and
Public Works Officers.
The professional departments play an essential role in forming League policy and assisting with conference program development; they are also represented on the board of directors. Department Business Meetings will be held at 2:00 p.m. on Wednesday, Sept. 21.
Regional Divisions
The League's regional divisions function as its grassroots advocacy teams. They offer a great way for city officials to get involved in activities that support the quality of life in their communities. The divisions provide the League board of directors with a diverse range of perspectives from members throughout the state. Divisions are staffed locally by the League's regional public affairs managers. Each division will host a networking breakfast on Friday, Sept. 23. Contact your regional public affairs manager for more information and costs.
Brown Act Requirements and League Conferences
The Brown Act permits the attendance of a majority of the members of a legislative body at a conference or similar gathering open to the public that addresses issues of general interest to the public or to public agencies of the type represented by the legislative body. However, a majority of the members cannot discuss among themselves, other than as part of the scheduled program, business of a specific nature that is within the local agency's subject matter jurisdiction.
Institute for Local Government
The Institute for Local Government is the 501(c)(3) research affiliate of the California State Association of Counties and the League of California Cities. Its mission is to promote good government at the local level. ILG will not offer a luncheon symposium at the annual conference in 2011, but is sponsoring two sessions: "Approaches to Immigrant Integration in California Cities: Opportunities for Local Officials," 8:00-9:30 a.m., Thursday, Sept. 22; and "Turning Civic Passions Into Action: Volunteers as Strategic Resources for Cities," 3:15-4:45 p.m., Thursday, Sept. 22. See the News from the Institute for Local Government article for more information.
Mayors and Council Members Academy
Elected officials derive multiple benefits from participating in a training certificate program offered by the League: the Mayors and Council Members Academy. Geared to the needs of local elected officials, it comprises educational programs and community activities that build the knowledge and skills that are critically important for elected office-holders. The Mayors and Council Members Academy's three levels include Leadership, Advanced Leadership and Leadership in Action. Elected officials may participate in all three levels at the same time.
Social Media Action Center
Are you ready to participate online? Do you or your city have a social media presence and active conversation? Join us in this hands-on, action area at the conference, where you'll find friendly support staff who will answer your questions in a "no-pressure" setting. Learn how to create an online identity and use social media tools effectively, or discover how to make the tools you're using now work even better for you.
---
This article appears in the September 2011 issue of Western City
Did you like what you read here? Subscribe to Western City
---