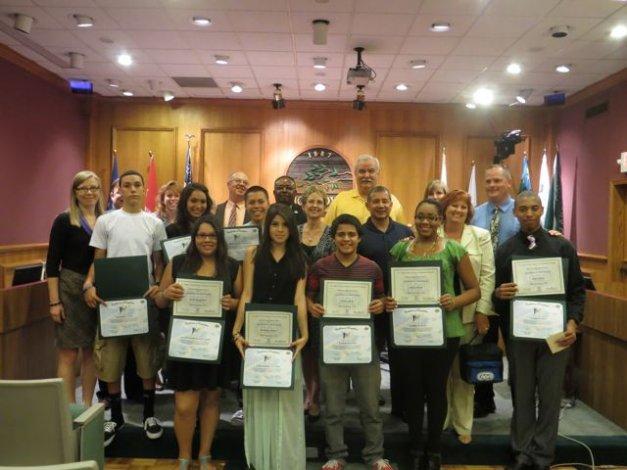 Monrovia's YES Program Opens Doors For At-Risk Teens
The City of Monrovia won the Ruth Vreeland Award for Engaging Youth in City Government in the 2013 Helen Putnam Award for Excellence program. For more about the award program, visit www.helenputnam.org.
---
Luis Gil, 18, was failing school. He received 23 Fs in a row on his report cards by the time he was a high-school sophomore. Gil was cutting class and getting into trouble; he had given his future little thought.
David Castillo, 18, couldn't sit in class very long without getting into some kind of trouble. He had a penchant for fighting, which eventually led to his arrest. Although he excelled in physical education and earned a C in math, he lacked the motivation to apply himself in any other class because he was counting on the military to accept him if he graduated from high school.
Savannah Ayala, 16, was a shy girl barely getting by in school with a 2.0 grade point average. She was looking for some responsibility, structure and a way to develop professional skills.
The issues that put these teens at risk made them ideal candidates for the City of Monrovia's Youth Employment Service (YES) Program, which provides mentoring and intervention geared toward high-school students who have failing grades, an unstable home life, a police record or just a bad attitude. Now in its eighth year, the YES Program has successfully graduated over 145 at-risk kids.
Implementing an Effective Approach
Located in Los Angeles County, the City of Monrovia has a population of just under 40,000. In 2007 Monrovia was grappling with gang violence in some of its neighborhoods. As city leaders examined potential strategies to address the problem, they found studies indicating effectively combating gang activity required dedicating 70 percent of resources to prevention and intervention and 30 percent to suppression. In Monrovia at that time, this formula was reversed: 80 percent was being spent on suppression, while only 20 percent was being spent on prevention and intervention.
In addition, fewer youth employment opportunities existed in the city. Funding for internship programs had dwindled, and employers seemed less willing to hire high-school students.
As a result, the city partnered with the Santa Anita Family YMCA, Monrovia Unified School District and Monrovia Chamber of Commerce to develop and launch the YES Program, which has three main goals:
Ensure Monrovia's continued success as a regional employment hub;
Provide on-the-job training and life skills to Monrovia youth; and
Establish a path toward a job and/or college and life readiness for local youth.
The program reaches out to at-risk youth in the community and provides a structure to help guide them in their lives and career paths.
To qualify, each student must submit an application. A panel interviews each applicant. The panel selects between 12 and 23 students (depending on available funding) for internship positions in city departments, the YMCA and school district offices. Supervisors assign daily tasks and projects and coach each intern on appropriate work methods and behavior. Mentors meet with each intern weekly to act as a role model and offer guidance.
In addition to work, interns attend weekly training sessions on a number of topics, including improving customer service skills, professional image, business and workplace etiquette, networking and teamwork, character in the workplace, preparing a résumé and public speaking.
These positions pay $9.00 per hour, and students have an opportunity to earn $2,268 during this internship.
Tracking the Program's Successes
Among students who participated in the program, grade point averages increased by 14 percent, and absenteeism and tardiness decreased significantly. Program participants have gone on to college or landed jobs working for the city and in the community.
The YES Program gave Luis Gil a chance to observe Fire Department operations and inspired him to pursue a career. Gil is currently enrolled in a local community college working on obtaining his fire safety and paramedic credentials while earning a paycheck at a local nonprofit organization that provides services to the homeless population. Today he is an articulate young man with an appreciation for how the program has helped change his life. "The YES Program got me off the streets and helped me change my perspective on life," Gil says. "Now my mom is proud of me."
The city hired Savannah Ayala to work part time at the reception desk after she graduated from the YES Program. Her confidence can be seen when she greets people coming into Monrovia City Hall, and the experience has opened her eyes to the different types of career paths she may be able to pursue. "The YES Program taught me responsibility — and to show up on time, to earn my own money and how to manage my money," says Ayala. The program also helped her overcome her shyness in a professional setting.
Participating in the YES Program helped David Castillo understand the importance of having structure in his life. After graduating from the program, Castillo landed a job working in the city's Community Development Department where he has identified a new career goal; he wants to be an architect. He stopped fighting on the streets and joined a boxing club, using money earned through the YES Program to pay for the club membership.
"I was flattered that the city decided to hire me," says Castillo. "I think that they saw my work ethic and that I could be thorough with the projects they gave me. The YES Program was a great opportunity — it's a program I recommend for any students who are starting to go down the wrong path."
"The YES Program emerged when youth mentorship and job-training programs in Monrovia were scarce and the need for them was high," says Monrovia Mayor Mary Ann Lutz. "Over the past seven years, we have seen so many young people succeed, through a truly joint effort of community members and organizations stepping up to support them. YES provides the opportunity that we all want to be given — the opportunity to show that we can contribute to our community, that we can do more."
Contact: Danielle Tellez, human resources manager, City of Monrovia; email: dtellez@ci.monrovia.ca.us; phone: (626) 932-5518.
---
Related Resource
Watch a video about Monrovia's YES Program at http://vimeo.com/27796092
---
This article appears in the September 2014 issue of Western City
Did you like what you read here? Subscribe to Western City
---