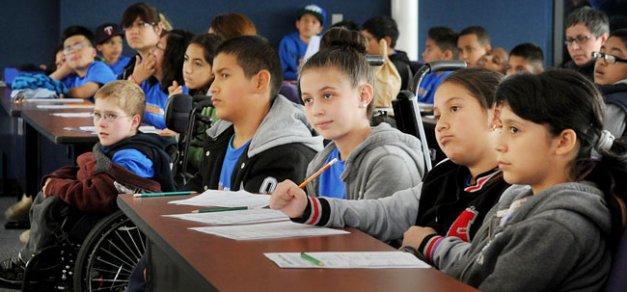 Montclair and Ontario Invest in Future Workforce
The cities of Ontario and Montclair won the CCS Partnership Intergovernmental Collaboration Award in the 2013 Helen Putnam Award for Excellence program. For more about the award program, visit www.helenputnam.org.
---
Located in San Bernardino County, the cities of Montclair and Ontario have a combined population of more than 203,600 residents. Like many cities throughout California, Montclair and Ontario are faced with breaking the cycle of low adult educational attainment, family poverty and workforce development hurdles. An innovative partnership, the Promise Scholars Initiative, reflects the cities' commitment to business growth and employment success as one way to overcome these community challenges.
The Promise Scholars Initiative makes a promise to all students in the Ontario-Montclair School District (OMSD) that if they stay in school and graduate, there will be a scholarship and a place for them in college. Every year this promise is made to all 5th-grade students in OMSD by the initiative's partners, which include the cities of Montclair and Ontario; San Bernardino County; Chaffey Joint Union High School District; Chaffey Community College; California State University (CSU) Bakersfield; CSU San Bernardino; California State Polytechnic University, Pomona; Inland Empire United Way; local businesses and many others.
These partners believe that education is not the sole province of schools, but is an economic development issue at the heart of a city's success in attracting and maintaining businesses. Higher paying jobs, a robust tax base and a better quality of life depend on a well-educated workforce. The Promise Scholar Initiative partners share a vision of increased educational attainment for all children in the community. "We're making the promise to our Ontario youth that a college education is indeed in their future," says Paul Leon, mayor of Ontario. "We believe this program can positively impact our future residents' quality of life and the quality of our future workforce."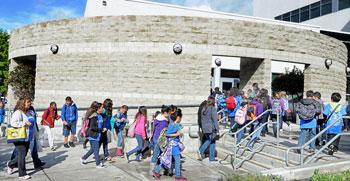 The Initiative's Origins
The initiative is based on the "Online to College" program launched by the City of Montclair, OMSD and Chaffey Community College in 1999. The Online to College program began by helping students in three Montclair elementary schools to achieve the dream of a free two-year college education at Chaffey College if they graduated from Montclair High School. Chaffey College's Office of Research used a control group and tracked outcomes for the students in the Online to College program. The research found that participants in Online to College had a college-enrollment rate of 60 percent, in contrast to the control group with a college-enrollment rate of 40 percent. Students in the program also performed better in terms of grade point averages, High School Exit Exam scores and school attendance. "Many students in our region dream of advancing their education, but often find their resources limited," says Paul Eaton, mayor of Montclair. "It's the city's desire to help our youth achieve their educational dreams."
The Promise Scholars Initiative, now in its third year, is based on the Online to College model, but is much larger in scale. Expanding from a few schools to 35 and engaging many more institutional partners and businesses, Promise Scholars provides activities and information to all children and their families beginning in kindergarten. From elementary school through high school, the initiative reinforces the importance of college and technical training and assists all students in successfully navigating the educational path to college and a career.
Changing the Community Mindset on Education
Unique because of its approach, the Promise Scholars Initiative seeks to change the culture of the schools, families and the larger community to a "college-bound" mindset where the expectation is that all students graduate from high school and go on to achieve some type of postsecondary certificate or college degree. This change in culture is not the schools' sole responsibility but is borne by the entire community, which seeks to provide students with high expectations and support along the way. The initiative works to shift the entire education distribution curve forward so there are more high-school graduates and people with technical certificates and college degrees in the community. Realizing that schools can't achieve this in isolation and that city and county government can't implement innovative educational change alone, the partners have come to the table to make a commitment to create a higher level of "collective impact" over the long term.
The cities of Montclair and Ontario are actively involved in all phases of Promise Scholars Initiative events and activities. Staff from both cities volunteer to participate in business and community leader presentations and speak about their own personal college and career paths. The city managers of both cities serve as board members for the Ontario-Montclair Schools Foundation, which was created to raise funds for the initiative and scholarships. In addition, city staff have helped identify and broker relationships with businesses for sponsorship and volunteer opportunities. The Promise Scholars Initiative enjoys support from regional government as well, with San Bernardino County providing funds for buses and t-shirts for college visits.
The Inland Empire United Way plays an important role in this partnership of education, business and government. This nonprofit partner helps reach resources that are often unavailable to institutions or corporations by:
Coordinating the volunteer presenters;
Recruiting business leaders to make presentations to students;
Using AmeriCorps members to engage local high-school seniors in the Free Application for Federal Student Aid (FAFSA) campaigns to increase financial aid application rates; and
Running employee-giving campaigns to raise funds for the initiative.
In addition to conducting research, Chaffey College has provided the curriculum and activities for college visits for 5th grade students. These visits introduce the 5th graders to the Promise Scholars program. The youth are given the promise of a scholarship to a partner college and the assurance that many adults will help them along the way. Chaffey College has provided key leadership and support as the program has grown to include other colleges and universities. "Every student should have the opportunity to go to college," says Henry Shannon, Chaffey College president. "Sadly, we know that many students don't consider college an option. Through the Promise Scholars Initiative we provide hope to these students and their families."
Contact: Leslie Sorensen, resource development administrator, Ontario-Montclair School District; phone: (909) 418-6331; email: leslie.sorensen@omsd.k12.ca.us.
---
This article appears in the January 2014 issue of Western City
Did you like what you read here? Subscribe to Western City
---