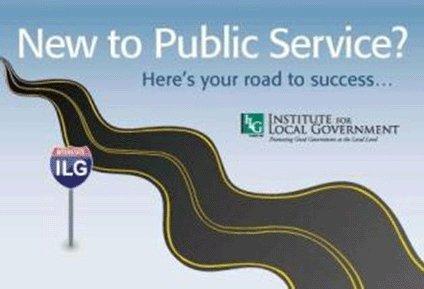 Resources to Help New Leaders Get Started
Those new to public service are eager to do a good job and get comfortable in that role as quickly as possible. Local agency staff can assist by providing orientation sessions, briefings and tours.
To help make this process easier, the Institute for Local Government (ILG) has created a section on its website (www.ca-ilg.org/new-local-public-service) with materials for newly elected officials. These resources can be shared by forwarding the link, and a web page (www.ca-ilg.org/newly-elected-officials-orientation-materials) offers essential resources in one place. Staff can download these items to use in orientation manuals for newly elected officials.
ILG's Resources for Local Newly Electeds web page covers:
Budgeting and finance;
Land use;
Leadership skills;
Making decisions;
Public trust and transparency;
Responsibilities and powers;
When bad things happen;
Working with residents and the media; and
Working with staff.
Resource Area: Getting Things Done as a Newly Elected Official
Local officials interviewed by ILG about their information needs consistently indicated that understanding "how to get things done as a newly elected official" is a priority. Addressing this issue involves understanding staff roles and how to work with staff. Accordingly, a section of the resource center (www.ca-ilg.org/working-staff) is devoted to this topic and covers a number of related areas, including the following.
Maximizing the Success of Board-Chief Executive Relations. A positive working relationship between the governing board and the chief executive is essential to a well-functioning organization. The ILG website offers tipsheets for both elected officials and chief executives to optimize the relationship, as well as ideas for communications strategies, the importance of an annual evaluation and more.
What Does Staff Do? Public agency staff performs a variety of tasks. Staff responsibilities may include completing analyses, making recommendations to electeds, implementing programs and maintaining agency records.
The Division of Roles Between Elected Officials and Staff. Elected officials collectively decide policy issues for the agency. The staff is responsible for implementing that policy direction. Having a chief executive or administrator to oversee the agency's day-to-day operations frees elected officials to focus on big-picture policy issues. It also enables the governing body to hold one individual accountable for the agency's administration.
Another section of the ILG website (www.ca-ilg.org/working_together) offers strategies for working collaboratively with fellow elected officials.
Help Us Help You
The Resources for Local Newly Electeds web page is a work in progress. ILG welcomes suggestions for additional materials, including submittals of orientation materials that have been helpful for your agency. ILG's funders also need to understand whether these resources are making a difference for local officials. To share resources, feedback and ideas, contact Randi Kay Stephens, program coordinator, Local Government 101; phone: (916) 658-8207; email: rstephens@ca-ilg.org.
---
This article appears in the November 2012 issue of Western City
Did you like what you read here? Subscribe to Western City
---