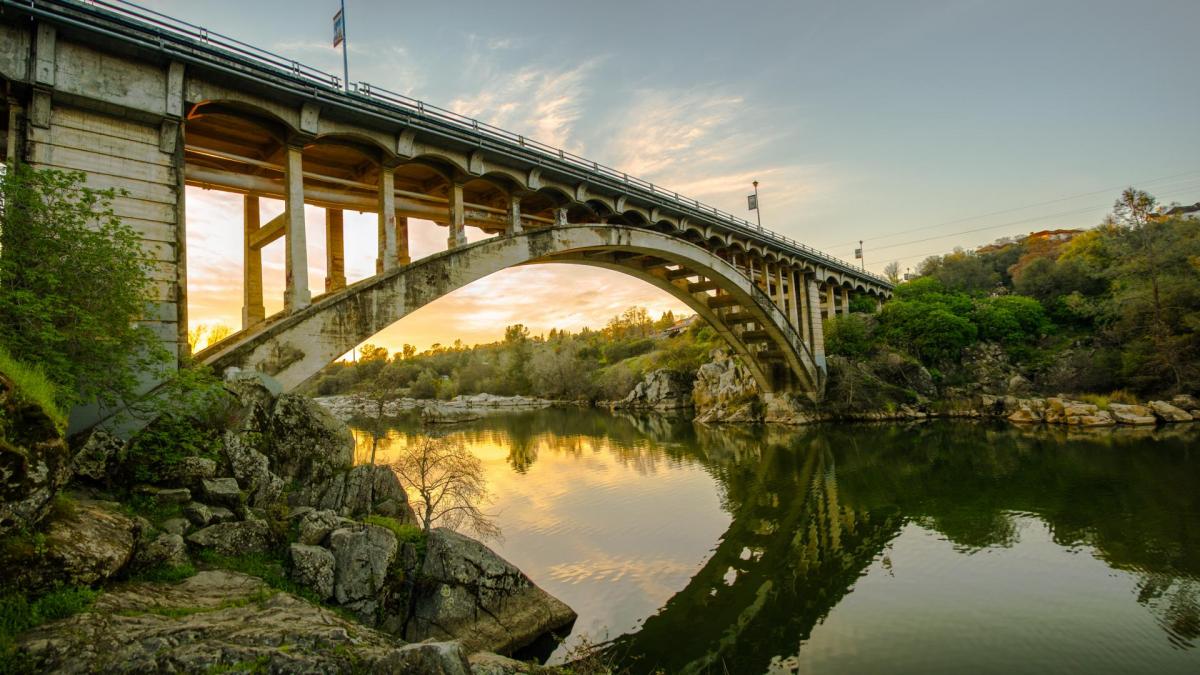 Article
Features
By Caroline Cirrincione
Congress passed a historic infrastructure law: What this means for California and its cities
Caroline Cirrincione is the community services lobbyist and federal liaison for the League of California Cities; she can be reached at ccirrincione@calcities.org.
When it comes to technology, agriculture, and advances in clean energy, the world looks to California as an example. However, that success is undercut by the state's crumbling infrastructure system. Despite residing in one of the world's largest, most diverse economies, Californians must contend with obsolete bridges, damaged roads, congested highways, and dwindling water reservoirs throughout their daily routines.
The cause of this problem is no secret. For decades, California's infrastructure has suffered from an acute lack of investment. In fact, the American Society of Civil Engineers gave California a C- grade on its 2019 infrastructure report card.
The group explains that while the state has raised additional revenue for infrastructure, it is not enough to keep up with the state's population and economic growth. California has become the world's fifth-largest economy and over the next 20 years, its population is expected to grow by 25%, adding more than 10 million people. The expanded economic activity and new population require additional supporting infrastructure.
What exactly does California's infrastructure look like for the average resident? That report card found that approximately 150 of the 1,200 miles of San Francisco's water mains are more than 100 years old. The Los Angeles Department of Water and Power reported that around 28% of the city's 6,780 mainline pipes were installed before 1938.
Similarly, the report noted that an estimated 50% of the state's bridges have exceeded their design life and more than 7% are structurally deficient. Many of California's largest bridges, such as those along I-5 in San Diego and I-80 in Sacramento, need major repair and rehabilitation and are some of the worst bridges in the nation. Many are considered "functionally obsolete," meaning their outdated designs contribute heavily to congestion.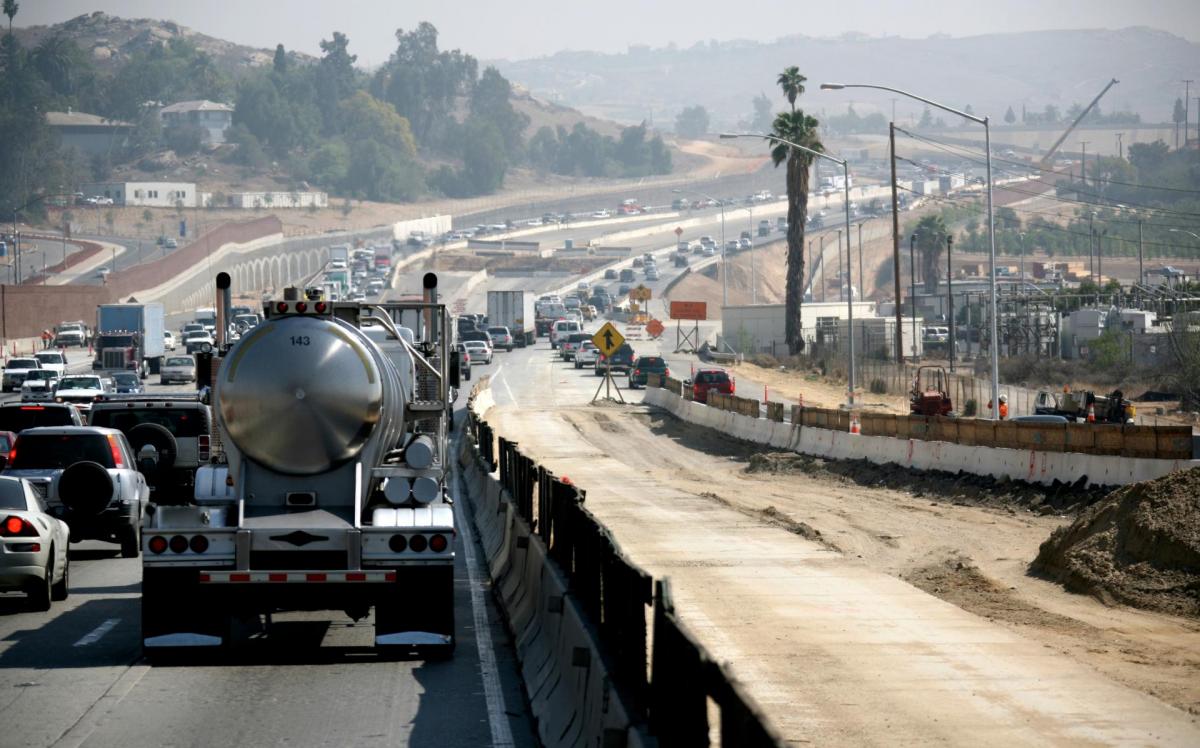 Decaying infrastructure is not just a big-city problem. Rural communities also have a backlog of infrastructure needs, some with life-threatening consequences. The desert city of Needles desperately needs new water infrastructure, as the current system is contaminated by naturally occurring minerals from the Colorado River.
The high cost of repair is particularly painful for smaller cities. The city of McFarland has a one-mile stretch of road in need of repair. The projected cost is $1.2 million — a relatively small amount for some cities, but an astronomical amount for rural cities.
Despite the passage of SB 1 (Beall) in 2017, which allocated approximately $1.5 billion per year to the local street and road system, there continues to be significant uncertainty surrounding local transportation funding in California. Although this funding has led to local street and road condition improvements, according to the 2021 California Statewide Local Streets and Roads Needs Assessment report, 55 of 58 counties are considered "at risk or have poor pavements."
California's infrastructure needs also extend beyond its roads, bridges, and sewers. The COVID-19 pandemic showed how vital the state's broadband infrastructure is, which is as important to the state's economy as any transit system. However, according to the Broadband Council, nearly a quarter of Californians did not have broadband in 2019.
In response, the state Legislature passed a historic $6 billion broadband investment just last year. However, tight expenditure deadlines and the sheer scope of the broadband build-out required to provide service to all Californians will pose significant challenges.
A $1.2 trillion federal investment
The League of California Cities and its members have been fighting for infrastructure funding at the state and federal levels for years. In 2021, the federal government responded in a big way with the Infrastructure Investment and Jobs Act, signed into law in November 2021.
The $1.2 trillion federal spending package includes money for roads, bridges, and public transportation infrastructure, with a strong focus on climate change mitigation, resilience, and equity. It also contains funding for a network of electric vehicle chargers, broadband internet, cybersecurity, clean water, and airports. In total, this package includes $550 billion in new federal investments, most of which will be available to local governments through competitive grant programs.
California alone will receive an estimated $45.5 billion in funding. This includes $25.3 billion for federal-aid highway programs and $4.2 billion for bridge replacement and repairs over five years. The package also includes approximately $14 billion in additional funding over the next five years for electric grid resiliency, energy efficiency, and cybersecurity improvements.
The sheer amount of funding included in this package is historic and has the potential to bring transformative investments to many communities. At the National League of Cities Congressional City Conference in Washington D.C., Secretary of Transportation Pete Buttigieg noted that "there is no part of this country that will be untouched by the infrastructure law."
Cities need support accessing funding
City leaders are excited about the prospects the funding will bring. Pomona Director of Public Works Rene Guerrero described the importance of the funding during the March Cal Cities Public Works Officers Institute in Monterey.
"The statement that I'll steal from another colleague [is that] the public works because of public works, and I think that is very, very true. I think the public can only work better when the public works infrastructure is continually improving," said Guerrero. "The infrastructure funding is going to be very important for the city of Pomona."
The problem for many cities will be how to access these infrastructure dollars.
Unlike previous federal COVID-19 relief packages passed by Congress, approximately half of infrastructure funding will flow through state governments, while the rest will be distributed through competitive grants. For many communities, this will be their first time applying for funds from a suite of federal agencies. Competing for these grants will require significant city staff resources at a time when many cities continue to face staffing challenges due to the COVID-19 pandemic.
The sheer magnitude of a federal package of this size brings its own set of challenges. With so many new programs to navigate across agencies, navigating program eligibility, match requirements, and project prioritization can be overwhelming.
For some cities, securing federal funding may involve hiring outside experts to consult and apply for competitive grants or to measure and demonstrate how funds will be used most effectively. For others, capacity challenges may result in cities applying only for grants they believe they will receive, rather than applying to as many programs as they are eligible for, potentially leaving much-needed funding on the table.
There are other challenges as well. While cities are being encouraged to think of large-scale transformative projects, short application and spending deadlines don't allow for much flexibility to plan new and impactful projects.
This puts cities in a bind. Many cities cannot afford to invest in the additional resources needed to maximize the use of these grants. But they also cannot afford to ignore them.
As federal agencies roll out these programs, there must be a continued focus on easing the application process, making program information more digestible, and increasing access to technical assistance so that all cities can take full advantage of this long overdue investment in infrastructure.
City officials at the Cal Cities Public Works Officers Institute shared their plans for potential projects to be funded by the federal infrastructure funding and concerns about the hurdles in accessing the dollars. Watch the video!
What cities can do to prepare now
As part of the Congressional City Conference, city officials from throughout California met with key federal agencies and congress members to discuss the passage of the infrastructure package and how to best support cities during the implementation process. During a meeting with the U.S. Department of Transportation, Deputy Assistant Secretary for Intergovernmental Affairs Charles Small outlined the department's plans to simplify the application process by allowing local governments to apply for multiple grant programs through one application.
The first common application was announced shortly after the Cal Cities leadership team returned from Washington, D.C. The application covers three programs: National Infrastructure Project Assistance, Infrastructure for Rebuilding America, and Rural Surface Transportation Grant Program. Combined, it accounts for $2.9 billion for major infrastructure projects.
Putting these three programs together will make it easier for communities to apply to one, two, or three major discretionary grant programs with a single application and a common set of criteria. While the status of additional common applications remains unknown, federal partners repeatedly expressed their commitment to working with cities.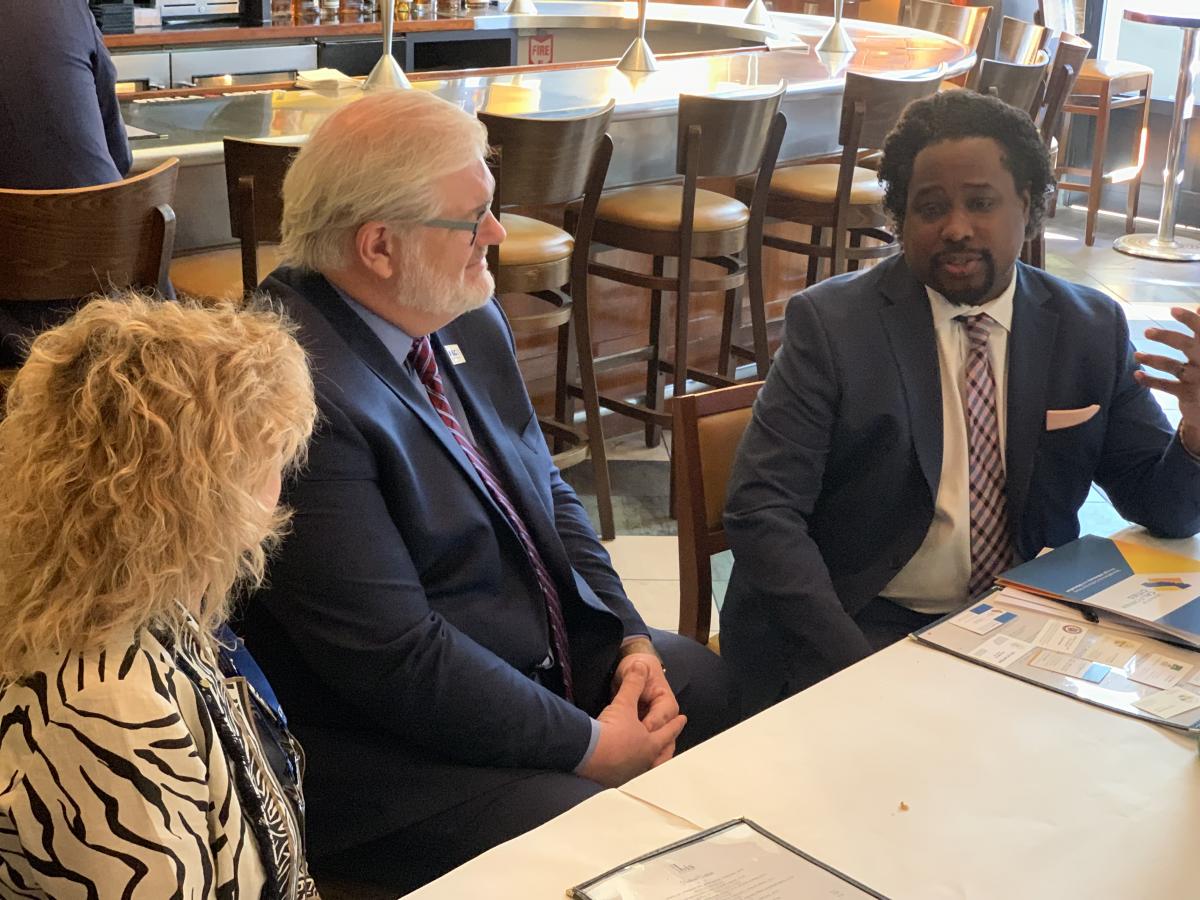 "We're trying to make federal grants more user-friendly," said Secretary Buttigieg during the conference. "[We're] really looking forward to working with local leaders to make this happen."
The federal government also recommended several preparatory actions for cities and states. This includes appointing coordinators to manage the flow of funds at the state level; ensuring all city transit, railway, road, highway, and bridge projects are a part of transportation improvement plans; mapping sites for electric vehicle and alternative fuel charging stations; and working with the California Public Utilities Commission to ensure the city's or region's needs are appropriately mapped and inventoried.
Additional grant programs authorized by the infrastructure law have already launched, with guidance and deadlines now available. The federal government is developing resources to help cities navigate these new funding opportunities. These resources include:
25 Competitive Funding Opportunities for Local Governments
In late January, the White House released a fact sheet highlighting 25 sources of funding that local governments — particularly cities — could compete for or apply for directly. The programs were selected based on their size and cross-issue objectives. Many of the transportation grants, for example, will fund projects that improve local transportation systems and target historically disadvantaged communities or reduce greenhouse gas emissions. Some broadband grants are aimed at supporting rural communities.
The fact sheet includes a brief description of each program, instructions on how to prepare for the grant writing process, a list of federal contacts, and a link to more information.
The Build.gov portal contains links to several useful resources for cities. Perhaps the most useful is the program search function, which lists the programs funded or authorized by the federal infrastructure law. City leaders can search by category, funding area, program name, agency name, and keywords, such as wildfire or manufacturing. Each result can be expanded to provide information about the funding amount, timelines, recipients, and eligible uses. Cities can also download the data as an excel spreadsheet to manipulate for their needs.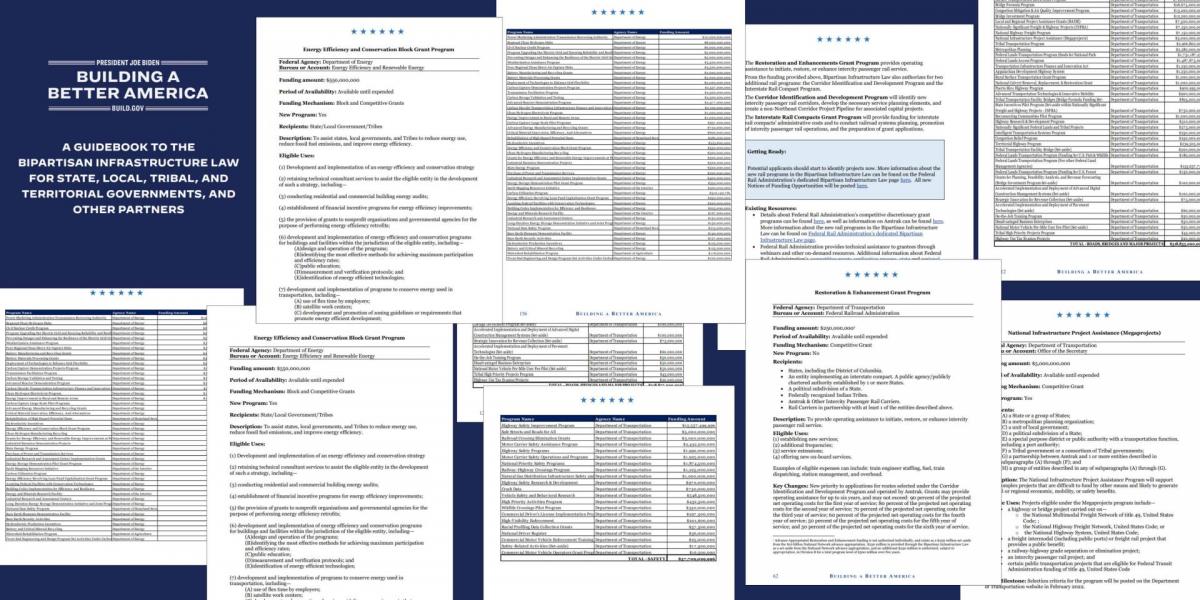 Bipartisan Infrastructure Law Guidebook
Federal officials released a 400+ page guidebook to help cities take full advantage of the Infrastructure Investment and Jobs Act. Organized by issue area, the book includes a funding roadmap, program details, contact information, and more. The guidebook is a living document and is updated at Build.gov as more information becomes available.
How Cal Cities is helping pave the path for city success
Cal Cities recognizes not only the importance of the funding to cities, but the support that cities need to take advantage of this unprecedented federal investment. To ensure cities have the resources and knowledge they need to access this critical funding, Cal Cities is carrying out multiple strategies to assist city officials in their efforts.
Several educational opportunities are being developed, including roundtables and webinars that align with the federal government's rollout of the infrastructure package; up-to-date funding and resource information is available through Cal Cities' Guide to Local Recovery portal; and Cal Cities will continue to convey recommendations to federal agencies about how to make infrastructure funding accessible to communities of all sizes and geographic locations.
At the state level, Cal Cities is supporting AB 2120 (Ward), which would ensure that 55% of the bridge formula funds headed to California through the infrastructure package are allocated to local projects. If enacted, these changes would increase federal funding available to local bridges from approximately $300 million annually to an estimated $800 million annually.
Cal Cities is also exploring ways to connect city officials with key federal and state agency staff overseeing implementation, to ensure cities understand how best to maximize the programs offered through the infrastructure package. This is a key part of Cal Cities 2022 Action Agenda, which seeks to secure investments that strengthen and sustain critical infrastructure.
A federal infrastructure package of this magnitude will take years to fully implement, which means the overwhelming benefits of this package will be realized in California communities for years to come. As long as cities can access and deploy infrastructure investment dollars, Californians can expect modernized transportation, public buildings, water treatment systems, and other vital infrastructure.
These critical investments provide a foundation for a strong economy and a bright future for all of California.