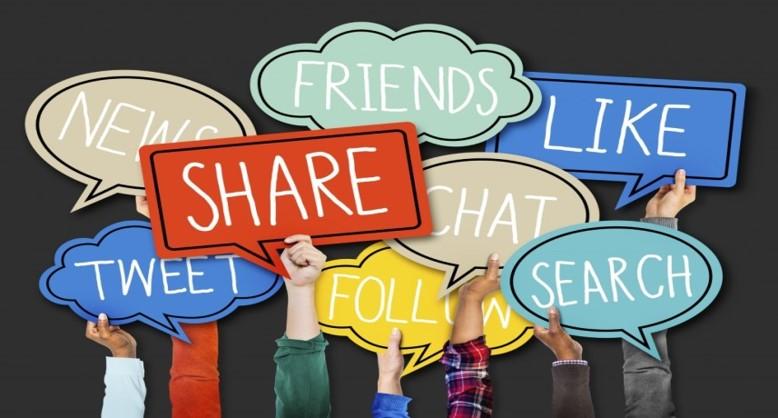 Digital city hall: How data, social media, and new technologies are changing public service
---
City leaders have more data and ways to interact with their residents than ever before. However, too much of a good thing can be a bad thing. Many leaders, especially those operating on shoestring budgets and staff, may have difficulty cutting through the noise to find the right data points, if they have the time to do so at all. Additionally, regardless of their ability to leverage data, all city leaders must contend with the legal challenges of an increasingly polarized, negative, and at times, hostile, public discourse on social media. Learn how to make the most of technology and data at these three League of California Cities Annual Conference and Expo sessions.
Municipal data in action
COVID-19 has underscored the importance of using data to support decision-making across all industries and sectors, particularly in local government. Data plays a key role in providing public services, keeping residents and businesses safe, improving equity, and tracking resources. The Municipal Data in Action session at the Cal Cities Conference and Expo will focus on how cities such as Los Angeles, Sacramento, and San Leandro are leveraging data and visual tools to support informed decision-making across all levels of government — especially during a global crisis.
Representatives from each city will share examples and case studies of projects, programs, and initiatives that utilize data, technology, and information to increase transparency and accountability, connect the public with vital resources, inform policy, and improve services.
Los Angeles Controller Ron Galperin will showcase several resources, including the "L.A. City Finances Dashboard" — the first of its kind in Los Angeles — that tracks the city's most important financial information in real-time and his latest online data story showing how $1.28 billion in federal American Rescue Plan funds allocated to the City will be used to meet the revenue challenges posed by the pandemic.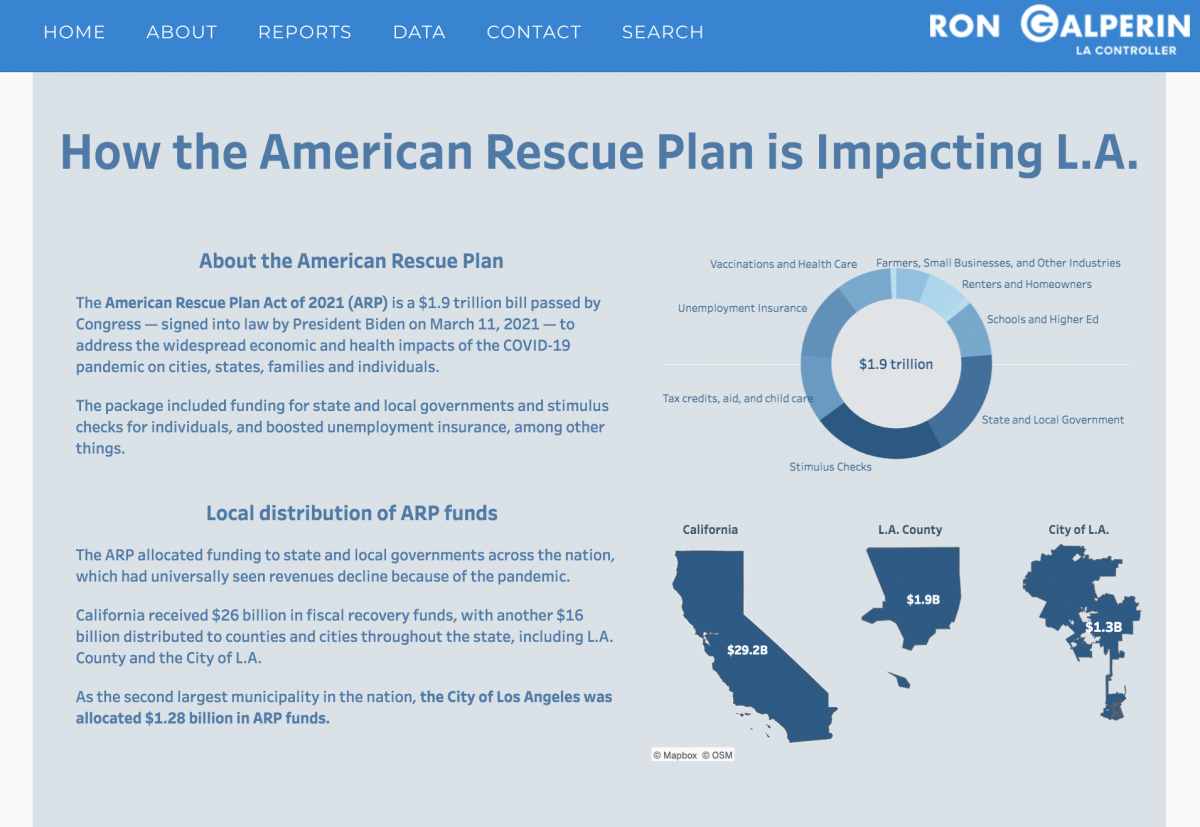 Sacramento Councilmember Eric Guerra will present the "Sacramento Open Data Portal," which includes several publicly accessible data points— from animals in the city's Lost and Found to budget and finance data and much more. The portal served as a reliable source of information for the city during the pandemic, when it approved and distributed over $95.6 million in housing assistance to residents in need. Staff used the database to ensure program eligibility, reduce fraud, and assure individuals and families received as much financial assistance as possible to help them through the crisis.
San Leandro Chief Technology Officer Tony Batalla will feature the city's "GeoSL.org," an open GIS hub where residents can find frequently requested maps or useful spatial information that addresses important local issues. When the pandemic hit, city staff quickly developed a map to help the public identify food access locations. Other maps on the hub allow residents to compare FEMA flood zones, find residential street-sweeping zones and schedules, and explore street pavement conditions.
These are just a few examples of how California cities are transforming local government with data and innovation. Attendees from cities of all population sizes will benefit from learning how their counterparts across the State are improving operations, services, and the quality of life in their respective municipalities.
Dan Henderson is the team lead for Esri's local government division and can be reached at DHenderson@esri.com. Tony Batalla serves as the chief technology officer for the city of San Leandro and can be reached at tbatalla@sanleandro.org. Ron Galperin is the controller for Los Angeles and can be reached at controller.galperin@lacity.org. Eric Guerra is a council member for Sacramento's District 6 and can be reached at MGrigsby@cityofsacramento.org.
Session information: Friday, September 24 |8 a.m.-9:15 a.m.|Ballroom B1
The Local Government Start-Up
One challenge cities face in embracing a "start-up" mentality is dedicating the resources needed to stay in front of and evaluate the impact of new technologies being brought to cities for potential testing and deployment. Cities' resources are often constrained to the tasks at hand — including the current COVID-19 pandemic — which creates reduced capacity for future planning and often leads to spending significant amounts of time listening to private sector pitches that may include untested solutions still in development.
Since technology solutions generally cross policy jurisdictions, cities can also be hampered by departmental silos and the desire to minimize risks. Silos make it difficult to share budget or staff, plan comprehensive policy, facilitate new models of procurement, and embrace more risky projects (like new technology deployments) that don't clearly fit into established program or policy areas.
The Local Government Start-Up will be a provocative and cutting-edge discussion around strategies that empower and enable cities to power their own "start-up" mentality by aligning technology deployment with equity, sustainability, and livability outcomes.
Led by a panel of seasoned implementers and practitioners, the session will provide best practices through completed and ongoing projects, in addition to examples of new governance approaches that provide a foundation for the safe and effective integration of new innovative solutions into communities. The panel will also delve into recent examples of entrepreneurial endeavors in local government, including the rise of community choice aggregation and innovation areas as "living labs," and the lessons learned from implementing them, as well as the associated challenges.
With these challenges in mind, we will discuss emerging solutions to the structural challenges that cities face in technology deployment. One such example is Urban Movement Labs, a nonprofit in Los Angeles that was created to facilitate collaboration between communities, cities, and companies around the testing and deployment of new technologies and provide resources and efficiencies around technology partnerships.
Similarly, some cities are experimenting with "innovation areas" that focus on new technologies intended to meet community goals and reduce congestion, emissions, and safety in specific areas of a city. This approach has the potential to assist cities by reducing administrative oversight burdens and creating new ways to manage the right-of-way, in addition to evaluating the ability to scale solutions across a city leveraging data collected from testing and demonstration.
Finally, panelists will weigh in on other ways that cities can embrace "start-up" practices, whether through secure data sharing, coming up with new business models, or developing local start-up ecosystems. Importantly, these recommendations will center on how to do this without sacrificing equitable outcomes or moving faster than the "speed of trust."
Ryan Baron is a partner at Best Best & Krieger LLP and can be reached atryan.baron@bbklaw.com. Gregory Rodriguez is the mobility policy principal for Stantec and can be reached at Greg.Rodriguez@stantec.com. Lilly Shoup is a principal at Shoup Strategies and can be reached at lilly@shoupstrategies.com.
Session information: Thursday, September 23|2:45-4:00 p.m.|Ballroom B3, Premier Partner Session
Social media, first amendment, and government: New rules of engagement
While the Supreme Court recognizes the need to apply First Amendment jurisprudence to new technology and describes the internet and social networking sites as akin to the modern public square, it has not yet taken the opportunity to rule on the contours of whether, and to what extent, public officials may block or delete comments from their social media accounts.
The Supreme Court recently had the opportunity to directly address this issue in a case involving former President Trump blocking users from his Twitter account while President. The court, however, declined to address the issue and instead found the case moot given the election of President Biden[Biden v. Knight First Amend. Inst. At Columbia Univ., 141 S. Ct. 1220 (2021)]. But the larger issue is far from moot and decisions from the Circuit Courts and the California district courts offer some insight and direction on how public officials should be managing their social media accounts to avoid running afoul of the First Amendment.
The Fourth Circuit's decision in Davison v. Randall, 912 F.3d 666 (4th Cir. 2019), provides the most in-depth analysis of these issues. In Davison, the court found that the interactive component of a Facebook page operated by the chair of the Loudoun County board of supervisors was a public forum and that deleting and blocking an individual who posted critical comments was impermissible viewpoint-based discrimination. The court explained that the supervisor had acted "under the color of the state law" when she banned the comments by the plaintiff, as she used her Facebook page to update the public on official activities such that it was a "tool of governance." The Facebook page also bore all the hallmarks of a public forum with no restrictions placed on the general public's access or use of the page.
In contrast, the Eighth Circuit reached a different conclusion in Campbell v. Reisch, 986 F.3d 822 (8th Cir. 2021). It found that a state representative was acting in a private capacity when she blocked the plaintiff from her social media account as the account was only used for the limited purpose of running for public office. Thus, the blocking and deleting of the plaintiff's comments did not constitute state action and did not trigger First Amendment scrutiny. The court, however, noted that the essential character of a social media account is not fixed forever, highlighting the need for public officials to regularly review how they are using their social media accounts.
Likewise, a case out of the Southern District of California highlights the need for public officials to regularly review the implementation of their social media policies [Garnier v. O'Connor-Ratcliff, 513 F.Supp.3d 1229 (S.D. Cal. 2021)]. Specifically, the district court found that while school board members' initial blocking of hundreds of repetitive posts by the plaintiffs was constitutional, the continued blocking for nearly three years did not meet the narrow tailoring requirement and thus ran afoul of the First Amendment.
These cases highlight the importance of public officials proactively setting policies and standards for public engagement on their social media platforms. Any restrictions will need to be carefully crafted, evenhandedly enforced, and regularly updated as circumstances evolve. In this area of law, the old adage may sum it up fittingly: The best defense is a good offense.
Deborah Fox is the principal and chair for Meyers Nave (First Amendment practice, trial, and litigation practice.) Margaret "Meg" Rosequist is of counsel for Meyers Nave. Fox can be reached at dfox@meyersnave.com and Rosequist can be reached at mrosequist@meyersnave.com.
Session information: Wednesday, September 22|3:30-5:00 p.m.| Ballroom A7-11