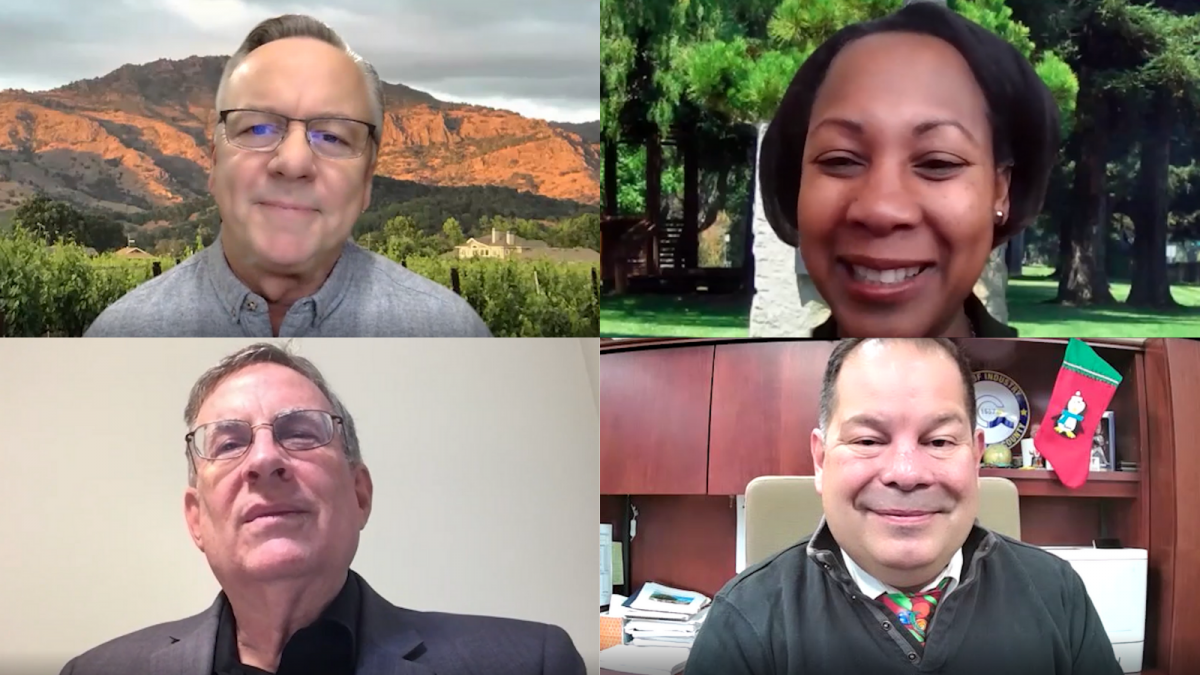 Lessons in leadership from outgoing or former mayors and council members
Brian Lee-Mounger Hendershot is the managing editor for Western City magazine; he can be reached at bhendershot@calcities.org.
---
The last two years have affirmed that the foundational elements of good leadership — namely empathy, listening, and integrity — are key to building successful city workforces, and by extension, thriving communities. As we did last year, we interviewed outgoing and former elected officials from throughout the state about the most important elements of leadership, their advice for newly electeds, and the local projects that they are most proud of.
John Dunbar, Yountville
Mayor John Dunbar is set to complete his third four-year term for the town of Yountville in 2022. He stressed the importance of partnerships and the value of listening to others when making difficult decisions. "I really think that's critical to strong leadership," Mayor Dunbar said. "To be strong, effective leaders, we need to be engaged with our residents, our business community, and our colleagues at all different levels."
Mayor Dunbar pointed to two small, but pivotal decisions that show how local works in Yountville: the addition of outdoor operation permits for businesses and a paid, phased transition away from gas-powered leaf blowers. Noting that the state has recently taken several actions to ban the sale of gas-powered leaf blowers he added, "Often some of these ideas start very locally and then they start to spread, and the benefits spread with them."
John Fasana, Duarte
John Fasana, a former Duarte council member whose 33 years of public service includes six terms as mayor, talked about the importance of teamwork, mutual respect, and cultivating knowledge. "You can accomplish so much if you're working as a team," he noted. "You can disagree on issues without being disagreeable. … [Developing subject-matter expertise also] really earns respect and credibility with our colleagues on a regional basis — whether it be at the League of California Cities, LA County, or the state — and it can really help you get more done."
Fasana pointed to several transportation projects, including the extension of the Metrolink Foothill Gold Line, as examples of how local works. He credits the city's successful projects to good planning, done in conjunction with the community. "If you don't have a plan, you will react to different things that are occurring in the day-to-day," Fasana warned. "But when it's done, you might not have accomplished some of the needs that are before you."
Neysa Fligor, Los Altos
In addition to consensus-building and listening, Los Altos Mayor Fligor spoke about the need to take bold action. "Some of those decisions and the reasons why you made those decisions may not be realized immediately," Mayor Fligor emphasized. She also encouraged new mayors and council members need set time aside each day to delve into and understand the issues. "You should ask [about] whatever isn't clear to you to help you get where you need to be," she said.
Mayor Fligor is particularly proud of two different projects: the ongoing construction of a 100-unit affordable housing development and the Los Altos Community Center. She noted the community center was completed thanks in part to the hard work of the previous city council. "They kept moving the community center forward, because they had that vision and understood how important and necessary it was for us to have to new community center," she said.
Sam Pedroza, Claremont
Sam Pedroza served on the Claremont city council for twelve years — twice as mayor. He emphasized the importance of listening to constituents above all else. "That was something I had to [learn] pretty quick coming into it. Cause I'm thinking I'm going to come in and bring development here and do this here," he explained. "And no. It was like: 'We don't need to do that.'"
One of the things Pedroza is most proud of, like Fasana, is the ongoing extension of the Metrolink Foothill Gold Line, which will connect Claremont to downtown Los Angeles via light rail. "You can start on something today, and it won't be completed for years after, but as long as you keep the train moving — that is really important," he noted.
What the future holds for these local leaders
With more than 60 years of experience as elected officials between them — and many more in public service — these outgoing or former mayors and council members have developed a wealth of knowledge about leadership. Their insight about the need to listen to others, communicate effectively, create trust, build consensus, and plan for the future, are wise words for new mayors and council members as they embark on their journey to lead their city forward.
Mayor Dunbar launched a campaign for Napa County supervisor. He credits his leadership skills and access to resources to his time at Cal Cities, which he has been an active member of since 2005. He was the president of the statewide advocacy and education organization for the 2019-20 term.
Fasana has retired from public service but remains active in his community, particularly the Duarte Rotary Club, a nonpolitical service organization. Above all else, he looks forward to spending more time with his grandson in Sacramento.
Mayor Fligor's term finishes in 2022; she has yet to announce her future plans. In addition to serving as mayor, she is also finishing a term as the president of the Cal Cities Peninsula Division.
Pedroza now works for the city of Industry as its assistant city manager. He sees his new position as an extension of his previous work at the city of Claremont and encourages other elected officials to consider similar roles.