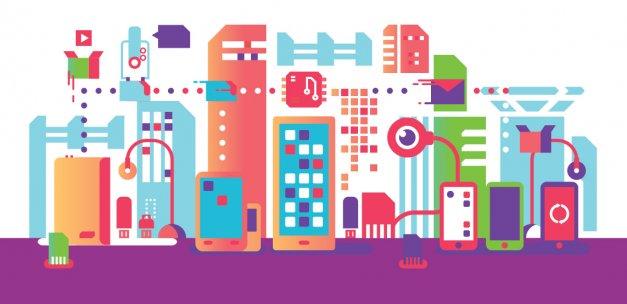 Making Cities Smarter
Western City looks at technology this month with articles that examine data loss prevention and cybersecurity, one city's transition to a paperless office in its procurement division, how teens are helping seniors use computers and mobile devices — and more.
When my statewide colleagues and I discuss technology, the topic of smart cities often arises. Many of the state's larger cities have launched smart city projects in recent years, and other cities are following suit. These efforts span a wide spectrum.
Defining the Term
What is a smart city? Although the definition is somewhat flexible, typically a smart city uses fiber optic and/or wireless networks to connect various components of infrastructure and share information that is used to:
Deliver public services more effectively and efficiently;
Save money for taxpayers; and
Improve the quality of life.
Taking Incremental Steps
Many cities have converted traditional traffic signals and streetlights to light-emitting diode (LED) lights over the past several years to save energy and money. The next step toward becoming a smarter city involves the use of sensors in conjunction with LED streetlights. Incorporating sensors provides the ability to monitor lights by tracking energy usage and generating alerts when a malfunction occurs, which sends repair crews the needed information about the fixture before they leave to make the repair.
Another useful function of LED streetlights with sensors is the ability to adjust the amount of light output based on pedestrian and vehicular traffic at any given time. The use of sensors also relates to public safety. Imagine a city street late at night with very little traffic, where the lights are functioning at a lower intensity due to the reduced demand. A neighbor calls the police to report suspicious activity; the police respond by remotely turning the streetlights up to full intensity to deter the activity while a squad car is on the way.
In my city, Lodi (pop. 63,219), most of our streetlights are now LEDs. And like many cities, we have converted to an automated system of meter reading for our electric and water utility infrastructure. All residential meters in the city generate a signal that sends usage data to a network.
Cities are also using sensors to monitor water infrastructure for leaks, which reduces repair costs and conserves water. Some police departments use video sensors to spot crimes and manage crowds. A relatively new technological tool enables police to identify and locate gunfire.
Other applications involving sensors may be used in parking lots to notify drivers when the lot is full, sending a message directing them to an alternative lot — or to an available electric vehicle (EV) charging station if the driver is seeking one. Many California cities, including Lodi, provide free EV charging stations.
From Small to Large
Efforts to become a smart city are underway in cities of all sizes and range from modest to ambitious.
San Leandro Focuses on Energy and Water Conservation
For example, the City of San Leandro (pop. 87,700) is currently working on a $5.2 million citywide project that includes deploying a network to support smart LED lights, smart irrigation and other infrastructure improvements. The project began in 2014, with a request for proposals from firms that could design and implement a comprehensive package of utility savings measures and infrastructure upgrades. To make the project feasible, the infrastructure improvements needed to pay for themselves over time without the need for any upfront capital expenditures from the city's General Fund.
In early 2016, the San Leandro City Council selected a vendor to install energy- and water-saving equipment at numerous public facilities. The vendor guaranteed savings that will cover 100 percent of the costs of the improvements and related debt service. The city expects to save $8 million over 15 years through strategic reductions in energy and water usage, while realizing more than $1.5 million in positive cash flow. In addition to the financial benefits, San Leandro's investments in clean infrastructure will reduce the city's greenhouse gas emissions by 1,390 metric tons annually — the equivalent of 3.3 million miles driven in a year. The project is expected to break ground in mid-November 2017 and be completed in approximately nine months.
Carlsbad Targets Traffic and Transportation
The City of Carlsbad (pop. 112,930) has smart projects underway to address multimodal transportation systems and use creative approaches to moving people and goods through and within the city. City council members told Craig Williams, a senior engineer who oversees the city's traffic and mobility programs, that traffic is one of residents' biggest concerns.
Carlsbad is using a multi-pronged approach that combines short-term practical solutions with innovative long-term initiatives that take advantage of emerging technologies. Some of the efforts include:
Reducing red light wait times. The city installed a fiber optic network conduit and fiber optic cable between its traffic management center and signals along El Camino Real. This high-speed connection improves traffic signal system management and coordination, thus minimizing wait times at red lights.
"Talking" traffic signals. The city completed a pilot test in 2016 of its adaptive traffic signal technology that allows traffic signals to "talk" to each other, making them more responsive to real-time conditions. The city is incrementally rolling out the adaptive signal technology.
Providing a real-time traffic map. Carlsbad has installed traffic measurement and monitoring equipment using Bluetooth technology at 16 intersections, enabling staff to automatically monitor traffic speeds and congestion and to generate origin-destination analyses along 20 defined corridors. This system increases responsiveness to traffic signal system problems, and this technology has enabled Carlsbad to create a real-time traffic map on its website.
As part of the traffic signal system enhancements program, city staff are working with a private-sector partner to provide better real-time information to area travelers. Carlsbad is also working with neighboring cities and Caltrans to coordinate efforts.
Public Safety and Civic Engagement in San José
The City of San José (pop. 1,042,094) is implementing several smart city initiatives that address a variety of city priorities including public safety, inclusivity and civic engagement. Among its public safety efforts, some of the most noteworthy involve broadening the use of data analytics to improve safety, including better targeting for code enforcement, identifying homes with the highest fire risk for preventive measures such as smoke alarm checks, and using geo-tagged data on graffiti complaints and truancy rates to inform "hot spot" crime prediction and prevention. In addition, the city is working to reduce traffic accidents and fatalities by using connected infrastructure, data analytics and tools that can optimize traffic systems and identify intersections with high accident rates and risk.
San José is also building a digital "neighborhood dashboard" that allows residents to seamlessly access information, file reports and collectively solve issues in their own neighborhoods. This platform will enable residents to easily:
Access information about nearby development projects;
Report broken streetlights and potholes;
Learn about local festivals, retail businesses and new construction; and
Communicate with other neighbors interested in working together to tackle local challenges.
The city is working to digitize, automate and integrate its services to be user-friendly, such as enabling online submission of all city forms and permit applications and electronic payment for city fees. San José also aims to empower city workers to streamline inspections and other municipal processes through the increasing use of tablets and mobile devices.
San Diego Uses Solar Energy to Power Electric Vehicles
The City of San Diego (pop. 1,391,676) is participating in a multi-year collaboration combining its resources with those of San Diego Gas & Electric, General Electric, Cleantech San Diego and the University of California, San Diego. Titled Smart Cities San Diego, the collaboration's goals are to improve the region's energy independence, empower consumers to use electric vehicles, reduce greenhouse gas emissions and encourage economic growth. Among its many projects, perhaps the most intriguing are the Solar-to-EV charging stations.
Nearly 10,000 San Diego residents drive plug-in EVs. The Solar-to-EV charging stations at the San Diego Zoo incorporate 10 solar canopies producing 90 kilowatts (kW) of electricity, as well as five EV charging stations. Using new battery technology, the solar canopies charge a 100-kW/100-kWh energy storage system used to provide power on overcast days. The storage system also offsets power demands on the grid, especially during peak hours. When the battery is full, the excess solar energy generated goes to the electric grid to improve reliability and benefit the surrounding community.
The solar canopies also provide shade to approximately 50 cars in the zoo's southeast parking area. At peak production, the Solar-to-EV project produces enough energy to power 59 homes. The clean energy produced is equivalent to removing 189,216 pounds of carbon dioxide from the atmosphere each year or planting 2,788 trees annually. For additional comparison, the greenhouse gas emissions savings from the electricity produced is equivalent to removing 21 cars from the road each year. Furthermore, EVs produce zero tailpipe emissions and generate no net emissions when the electricity comes directly from solar power.
Tips for Going Forward
California's cities vary significantly in size and the amount of resources they can devote to becoming smarter cities. However, a few key principles apply to any smart city efforts, regardless of the size or scope.
A strong IT infrastructure backbone is essential. Not every city has fiber optic cable in place, but many cities are focusing on ways to build a fiber optic network. One city official suggests that any time the city must open a street, it's worth considering how to include installing some fiber optic conduit or cable with the work to be done. The next generation of 5G wireless networks will also provide opportunities for cities looking to enhance connectivity.
Public-private partnerships can leverage city resources. Many cities with smart city initiatives are partnering with technology companies, nonprofit tech organizations, colleges and universities to provide the knowledge, experience, skills and insight necessary to get the biggest bang for the city's buck.
Security must be a top priority as cities implement smart systems and gather large amounts of data. Cybersecurity and data loss prevention should be an integral part of any plan involving technology and must be incorporated into the project design well in advance of implementation (see "Data Loss Prevention and Cybersecurity: A Practical Guide").
City officials will need to consider ethical issues related to transparency and privacy and create strong policies to protect their constituents. When a city collects and stores data — some of which may be sensitive — its handling raises questions for policy-makers that require thoughtful consideration and public input.
---
Related Resources
San Leandro http://www.sanleandro.org/civica/press/display.asp?layout=1&Entry=872
San José overview https://www.sanjoseca.gov/index.aspx?nid=5289
Smart City San Diego https://www.sandiego.gov/department/smart-city
http://cleantechsandiego.org/smart-city-san-diego/
National Institute of Standards and Technology Public Wi-Fi SuperCluster working group https://pages.nist.gov/GCTC/super-clusters/
---
This article appears in the June 2017 issue of Western City
Did you like what you read here? Subscribe to Western City
---