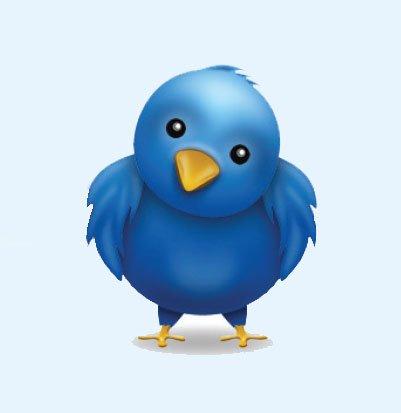 Meet Twitter: Social Media for City Officials Short on Time
Emily Cole is communications and social media outreach specialist for the League. She can be reached at ecole@cacities.org.
---
Social media has become one of the quickest methods of mass communication available and includes Facebook, Twitter, LinkedIn and YouTube.
It's easy for anyone to be overwhelmed by the range of social media choices, not to mention the time commitment needed to check these sites and engage with people on them. However, city officials who are short on time may want to consider using Twitter as a quick way to interact with their constituents and local media.
Twitter is a web-based service that allows users to communicate through quick, frequent messages called "tweets." Users send tweets of 140 characters or less, often consisting of a short sentence with a link. Words are frequently abbreviated or truncated to stay within the character limit.
Gathering Information
City officials can benefit from Twitter without ever sending a tweet. Twitter can be used to:
Find out what people are saying about your city;
Discover breaking news as it's happening;
Locate useful articles; and
Research topics and issues.
Sites like www.TweetDeck.com and www.HootSuite.com let you access all of your social media accounts through one platform and are especially helpful for monitoring information. These sites can be used to create separate columns to search for key words and sort all of the updates you receive from every Facebook, Twitter and LinkedIn account you follow. Using a program of this type allows you to see all of your social media news feeds and searches in one place. This is particularly valuable because in a lengthy chronological news feed it's easy to miss updates of greatest interest.
City officials can also install TweetDeck and HootSuite on their smart phones to provide instant access to Twitter and Facebook from any location.
Sending Information
As you begin to use Twitter to gather information, you are likely to find items that you will want to share. For example, if the League tweets information about the state budget, you can share that information with your followers by retweeting it. Retweeting is just like forwarding an e-mail. City officials can also send their own tweets including news, articles relevant to their city, meeting notices, real-time tweets from meetings, promotions for local businesses and nonprofits, traffic alerts, updates on city services, photos, video and many other types of information.
Building Relationships
Think of Twitter as a way to build online relationships with your city's residents, business community and even your local media. Your constituents will probably be your main audience, so you may want to focus primarily on sending information that's of interest to them.
If a resident mentions you or your city in a tweet, you can acknowledge them by replying to them or retweeting their message. Twitter can also be used in tandem with in-person efforts as well. For example, if you meet with a resident or local business owner in your city office, you can tweet about the meeting to thank them or follow up with them if they also have a Twitter account.
Residents may also use Twitter to engage the city or city officials directly to ask questions or make complaints, which underscores the importance of having a social media strategy in place in your city. Once a well designed social media strategy is in place and city officials and staff are familiar with its provisions, complaints and requests can be addressed online. Doing so demonstrates your city's commitment to transparency and responding to its residents. Twitter also gives you a chance to immediately correct misinformation, which can make a significant difference in a 24-hour news cycle.
Like any public online forum, Twitter gives the public a place to voice negative comments, but having your own Twitter account gives you a way to instantly respond if needed. Tweets are a two-way street.
City Officials and Twitter
Sacramento Council Member Kevin McCarty uses Twitter more for gathering information than sending it. "It only takes a short time to check in and catch up on news, and it's a great resource to stay on top of all kinds of information," he says. Although he primarily used Twitter for sending information in 2010, he says his office has become more focused on Facebook in 2011 because more of his constituents use it. "I use Twitter mostly for tracking local and state news," he adds.
McCarty and his staff also make it a priority to meet weekly to discuss social media strategies for his Facebook page. "It's important to us that we send out relevant and sometimes fun things to our Facebook fans," says McCarty, "but we're cognizant about not overloading people with too much information and updates."
El Cerrito Assistant City Manager Karen Pinkos, on the other hand, uses Twitter both personally and in tandem with her city's official Twitter account. The city's account follows agencies and organizations connected with or directly related to El Cerrito, including the local newspaper, the county, the state and the League.
Using TweetDeck to help manage her time, Pinkos has been able to integrate Twitter into her daily routine. "It's the same to me as answering and sending e-mail or taking a call," she says.
One of her biggest concerns when she first started using Twitter was getting caught up in negative conversations. While her city is still developing its formal policy for social media, she has informally adopted a policy of not responding to tweets unless a factual correction needs to be made or a specific question can be answered. However, she also realizes that it is crucial for the city to be involved in social media. She adds, "Now that social media is a part of life, it's another tool in our public information toolbox. We continue to provide as much outreach as possible and be transparent and open as a government. Using Twitter has become part of how we do that. Being involved and putting out our message is critical — otherwise it will be done for us, and not necessarily how we want it."
Learn More About Twitter and Social Media
The League has compiled a variety of social media resources, including a complete PowerPoint presentation on getting started with Twitter, at www.cacities.org/socialmediaresources. The page also offers a comprehensive list of known Facebook and Twitter accounts for California cities, best practices, white papers on legal issues, sample social media policies and information about Facebook and LinkedIn.
Connect With the League
City officials can connect with the League on Twitter @CaCities for updates on advocacy efforts and @CaCitiesLearn for updates on League events and learning opportunities. If you still prefer Facebook, visit the League's main Facebook page at www.facebook.com/leagueofcacities and Western City magazine at www.facebook.com/westerncity. The League's main Facebook page also features a Twitter tab on the left side of the profile, which links you to the last five tweets from the League.
---
Basic Twitter Glossary
When you are unfamiliar with the terminology, Twitter can seem overwhelming. Here are a few basic terms and their definitions.
Tweet: A message sent through Twitter that is 140 characters or less. Character counts include punctuation, spaces and links.
Follow: Twitter users can follow other Twitter users. When you follow someone's Twitter account, all of their tweets will appear in your news feed. The more accounts you follow, the more tweets you will see in your news feed. Users are referred to as followers.
News Feed: The news feed is a chronological list of all of the tweets sent by the various Twitter accounts you follow.
Retweet: When you see a tweet from someone else that you would like to share with your followers, you can retweet it. Retweeting helps the original tweet reach a wider audience. Retweets are abbreviated in tweets as RT.
Mention: When you type a complete user name in a tweet, that tweet is then visible to that user, regardless of whether or not they follow you. Mentioning a user in a tweet is a way to connect with them directly.
Hashtag: A hashtag is a way of tagging a tweet so that it is searchable by topic. When a word or code is preceded by the # symbol, it becomes a hashtag. When you want to tag your tweet, include the hashtag somewhere in the tweet. For example, #cabudget is a hashtag used to track tweets that are related to the California state budget. You can use www.hashtags.org to identify popular hashtags,and you will begin to see which hashtags are popular as you monitor your news feed.
---
Caution: Keep the Brown Act in Mind
All electronic communication between elected officials is subject to the requirements of the Brown Act. To avoid inadvertently violating the Brown Act, read "The Brown Act and the Perils of Electronic Communication." Your city attorney is also a valuable resource on "do's and don'ts" when using social media.
---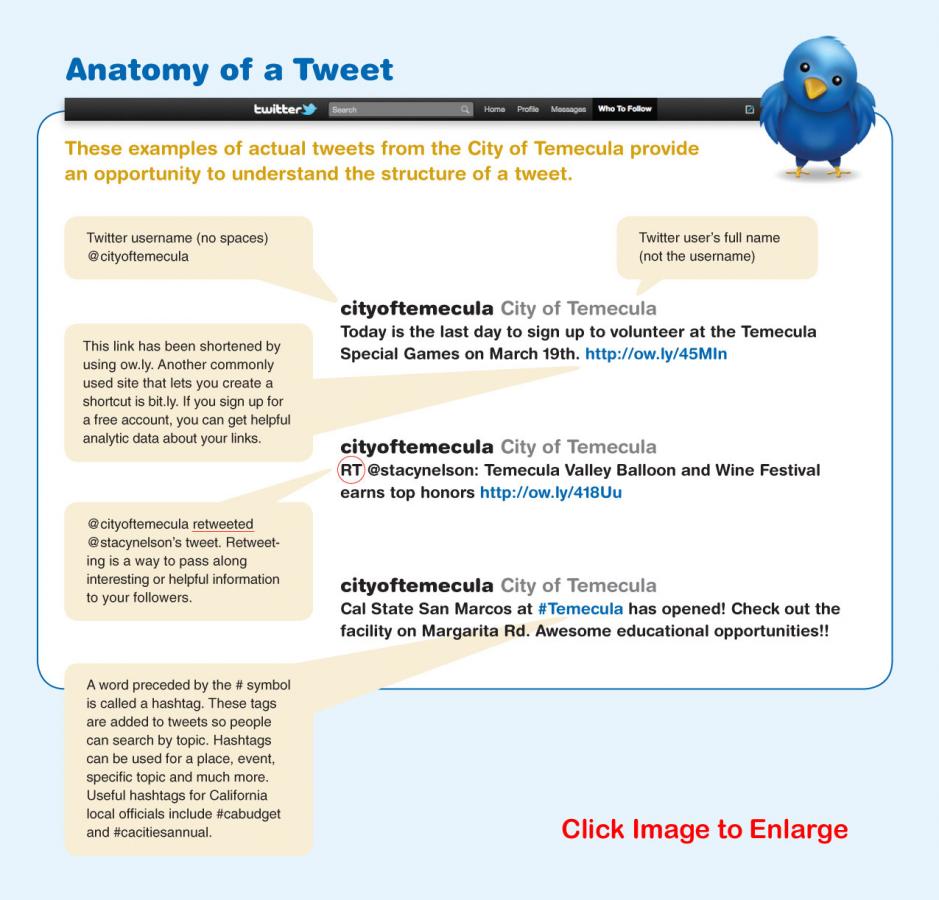 ---
This article appears in the June 2011 issue of Western City
Did you like what you read here? Subscribe to Western City
---