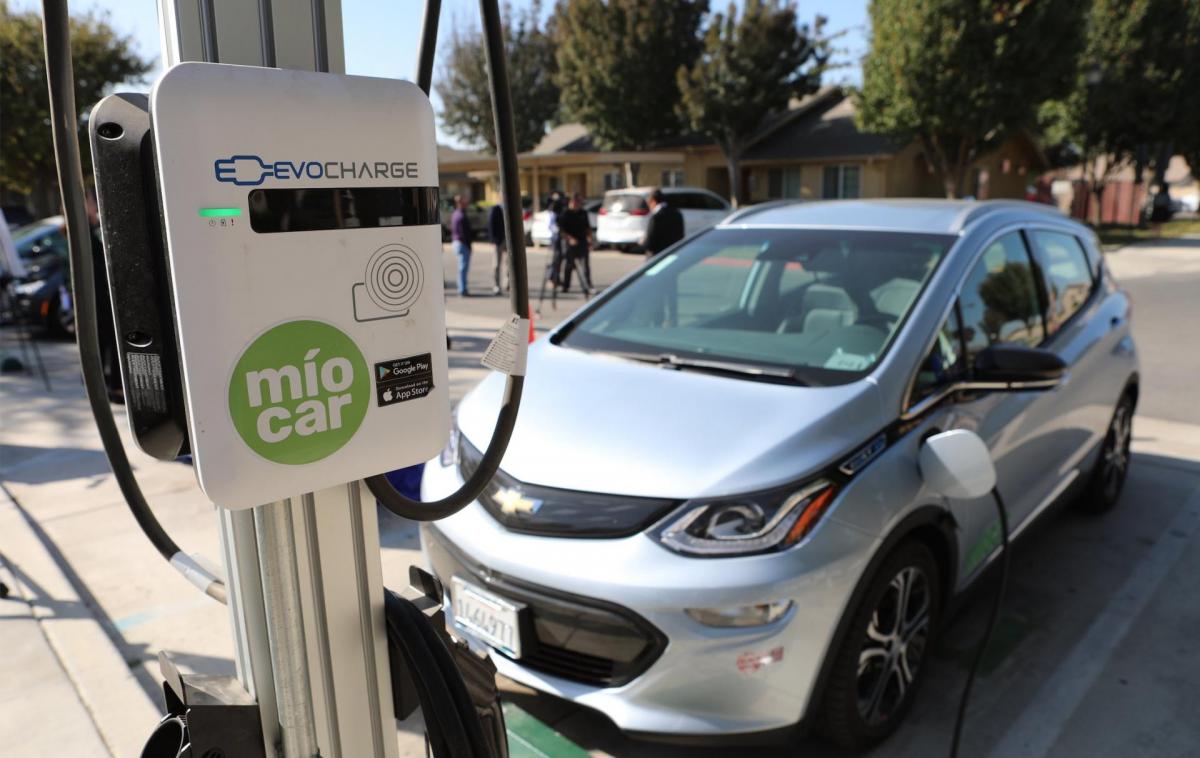 New Clean Mobility Options Roll Out in Arvin
Nicole Enright is an associate program manager for the Institute for Local Government and can be reached at nenright@ca-ilg.org.
---
A new clean mobility solution has arrived in the City of Arvin (pop. 22,178), opening up new opportunities for residents to meet their transportation needs with innovative technology. Míocar, which launched in Arvin in summer 2019, offers a 100 percent electric car-sharing service to bridge transportation gaps. The service facilitates easy access to clean and affordable options to run errands, get to medical appointments, pick up children from school, and more.
Technological innovations such as Míocar can be found statewide but are especially needed in San Joaquin Valley communities with small populations, long travel distances, and limited transit service.
Project Provides Multiple Opportunities
Míocar is administered by Self-Help Enterprises, a community development organization based in Visalia, and supported by CalVans, Mobility Development, San Joaquin Valley Air Pollution Control District, Kern Council of Governments, and California Climate Investments. The car-sharing service provides a new opportunity for the City of Arvin to continue making progress in addressing its priorities related to air quality and clean energy. Not only does car-sharing offer flexibility and convenience, but it can also introduce community members who may never have ridden in an electric vehicle (EV) to the new technology. This introduction can help them feel more comfortable potentially purchasing an EV in the future and facilitates increased investment in EV charging in the San Joaquin Valley.
Service Is Inexpensive and Easy to Use
With just a few taps on a smartphone app, Míocar participants can check out an EV, get in, and go. Participants must be age 21 or over to sign up for the service. Interested drivers can register via the website (miocar.org) or app with relatively few qualifications: they must have a valid driver's license, a relatively clean driving record, and a credit, debit, or prepaid card. After a brief application check period and a one-time membership fee of $20, they're ready to drive.
In Arvin, a Chevrolet Bolt EV with a 240-mile range and a BMW i3 with a 180-mile range are available for members to reserve and check out either through the app or a smart card; no keys are needed. Cars are parked in designated "home" spaces with access to charging, all included in the price of the reservation. At just $4 per hour or $35 per day, including insurance, vehicle maintenance, and roadside assistance, Míocar offers an affordable, convenient, and emission-free mobility alternative to community members to go where they need to without further contributing to vehicle emissions. Over 100 members have already signed up to drive.
"We are excited to bring innovative technology solutions like Míocar to our city," says Arvin Mayor José Gurrola. "These electric cars provide a vital service in helping to reduce air pollution, increase access to clean energy technology, and offer additional community transportation options for community members to get where they need to go — efficiently and affordably."
Future Plans
Though the program is relatively new, Míocar will soon be expanding in Arvin, thanks to frequent participation and positive feedback from residents. Approved drivers will have access to gas-electric hybrid vans, which will carry more passengers and can be used to transport equipment or move into a new home.
The City of Arvin is working to increase access to clean transportation options by connecting community members with EV incentives and pursuing grant funding for EV chargers, electric buses, and other innovative mobility services made possible through technology and community partnerships.
---
Partnership Provides Customized Support
The Institute for Local Government (ILG) is partnering with the City of Arvin through the BOOST Program, which allows ILG to provide customized and tailored support to 10 cities and two regions throughout California. Through BOOST, ILG will help communities:
Build awareness of funding opportunities to address climate action.
Organize projects to be best positioned to meet community goals.
Optimize existing resources and build more capacity.
Strengthen relationships with key stakeholders and identify new opportunities for regional engagement and collaboration.
Transform their approach to addressing climate action.
With this BOOST partnership, ILG and the City of Arvin are expanding clean energy opportunities in the community through educational events, grants, residential solar installations, and more.
Visit www.ca-ilg.org/BOOST for more information.
---
Related Resources
West Sacramento's On-Demand Ride-share Service Addresses Transit Needs
Challenges of Electric Vehicle Infrastructure
Cars of the Future: Connected and Autonomous
---
Photo Credit: Courtesy of the City of Arvin and Miocar