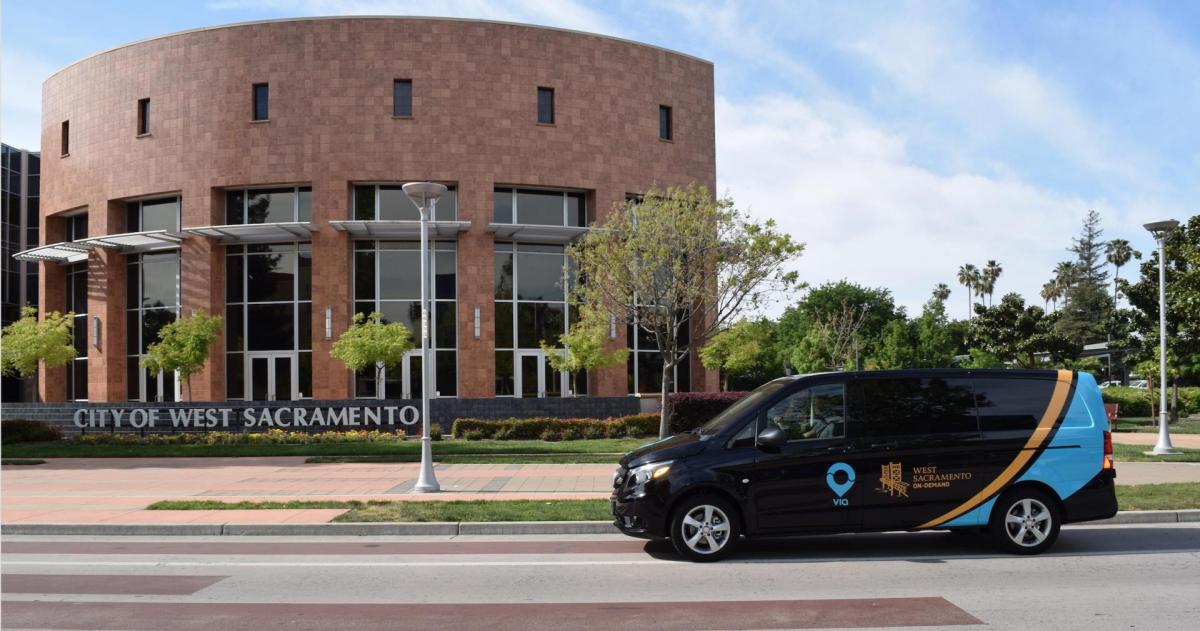 West Sacramento's On-Demand Ride-share Service Addresses Transit Needs
­The City of West Sacramento won the Award for Excellence in the Public Works, Infrastructure, and Transportation category of the 2019 Helen Putnam Award for Excellence program. For more about the award program, visit www.helenputnam.org.
---
In the City of West Sacramento (pop. 53,911), located on the Sacramento River in Yolo County, residents expressed their frustration with mobility challenges in 2017. Comments included:
"Buses take too long, and routes don't always go where I want to go."
"Taxis and ride-hailing services are too expensive."
"I can't afford to own a car, but I need to get groceries and visit the doctor."
In response, the city launched West Sacramento On-Demand, a public transportation program developed in partnership with a private ride-sharing company, Via Transportation Inc. This innovative service brings convenience and a safe, reliable user experience to previously underserved or transit-dependent residents.
A municipality contracting with a private ride-share operator to offer flat-rate public transit service was unprecedented locally, and the project marked Via's entry into California and first public-private partnership of this kind.
"We are providing mobility and public transportation in a completely different way that proves it's possible to have a customized, reliable, and efficient service anywhere in a community like ours," says West Sacramento Mayor Christopher Cabaldon.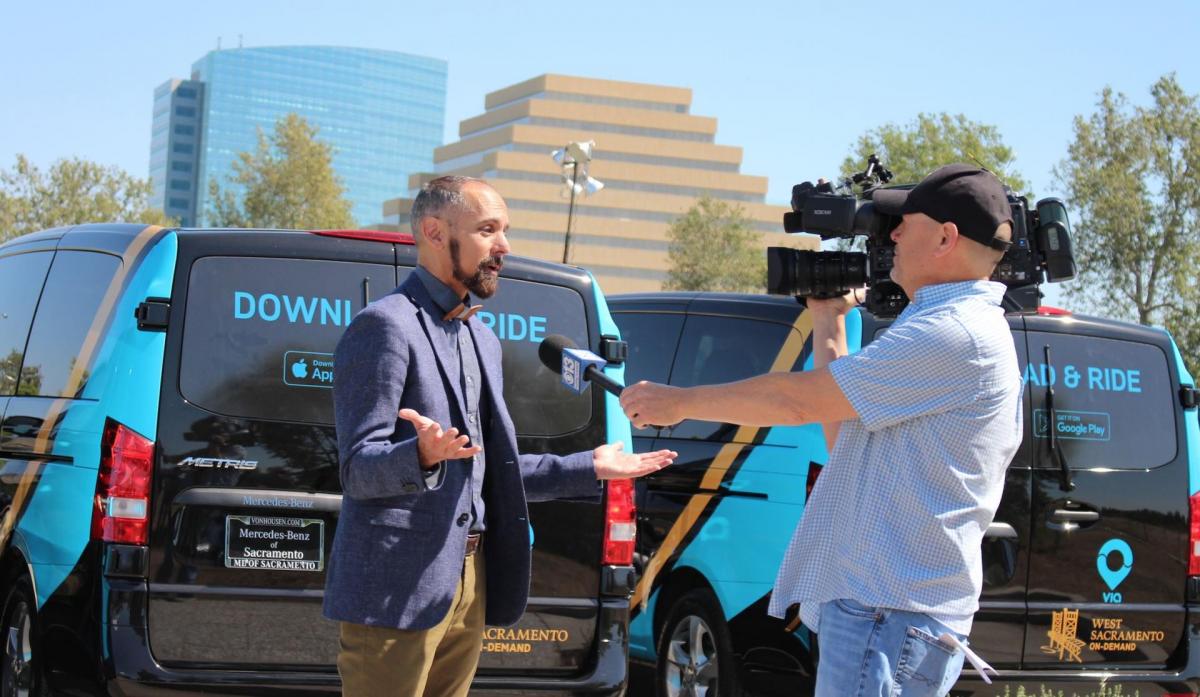 Low Cost and Flexibility Appeal to Riders of All Ages
For a flat fare, users can request a shared ride and travel citywide. Rides are booked through an app or a phone call. To help reduce single-occupancy vehicle trips, all community members traveling in the same direction share rides. Using a smart algorithm, Via balances the speed of the service with optimized vehicle occupancies to predict demand and pick up multiple passengers along the way in brightly marked passenger vans.
Rider Gail Hoffman is enthusiastic and says, "The service is spot-on. When I need them, they're available."
With rides costing just $1.75 for seniors and riders with disabilities and $3.50 for the general population, the service improves access to critical daily amenities and is helping to change the lives of transit-dependent residents. Companions can accompany riders for a "plus one" $1 fare, which encourages pooled trips, and a $15 weekly pass ($7.50 for seniors and riders with disabilities) covers up to four rides daily.
"The weekly deal for teenagers is super cheap," says resident Matthew Hargrove. "My 15-year-old daughter is using it to get to work. It's awesome that she has a ride and is learning that independence is a fun thing."
The program has improved mobility for all, especially seniors and youths. "We have so many different segments of our community using it — teens, seniors, people without cars, and folks who want to visit a restaurant and not worry about parking," says resident Christy Jourdan. "It's wonderful."
Project Offers Solutions for Multiple Challenges
The city developed West Sacramento On-Demand in 2018 as part of its Mobility Action Plan that aims to streamline and enhance transit, create multimodal "mobility hubs," and leverage smart technology, all of which contribute to an eco-friendly environment.
In recent years, local transit ridership has declined while costs have risen, especially in low-density suburban neighborhoods. In addition, residents in the city's expanding Riverfront district were reluctant to give up car ownership due to a lack of transit alternatives, which exacerbated issues related to parking demand.
Along with the challenges of reducing greenhouse gas emissions from transportation and single-rider occupancy, West Sacramento also faced the broader task of providing affordable and convenient mobility for underserved members of the community. The city's 2017–2020 Age-Friendly Action Plan revealed that over 25 percent of adults age 65 and older were living alone, and about 27 percent were living at or just above the poverty level. As an age-friendly city, West Sacramento was acutely concerned about mitigating the impacts of limited mobility on its growing senior population. These impacts include social isolation and access to healthy foods.
In addition, the rise of ride-hailing services like Uber and Lyft spurred the city's decision to leverage the convenience and flexibility of this technology.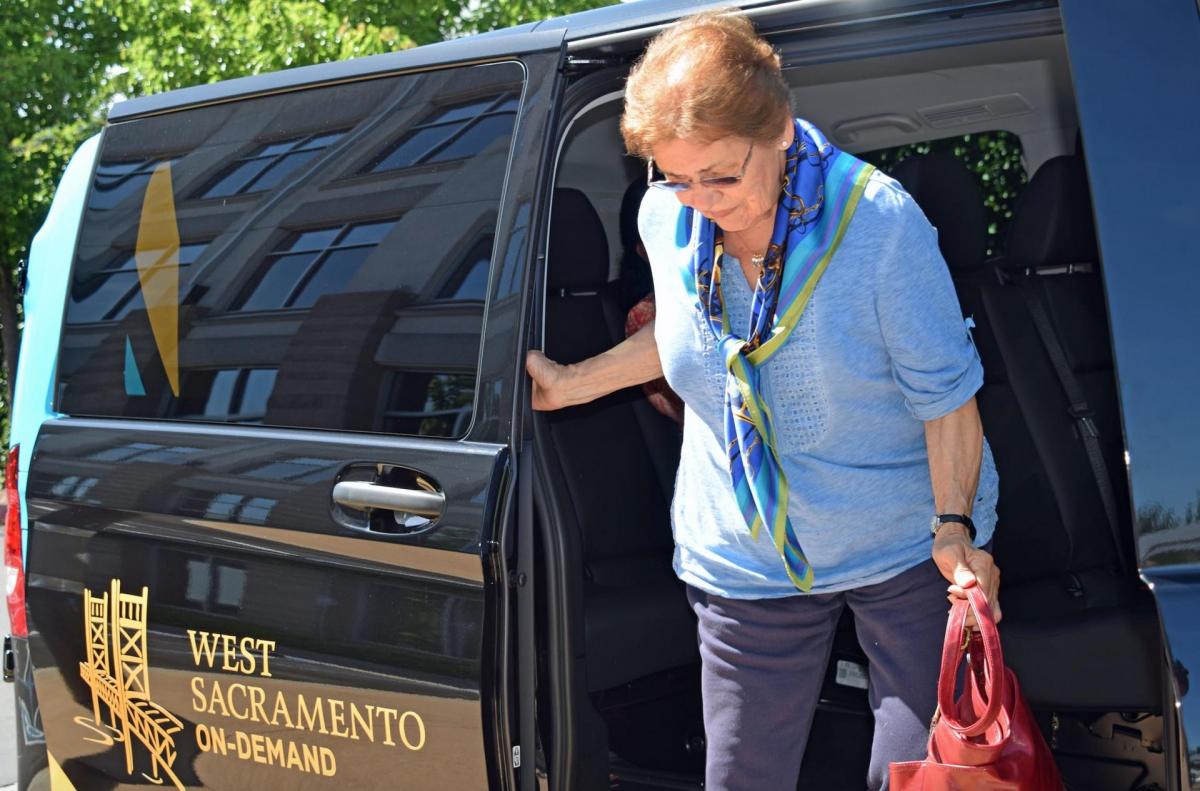 Ridership Numbers Reflect Program's Success
West Sacramento On-Demand has demonstrated measurable success. Women, lower-income households, youths, and seniors have enjoyed the greatest positive results. As of December 2019:
Over 10 percent of the city's population (more than 6,200 unique users) have created an account.
The service has provided over 160,000 rides since launching.
Close to 3,500 rides are completed each week (roughly 500 rides are completed daily).
"For the first time in years, I was able to buy ice cream and get it home while it was still frozen," says passenger Robin Werneck. "The drivers are wonderful, the vans are clean, the service is prompt — and I couldn't ask for more."
Contact: Sarah Strand, senior transportation planner, City of West Sacramento Capital Projects & Transportation Department; phone: (916) 617-5310; email: sarahs@cityofwestsacramento.org
---
Photo Credit: Courtesy of the City of West Sacramento