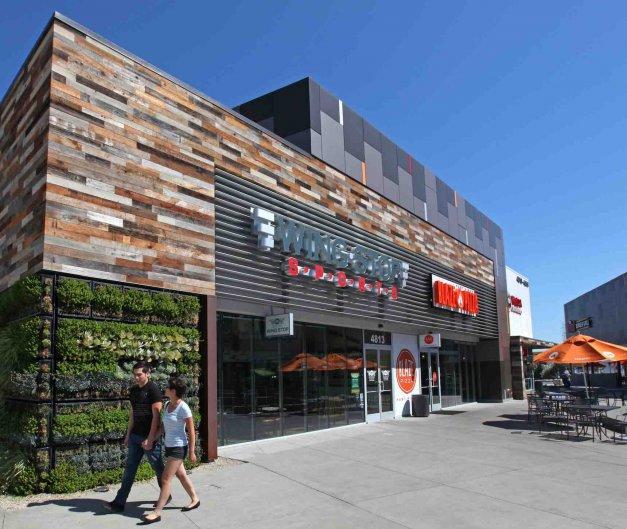 Sustainability Offers a Path to Prosperity
Steve Sanders is program director of the Institute for Local Government's Sustainable Communities Program and can be reached at ssanders@ca-ilg.org. For more information about the Sustainable Communities Program, visit www.ca-ilg.org.
---
Since the economic downturn of 2008, California's cities have endured several years of slow job growth and tight fiscal constraints that have squeezed local agencies' ability to provide essential public services. As a result, businesses and civic leaders alike are searching for ways to achieve lasting prosperity for their communities.
Many city officials have found that sustainable communities are often better able to succeed, thrive and become more prosperous. Sustainability is not just about the environment.
Nowhere is the challenge of pursuing prosperity more evident than in the state's most disadvantaged communities. While some cities in California have rebounded from the Great Recession, others continue to experience unacceptable levels of unemployment, under-employment and income disparity. Many of these communities also suffer greater exposure to health and environmental hazards that pose risks to their residents. Investing in clean energy, better transit, water conservation, recycling and reuse, and "green tech" manufacturing creates local jobs and also improves air and water quality, which provides significant health benefits for residents.
One area making a concerted effort to pursue prosperity through sustainability is the Gateway Cities region of Southern Los Angeles County. Home to over 2 million residents, the region includes 27 cities and a dozen unincorporated communities. It covers more than 200 square miles, stretching from Long Beach to the borders of downtown Los Angeles. This area was formerly the heart of Southern California's defense and aerospace industries; today the Gateway Cities are working hard to adapt to changing economic trends and emerging business opportunities.
South Gate Models Sustainable Economic Development
The City of South Gate, once a thriving manufacturing center, was hit hard by the decline of industrial employment in Southern California. Ten years after a highly publicized corruption scandal, this predominantly Latino city of 100,000 residents along the I-710 corridor in southeast Los Angeles is implementing a visionary General Plan to guide the creation of a more healthy and prosperous community.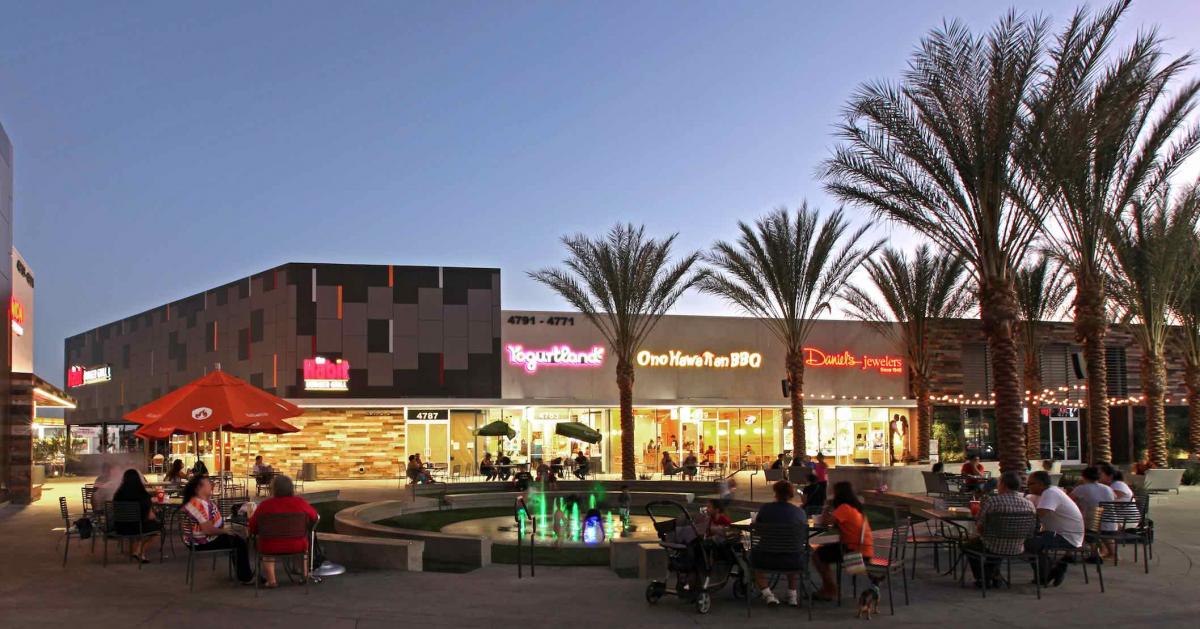 The new Azalea Shopping Center offers perhaps the most prominent example of South Gate's pursuit of sustainable economic development. The center transformed 30 acres of vacant industrial land into a retail amenity that incorporates a host of environmentally friendly features, including the use of recycled water, electric vehicle charging stations, energy-efficient lighting and a "living wall" of plants.
Built to Gold-level LEED (Leadership in Energy and Environmental Design) standards, the center's green building credentials weren't earned at the expense of local jobs. The city and the developer worked with the Hub Cities Consortium, a regional workforce development nonprofit organization, to establish the Azalea Local Hire Program. South Gate reported that in 2014, 40 percent of the jobs in the center were held by South Gate residents, and the city expects the center to eventually employ 800 people as additional businesses open.
Retail isn't the only economic sector in South Gate that has successfully blended economic and environmental benefits. A major national flooring company with a manufacturing facility in South Gate instituted production efficiencies and recycling processes that reduced by 93 percent the amount of floor tile scrap going to landfills between 2010 and 2013, eliminating more than 150 tons of waste per month. The plant reduced its water usage from 6.8 million gallons in 2009 to 2.6 million gallons in 2014 — a 62 percent reduction. In addition to conserving resources and saving money, these accomplishments earned the firm a Los Angeles County Green Leadership Award in 2015.
Other manufacturing, recycling and composting businesses in South Gate and the Gateway Cities have achieved similar results. According to city leaders, these initiatives have paid off in many ways. "We have learned a lot from the private sector on how to deploy environmental best practices," says South Gate City Manager Michael Flad.
South Gate was one of only four cities to receive the Institute for Local Government's Silver Beacon Award (see "About the Beacon Program" below) at the League of California Cities 2015 Annual Conference & Expo. Despite the constraints the city faces as a disadvantaged community with limited fiscal and staff resources, South Gate reduced energy use in its facilities by 12 percent and cut greenhouse gas emissions by 11 percent for its operations and 7 percent for the community as a whole, while simultaneously developing new job opportunities for city residents.
The city is working hard to create a better future for the next generation. "We like the environment, but we love our kids," says South Gate Mayor Jorge Morales. "We've learned that your zip code may matter more than your genetic heritage in determining whether you're likely to become obese, pre-diabetic, diabetic or asthmatic. We're committed to reimagining and redefining our zip code — what it means to live and work in South Gate."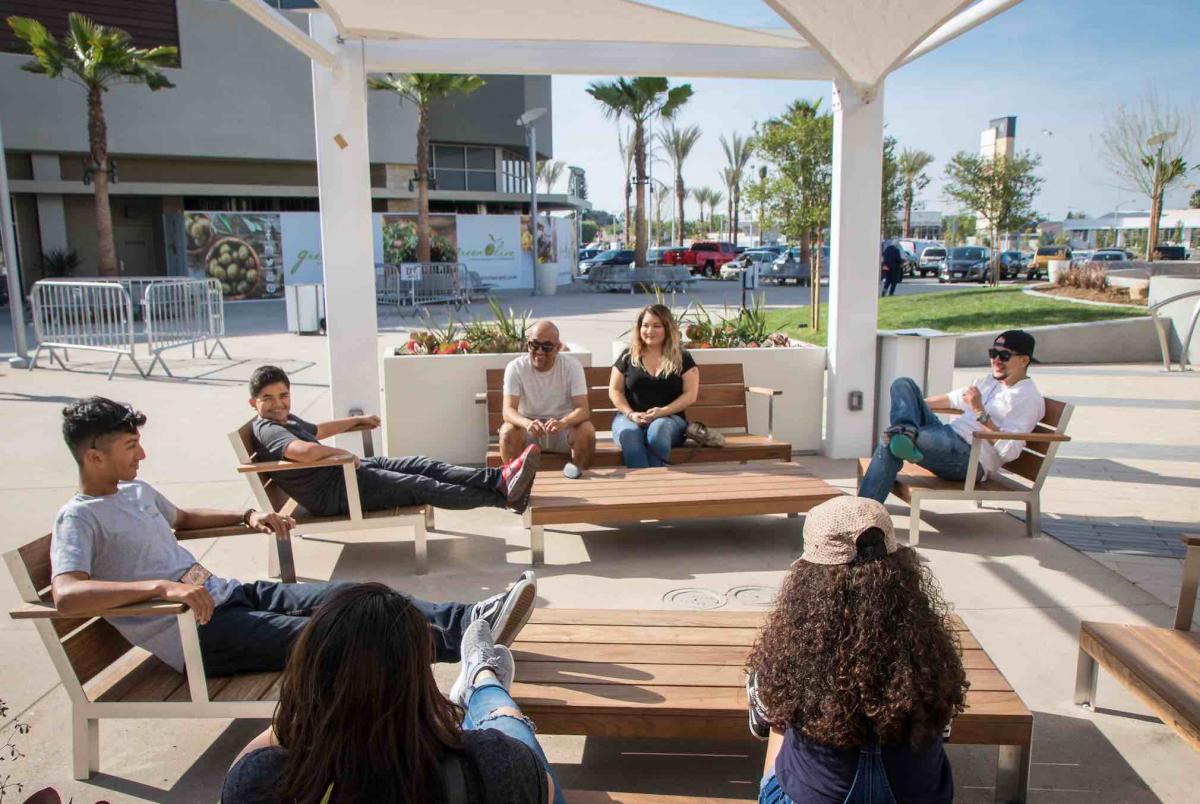 Downey Transforms Its 20th-Century Legacy
Workers in the City of Downey helped send Neil Armstrong, Buzz Aldrin and other astronauts to the moon. Today, the city has completed a "moonshot" of its own by transforming the former NASA Industrial Plant site, the main production facility for the Apollo, Skylab and Space Shuttle programs, into a mixed-use development. The most recent addition to the development is the Promenade at Downey, a pedestrian-oriented retail, entertainment and business center that has revitalized the intersection of Imperial Highway and Lakewood Boulevard.
"The Promenade will not only promote continued economic growth in our city, but in the entire southeast region, generating over 3,000 jobs and $2 million in local revenue," says Downey Mayor Alex Saab.
The redevelopment of the NASA site offers a prime example of sustainable economic development. The city prepared a Specific Plan to govern its development and coordinated efforts to clean up contaminated groundwater and soil. The redeveloped site includes a new hospital and medical offices with environmentally friendly features and a sports complex that provides the first new public park space in Downey in 30 years and promotes healthier lifestyles. Concentrating retail and restaurant businesses at the complex, with access to the nearby Metro Green Line and other transit services, reduces the need for residents to travel long distances to work, shop and socialize.
Norwalk Uses Energy Efficiency to Build a More Sustainable City
Norwalk is building a more economically sustainable city one light bulb, pool pump, and heating, ventilation and air conditioning system at a time. The City of Norwalk joined the Gateway Cities Energy Leader Partnership in 2012. Administered by Southern California Edison and SoCal Gas under the auspices of the California Public Utilities Commission, the partnership has provided Norwalk with incentives and rebates to complete energy-efficiency projects in parks, senior centers, swimming pools and city buildings, including City Hall. In addition to saving money and energy and reducing greenhouse gas emissions, these projects help the city extend the life and improve the quality and comfort of facilities that serve the public. Delivering better services at lower cost helps Norwalk remain an attractive place to live, work and open or expand a business, thereby strengthening the local economy.
Collaborative Efforts Create Healthier Communities
South Gate, Downey and Norwalk are not alone — other Gateway Cities are working hard to attract sustainable economic development to their communities. City leaders in the area are joining forces through the Gateway Cities Council of Governments (COG), a joint powers agency that represents the 27 cities in the region and several unincorporated communities in Los Angeles County. The Gateway Cities COG is working with local agencies to find ways to improve the health and well-being of the community through sustainable efforts.
For example, the Gateway Cities have less park space per capita than most communities elsewhere in the region and throughout the state. The Gateway Cities COG sponsored legislation that created the San Gabriel and Lower Los Angeles Rivers and Mountains Conservancy, which has brought millions of dollars in state grants to local cities for parks and open space improvements.
In a very forward-looking initiative, the Gateway Cities COG is participating in planning for the Eco-Rapid Transit Project, a 40-mile corridor linking Bob Hope Airport in Burbank with downtown Los Angeles and continuing through the Gateway Cities to the City of Artesia. Several cities along the route are reviewing their land use and transportation plans to anticipate the increased mobility and economic activity that development of the rail line is expected to bring to the region.
Sustainability Benefits Cities in Multiple Ways
Working individually and collaboratively, the Gateway Cities are using creativity, partnerships and an entrepreneurial spirit to overcome the barriers that often face traditionally disadvantaged communities. These cities are determined to create a better future for their residents by pursuing sustainable development to achieve economic prosperity and improve community health and well-being.
---
About the Beacon Program
The Beacon Program provides support and recognition to California cities and counties working to reduce greenhouse gas emissions, save energy and adopt policies and programs that promote sustainability. The Institute for Local Government and the Statewide Energy Efficiency Collaborative sponsor the Beacon Program. For more information, visit www.ca-ilg.org/beaconprogram.
---
What Your City Can Do to Promote Sustainable Economic Development
Make sure your city has a forward-looking economic development strategy based on the latest economic, demographic, environmental and fiscal trends in your region. Develop a plan according to the direction that your city's workforce and economy are headed.
Recognize that economies are regional in scale. Where does your city fit into the larger picture? Collaborate with nearby jurisdictions, starting with your regional Council of Governments, to pursue key projects and initiatives that benefit everyone.
Explore your city's options to promote efficiency, reduce costs, improve services and increase the comfort, convenience, health and safety of your residents. Resources include the state's Cap-and-Trade Program (see "How Cap and Trade Can Help Disadvantaged Communities" below), the Local Government Partnership administered through the investor-owned utility serving your community, or similar programs administered through municipal utilities. Visit http://californiaseec.org for more information.
To learn more about how local communities in California are enhancing local prosperity by increasing sustainability, visit www.ca-ilg.org/beaconeconomy.
---
How Cap and Trade Can Help Disadvantaged Communities
The state's Cap-and-Trade Program, also known as the Greenhouse Gas Reduction Fund, collects billions of dollars annually through the auction of allowances for greenhouse gas emissions generated by fossil fuels, power plants, factories and other sources. Auction proceeds are rebated to energy consumers and also fund a variety of programs designed to reduce greenhouse gas emissions that contribute to global warming.
The Institute for Local Government's Beacon Program (www.ca-ilg.org/beaconprogram) recently partnered with the Gateway Cities Council of Governments to organize a workshop for local officials and community leaders on state cap-and-trade funding. State law requires that at least 25 percent of non-utility cap-and-trade funds be used to benefit disadvantaged communities. Three-quarters of Gateway Cities residents live in areas identified by the state as disadvantaged. Cities in the region are seeking funding from the Cap-and-Trade Program for a variety of transportation, urban forestry, recycling, renewable energy and other programs that will simultaneously create jobs, reduce greenhouse gas emissions and improve the health and well-being of their residents.
For more information about the state's Cap-and-Trade Program, visit www.ca-ilg.org/capandtrade.
---
Photo credit: Courtesy of the City of Downey (the Promenade photo), the City of South Gate (Azalea center photos) and Institute for Local Government
---
This article appears in the May 2016 issue of Western City
Did you like what you read here? Subscribe to Western City
---