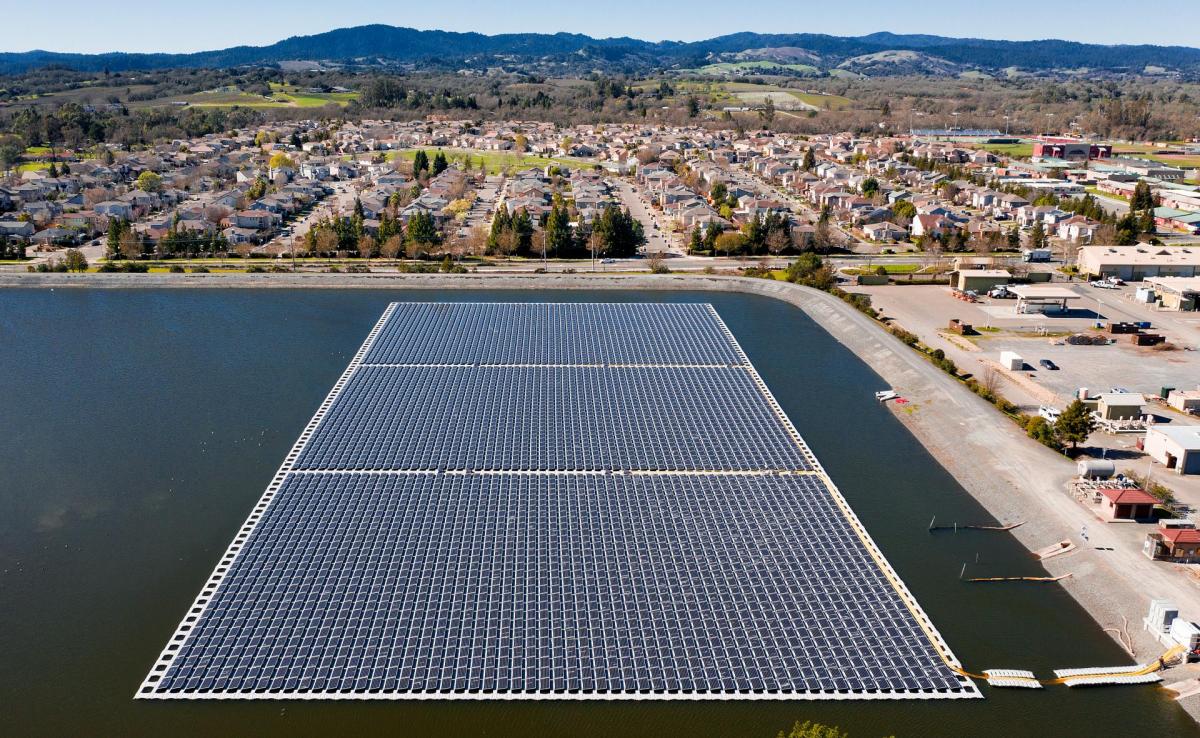 Windsor builds one of the nation's biggest floating solar arrays
The town of Windsor won the 2021 Helen Putnam Award for Excellence in the Public Works, Infrastructure, and Transportation category. For more information about the award program, visit www.helenputnam.org.
---
When the town of Windsor realized that its wastewater treatment facility produced as much as 45% of the town's total greenhouse gas emissions, it began searching for a cleaner, greener way to power the facility.
Finding a solution was especially urgent since Windsor (population 26,344) has a goal of achieving net-zero carbon emissions by 2030. After researching possible solutions and getting extensive community feedback, town staff and officials found that solar energy would be the most reliable, sustainable electricity source. But they encountered another hurdle: Where to place the solar array? Installing thousands of solar panels on the very limited amount of land the town owned was not feasible.
"We were in a quandary," said Windsor Senior Civil Engineer Garrett Broughton. "We don't have enough area to install enough ground mount panels to power our wastewater treatment plant. But we do have a lot of surface area in another place: our ponds."

Water is the way
So, the town of Windsor turned to water — specifically its 17-acre recycled water pond. Through a partnership with Ciel et Terre USA, a solar-energy equipment supplier based in Petaluma, the town installed a 1.8-megawatt array of floating solar panels on its biggest recycled water pond.
The large-scale solar array, which covers four acres of the pond, is designed to generate electricity for Windsor's wastewater treatment facility. It also produces 90% of the electricity needed to power the town's public works corporation yard, public works administration building, and the town's Geysers pump station, which delivers reclaimed water to the geothermal field in the nearby Mayacamas Mountains.
Windsor's solar array combines existing, ground-based solar technology with marine engineering in a way that is just being implemented in the United States. With almost 5,000, 360-watt solar panels mounted atop a floating solar racking system, Windsor's project is one of the largest such arrays in the country. Most importantly, the project will help Windsor reach net-zero greenhouse gas emissions by 2030.
"Our floating solar array has reduced our reliance on energy-polluting sources by an estimated 350 metric tons a year," Windsor Public Works Director Shannon Cotulla said. "This is a significant step in achieving our climate action plan emission-reduction goals."
The project also had some other, more unexpected environmental benefits. Town staff noticed a slight reduction in the growth of algae, which release toxins and foul odors, due to the reduced sunlight on the pond's surface. The outer deck of the array also provides a habitat for egrets and other waterfowl.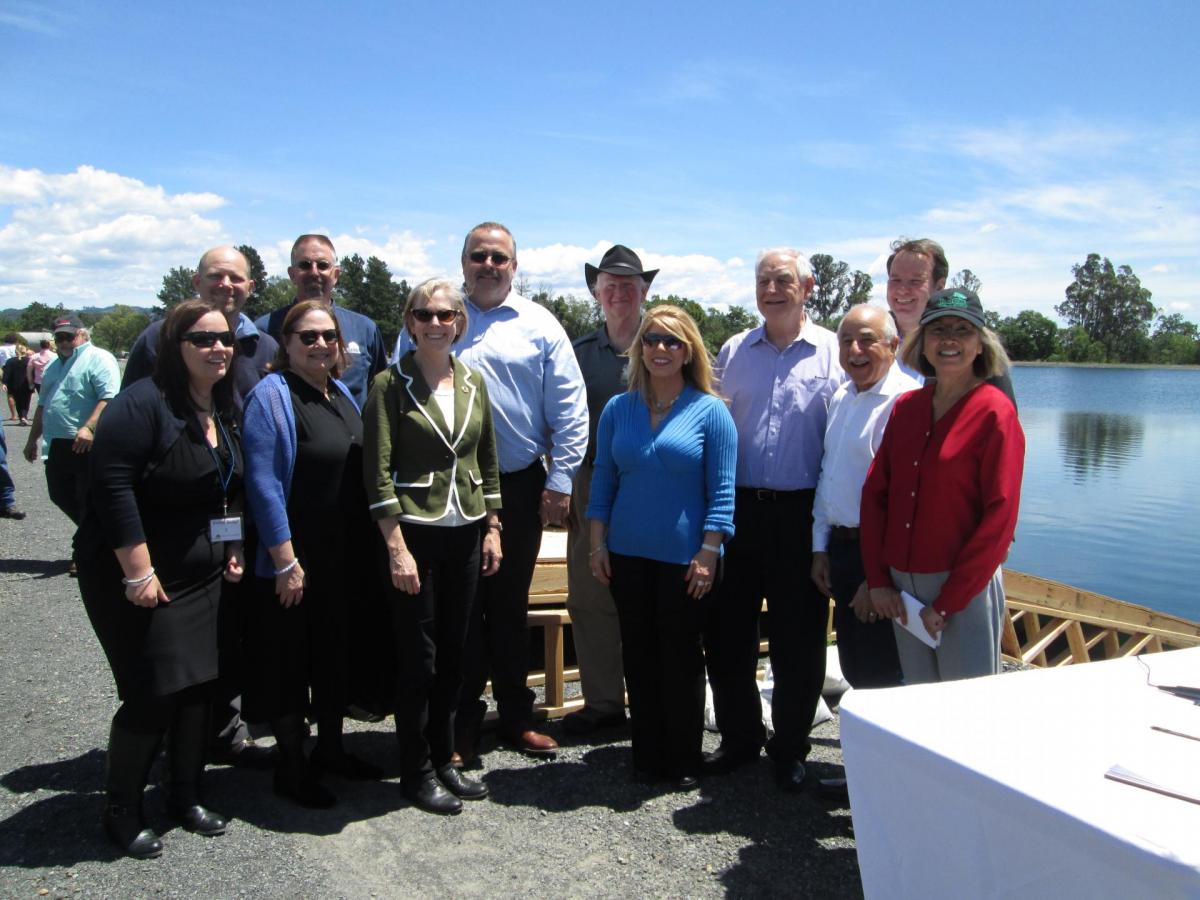 Teamwork makes the 1.8-megawatt floating solar array work
Windsor's solar-array project took many hands to complete. The town also collaborated with the Sonoma County Water Agency, Pacific Gas and Electric Company, North Coast Regional Water Control Board, and the Marin Sonoma Mosquito and Vector Control District to make the project a reality.
Most of the construction took place in the summer of 2019. Overall, construction went smoothly, though, like most projects, it had its share of hiccups. One early challenge was the low levels of recycled water in the pond due to irrigation use. However, town staff were able to divert water to the pond and the contractor extended and floated their loading ramp, thus enabling construction.
Another challenge was COVID-19, which delayed some coordination with equipment manufacturers and utilities on connection requirements, metering specifications, and the net-metering billing process.
"Our advice to other municipalities that may want to install their own floating solar is to plan extra time in their schedules," Broughton said. "Public utilities plan their schedules out months in advance, so if something gets delayed, it may be hard to get back on their schedules in a timely manner."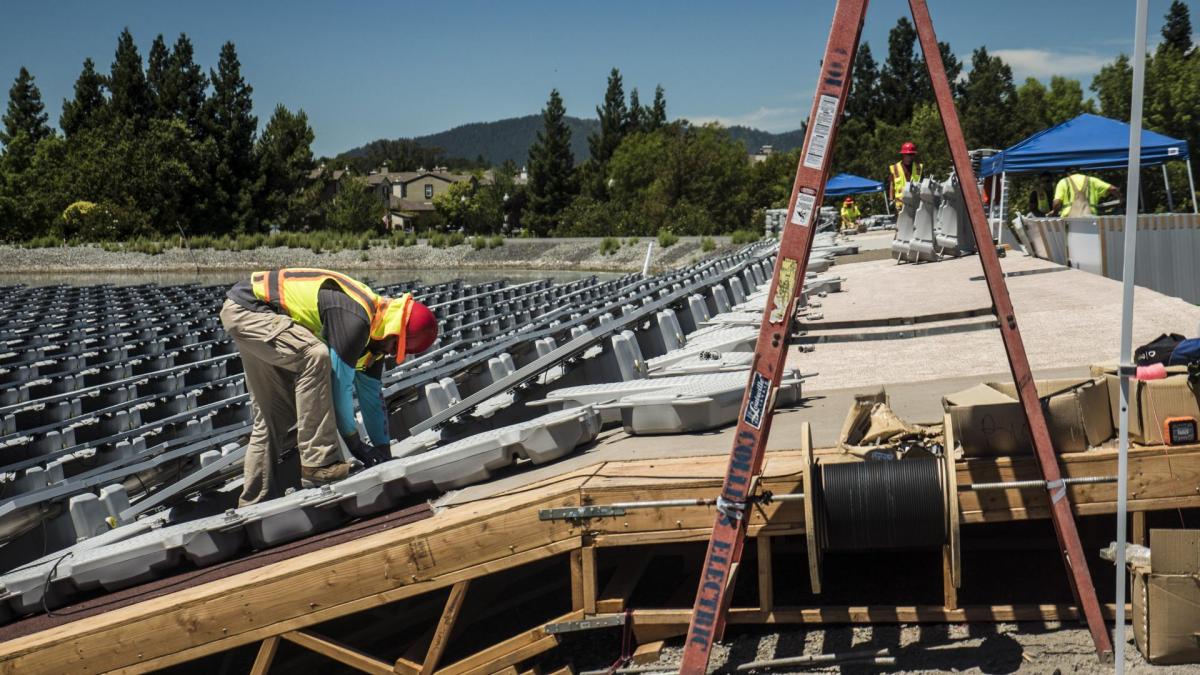 Power purchase agreement pays off
In 2017, the town negotiated a power-purchase license agreement with a solar-energy equipment supplier to design, construct, own, and operate the solar array system for 25 years. This created notable cost savings.
The town had no up-front costs for equipment purchases, operations, or maintenance and retains ownership of the land and existing facilities, including the recycled water pond. As for power, the town purchases solar energy at a fixed price of 10.5¢ per kilowatt-hour, with an annual 2% increase of the fixed price over 25 years.
"One of the best things is that this project has no direct cost to the town," said Windsor Council Member Deb Fudge. "We also have no operation or maintenance costs over the life of this project."
Eva Pauly-Bowles, representative director for Ciel et Terre, agreed. "By entering into a power-purchase license agreement, the town can substantially reduce its energy overhead without any investment," she said. "Floating solar is becoming an attractive energy alternative for municipalities seeking to reduce operating costs and preserve valuable land for other developments."
The floating solar array went online with much fanfare in October 2020. From that point to the end of February 2022, the array generated 3.28 million kilowatt-hours of energy — about $345,292 worth of electricity. Overall savings to the town each year is estimated to be about $175,000.
Rhea R. Borja is the public information officer for the town of Windsor. She can be reached at (707) 838-5322 or rborja@townofwindsor.com. Watch this brief video about the array.