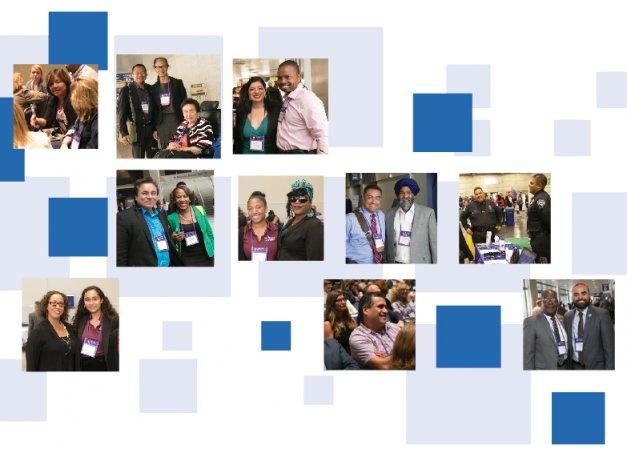 How Diversity Makes the League Stronger
Webster's Collegiate Dictionary, 11th edition, defines "diversity" as "the inclusion of different types of people (such as people of different races or cultures) in a group or organization."
California's population is remarkably diverse. Its communities comprise a rich tapestry of many different cultures and ethnicities and contribute to the business enterprises and the arts that make the state unique. Home to 39 million people, California is also the most populous state in the nation; its population is almost one and a half times that of second-place Texas (28 million). And the Golden State's demographic profile has changed significantly in the past 45 years. As the chart "California's Changing Demographics" (below) shows, no single ethnic group or race constitutes a majority: 39 percent of state residents are Latino, 38 percent are white, 14 percent are Asian-American or Pacific Islander, 6 percent are African-American, 3 percent are multiracial and less than 1 percent are Native American, according to the 2015 American Community Survey.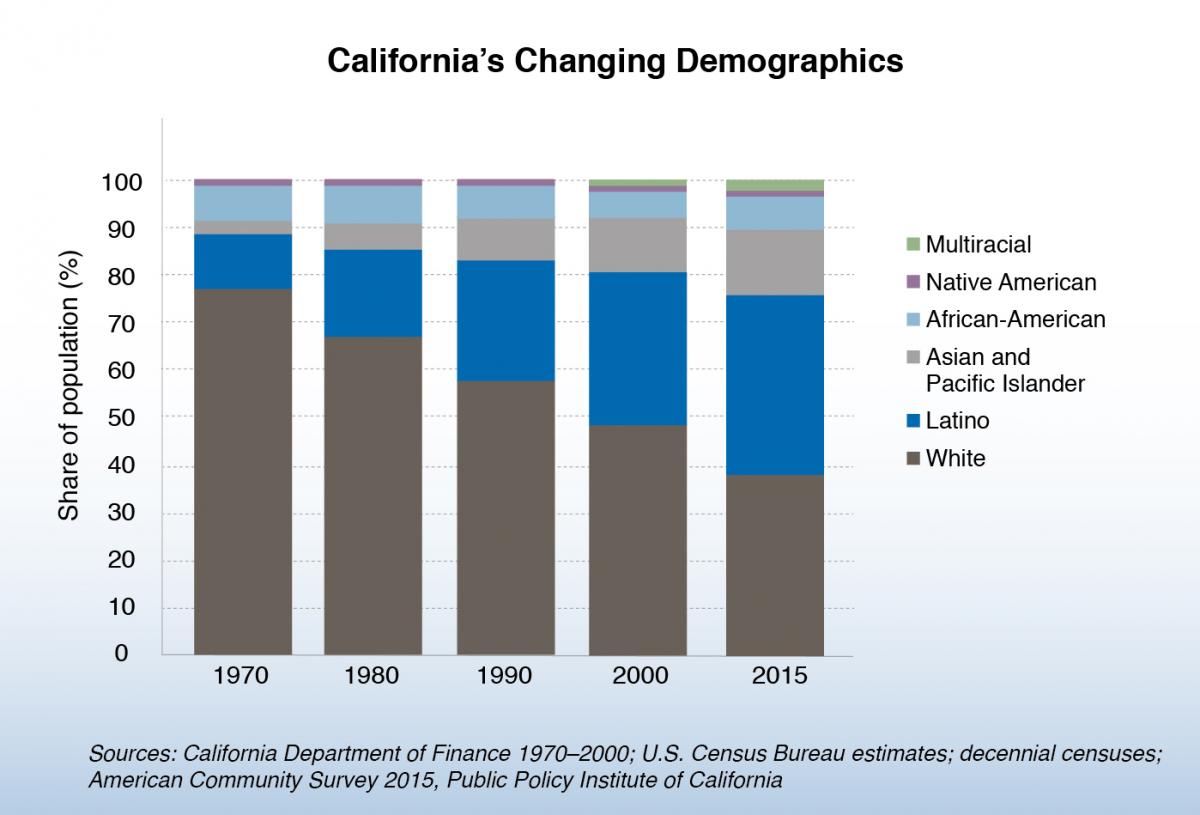 And in addition to our state's diversity, 27 percent of Californians (more than 10 million) are immigrants — a higher proportion than in any other state (New York is second with 23 percent) according to 2015 estimates.
What Does This Mean for City Officials?
Understanding how our state's population is evolving helps us better understand our own communities and how we can serve and address the needs of our diverse residents. Building public trust and confidence in government, and particularly in local government, involves establishing relationships and rapport with the communities that comprise our cities. To do this requires time, commitment and consistent outreach on the part of local elected officials and city staff.
It is particularly important that our city, county and state governmental bodies should reflect the demographic composition of their constituent communities as part of a representative democracy.
In the 110-year history of my city, South San Francisco, only three women have been elected to the city council and only five persons of color have served as council members. In 2017–18, South San Francisco made history in San Mateo County with the first Indian-American serving as mayor. In 2018, for the first time, two Asian-American women will serve as mayor and vice mayor. Today, 37 of 75 board and commission members in my city are women and/or persons of color. Our city council works diligently to ensure that appointees represent the city's diversity.
Fostering a Culture of Inclusion
A proactive approach to diversity can and should make all residents feel welcome to participate in the governmental process and help to create a spirit of civic involvement. For example, the City of South Pasadena adopted a resolution on Dec. 21, 2016, affirming the city's commitment to diversity. The resolution includes the following language:
Diversity of backgrounds, perspectives and experiences of the American people — native and immigrant — makes our nation, communities, [and] bonds between neighbors and economies richer and stronger.
… The City of South Pasadena values all of its residents and recognizes the rights of individuals to live their lives with dignity, free of discrimination and intimidation because of their race, color, religion, national origin, sex, gender identity, immigration status, disability, housing status, economic status or other social status.
… Fostering a relationship of trust, respect and open communication between city officials and residents is essential to the city's mission of delivering efficient public services in partnership with our community which ensures public safety, a prosperous economic environment, opportunities for our youth and a high quality of life for all residents.
The City of South Pasadena declares it the public policy of the city to be inclusive and to respect the inherent worth of every person, without regard to a person's race, color, religion, national origin, sex, gender identity, immigration status, disability, housing status, economic status, political affiliation or cultural practices.
It's worth noting that diversity also includes gender. For example, the City of Los Angeles has launched a series of Diversity in Technology initiatives. As part of this effort, Mayor Eric Garcetti and the LA Technology Agency are collaborating on a program to improve gender diversity among the city's technology staff. Initiatives include outreach to local universities and support for civic hackathons and female internships. As a result, the city's programming staff is now 42 percent women. The initiative also encourages qualified female contractors to compete for city contracts and supports women-owned startups through The Elevate Project of Los Angeles.
Putting it most succinctly, the City of Lancaster uses this tagline in its quarterly newsletter as part of a regular column that addresses diversity issues: "Embrace DIVERSITY. It's our strength."
Encouraging Women and Persons of Color to Participate in the League
In much the same way that diversity enriches California's culture and economy and contributes to our collective strengths, it also plays a critically important role in the League.
One source of the League's strength derives from its numbers, with thousands of locally elected and appointed officials advocating for their cities at the state Capitol and beyond. Another source of strength comes from our diversity and that of our communities. Embracing diverse perspectives gives us additional insight into the challenges facing our cities and increases the number and range of potential solutions we can explore together. Our organization is stronger when it draws upon its entire membership.
During my term as president, my priorities include ensuring that the League is inclusive. I encourage women and persons of color to seek appointments to our policy committees and board of directors and to participate in the League's divisions and professional departments.
To remain a strong and viable association, it is important that our committees and board reflect the breadth and diversity of our membership. I'm reaching out to the League's diversity caucuses to make sure that our members are aware of the policy-making process and how to participate in it (to learn how to join a policy committee, visit www.cacities.org/joinpolicy).
I urge you to talk to your colleagues who are women and persons of color about increasing their involvement in the League and its policy-making activities. Diversity and inclusion are of paramount importance to the success of any organization. Let's work together to make our League inclusive and the best it can be.
---
About the League's Diversity Caucuses
The League's diversity groups, in chronological order of their formation, are the:
• Latino Caucus;
• African-American Caucus;
• Asian-Pacific Islander Caucus;
• Gay, Lesbian, Bisexual and Transgender Local Officials Caucus; and
• Women's Caucus.

These diversity caucuses help to engage members, build networks and develop strong city leaders. While each caucus has a unique membership and history, the caucuses share a common mission of bringing diverse voices and perspectives that support and enrich the League's work.

The caucuses' contributions strengthen the League and help ensure that it represents the diversity of California cities and their residents. To learn more, read the online version of this article at www.westerncity.com.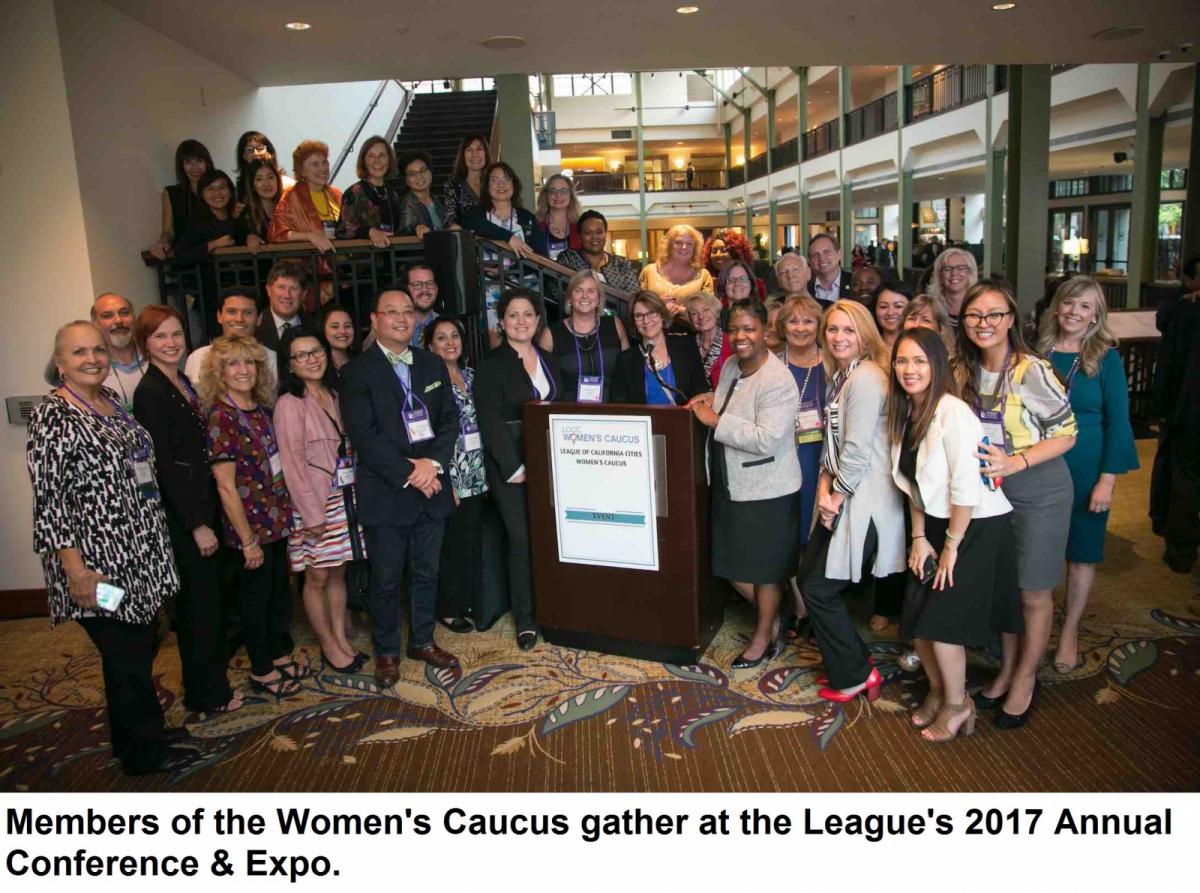 ---
Related Resources
City of South Pasadena Resolution of Diversity
---
Photo credit: Courtesy of the League of California Cities and Jeremy Sykes.
---
This article appears in the November 2017 issue of Western City
Did you like what you read here? Subscribe to Western City
---