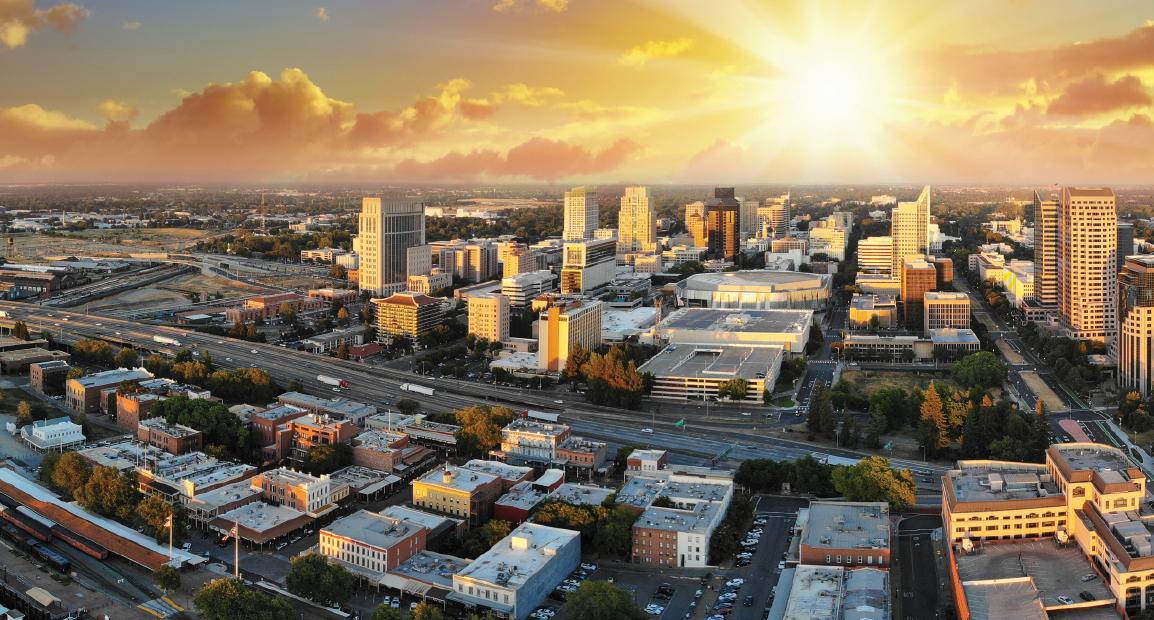 A New Day: How the League Has Adapted to COVID-19
.
It feels like it's been years since March 19 when Gov. Gavin Newsom ordered Californians — with the exception of essential workers — to stay at home to slow the spread of COVID-19.
Businesses, schools, retailers, parks, hair salons, and many activities that are central to our quality of life shut down in response to the pandemic. COVID-19 and the shutdown orders that followed required all of us to be nimble and to adapt to a new work environment. Out of our own abundance of caution, we closed the League's offices and shifted to a telework environment two days before the governor's order. Like many of your cities, this shift meant quickly adapting the way we delivered services and the services we delivered.
Changes in technology happened immediately. In the Merriam-Webster dictionary, the definition of "zoom" is "to move with a loud low hum or buzz" and "to go speedily." Now, Zoom refers to the integral technology we use to connect virtually (and speedily) with colleagues, citizens, legislators, and loved ones. With laptops deployed and Zoom accounts in place, the League staff was telework ready.
Even though we shifted to a remote working environment, the League's priorities remained focused on our mission: expanding local control by serving our members through education and advocacy and providing timely and relevant resources to our members to help them make informed decisions for their communities.
As modified stay-at-home orders remain in effect, and we continue to adhere to federal, state, and local public health guidelines, it has become clear that life will look much different in the coming weeks and months than it did before the pandemic. Cities are constantly evolving to adapt to this new environment and the League continues to be nimble and poised to adapt to meet the needs of city officials. Together, we are navigating the response to and recovery from this crisis, and together, we will reimagine how to serve our members so they can serve the evolving needs of their residents.
Response
Like your cities, when the League closed its offices in March and began teleworking, we never lost sight of our mission. Across the organization, the League leveraged our existing communication channels to disseminate key information to our members and created new educational opportunities for members. We shifted priorities to figure out the most efficient and effective way to rapidly get information into city leaders' hands, so they could support and protect their residents. A COVID-19 Resources for Cities webpage, which is updated daily and curated for city leaders, was launched. This resource page serves as a clearinghouse of news, guidance, and key information, such as funding opportunities, details on the governor's executive orders, best practices for rethinking economic development during the pandemic, and information about the fiscal impact on California cities. As the pandemic has progressed, this webpage remains a key resource for local leaders working to protect their communities and maintain operations. City officials also received information through daily electronic communications and conference calls with the California Governor's Office of Emergency Services.
In addition to providing breaking news related to the pandemic, the League also launched a COVID-19 webinar series and department roundtables to help local leaders learn from experts and from each other during this unprecedented time. The member participation in these offerings was tremendous. To learn more about the League's shift to virtual engagement and educational offerings, check out the article about the reimagined 2020 Annual Conference & Expo on page 8.
Recovery
While the League shifted to accommodate the information and educational needs of cities, we also continued our strong advocacy on behalf of cities. After a League of California Cities data analysis showed the devastating impact of COVID-19 on city budgets and local services, the League moved quickly to launch the "Support Local Recovery. Vibrant Cities. Strong Economies." campaign to ensure cities had the resources to maintain services to residents and businesses during and after the pandemic and to jump-start local recovery. The support for our campaign coalition has been remarkable. More than 330 local government, business, and labor organizations joined the League in fighting for state and federal assistance to help us recover from a pandemic that no one saw coming. Since the end of April and the launch of the coalition, more than 812 media stories have published raising awareness of local budget shortfalls and impacts on local services.
The coalition's efforts have been successful in getting the state to allocate a portion of its federal CARES Act Coronavirus Relief Fund dollars to every city in California with a population under 500,000 that had not received a direct allocation from the federal government. However, with the pandemic's impacts on our local economies still being felt in cities, more assistance from the state and federal governments is needed, and that's why our campaign for state and federal assistance continues. To join the coalition, visit www.SupportLocalRecovery.org.
Reimagining
With the gradual reopening of our communities while staying in compliance with state and local health orders, cities are adapting to the new environment with creative and flexible approaches to accommodate greater outdoor options for dining, recreation, and personal services.
Just like our cities, what I know for sure is that reopening the League office will also mean considering creative and flexible approaches to accommodate the needs of our workforce and our members and applying best practices learned from working in an environment where a majority of our staff are teleworking.
We know that one size does not fit all when it comes to cities. The same is true for the workplace. With the health and safety of our team a top priority, we'll be considering new approaches to work that will allow us to foster the kind of collaborative environment that is integral to the programs and services we provide to our members every day.
COVID-19 has undoubtedly presented a number of challenges. It has also created opportunities for organizations like the League to reimagine the programs and services we deliver to our members and the ways we deliver them. From new webinar series and virtual conferences to teleworking and Zoom, they're all a part of how we serve our members today, and there's no turning back. All of these will have a role in our future.
This pandemic has been devastating and is changing our way of life. However, it's also served as an important reminder of the role of cities and city leaders and how well #LocalWorks. Since the #LocalWorks section of Western City launched in April, we've seen countless examples of how cities have risen to the challenge during COVID-19 and how essential cities are to our state and nation.
While the road ahead will have challenges, we know city leaders will adapt and take the actions necessary to serve and protect their residents. The League will adapt with you and find meaningful ways to support California cities and the city officials who lead them.
---
Related Resources
Building Just and Equitable Communities
California Cities Demonstrate Resiliency and Leadership During COVID-19 Crisis
---
Photo Credit: Cassiohabib/Shutterstock.com (City); Blackred (sunrise)