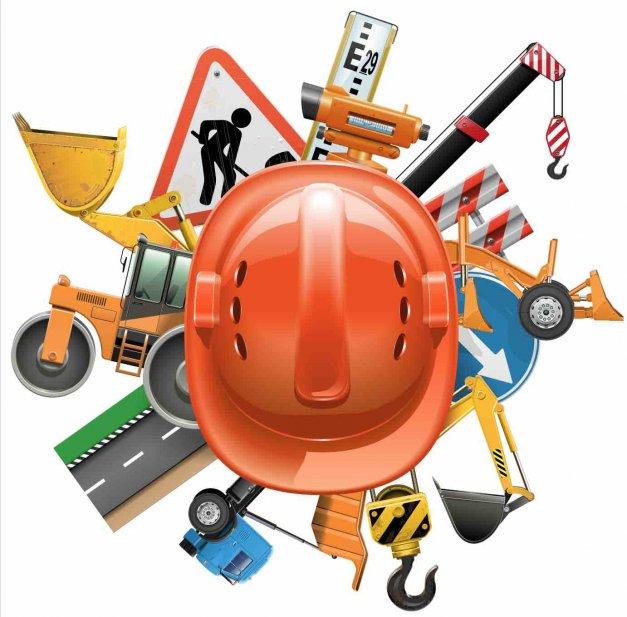 Transportation Funding Will Begin Flowing Soon
Expect to see new funding in early 2018.
Gov. Jerry Brown signed SB 1 (Beall, Chapter 5, Statutes of 2017), the Road Repair and Accountability Act of 2017, into law on April 28. SB 1 generates $5.2 billion annually for California's road maintenance and rehabilitation, with $650 million annually going directly to city streets and roads. The governor also signed ACA 5 (Frazier), which ensures that the revenues are spent directly on transportation projects; it will be placed on the June 2018 ballot.
League President and Lodi City Council Member JoAnne Mounce said, "California cities appreciate the governor's signature on SB 1. Now our cities can get to work repairing and maintaining our streets and roads. These investments will also reduce car repair bills for our residents and improve our transportation system that is so vital to our economy and quality of life."
The League greatly appreciates the leadership of Gov. Jerry Brown, Senate President pro Tem Kevin de León (D-Los Angeles) and Assembly Speaker Anthony Rendon (D-Lakewood); the hard work of Sen. Jim Beall (D-San Jose) and Assembly Member Jim Frazier (D-Oakley), chairs of their respective houses' transportation committees; and the contributions of our partner organizations from the Fix Our Roads Coalition that championed the need to provide new investment in the transportation system.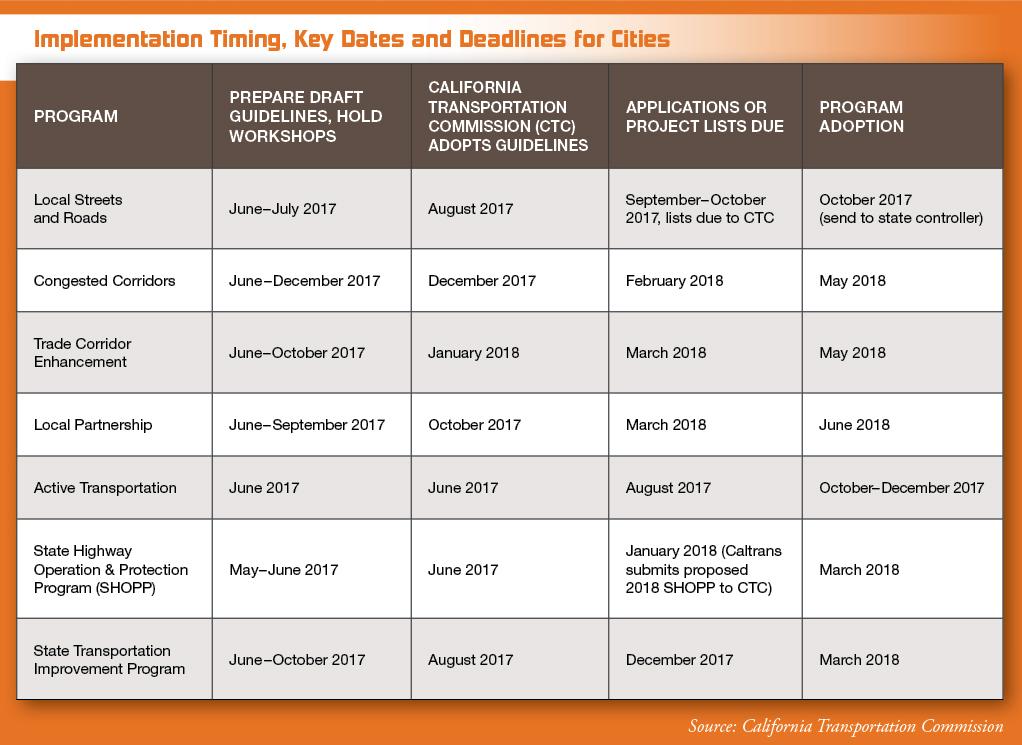 League Works With California Transportation Commission on Guidelines
The California Transportation Commission (CTC) asked the League to help it develop guidelines that will implement SB 1 transportation reporting requirements. The CTC hosted a kick-off meeting in early June in Sacramento to address implementation and sent the League draft guidelines for SB 1 reporting requirements. A small working group of public works directors from the League provided feedback to the CTC on these guidelines.
On June 30, the CTC released draft guidelines for public feedback and in October will release the final guidelines on SB 1 reporting requirements for cities and counties.
Timing of New Fees and Taxes
The $5.2 billion generated annually through the Road Repair and Accountability Act of 2017 comprises these funding sources and effective dates:
$1.8 billion from a 12-cent increase to the gasoline excise tax (Nov. 1, 2017);
$1.6 billion from a $25-$175 transportation improvement fee (Jan. 1, 2018);
$1.1 billion from a 17.3-cent reset of the price-based gas tax (July 1, 2019);
$730 million from a 20-cent increase to the diesel excise tax (Nov. 1, 2017);
$704 million for a one-time loan repayment (2017–2020);
$300 million from a 4 percent addition to the diesel sales tax (Nov. 1, 2017); and
$20 million from a $100 zero-emission vehicle registration fee (July 1, 2020).
Prepare Now
Cities should take note of the key deadline dates for submitting applications and project lists to the CTC and begin preparing now.
---
Annual Conference Session Focuses on SB 1 Funding Fix for California's Roads
SB 1 represents landmark infrastructure investment in transportation unseen in a generation. Over the next 10 years, the package will generate $52 billion to repair the state and local transportation network and invest in key transportation programs such as transit, trade corridors and active transportation. As the money starts to roll out, cities will see significant increases for their local transportation budgets. Come hear from the state's key experts on what SB 1 means for your city and what key provisions to keep in mind to ensure your city's compliance with the new law. This session is scheduled for Wednesday, Sept. 13, from 3:45 to 5:00 p.m.
---
Related Resources
League Hot Issues Page for Transportation Funding
California Transportation Commission SB 1 Implementation Schedule
---
This article appears in the August 2017 issue of Western City
Did you like what you read here? Subscribe to Western City
---