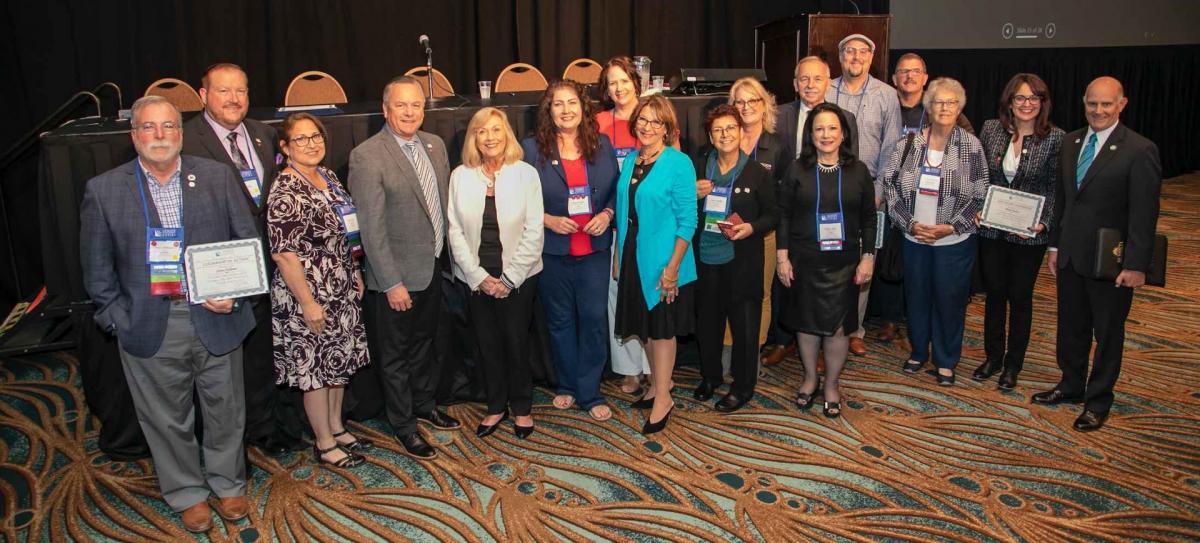 Torch Program Recognizes Leadership in Action and Continued Education
Meghan McKelvey is manager of Department and Membership Services for the League and can be reached at mmckelvey@cacities.org.
---
Running a city successfully takes a lot of time, commitment and continuous effort to remain knowledgeable and up to date on current and potential local issues. The League's Mayors and Council Members' Department honors the hard work and commitment of its peers through the Leadership Academy Torch Program.
This voluntary program recognizes elected officials for continuing their education to enhance their knowledge and skills as well as undertaking leadership roles to better serve the public. The recognition reflects leadership in action and is a personal assessment tool to evaluate one's development as a public official. The program comprises three levels, each with its own requirements and leadership milestones.
Program Builds Skills and Networks
"It really is an honor to have earned the Level III torch," said Pippin Dew, vice mayor for the City of Vallejo. "It is a privilege for us to be able to serve our communities by being leaders at the League level and building those partnerships, collaborations and networks across the state with so many individuals who are dedicated to the betterment of all of our communities. Our passion to improve each of our own communities and then share with and learn from each other is nothing short of amazing! Being a part of the League and involved in the League's leadership has been the most rewarding experience I have had as an elected official."
Each year, Torch Program participants who have completed a level are recognized at the Mayors and Council Members' Department Business Meeting, held during the League's annual conference.
"As an elected official, it is vitally important to have a grasp of the many issues that you deal with in order to represent the people in your community," said Kelly Seyarto, council member for the City of Murrieta and current Mayors and Council Members' Department president. "The Torch Program helps facilitate involvement in the constant learning process. It encourages public officials to develop their leadership skills and take advantage of what the League has to offer."
Program Requirements
Since the program launched in 2003, hundreds of city officials have participated by meeting a series of requirements associated with three levels of achievement. Torch Program participants have numerous opportunities every year to complete the requirements. The program encourages leadership within the League through service on League policy committees, task forces and board of directors and in regional divisions and diversity caucuses. In addition, participants can meet some of the requirements by being a member of the California Association of Councils of Government (CALCOG), their local council of governments, Local Agency Formation Commission (LAFCO) and associated committees as well as county, regional and state commissions, agencies or boards.
To reach Level I – Leadership, the elected official must attend the New Mayors and Council Members' Academy or have three years as an elected official and attend one League conference and one League regional division meeting.
Moving to Level II – Advanced Leadership requires completion of Level I, three years' service as an elected official, participation in one of several specified events, attendance at and completion of three additional League conferences and participation in at least two leadership activities.
To reach Level III – Leadership in Action, the participant must have completed Levels I and II, served five years as an elected official, participated in one of several specified events, attended and completed three additional League conferences and participated in at least five leadership activities.
Graduates Recognized at Annual Conference
At the League of California Cities 2019 Annual Conference & Expo, the Mayors and Council Members' Department recognized the achievements and leadership of 20 elected city officials who participated in the Torch Program during the past year and completed a level. Each graduate received a lapel pin and a certificate.
Congratulations to these 2019 Torch Program graduates.
Level II – Advanced Leadership
Sean Ashton, council member, Downey
Juan Garza, mayor pro tem, Bellflower
Blanca Gomez, council member, Victorville
Ronn Hall, council member, Santee
Jesse Loren, council member, Winters
Blanca Pacheco, mayor pro tem, Downey
Level III – Leadership in Action
Members with an asterisk were also recognized for their Level II accomplishments.
Newell Arnerich, council member, Danville
Melanie Bagby, mayor, Cloverdale
Pippin Dew, vice mayor, Vallejo
Marita Dorenbecher, council member, Yountville*
John F. Dunbar, mayor, Yountville*
Dominic Farinha, council member, Patterson*
Jan Harnik, council member, Palm Desert*
Steven Hofbauer, mayor, Palmdale*
Linda Krupa, council member, Hemet*
Sara Lamnin, council member, Hayward
Marjorie Mohler, council member, Yountville*
Jerry Pentin, council member, Pleasanton*
Dana Reed, council member, Indian Wells*
Dan Wright, vice mayor, Stockton*
For More Information
A list of mayors and council members recognized by the program since 2003 is available at www.cacities.org/TorchProgram. This web page also includes details on the Torch Program requirements and the application, which participants submit upon completing a level (this can occur at any time during the year). Mayors and council members can apply to the program at any time, and graduates are recognized at the Mayors and Council Members' Executive Forum and the League's Annual Conference & Expo. ­
---
Related Resources
Beyond Ethics: Establishing a Code of Conduct to Guide Your Council
When Wildfires Strike: What to Expect and How to Prepare
The Sixth Council Member: Social Media
---
Photo Credit: Courtesy of the League of California Cities