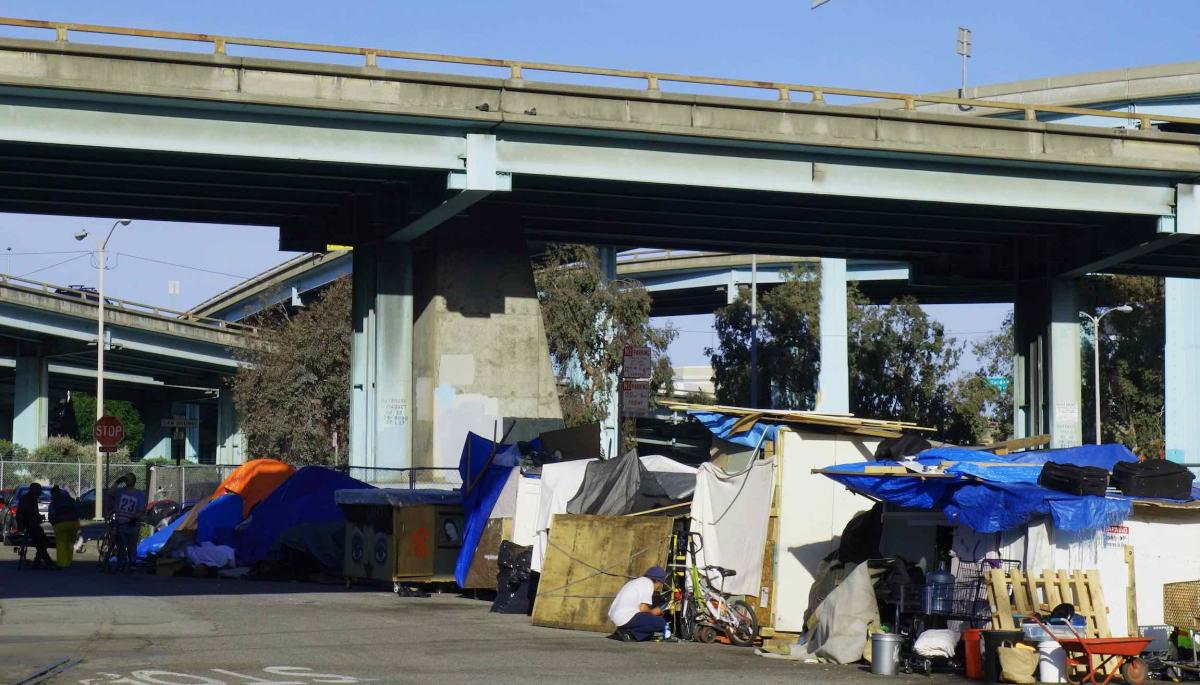 Fighting Homelessness: Effective Strategies
The numbers are staggering. According to the 2017 count conducted by the U.S. Department of Housing and Urban Development (HUD), homelessness has surged statewide with nearly 135,000 homeless people in the Golden State. California reported the largest increase in overall homelessness in 2017 with 16,136 additional people experiencing homelessness; New York was second with an increase of 3,151. The actual number is likely higher and continues to increase here while it is declining in other states — 30 states and Washington, D.C., reported decreases in overall homelessness from 2016–17.
On the single night in January 2017 when the HUD count was taken, half of all people experiencing homelessness were in one of five states: California, New York, Florida, Texas and Washington. California also had one of the top two highest rates of homelessness: 34 people per 10,000, compared with the national average of 17 people per 10,000. More than half of all people experiencing homelessness lived in unsheltered locations in just four states: California, Nevada, Oregon and Hawaii — and nearly half of those people are Californians. Unsheltered means they are living on the streets, under freeways and tucked into grassy embankments and parks in cities throughout the state.
Homelessness presents a challenge not only in urban jurisdictions — it is also increasing in California's rural communities, its heavily forested areas and the suburbs.
The Demographics of Homelessness
The homeless are individuals, single parents and families with children, young adults and children without a parent or guardian, and veterans. They include the chronically homeless, which means they are either an unaccompanied homeless individual with a disabling condition who has been continuously homeless for a year or more or an unaccompanied individual with a disabling condition who has had at least four episodes of homelessness in the past three years. They are male, female, all races, young and old. They are parents, siblings, daughters and sons.
Individuals and families are homeless for reasons as diverse as the state. Some are struggling with substance abuse disorders and mental illness. Domestic violence, lack of quality affordable housing and employment opportunities and rising health-care costs have also pushed individuals into homelessness. Natural disasters, such as wildfires, floods and earthquakes, displace people and contribute to homelessness. California is home to 21 of the 30 most expensive rental markets in the country and continues to fall short of the housing stock needed to meet the demand of low-income households. The state's 2.2 million extremely low-income and very low-income renter households compete for 664,000 affordable rental units.
Cuts in federal funding to support local housing initiatives and the effects of the Great Recession have only exacerbated the problem. But whatever the reason, as the problem grows, so does the pressure on cities and counties to allocate a greater share of local resources to address the crisis.
Recognizing the need to examine the drivers of homelessness in our communities and to explore collaborative approaches to address the challenge, the League and the California State Association of Counties (CSAC) formed the Joint Homelessness Task Force in 2016. Task force members, which comprised city and county local officials and staff, met over the course of a year to better understand homelessness in California and to identify best and promising new practices that cities and counties are using to address it. The Homelessness Task Force Report, prepared by the Institute for Local Government and released in March 2018, provides practical tools for cities and counties to use in dealing with homelessness in their communities, including how to:
Create a plan and implementation strategies;
Identify resources and funding; and
Build community support to confront the challenges associated with homelessness.
The report also outlines a comprehensive list of federal, state and local funding sources that cities can access for homelessness response, programs and services. It can be found at www.ca-ilg.org/homelessness.
In addition, the report showcases existing and emerging approaches that are having a positive impact in California communities now, including the following examples.
"Bridge to Housing" Offers Services and Rapid Rehousing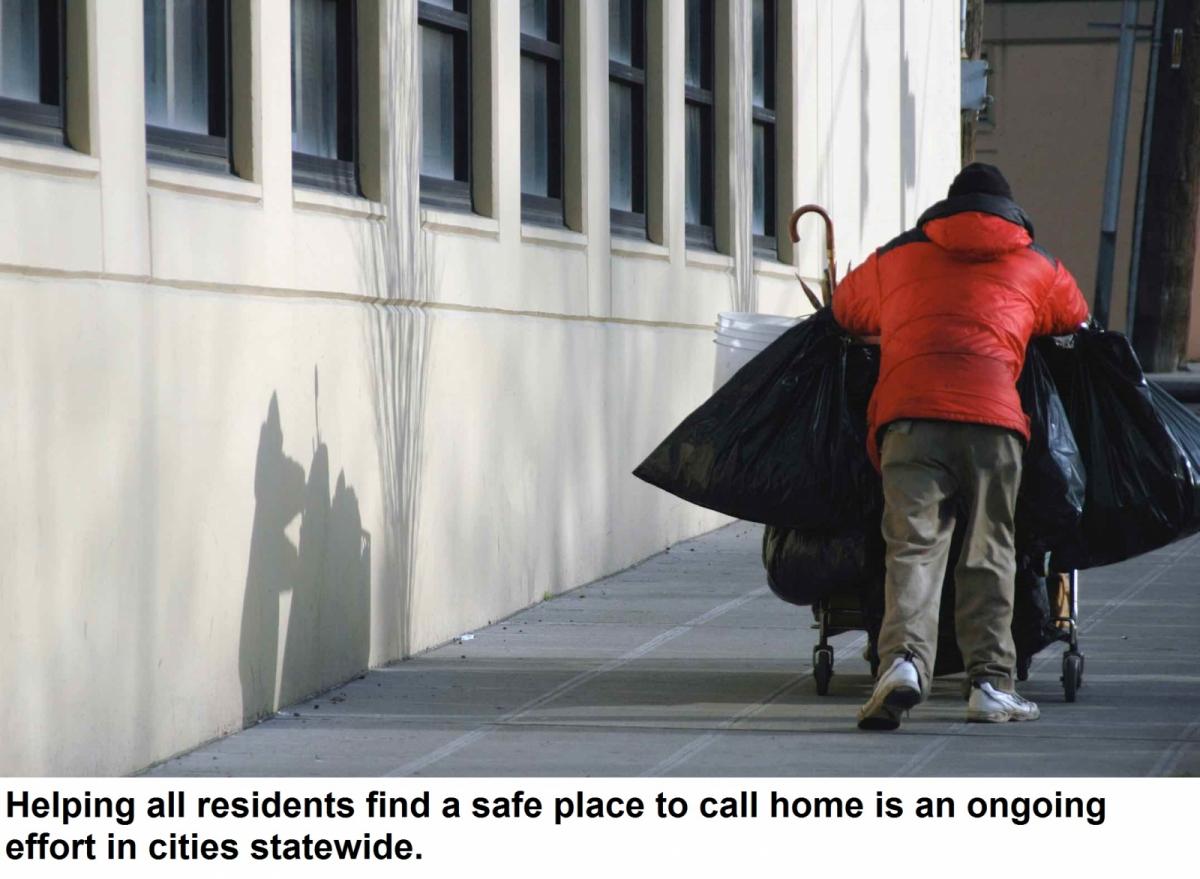 Yolo County, the City of West Sacramento and Yolo County Housing Authority collaborated on a pilot project in 2014 to relocate an entire homeless encampment from a West Sacramento riverbank. The project relocated the encampment to a single motel where participants were offered temporary housing, case management and services.
Spearheaded by the West Sacramento Police Department, the pilot project featured a highly collaborative and comprehensive planning process with multiple stakeholders. The planning group, composed of public, private and nonprofit entities, met over the course of two months to develop the best strategy for relocating the encampment. After the planning process was completed, the pilot included three assessments to ascertain the needs and challenges of the homeless population living in the encampment. In addition, coordinated outreach was conducted to build relationships with the homeless population.
The program placed an emphasis on providing frequent and consistent on-site services. Through access to four months of temporary housing and intensive case management, participants stabilized their lives, addressed health issues and secured housing vouchers. Other on-site services included daily lunches, haircuts, mental health services and harm reduction classes. Of the 53 participants who completed the program, 42 remained engaged in services with case managers a year after exiting the program. Furthermore, 68 percent of participants were able to secure permanent housing.
The overall cost of the project was $152,238 — $6,000 less than expected. The City of West Sacramento and Yolo County provided most of the funding, and donations covered the balance.
"Housing Our Heroes" Provides Assistance for Veterans
In 2016, the City of San Diego and the San Diego Housing Commission (SDHC) partnered to launch the Housing Our Heroes initiative with the goal of getting 1,000 homeless veterans off the streets and into shelters or housing. This initiative is part of Housing First — San Diego, the SDHC's three-year homelessness action plan launched in 2014.
The initiative involves a $12.5 million investment to provide housing opportunities for homeless veterans through coordinated efforts with landlords, financial assistance and supportive services. The program comprises four key components:
Landlord outreach provides incentives to encourage more landlords to rent units to homeless veterans and includes a monetary payment for each unit rented to veterans;
Rapid rehousing assistance offers help to homeless veterans and families who may become homeless due to unforeseen circumstances and includes funds to cover upfront move-in costs and, at times, rental assistance;
SDHC federal Veterans Affairs Supportive Housing (VASH) vouchers help chronically homeless veterans, who have both a disability and an honorable discharge, with rental assistance and supportive health services; and
SDHC federal housing vouchers with supportive services make vouchers available to homeless veterans who are not eligible for the federal VASH vouchers.
Over a two-year period, funds are allocated to these four components to help the City of San Diego provide housing for up to 1,000 homeless military veterans. Since 2016, the initiative has enrolled more than 700 homeless veterans.
A combination of federal resources (VASH vouchers), the City of San Diego General Fund and SDHC provides funding for the initiative.
"Coming Home Anaheim" Offers Practical Support
Since 2014, the City of Anaheim has transitioned 960 people from homelessness, with 92 percent still housed a year later.
Anaheim launched its comprehensive homelessness program, Coming Home Anaheim, in 2013. It focuses on weekly outreach, case management, access to services and stable, lasting housing. Since 2014, Anaheim has contracted with a nonprofit partner, City Net, to lead weekly outreach with the help of over 100 supporting churches and other nonprofits. Known as the Anaheim Homeless Collaborative, the group pools resources to find shelter space, transitional housing and long-term housing and supportive services.
The Anaheim Police Department's Homelessness Outreach Team plays a key role in Coming Home Anaheim and works alongside City Net on weekly outreach. Anaheim police respond to 15,000 homelessness-related calls annually. Where necessary, the city turns to enforcement to address public safety and quality of life concerns, but enforcement is not seen as a solution to homelessness. Rather, it is another tool in a larger, comprehensive program. In some cases, enforcement — or the prospect of it — can be an impetus for someone accepting help and services and transitioning out of homelessness.
Anaheim's annual contract with City Net totals $150,000. In December 2017, the city council allocated an additional $100,000 in funding to address homelessness. Anaheim uses its General Fund to support these efforts. The city also runs the Anaheim Housing Authority, which provides $580,000 annually in rental-assistance vouchers from HUD.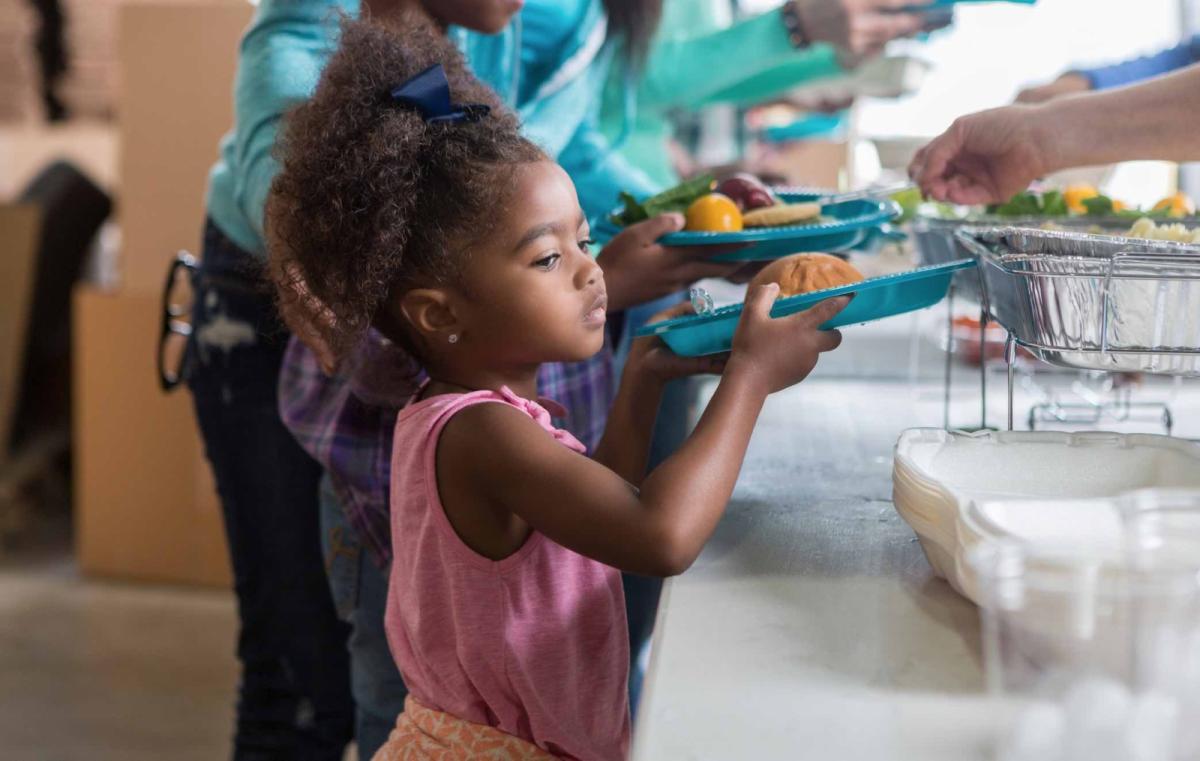 City of Bakersfield Steps Up With Job and Skills Training
In May 2013, the City of Bakersfield partnered with the Bakersfield Homeless Center (BHC) to help solve the problem of highway litter after state budget cuts reduced Caltrans' resources to clean up highways. The partnership developed an innovative freeway litter cleanup program that employed members of the homeless community. The program provided job training and increased employment opportunities for the homeless population.
Through this partnership, BHC clients received paying jobs to clean the freeways. As a result, over 50 homeless individuals were employed at minimum wage, about 250 family members obtained housing and approximately 64 percent paid their rent without needing a subsidy. Local businesses have also begun participating in similar efforts.
This successful program not only addressed the highway litter problem but also decreased the homeless population and created an emerging labor force eager to work. Many of the individuals who participated in the program subsequently secured better paying jobs in the private sector and the city. (This project won a Helen Putnam Award for Excellence and was featured in the December 2016 issue of Western City; read "Bakersfield Creates Jobs for Homeless People").
Caltrans, the Kern Council of Governments and the City of Bakersfield funded the project for a total of $908,000.
Ending This Crisis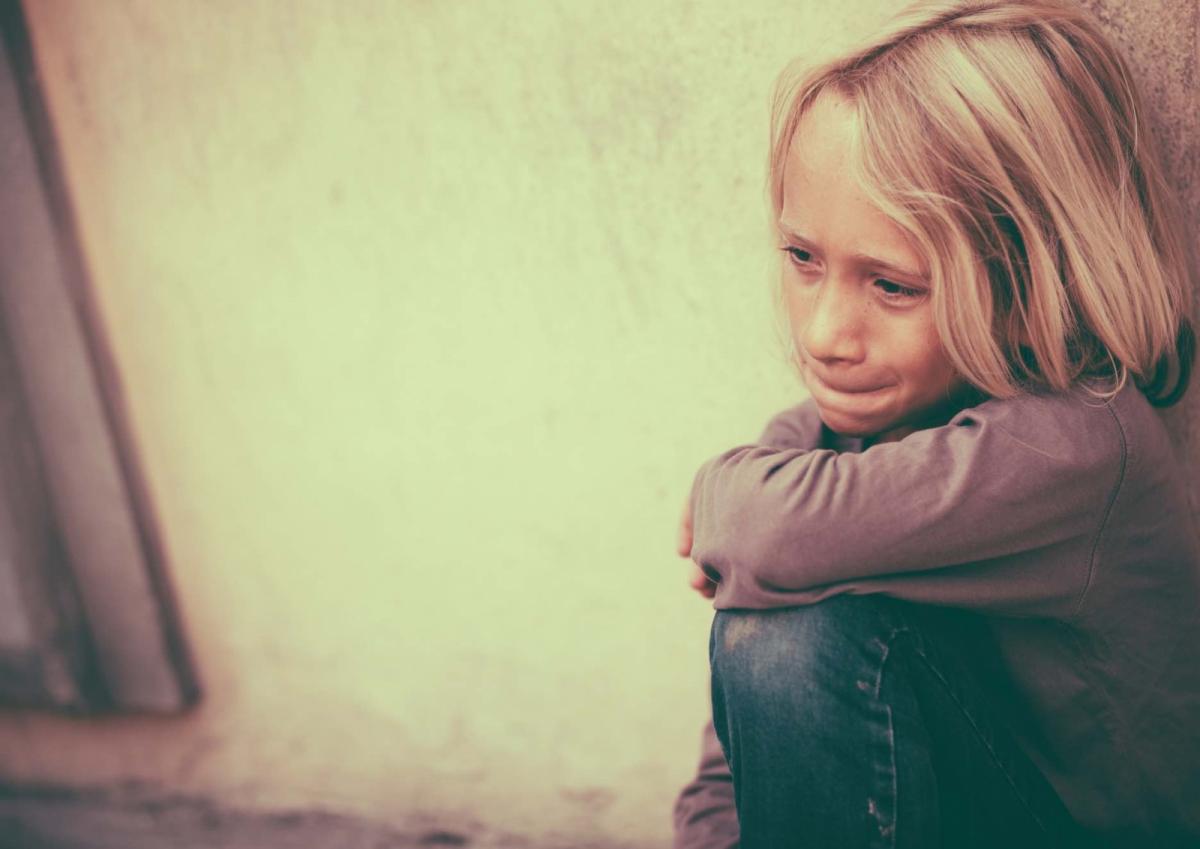 California enjoys a global reputation as a leader in innovation and problem-solving. The communities described here and in the task force report exemplify these traits. While each is leveraging different assets to address homelessness challenges, the willingness to collaborate across jurisdictional and departmental boundaries, engagement of diverse stakeholders, creative blending of financial resources from all levels of government — and committed and proactive leadership — are central themes in the progress they are making to end this crisis in their communities.
Many cities are already engaged in the hard work of helping all of their residents find a safe place to call home. I commend you, and the League supports your efforts. Share your story with us (at www.ca-ilg.org/homelessness) so that others can learn from your experiences. Community by community and collectively, we can make a difference and reverse the trend of homelessness in our state. Let's lead in addressing this challenge.
---
Photo credits: Phil Augustavo (Man pushing cart);Steve
Debenport (Young girl);Kaisersosa67 (Young boy)
---
This article appears in the April 2018 issue of Western City
Did you like what you read here? Subscribe to Western City