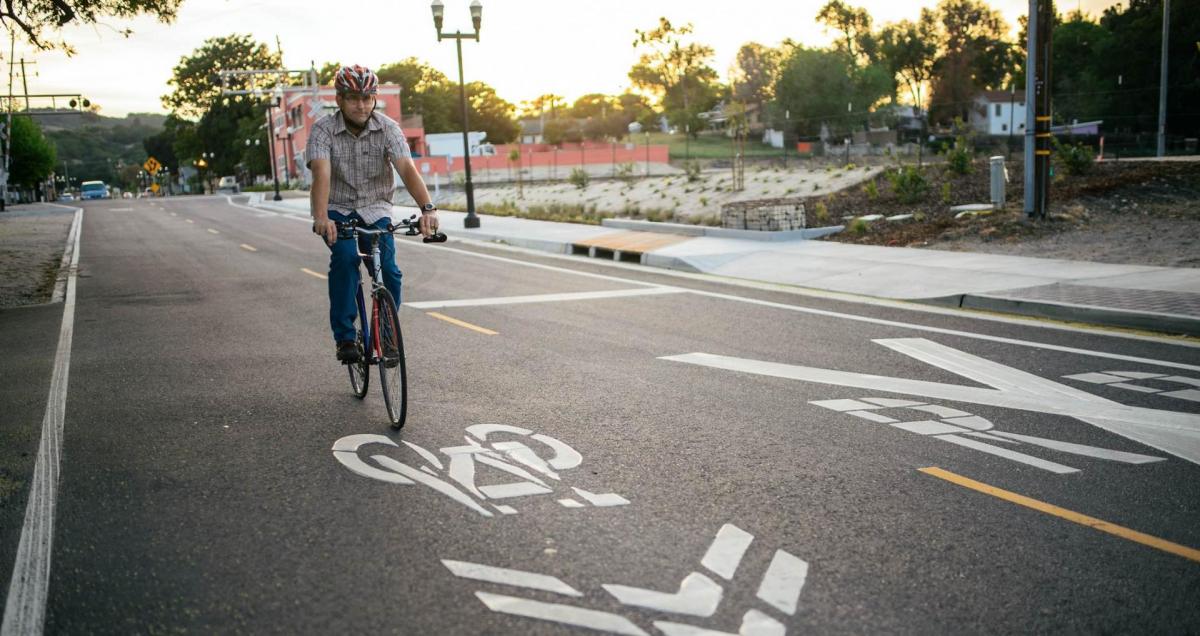 From Vision to Reality: Lessons Learned in Complete Street Implementation
Stephanie Hunting is marketing manager for Cannon and can be reached at StephanieH@CannonCorp.us. Liz Moody is chief marketing officer for Cannon and can be reached at LizM@CannonCorp.us.
---
When then-Gov. Jerry Brown signed legislation creating the Active Transportation Program (ATP) in 2013, communities throughout California took note. This new program was developed to encourage increased use of human-powered transportation methods while focusing on cities' safety, health, and sustainability. Along with this new program, the concept of the complete street or green street started to gain momentum.
Since then, three cities on the Central Coast have incorporated active transportation and complete street design features into their roadway infrastructure upgrades. Though such changes and upgrades may be challenging to implement, they have yielded better designs that also support healthy lifestyles for residents and visitors.

From Flooding to Footpaths
In mid-January 2010, officials for the City of Paso Robles (pop. 31,221) anxiously watched the weather reports. Rain had fallen steadily for the past four days and at any point, an excessive downpour would spell disaster for 21st Street, which was built over Mountain Springs Creek and frequently experienced flooding and sedimentation during larger rainstorms. The January 2010 heavy downpours caused flooding that upended manhole covers and filled 21st Street with dirt and debris as the creek reclaimed its natural flow path.
After the storm subsided, the assessed damage to the pavement, sidewalks, and structures made it apparent that something needed to change. Mayor Steve Martin said, "21st Street is a major connector between Spring Street [the city's main thoroughfare] and the California Mid-State Fairgrounds. Pavement was degraded, sidewalks were sporadic, and the frequent flooding just made a bad street an even greater eyesore."
The city soon initiated a conceptual design that would not only mitigate the flooding issues, but also create a streetscape to encourage pedestrian and bike use while incorporating traffic-calming features. Public outreach to seek community input contributed to a unique design that created a median channel where creek flows could run their natural course while keeping sediment and flooding at bay. This new design also provided wide, walkable sidewalks, dedicated Class II bike lanes, and Americans with Disabilities Act (ADA)-compliant curb ramps and lighted crossings.
The process was not without challenges. Ditas Esperanza is capital projects engineer for the City of Paso Robles. She said, "We had to overcome a fair amount of critical feedback from the public — many didn't understand the value of the unique features such as the median channel or bioretention areas." After the roadway was completed and functioning, many residents better understood the project. "It took residents seeing the bike lanes, lighted crossings, and the median channel diverting water for them to recognize the value of 21st Street," said Esperanza.
As the area's first green, complete street, 21st Street won state and national awards for its innovative approach to diverting stormwater flows, enhanced mobility and multimodal features, and aesthetic improvements.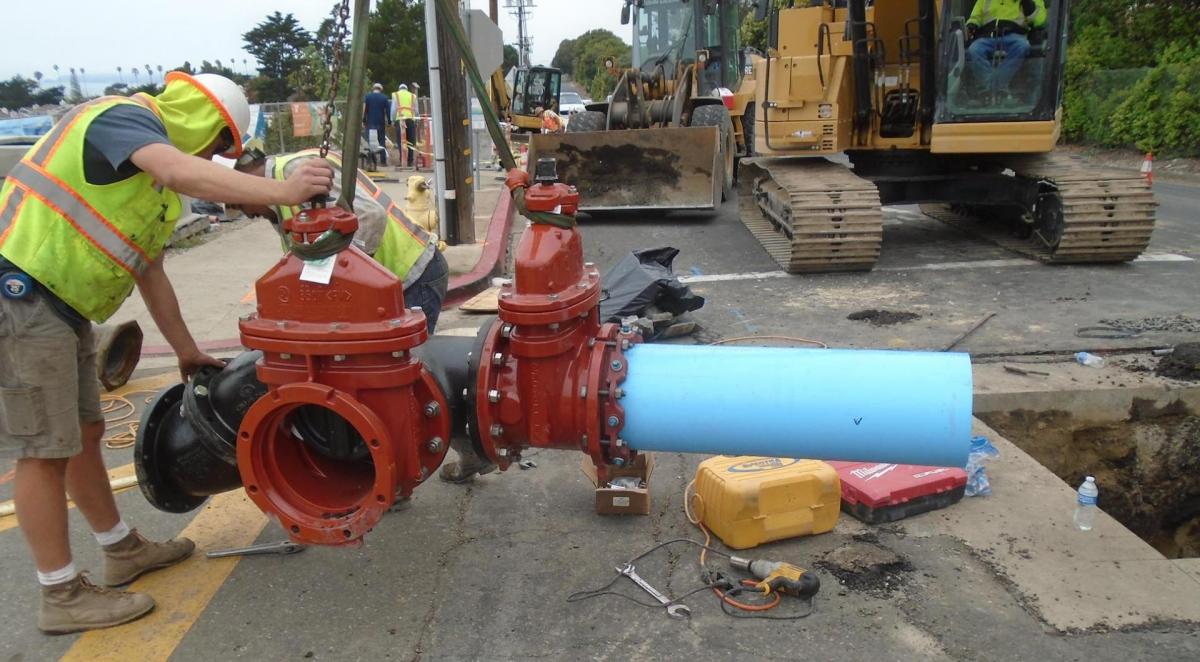 Helping Tourists Interact With the Environment
Shell Beach Road in Pismo Beach (pop. 8,139) is an iconic 18-block thoroughfare, paralleling U.S. Highway 101, that brings heavy tourist traffic through the city. Because the street traverses a mix of residential and commercial zones, stop signs were originally placed on every other block. This slowed traffic, but it also had a negative effect. "You would see cars backed up for miles," said Public Works Director Ben Fine.
Removing the stop signs would increase traffic flows but decrease safety, so the city sought an alternative. To enhance safety and improve livability in the community, Pismo Beach adopted complete streets guidelines to implement accessibility features in future streetscape design.
"We knew that if we were able to get more people out of their cars and actively participating in the environment around them, it would produce a multitude of benefits — people would be healthier and happier, and traffic flows would improve," said Fine.
Using the complete streets guidelines, the city fully reconstructed the roadway, added an 8-foot-wide multi-use pathway to accommodate bicycles and pedestrians, and brought sidewalks into compliance with the ADA. Additional improvements included relocating overhead utilities underground and adding decorative lighting to enhance aesthetics and improve visibility at night.
The project, just now reaching completion, is already benefiting the community. Pismo Beach City Manager Jim Lewis is a proponent of getting people out of their cars and into the environment around them. He said, "It is so exciting to see this project come together and doing exactly what it was designed to do — create a better community by getting people moving and enjoying the beauty of our special city." Even with COVID-19 quarantine restrictions, local restaurants along Shell Beach Road are experiencing increased foot traffic, families are safely riding bikes within the protected pathway, and traffic flows have improved.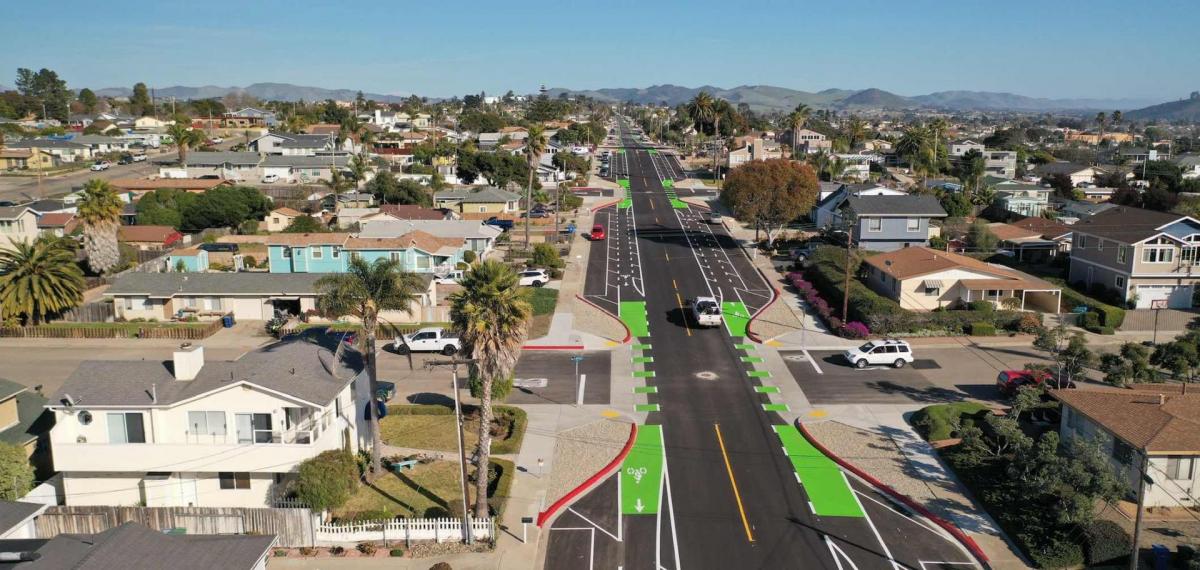 Balancing Convenience With Safety
Newport Avenue in Grover Beach (pop. 13,214) was originally designed in the 1970s as a wide roadway in anticipation of future growth and traffic needs. Though the wide street accommodated easy parking, inadequate funds for maintenance to fix multiple potholes and the lack of bike lanes made it tricky for cyclists and difficult for pedestrians to cross safely.
As part of the Grover Beach Measure K-14 Street Rehabilitation and Repair Program, Newport Avenue was targeted for repair and the addition of some complete street features, including street narrowing, pedestrian bulb-outs, ADA accessibility, sidewalk widening, and protected bike lanes.
Though residents initially opposed the changes, many now see the increased safety features and mobility as a plus. "Wide-open streets appear to be the answer at first, but what most don't fully understand is that wide streets create an environment for faster-moving vehicles and increased safety concerns. Narrowing the streets allows for a slower flow of traffic and a more walkable neighborhood," said Grover Beach Mayor Jeff Lee.
---
Don't Miss This Session at the Annual Conference
Interested in learning more? This topic will be covered during the League of California Cities 2020 Annual Conference & Expo, Oct. 7–9, in a session titled "From Vision to Reality: Lessons Learned in Complete Street Implementation." A panel of city officials will discuss strategies for successful design and implementation and offer tips you can put to work in your city. See page 8 for more conference details; to register, visit www.cacities.org/events.
---
Related Resources
Exceptional Efforts: Local Streets and Roads Awards Recognize Innovation
Local Streets and Roads Awards Recognize Best Practices
E-commerce, Energy and the Environment: The Effects of Freight and Warehousing on Our Communities
---
Photo Credits: Courtesy of Cannon, the City of Paso Robles and the City of Shell Beach