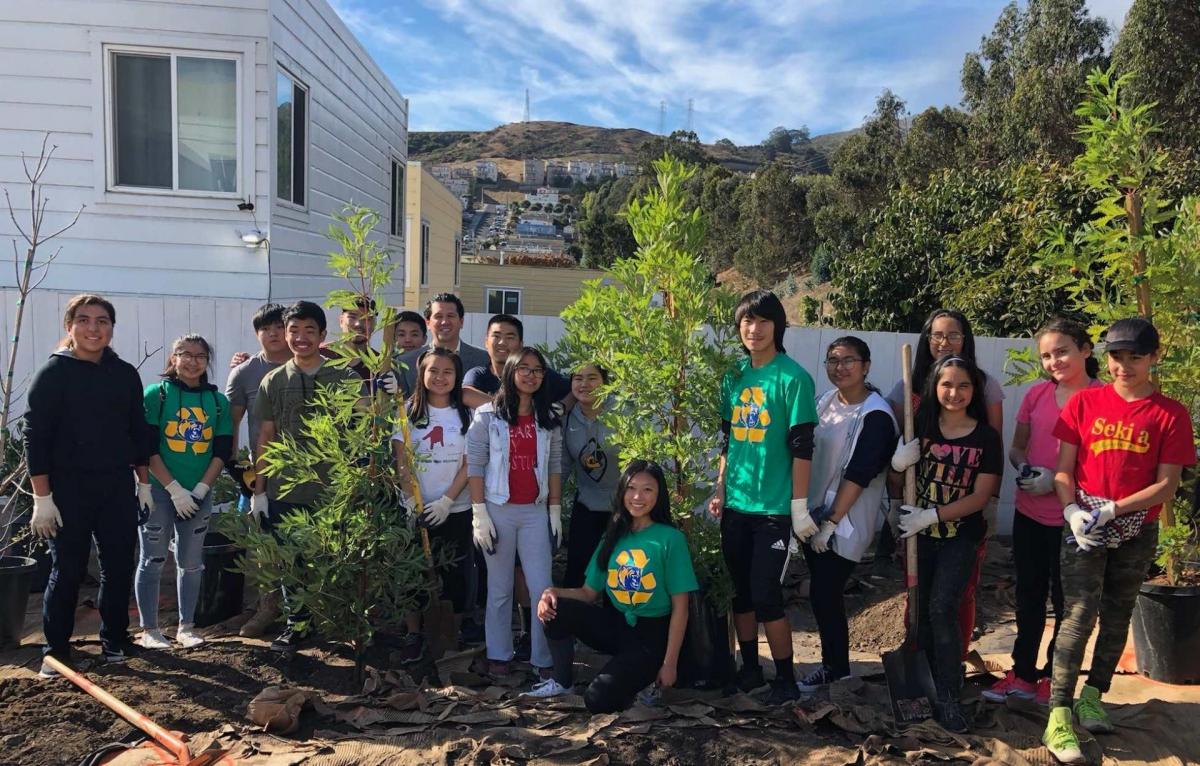 Greening the Concrete Jungle: Daly City Partners With Residents
Daly City won the Award for Excellence in the Planning and Environmental Quality category of the 2019 Helen Putnam Award for Excellence program. For more about the award program, visit www.helenputnam.org.
---
As the largest city in San Mateo County, Daly City (pop. 109,142) is truly a concrete jungle. Major highways that connect San Francisco to Silicon Valley crisscross the city, spewing vehicle emissions and particulate matter into dense neighborhoods where residents experience high levels of pollution. The urban canopy covers less than 5 percent of the city's land surface, and only three species represent almost half of the trees in Daly City, two of which are suffering from disease. Decades of tree removal, often to make way for both front yard and backyard paving, has increased impervious surfaces citywide. Now the highly urbanized population faces a new climate reality dominated by drought, rising temperatures, and limited but more intense storm events. This pattern destabilizes the landscape by overwhelming the city's aging sewer system, flooding low-lying areas, and accelerating erosion of developed coastal bluffs and hillsides. The decimated urban forest simply cannot counter these impacts, leaving the city's predominantly lower-income population completely exposed.
Grant Funds Launch the Project
In 2016, city leaders created Project Green Space with a $25,000 grant from Cities of Service, a nonprofit organization that helps mayors build stronger cities by changing the way local government and citizens work together. Project Green Space has grown into a robust urban forestry and green infrastructure program that is convened by the city and driven by residents through impact volunteering, a strategy that engages volunteers to identify and solve public problems alongside municipal government. The program empowers citizens to actively reshape the future of their neighborhoods by adopting new trees and planting and maintaining rain gardens.
"Project Green Space has emerged as one of the city's most prominent public engagement programs, allowing staff to partner directly with residents to solve civic problems together — a very effective method for producing cost-effective results," says City Manager Shawnna Maltbie.
Providing Information and Inspiration
The city published the Drought-Tolerant Tree Guide for Daly City, an e-book featuring over 70 tree species uniquely suited to the changing local climate, with low water needs, large mature canopies to maximize carbon sequestration, and low impacts to sidewalks. "Project Green Space encourages the use of unusual, endangered, and California native species, so that the trees and gardens we plant today will become stunning landmarks in our city at maturity," says Stephen Stolte, assistant to the city manager and founder of Project Green Space. "One main goal was to cultivate a landscape that generates a sense of awe, knowing how rare that feeling is in the rush of urban life and how natural features like large trees can bring nature back into our daily lives."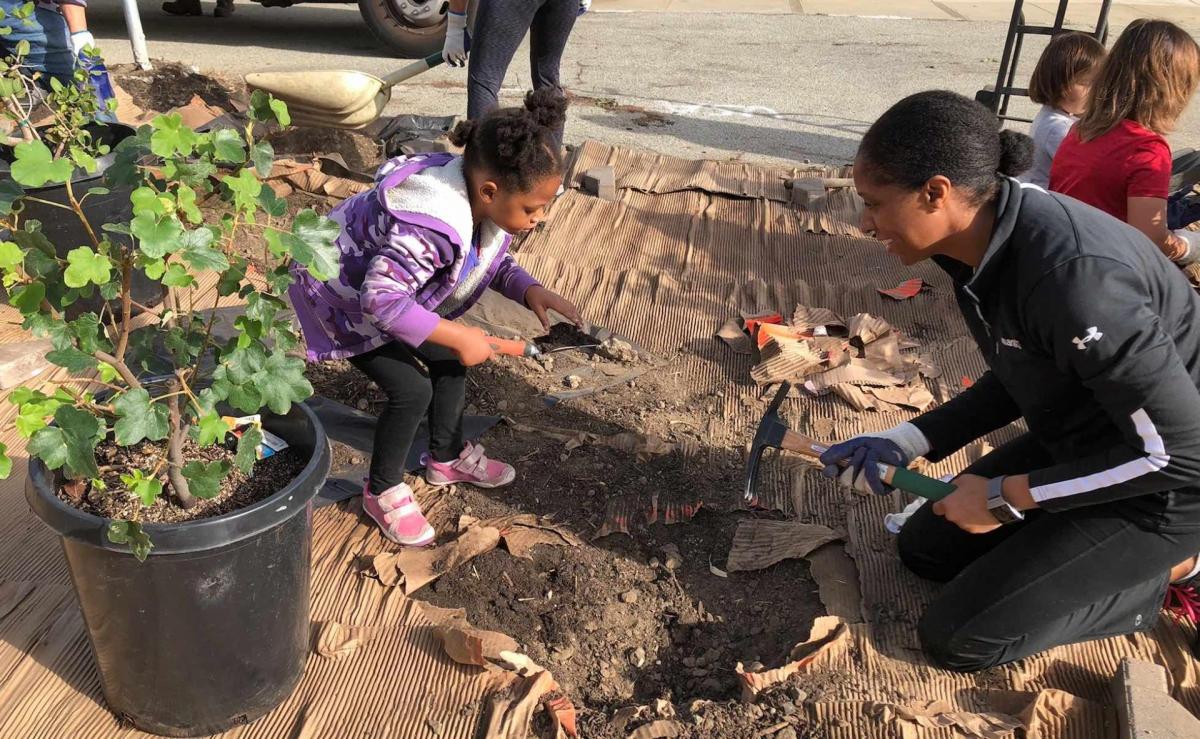 Daly City is in one of the world's five Mediterranean climate regions, which are global hot spots of horticultural diversity. Project Green Space gardens showcase that diversity in the hope that residents will be inspired to do the same at home.
"Growing up in a city without much green space creates an educational barrier in communicating the project's benefits. That's why we spent so much time educating our residents, with a special focus on youth, through face-to-face interactions, educational materials in multiple languages to reach all of Daly City's diverse residents, and signage on all of our trees and gardens," says Raphaelle Ortiz, an AmeriCorps Volunteers in Service to America (VISTA) member who helped implement Project Green Space in some of the city's hard-to-reach communities.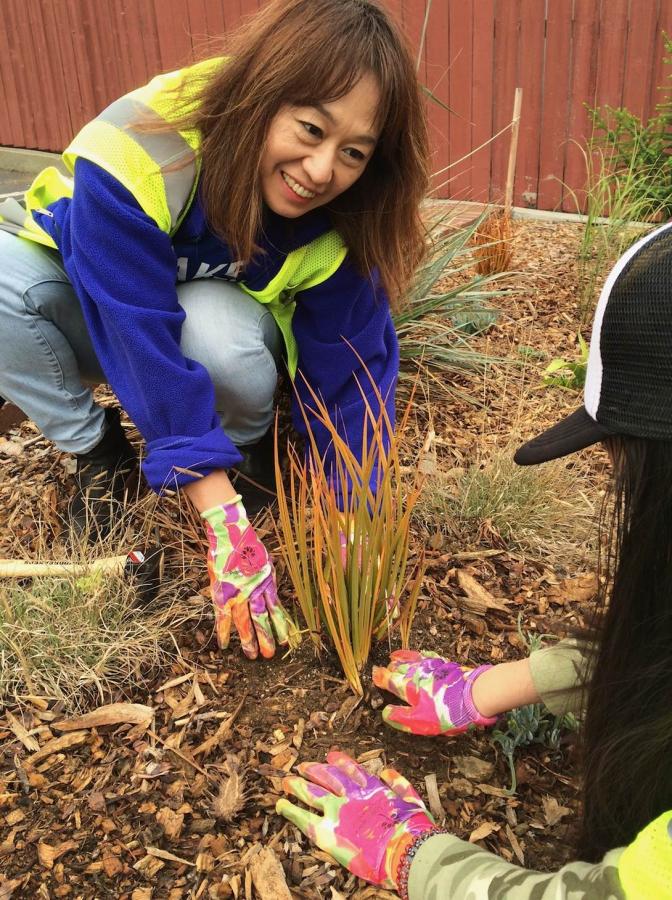 The city formed partnerships with over 20 local entities, including the faith community, the Boys & Girls Club, local elementary schools, high school environmental clubs, service organizations, homeowners' associations, the Boy Scouts, and community groups. These partners helped spread the word about volunteer opportunities and amplified marketing messages from the city. They also became some of the city's most dedicated volunteers.
"Some of our most memorable projects were large scale and involved hundreds of youths, like the campus forestation project at John F. Kennedy Elementary School, where both community members and hundreds of students planted over 30 native trees. Using native species was important because the school borders a protected natural area," says Brian Gerrity, an AmeriCorps VISTA member who spent a year at City Hall.
After four years, over 750 citizen volunteers have grown the urban forest by 10 percent with over 800 trees planted, 11 rain gardens installed, and a mini park constructed on a vacant parcel planted with 100 percent native California species. The trees alone mitigate more than 200,000 gallons of stormwater over a five-year period, because trees have the ability to:
Reduce the volume of stormwater that enters storm drains by capturing and storing rainfall both in their canopies and through roots.
Help stormwater seep into the soil instead of quickly flowing over surfaces into storm drains, which helps replenish groundwater.
Assist in slowing the movement of stormwater and preventing the impacts of flooding.
Help remove pollutants from stormwater, which is a major concern in cities. When rain falls on pavement, roofs, and other impervious surfaces and travels long distances, it picks up pollutants along the way. Trees and vegetation can take up those pollutants and break them down before they contaminate waterways.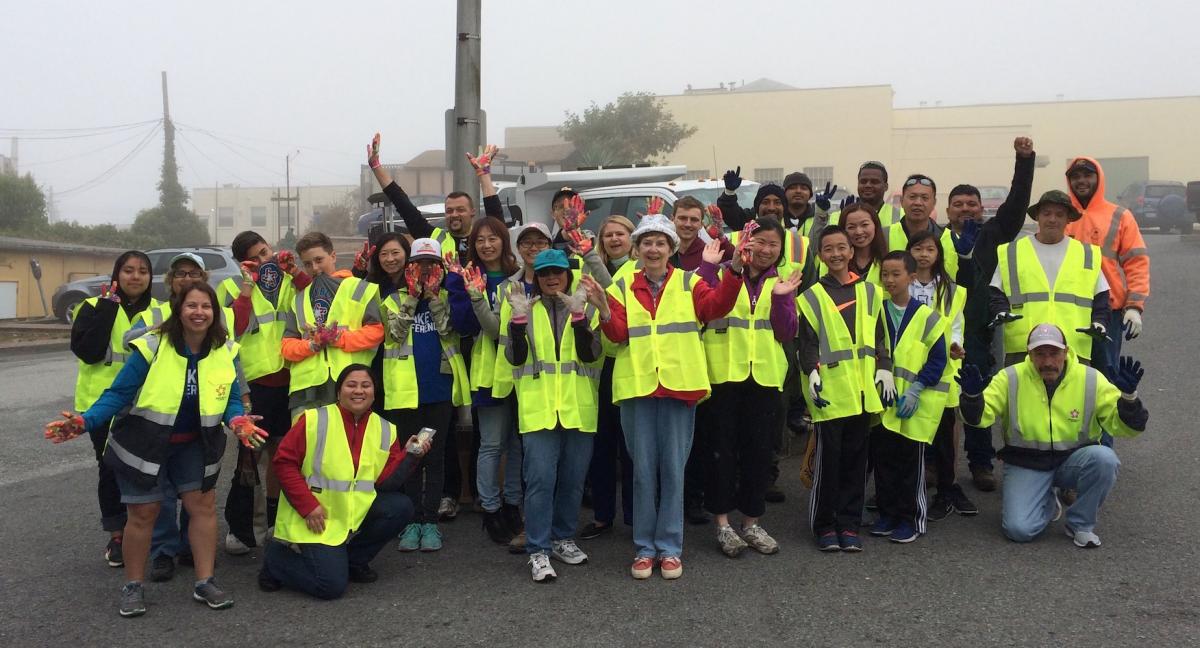 The rain gardens also provide a haven for California's beleaguered pollinators and other insects. Emerging research shows that even small pollinator gardens in urban areas significantly boost pollinator abundance, and Project Green Space is actively working to create a network of gardens with native plants in bloom every season.
Establishing new green spaces in cities is not without challenges, and this is why community ownership of projects is vital. "Having clean, attractive surroundings is important to me. I offer my time keeping the gardens free of litter for the satisfaction of knowing our community can enjoy the plantings without the blight of litter. We can all do something to better our environment," says Terry Marie Counce, a dedicated caretaker of the rain gardens and co-founder of the Top of the Hill Improvement Association.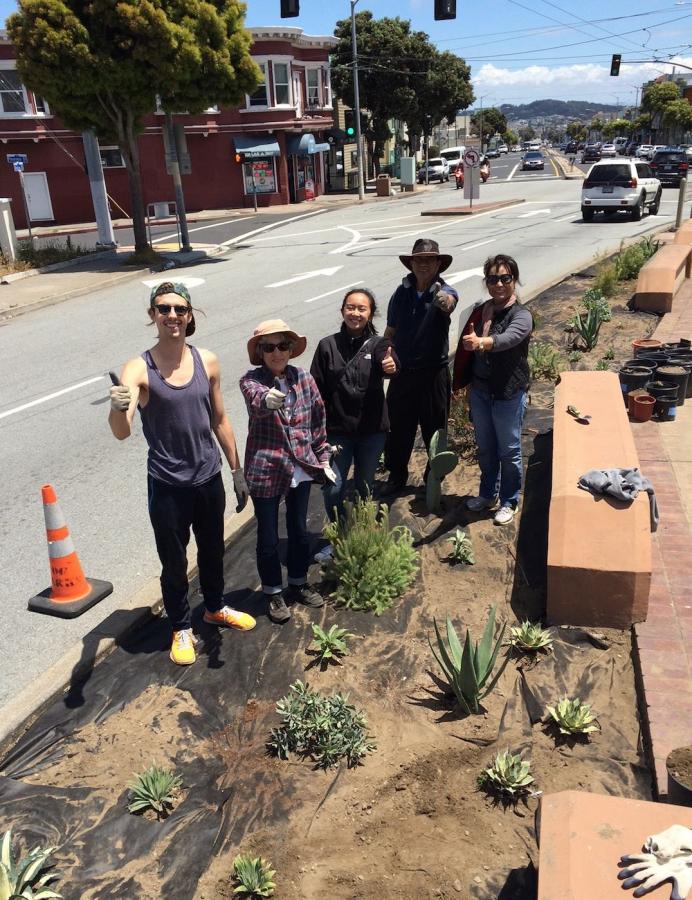 At its core, Project Green Space cultivates a sense of community stewardship of green spaces by treating rain gardens as community gardens and street trees as community trees, transforming new installations into green community assets, not just stormwater infrastructure created by the city. Along the way, residents have become acquainted and built community.
Daly City's built environment lacks meeting places like cafes and plazas. When people do not have the opportunities to meet each other, neighborhood-based social networks are less resilient. "The feedback we consistently receive from our residents at all our volunteer events is that they value most the connections they make with other people through Project Green Space," says Stolte.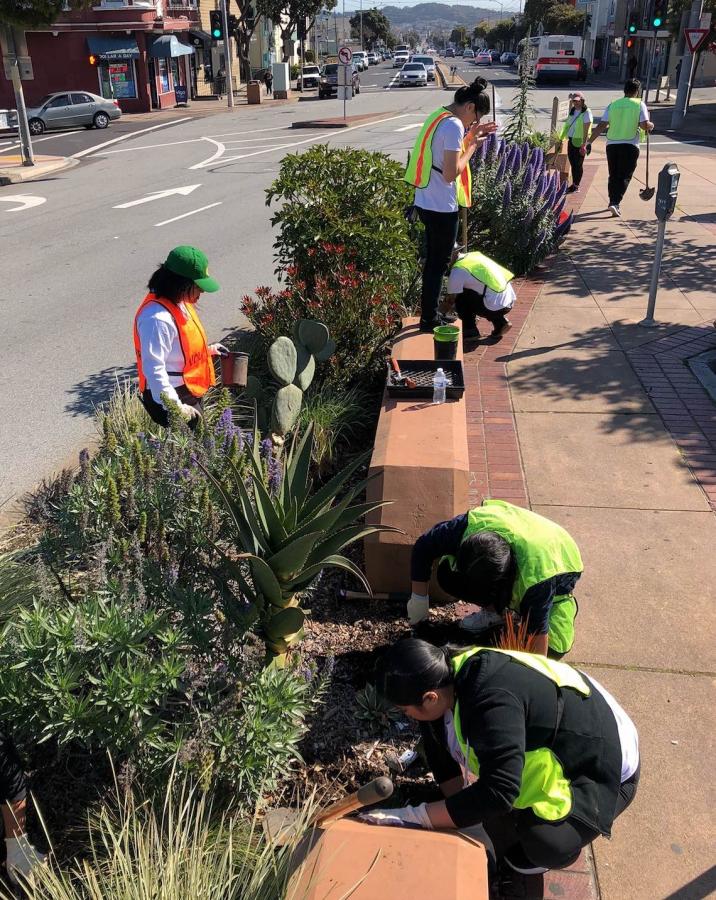 "Daly City residents demonstrate that resilience is built from within communities and set the example that all people can actively adapt to the new climate reality by working together," says Daly City Mayor Glenn Sylvester. The city and its residents look forward to keeping the momentum going long into the future.
Contact: Stephen Stolte, assistant to the city manager, City Manager's Office; phone: (650) 991-8126; email: sstolte@dalycity.org.
---
Related Resources
Claremont Crisis Intervention and Outreach Saves Trees
Lodi's Storm Drain Detectives Monitor Water Quality
Palmdale's Season of Service Puts Volunteers to Work
---
Photo Credit: Courtesy of Daly City